This page contain affiliate links. Please refer to my Disclosures Page for more details.
I saw, and fell in love with the idea of a Pumpkin Cheesecake when I scrolled by a recipe on Instagram. It was beautiful and delicious sounding but packed with gluten biscuits and cream and cream cheese. All the things we can't have in this family basically, so I knew there and then that I had to develop my own version of a No Bake Gluten Free and Dairy Free Pumpkin Cheesecake, and I'm thrilled to say it's a keeper!
Incidentally I have a few different no bake recipes on the website and rounded up a collection of them here Top 12 No Bake Recipes – all gluten free, quick and easy.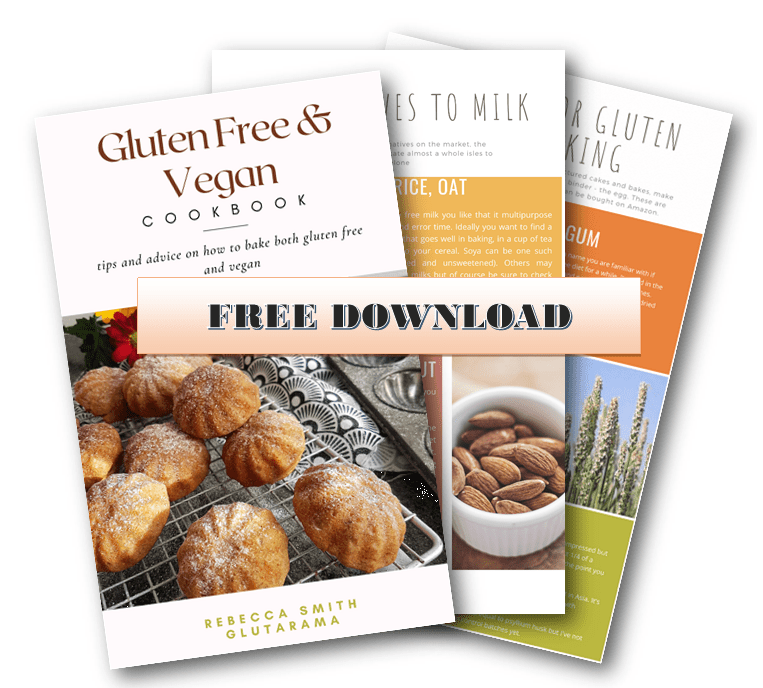 Never miss out again…
Sign up to my weekly Friday newsletter and not only get a FREE e-Book (currently my Gluten Free & Vegan Cookbook) but also get VIP subscriber discounts on free from goodies delivered to your door. Join me in my journey and learn to make anything gluten free.
How do you prepare pumpkin for cooking?
In this particular gluten free cheesecake recipe, I've opted for tinned or canned pumpkin puree. The reason being that I wanted to get the best colour achievable. I'm never convinced that these vibrant orange pumpkin recipes are purely natural, I always think there's a bit of food colouring at play, maybe I'm wrong?
Ways to prepare a pumpkin for baking
Roast pumpkin; cut pumpkin into ¼ and de-seed, place in a roasting tray and cover with foil, bake at 200°C/180°C Fan for at least 60 mins (depending on size of pumpkin). Remove and cool, once cooled scoop out the cooked soft flesh and use of freeze for later.
Boiled pumpkin; peel and cut pumpkin removing all seeds. Chop and add to a big pan of water, boil until tender. Drain pumpkin and leave over the sink to ensure all excess liquids run away. Pop into a blender and puree, as above use or freeze.
Steamed pumpkin; as above really but you steam it!
Microwaved pumpkin; Not tried this but I have it on good authority that you can peel and cut the pumpkin and microwave in a glass bowl with a drop of water.
Perfect Pumpkin Puree
The base for so many Thanksgiving, Halloween and harvest time recipes. This perfect pumpkin puree is, in my humble opinion, the best way to make puree with the richest colour, flavour and texture. Ideal mixed with my homemade pumpkin spice to turn into pumpkin pies, breads, biscuits and more.
Check out this recipe
What biscuits can I use for this Pumpkin Cheesecake base?
You have choices when it comes to deciding what biscuits to use for this cheesecake base. This can depend on the time of year too. As we're in the lead up to Christmas, I was able to purchase Schär Spekulatius biscuits (pronounced sh-peck-oo-lats-ius). For a generous biscuit base, I'd recommend 3 packets (100g each) however, if you are on a budget 200g or two packets will do. If you do use less biscuits reduce the 'butter' to 60g.
Another excellent biscuit for cheesecake bases is the humble digestive. If you are hoping for a similar warm spiced biscuit base, but you cannot source the Spekulatius biscuits, then add 1/2 a teaspoon of both ground cinnamon and ginger.
WARNING, NOT GLUTEN FREE: If you are vegan but do not follow a gluten free diet you can of course use the more common Biscoff biscuits made by Lotus.
What spices do I need for Pumpkin Cheesecake?
Technically, pumpkin recipes use a combination of 4 spices that create the traditional Pumpkin Spice. Whilst I love clove, it can be an acquired taste and its a bit like gunpowder, use too much and it could be explosive! Okay, maybe not quite like gunpowder, that's a bit extreme.
Due to the intensity of ground clove I opt for a less intense spice experience so I use equal quantities of cinnamon, ginger and nutmeg.
Homemade Pumpkin Spice
Save time when baking and instead of reaching for 4 spices, reach for one. This spice mix balances the perfect amount of cinnamon, ginger, clove and nutmeg for all your pumpkin spice needs.
Check out this recipe
If you decide to go for the full Pumpkin Spice experience then you could make your own by following these guidelines by Charlotte over on Charlotte's Lively Kitchen – Homemade Pumpkin Spice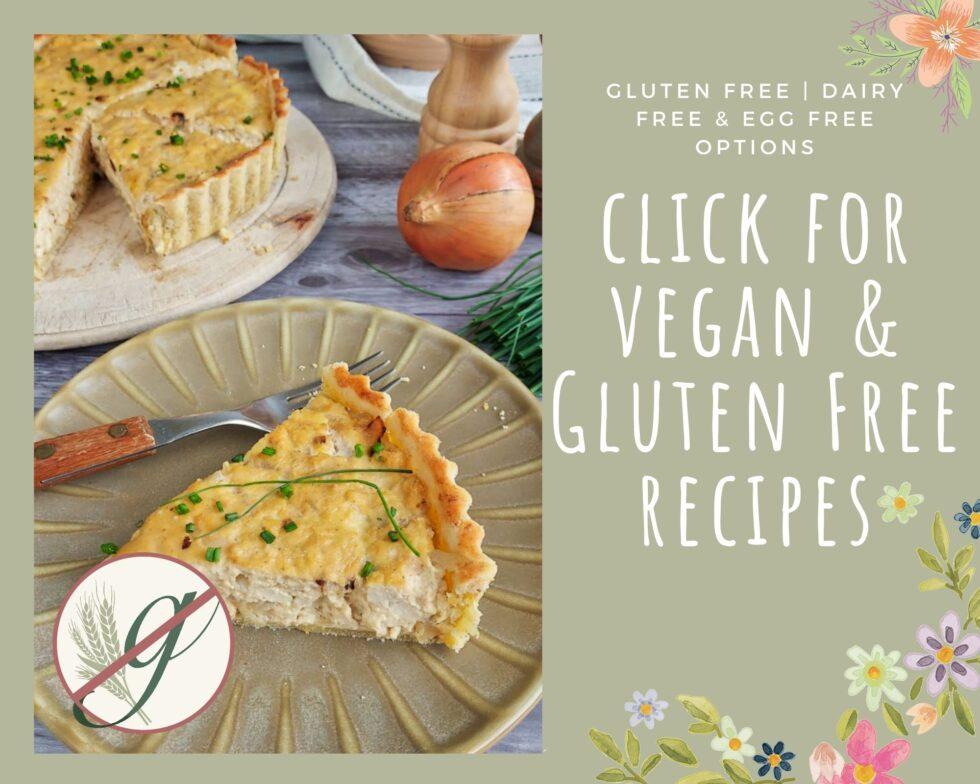 What is the best dairy free cream?
Getting vegan bakes and desserts right takes time. You need to ensure that where dairy fat is removed, you replace it with something similar. Likewise, eggs are like the mortar of baking. Without these important building blocks you find that cakes are either solid or crumble. Desserts are too soft and unstable and generally success in the kitchen is a game of chance.
Here's where I step in, I've done all the hard work, failed all the many fails so that you don't have to. If you ever have any questions regarding gluten free, dairy free and vegan baking please do not hesitate to ask in the comment below or email me direct [email protected].
If you're keen to find out more, head over to my post Ingredients and Simple Recipes for a Gluten Free Veganuary even if it's not Veganuary when you read this, the post is packed with tips and tricks to help you to understand the ingredients I use in my baking and more importantly why. Once you understand what each element does, you'll be far more confident to head off and make your own new baking discoveries.
Dairy Free / Vegan Creams
I get asked 'what is the best dairy free cream to use' a lot, so I've added some advice here.
Baked recipes
If using cream alternatives in baked recipes the type of cream matters less but care needs to be taken when cooking it as dairy free cream can still split like dairy cream. Therefore you are free to use any of the following brands; Elmlea (single or double), Alpro (single), Food Heaven – Heavenly (Sweetened or Unsweetened)*, Coconut Cream (any % or coconut extract)
No Bake recipes
Usually in a no bake recipe the cream you add is part of the building block to add structure. For example whipped cream in a Victoria Sponge Gateau. For this reason you need to use a dairy free cream that has the highest fat content so a double cream (Elmlea produce double plant cream) or a Coconut Cream that has 60+ of coconut extract. However, Heavenly also behaves well when whipped.
Ice Creams
I have made my ice creams with all the dairy free creams mentioned above, single, double, high fat, low fat and all work because I always add a little dairy free butter to stabilise the structure so you can use all types of plant/soya/coconut dairy free creams.
Can I make this with dairy?
You can make this Pumpkin Cheesecake with normal cream, I'd recommend using whipping cream and your normal cream cheese such as Philadelphia or a supermarket own brand.
As dairy products have animal fat in them there is no need to add the extra fat to your cheesecake topping as per instructions below. You also don't need to add the white chocolate to the decoration cream, simply whip some extra cream. That said, adding a little vanilla extract would be a lovely addition flavour-wise.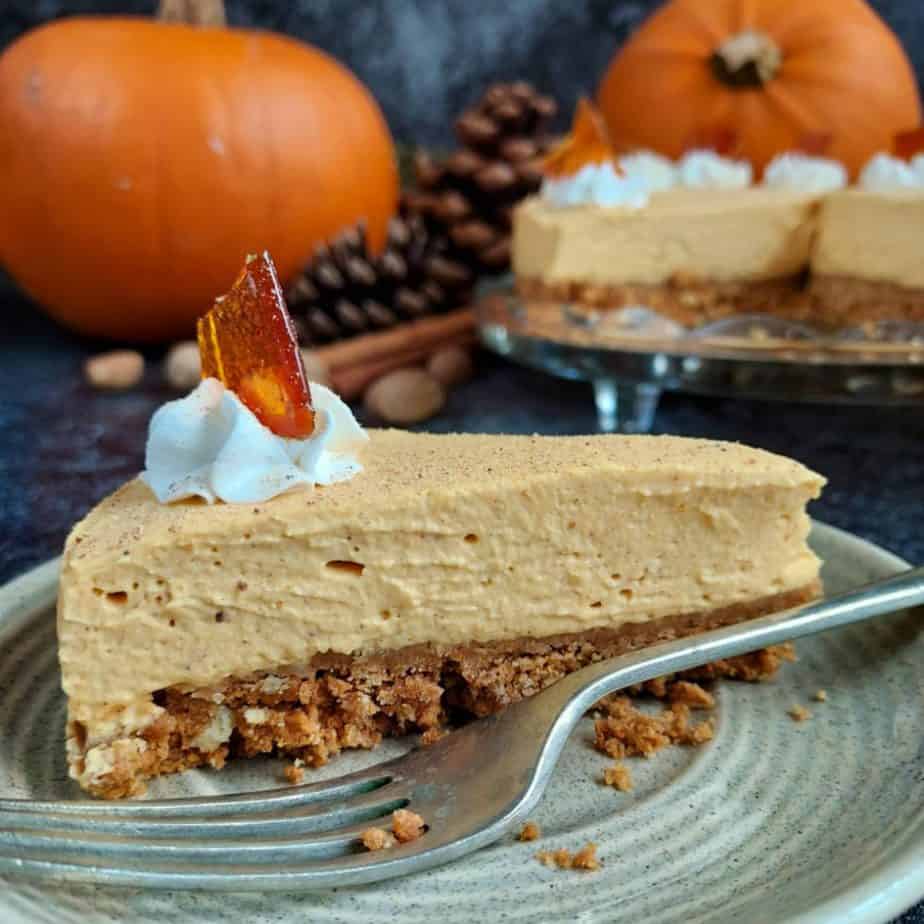 How long will Pumpkin Cheesecake keep?
All my cheesecake recipes keep really well. I have been known to eat the last slice 5 days later. FIVE days I hear you exclaim! Well yes, remember my family get to eat all the practice cheesecakes before I publish the final version so we're often over indulged!
How should I store my cheesecake?
I admit to not always covering them in the fridge, this really depends on whether we have smell foods such as smoked meats in the fridge. Otherwise, you may want to play it safe and keep your cheesecake in a sealed Tupperware container, this way no smell will be absorbed into your delicious dessert.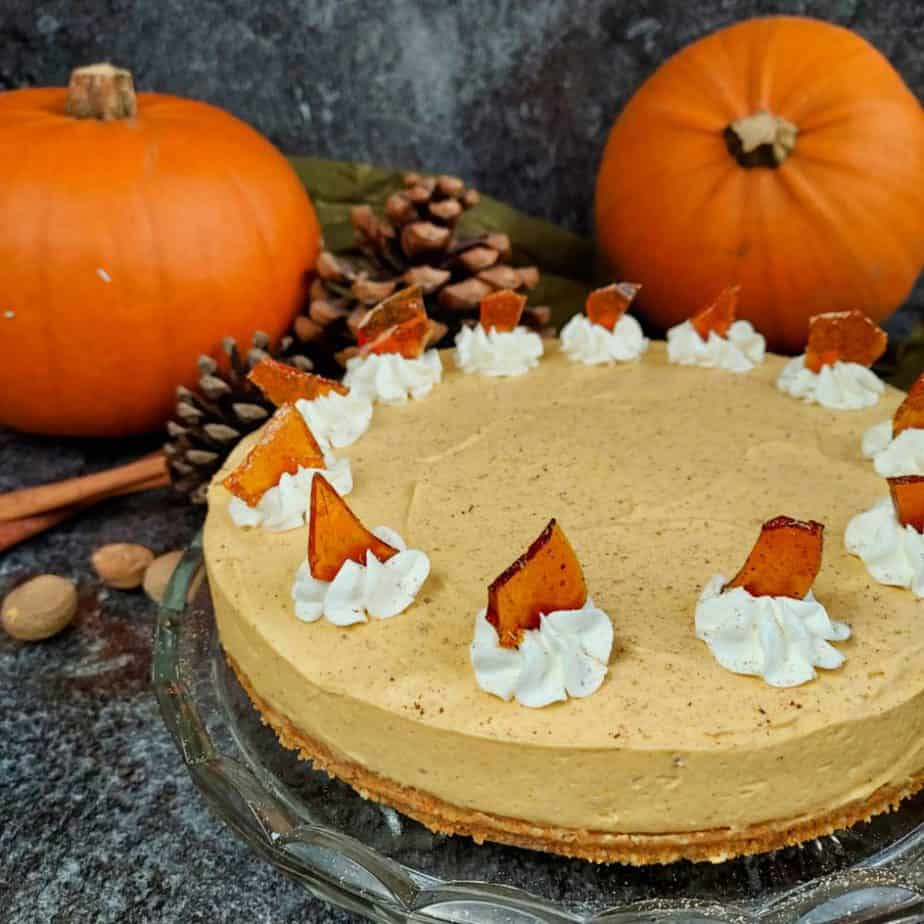 Other gluten free recipes you may enjoy
There are a few cheesecakes on this website now, each one is unique so your not getting one recipe 20x with a different topping (that irritates me when people do that!) Here are some of my most popular ones for you to try.
Dairy Free Pumpkin Spice Fool
This simple Dairy Free Pumpkin Spice Fool combine the familiar fool dessert of thick whipped cream folded with a pumpkin puree and the quintessential autumn flavouring pumpkin spice. What better way to celebrate the pumpkin harvest than with a free from dessert suitable for those on a gluten free, dairy free and vegan diet.
Check out this recipe
Equipment needed*
No Bake Pumpkin Cheesecake Recipe
If you make it and like the recipe I would be eternally grateful if you popped back and commented leaving a star rating as this will tell search engines that this recipe is worth checking out and others will get to find it in searches.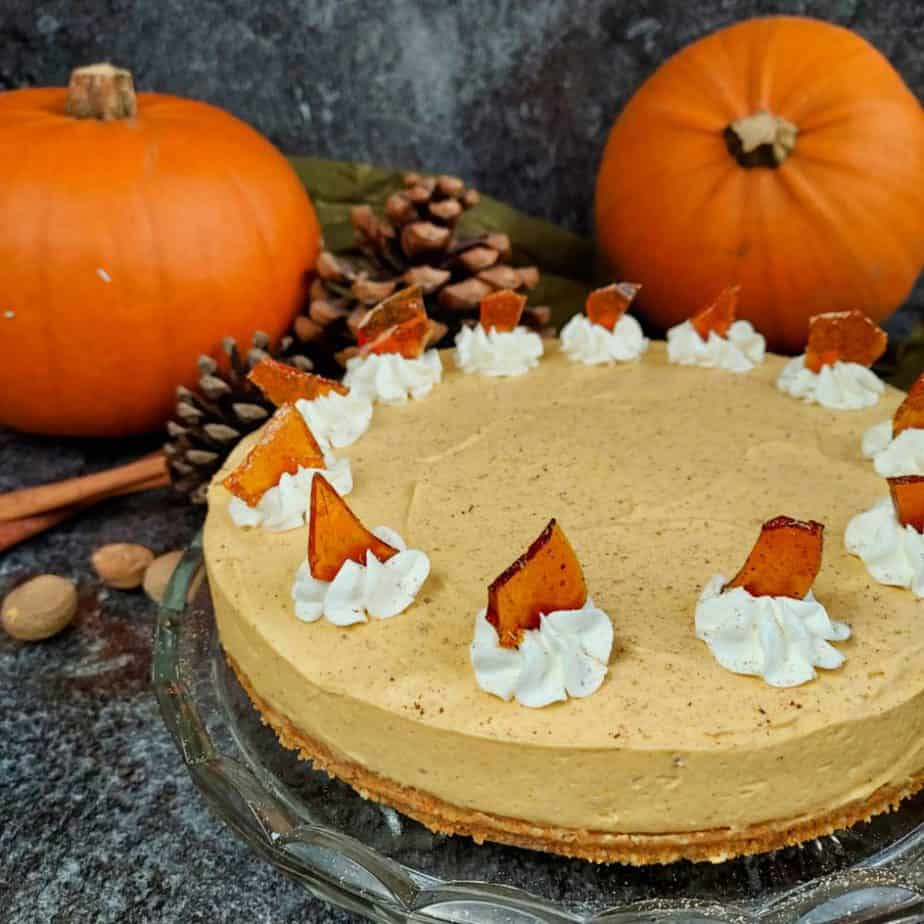 No Bake Vegan Pumpkin Cheesecake
This No Bake Pumpkin Cheesecake is made gluten free with a delicious spiced biscuit base and it's also dairy free and vegan too. A delicate pumpkin flavour topping with that tell-tale warmth of Pumpkin Spice. Dairy-filled option available too.
Ingredients
For the biscuit base
300

g

Schar Spekulatius biscuits

or you can use digestives with cinnamon & ginger

80

g

butter

I use Flora Plant Butter blocks
For the cheesecake topping
150

ml

whipping cream

I use Food Heaven's DF Heavenly Sweetened Cream 1ltr carton

170

g

cream cheese

I use own brand dairy free cream cheese

150

g

pumpkin puree [see below]

I use tinned/canned pumpkin for the colour

50

g

butter

Flora Plant Butter

50

g

fat (I use Trex white vegetable fat)

white solid vegetable fat/shortening

100

g

icing/confectioners sugar

confectioners sugar

½

tsp

ground cinnamon

½

tsp

ground ginger

½

tsp

ground nutmeg
For the cream decoration (optional)
50

ml

whipping cream

DF Heavenly Cream

50

g

white chocolate drops

I use own brand DF chocolate drops
For the caramel shards (optional)
Instructions
To make the biscuit base
Add the biscuits to a food processor and blitz into crumbs. If you don't have a processor you could use a plastic bag and a rolling pin or like I do sometimes and use a large bowl and the end of the rolling pin

Melt the 80g of 'butter' and add to the biscuit crumbs and mix to combine.

Using the back of a spoon or spatula smooth the crumbs until you have a solid flat biscuit base. Then pop into the fridge to chill whilst you crack on with the cheesecake topping.
To make the pumpkin cheesecake topping
In a mixing bowl whip the 'cream' until light a fluffy.

Melt the TREX and 'butter' in the microwave and set aside to cool a little.

Using a separate large bowl, combine the cream cheese, pumpkin puree, icing sugar and spices.

Now add the melted fat to the cream cheese bowl and whisk to combine.

Finally, add the pumpkin cream cheese mixture to the whipped 'cream' and whisk until thick and smooth.

Remove the base from the fridge and pour your pumpkin cheesecake topping into the cake tin, smoothing the mixture with a spatula

Return to the fridge while for at least 4 hours – however, I try to make my cheesecake the day before so it's in the fridge overnight.
Optional cream topping
Whip together the 'cream' and melted dairy free white chocolate. Next fill a piping bag with your favourite nozzle and stand in a glass in the fridge to harden.
Optional caramel shards
In a heavy non stick frying pan add the 50g caster sugar and shake to even the crystals out. Heat on a medium heat.

DO NOT STIR! it takes about 5mins for the sugar crystals to start to melt.

When 50% of the sugar is melted you can gently shake the pan to encourage the rest of the crystals to melt.

Pour the molten sugar onto a silicone baking sheet and leave on the side to cool and harden. When ready to use simply cut into the caramel with a knife to get random shards.
Nutrition
Nutrition Facts
No Bake Vegan Pumpkin Cheesecake
Amount per Serving
% Daily Value*
* Percent Daily Values are based on a 2000 calorie diet.
Have you tried this recipe?
Let me know how it was & I will be super grateful. Take a picture & tag me @glutarama on your social media posts – I love seeing your photos more than you will ever know x
I love to see your own photos of my bakes, dinners and treats head to your favourite social media account and don't forget to tag me in @glutarama
Subscribe to my email list so that you get NEW recipes straight in your mailbox every Friday PLUS a FREEBIE and access to some amazing gluten free DISCOUNTS
---
*disclaimer: I use affiliate codes on my website, the vast majority are to Amazon. If you click on any of the links or images in the post and make a purchase my family will benefit from a small % of that purchase at no extra cost to you, in fact, for full transparency, in 2020 I made my first £25, and recently in 2022 I reached my next £25 (Amazon don't transfer the money until you reach £25). As you can see, it won't make me a millionaire but it will treat me to a few coffees, Lord knows I need the caffeine!