Gluten Free Orange Flavour Mince Pies anyone? Well my dear reader, it's all in the pastry. A few Christmases ago, my Mum used a different recipe by the forever wonderful Mary Berry to make her home made mince pies, they were divine and I knew I had to recreate them gluten free. The pastry was a sweet crust with a delicious hint of orange – sublime!
Zip forward a few years and I still find myself making these Orange Flavoured Pastry Mince Pies every December but now I've adapted them further so I can still eat them without setting off my intolerances. So in this recipe you will find adaptations to make these Mince Pies not only gluten free, but free from dairy and eggs too. Source an animal friendly mincemeat and bingo! You've got yourself vegan mince pies.
This is super simple so no excuses, everyone should be making them!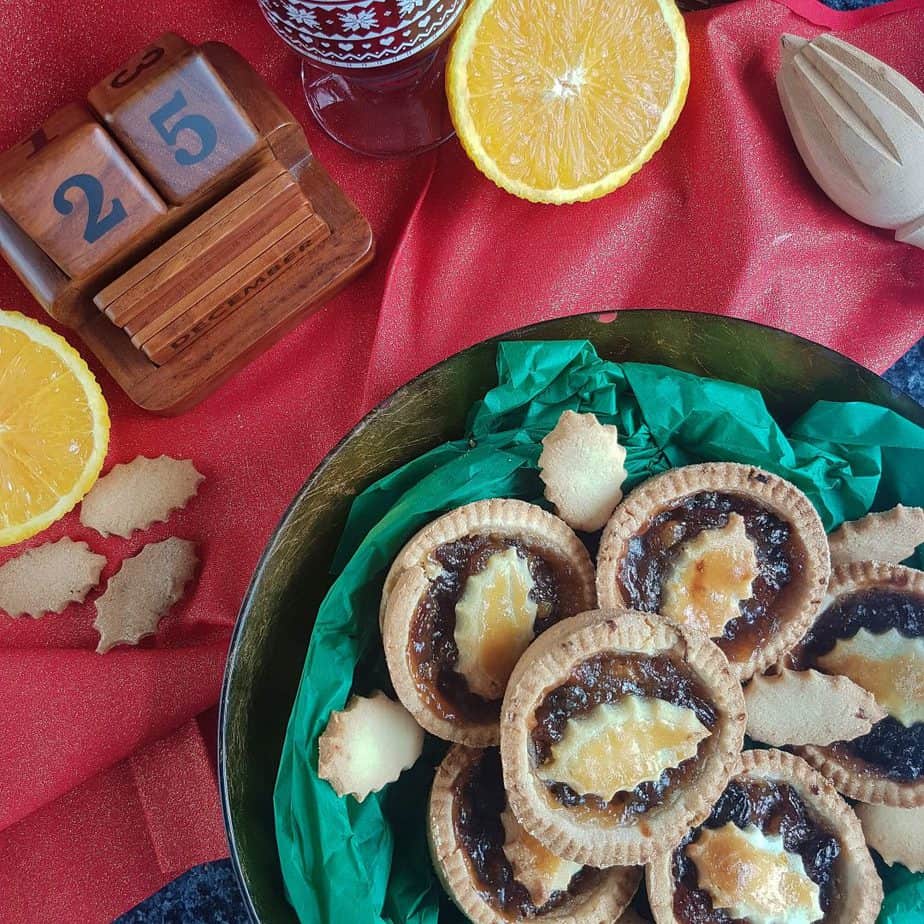 I make homemade orange concentrate as described in my Melt in the Mouth Gluten Free Shortbread recipe which has a hint of orange, follow the link to make your own with the step-by-step guidance, alternatively use a good quality orange extract, try not to use a flavouring if you can…extracts are the 'real thing', trust me!
Gluten Free Christmas Gift Guide
Every Year I update this post on Glutarama's website to give you the latest gluten free gifts perfect for a loved one or to gift yourself. The guide is broken into advent calendars, gifts for the Christmas Day, hampers for gifts or to cater for a gluten free Christmas and finally I try to find something a bit special to treat yourself in the new year.
How can I make these Mince Pies Dairy Free?
Well I am very excited about the new kid on the block here in the UK, Flora are now selling a block of butter alternative that comes in salted and unsalted version. It's totally dairy free and has no bizarre ingredients, and it's a solid block. This means the fat content is high enough to turn to solids and this makes it ideal for pastry. I still add a little shortening or white fat to my pastry's as this makes for a better crumb so in this recipe I used TREX which is a vegan version or lard.
Could I use a Flax Egg to replace the egg in these Mince Pies?
Yes you can by all means use a flaxseed egg and the method and ingredients to do this are below if you are unfamiliar with the process. If you were making a large mincemeat tart then I would always use an egg pastry or flaxseed egg pastry as you need the case to be solid and robust in structure. However, for smaller pies and tartlets you can get away with simply substituting the egg for water. One egg on average equates to 50g/50ml so I add 50ml of water when an egg is required.
How to make a flax egg

to make 1 flax egg you need the following ingredients:
– 1tbsp ground flax seed
– 3tbsp water
– 1tsp psyllium husk (optional but does add elasticity to baking)

Simply add all ingredients to a glass and stir before measuring out the other recipe ingredients, by the time you come to use your 'egg' mixture it will have thickened to a frog-spawn consistency (thicker if you added psyllium husk)

Then just add to your baking as you would an egg. For 2 eggs double the ingredients but note that recipes that require more than two eggs may fail due to lack of support in the structure.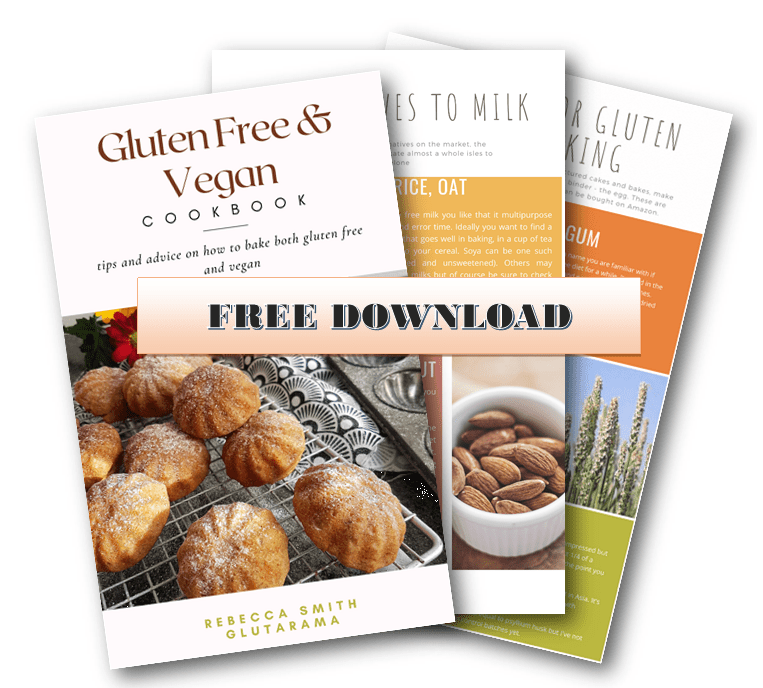 Never miss out again…
Sign up to my weekly Friday newsletter and not only get a FREE e-Book (currently my Gluten Free & Vegan Cookbook) but also get VIP subscriber discounts on free from goodies delivered to your door. Join me in my journey and learn to make anything gluten free.
Here are some other gluten free Christmas Recipe ideas
I have accumulated lots of festive recipes over the years and you can see them all here by following my Christmas Recipes link. However, I've picked a few of my favourites here that are popular with my readers every year. There's my Delicious Christmas Pudding and this Scottish traditional dish my Free From Clootie Dumpling: a traditional pudding and how about these Lebkuchen that I am told time and time again taste like the original version.
Gluten Free Ecclefechan Tarts
The humble Ecclefechan Tart is a wonderfully traditional tart originating in the small town of Ecclefechan. With simple, easy to source ingredients these tarts are a nod towards a mince pie but without the festive spices you'd expect and an egg to bind the filling together. This can make 6-8 tarts depending on the depth of your baking tin.
Check out this recipe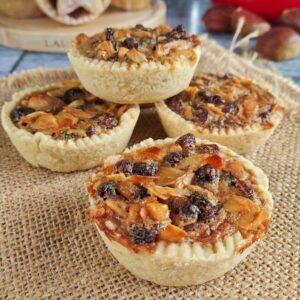 Gluten Free Orange Flavour Mince Pies Recipe
If you make it and like the recipe I would be eternally grateful if you popped back and commented leaving a star rating as this will tell search engines that this recipe is worth checking out and others will get to find it in searches.
Gluten Free Orange Flavour Mince Pies
These mince pies are a step above your average mince pies, adding an orange concentrate makes these so much more decadent, a true indulgent treat for the festive time of year
Ingredients
200

g

gluten free plain flour

90

g

butter

or butter alternative, I use Flora

50

g

caster sugar

2

egg(s)

or 2 flaxseed eggs or 100ml water

1

tbsp

orange concentrate [see notes]

or 1tsp orange extract

1

orange

use the zest only

500

g

mincemeat

ready-made shop bought (check label)

1

egg(s)

to brush the pastry, alternatively use a sprinkle of sugar or brush with milk.
Instructions
Sift the flour into a bowl, make a well in the middle and add all the remaining ingredients; butter cut into cubes, caster sugar, orange zest, 2 eggs (or 2 flaxseed eggs/100ml water).

Using a rounded knife or pastry cutter, cut through the mixture until it starts to come together and form breadcrumb clumps.

If necessary add a little more flour if the mixture seems to sticky to handle.

Turn onto a floured work surface and knead until smooth.

Pop into a Tupperware tub and chill in the fridge for at least 30mins

When chilled carefully roll out to the thickness you desire, cut the rounds (I use an 8cm fluted cutter) and fill with mincemeat, if you wish cut shapes of holly leaves to decorate.

Top Tip: if you plan to pop lids on your mince pies, remember to pierce a little hole to allow the steam to escape, that way you won't get the mincemeat juices seeping out of the sides.

If adding decoration or lids, brush the tops with the beaten egg white and add a sprinkle of caster sugar.

Pop into the oven at 190°C /170°C fan /375°F /Gas 5 for 10-12 minutes until the pastry turns a delicate golden colour

Remove from oven and sit on a wire rack for 5 mins before removing Mince Pies from the tin, if you try to remove too soon the pastry will be too unstable.

cool completely and if you like dredge with a little icing sugar.
Notes
I make homemade orange concentrate as described in my Melt in the Mouth Shortbread recipe which has a hint of orange, follow the link to make your own with the step-by-step guidance, alternatively use a good quality orange extract, try not to use a flavouring if you can…extracts are the 'real thing', trust me!
Nutrition
Nutrition Facts
Gluten Free Orange Flavour Mince Pies
Amount per Serving
% Daily Value*
* Percent Daily Values are based on a 2000 calorie diet.
Have you tried this recipe?
Let me know how it was & I will be super grateful. Take a picture & tag me @glutarama on your social media posts – I love seeing your photos more than you will ever know x
I love to see your own photos of my bakes, dinners and treats head to your favourite social media account and don't forget to tag me in @glutarama
Subscribe to my email list so that you get NEW recipes straight in your mailbox every Friday PLUS a FREEBIE and access to some amazing gluten free DISCOUNTS
*disclaimer: I use affiliate codes on my website, the vast majority are to Amazon. If you click on any of the links or images in the post and make a purchase my family will benefit from a small % of that purchase at no extra cost to you, in fact, for full transparency, in 2020 I made my first £25, and recently in 2022 I reached my next £25 (Amazon don't transfer the money until you reach £25). As you can see, it won't make me a millionaire but it will treat me to a few coffees, Lord knows I need the caffeine!