This recipe for Gluten Free Scones and vegan clotted cream has been a long time in the making. I was so thrilled to be able to make a successful vegan clotted cream back in November, in the lead up to Christmas, and it has proven so popular on my website. In fact, I think it's now one of my most popular recipes to date.
I originally posted it with photos of my clotted cream dolloped high on mince pies. What a treat to have a festive bake with my very own clotted cream. But the last thing someone tends to expect when they search for clotted cream is to see it piled on top of a mince pie!
I knew I had to make my own vegan and gluten free scone to accompany my clotted cream. It has taken me a while to get to the perfect taste and texture but I'm finally happy to release my gluten free scone recipe into the world.
What makes the perfect scone?
In my opinion, the perfect scone is a large scone with a not too dense crumb, golden brown on top and easy to split apart with your fingers.
The key to a perfect gluten free scone is to handle the dough as little as possible. In fact, I use kitchen utensils to shape the dough before I cut into it.
I use 7cm cutters for the job, you can use fluted cutters but as these scones bake with quite a rustic look you can lose the rippled edge so I normally use a round cutter.
TOP TIP: to get a beautiful golden top to your gluten free scones I use a mix of milk, yogurt and dark brown sugar. It works every time. Even better, just use the little liquid you have left in the jug and add a teaspoon of dark brown sugar to it and mix with a pastry brush, simple and effective.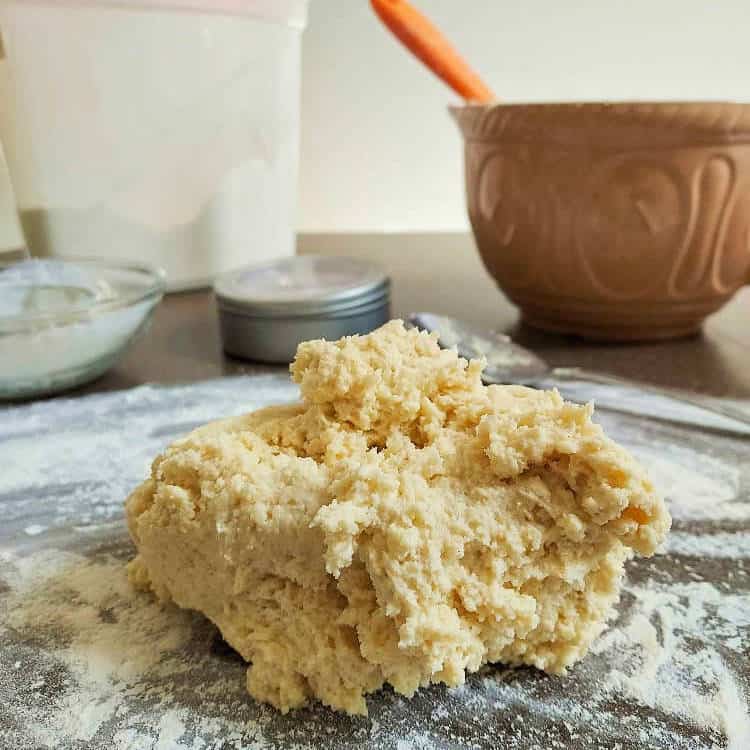 What can I use to substitute for egg in these vegan scones?
I use a dry tablespoon of golden linseed or flaxseed. In many of my recipes I make a flaxseed egg by mixing 1 tablespoon of flaxseed with 3 tablespoons of water then stir and leave to thicken for a few minutes. This recipe doesn't need this process. Simply add the dry seed to the dry ingredients.
Do I need to use psyllium husk to make these scones?
Whilst psyllium husk is optional, it makes a big difference to the structure of the scone. Remember that gluten is the sticky, elastic building block of baking, without it you can have crumbly bakes that don't hold together. Adding flaxseed will give you a little of the elasticity required, but if you can add psyllium husk powder to your ingredients cupboard then I strongly recommend it.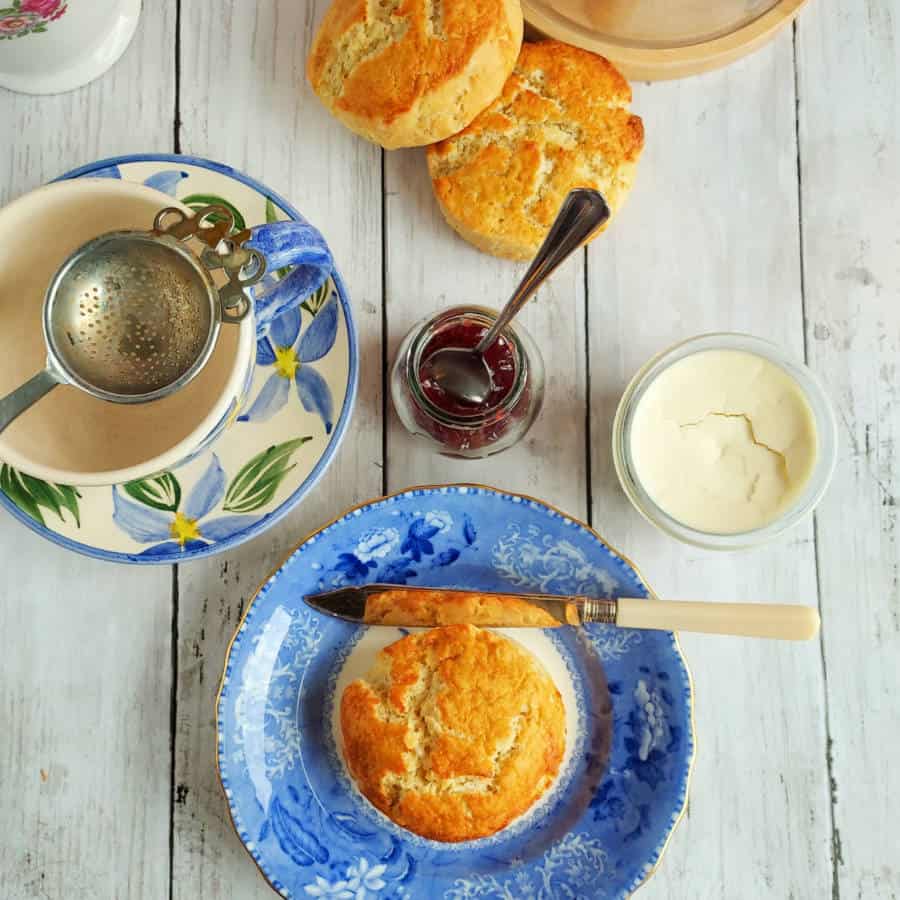 How do I make my gluten free scones rise?
There's another trick I must tell you here. Cut your scones as tall as you possibly can. These scones do not tend to rise too much but they do spread a little giving you a delicious looking crackle topping. When I cut into my scone dough with a 7cm cutter, the dough pokes above the cutter so its approximately 3cm tall!
Cream or jam first on a scone?
It has to be dealt with, doesn't it? Do you prefer cream on your scone first then jam, or jam first then cream? The topic can get quite heated here in the UK but that's because there is a geographical divide. One is the Devon way and one is the Cornish way. I always get confused which is which so had to Google it.
Both Devon and Cornish versions have the same ingredients; a plain scone, jam and clotted cream. It's the order in which they are added that's the bone of contention!
Devon cream tea – split the scone then add cream and top with jam
Cornish cream tea – split the scone than add jam and top with cream
If you're a fan of the Royal Family you may be interested to know that the Queen has her jam first then cream so it's 1-0 to the Cornish cream tea in that case!
How do I have my cream tea? Well, it appears that the HRH The Queen and I have similar tastes!
Need convincing? I found this poll by Devon Heaven that seems quite insistent that the Cornish way is most popular. What do you think?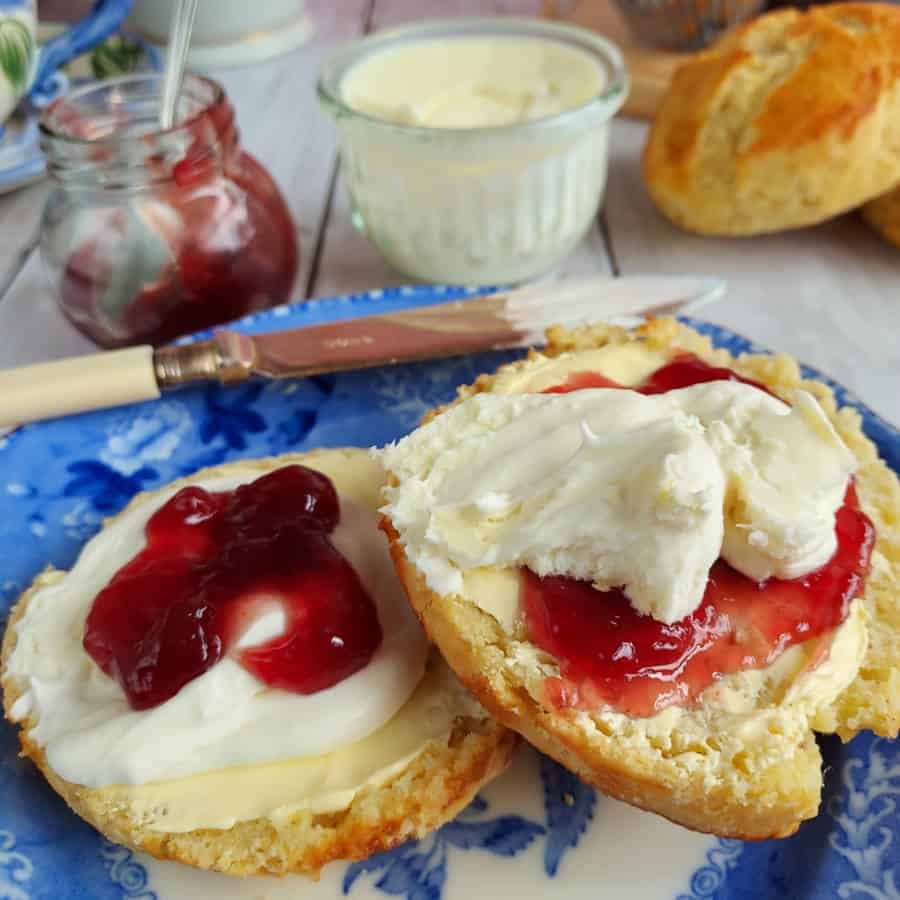 How do you make vegan clotted cream?
For those living a dairy free and/or vegan lifestyle you will be only too familiar with the fact that soya cream just – isn't – cream. There, I said it! The fat content in soya and plant creams is very low and as dairy free cream has no lactose in it (in simple terms, the dairy version of sugar), cream alternatives aren't very sweet either.
To make a thick, sweet cream like clotted cream I had to set out on a journey of experimentation and a few disasters along the way. This is the closest I've got and I'm pretty proud of myself.
So how did I do it? I added fat where there was none and sugar where it was scarce and thickener to hold it all together. So whether you plan to add it to Gluten Free Scones, Mince Pies or dollop it on this recipe for Sticky Date and Toffee Pudding made gluten and dairy free it's the perfect indulgent treat.
Homemade Vegan Clotted Cream
Make your own homemade thick clotted cream but dairy free and vegan. A simple recipe to make 125ml of imitation clotted cream with a tell-tale thick crust on top. Perfect for scones for a cream tea or to accompany puddings and desserts
Check out this recipe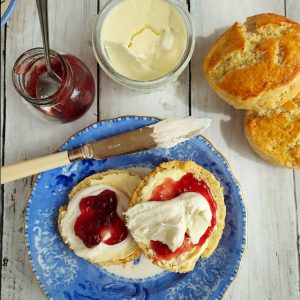 Other delicious tea time recipes made gluten free
Gluten Free Cheese and Bacon Scones
This simple no fail Cheese Scone recipe will have you coming back time and time again. The smell of cheese scones baking has to be one of the most comforting, most lip smacking smells ever – am I right? These Cheese Scones are not only gluten free, but they are also egg free and can be made dairy free too with some simple ingredient swaps.
Check out this recipe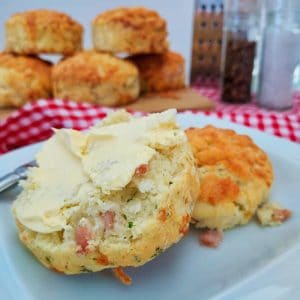 Gluten Free Scones Recipe
If you make it and like the recipe I would be eternally grateful if you popped back and commented leaving a star rating as this will tell search engines that this recipe is worth checking out and others will get to find it in searches.
Gluten Free Scones
This is a recipe that I worked on for a long time to make it perfect. These gluten free and vegan scones are deliciously light but robust enough to take vast layers of jam and clotted cream (I have a recipe for vegan clotted cream too). The perfect base for the perfect British Cream Tea.
Ingredients
360

g

gluten free self raising flour

½

tsp

salt

2

tbsp

ground flaxseed

2

tbsp

caster sugar

1

tsp

psyllium husk powder (optional)

(optional but helps structure)

130

g

butter or butter alternative (I use Flora plant butter)

(I use Flora plant butter in a block)

100

g

dairy free vanilla yogurt

200

ml

dairy free milk

(I use soya milk)

2

tsp

lemon juice

(I use bottled lemon juice for ease)
Instructions
First things first, measure out the liquid ingredients into a medium sized jug. Mix the milk, yogurt and lemon juice together and set aside. The lemon juice may thicken the consistency slightly.

Next preheat your oven to 190°C | 170°C fan | 375°F | Gas 5.

In a large bowl add all the dry ingredients; the flour, salt, sugar, flaxseed and psyllium husk powder. Using a whisk or a spoon stir to combine the dry ingredients.

Add your dairy free butter (I cut into small cubes to speed up this next process). Using your finger tips or a pastry cutter rub the fat into the dry ingredients until you have fine breadcrumbs.

Next you have to be brave, trust me, make a well in the middle of the crumbled dry ingredients and pour your jug of liquid in.

TOP TIP: don't feel the need to scrape every last bit of liquid out, we use the leftovers to glaze the tops of the scones.

Now with a spoon, or I prefer a silicone spatula, mix your wet and dry ingredients together until incorporated. Don't worry if you still see little blobs of butter, this is fine.

At this point you're going to think you've gone wrong and that the mixture is too wet to roll out to use a cutter. Leave the mixture for 5 mins while you make sure the kitchen work surface is clean and generously floured. You also have time to prep two baking sheets with grease proof paper or a silicone mat and dust lightly with flour.

The mixture will use this time to thicken by magic.

Tip the soft dough out onto your floured surface and using your silicone spatula or a palette knife gently pat the mixture into a rustic looking flat lump, about 3-4cm thick. The trick here is to not touch the dough.

Take the 7cm cutter of your choice (round or fluted) and dip it in the flour on your kitchen worksurface and give it a wiggle to lightly coat in flour. Now press the cutter into the lump of scone dough.

Your scone may need a little encouragement to release it from the cutter onto the baking sheet but try to touch it as little as possible. Repeat until you've cut out 6-7 scones shapes.

TOP TIP: if you're left with bits and pieces that can't be cut with a cutter, simply add all those bits back to the mixing bowl, give the offcuts a quick stir up and repeat the process to cut your last couple of scones. This way, you've still not touched the dough with your warm hands.

Now add 1 teaspoon of dark brown sugar to the jug that had the milk, yogurt and lemon juice in it. Using a pastry brush give it a jolly good stir until the sugar granules have dissolved. Use this caramel coloured glaze to brush the top of each scone.

Now pop into the oven for 25mins and make yourself a well deserved cup of tea (or clear the kitchen away!).

Once cooked and firm to the touch remove and allow to cool before serving with cream and jam. I actually love to eat these with just a tiny bit of warmth left in them.
Nutrition
Nutrition Facts
Gluten Free Scones
Amount per Serving
% Daily Value*
* Percent Daily Values are based on a 2000 calorie diet.
Have you tried this recipe?
Let me know how it was & I will be super grateful. Take a picture & tag me @glutarama on your social media posts – I love seeing your photos more than you will ever know x
I love to see your own photos of my bakes, dinners and treats head to your favourite social media account and don't forget to tag me in @glutarama
Subscribe to my email list so that you get NEW recipes straight in your mailbox every Friday PLUS a FREEBIE and access to some amazing gluten free DISCOUNTS
*disclaimer: I use affiliate codes on my website, the vast majority are to Amazon. If you click on any of the links or images in the post and make a purchase my family will benefit from a small % of that purchase at no extra cost to you, in fact, for full transparency, in 2020 I made my first £25, and recently in 2022 I reached my next £25 (Amazon don't transfer the money until you reach £25). As you can see, it won't make me a millionaire but it will treat me to a few coffees, Lord knows I need the caffeine!