I've got an new best friend in this Pear and Apricot Cobbler, since making my Deliciously Easy Peach Cobbler I've been playing with different flavour combinations and had some great fun doing so. Being a recipe developer is a rocky road if you don't want to end up weighing 20st so I'll let you into a secret.
Most recipe developers halve the ingredients or even quarter them so during the development stages we're only making a fraction of the end result you see ideal for feeding a family. So in my line of work I often have mini puddings and bakes. Then I thought maybe others would like to have mini puddings too? Easier to halve, using the automatic servings calculator [see recipe for this feature] and great for making more than necessary and freezing for later, so perfect for a couple who want two now and two mini cobbler puddings another day.
What topping do you use to make Pear and Apricot Cobbler?
Traditionally fruit cobblers have a quick and simple biscuit/scone style topping. This is where there is an anglo-american crossover in language. In the US a cookie is our biscuit and their biscuit is more like our scones and can be both sweet or savoury.
I have seen triple crust cobbler trending worldwide which intrigues me as this kind of goes against the original recipe and takes a bit more preparation, even if you plan to use ready mixes such as Betty Crocker. The triple crust version seems to be more like a pastry topped peach pie.
This recipe is effectively a light scone style topping that bakes and increases in size to cover the delicious fruity base. Some people dollop the mixture on in little piles, others (like me) prefer to be a bit more uniformed and cut out scone/biscuit shapes to add to the pie dish.
So the humble cobbler is not a fruit crumble, nor a fruit crunch – it's a scone/biscuit topped cobbler!
What different fruit cobbler fillings can I use?
Here I've opted for a slightly more original flavour combination and added a teeny bit of cinnamon to enhance the depth of flavour. I felt that stewed pears on their own wouldn't be enough so added the dried apricots for extra texture. Other fruits will work wonderfully, and I have listed a few below with added spices you might like to try;
Blackberry and apple with cinnamon
Gooseberry and ginger
Apple and cinnamon
Pumpkin and pumpkin spice (cinnamon, clove and ginger)
Rhubarb and apple
You can also use frozen or tinned/canned fruit. This will actually cut out part of the method as with these fruit fillings there is no need to stew the fruit beforehand as it will breakdown perfectly when baking.
How long does this Pear and Apricot Cobbler last?
If you plan to make these mini cobblers in advance, you'll be pleased to hear that the pudding keeps really well covered in the fridge. In fact, I'd say this pudding gets better with age.
You can eat the cobbler straight from the oven or reheated with lashing of your favourite custard or be extra indulgent and have cream! I've added a link (affiliate) below to the mini ramekin dishes I use, I have a set of six and they are so handy for mini pies, crumbles and sponge puddings.
How did the Cobbler get its name?
Here's the fun bit. What is the history behind the Fruit Cobbler? Where did the cobbler first appear, and how did the peach cobbler get its name?
Who made the first cobbler?
Well the popular belief is that the cobbler first came about when families settled in America. Being used to suet puddings (seriously, they put suet in EVERYTHING), the British settlers made do with what ingredients they could find and adapted fruit pies and steamed suet puddings. As the adapted topping was different in structure it was added to the pie dishes in dollops, covering the fruit and baked in the oven.
Why call it a cobbler?
There are two theories to this, I happen to love them both equally. The first is that the pudding was literally 'cobbled' together given the circumstances and new ingredients hence the name cobbler.
A second theory is that the final baked cobbler resembled the cobbles from home back in London or other British cities and therefore it was affectionately given the name cobbler.
Which theory do you prefer? Let me know in the comments.
What fruits are traditionally used in a fruit cobbler?
This varies depending on when the cobbler is made i.e. what season and where in the world they're made. Originally it was made with berries and stone fruit such as blackberries, blueberries, and even plums but as you can imagine, the settlers in America were suddenly excited by lots of new fruits to add so you also see cherries, apricots and the much loved peach.
Trouble shooting for this Gluten Free Cobbler Recipe
My fruit is too watery – this may happen if you've chose to use a high water-based fruit such as certain berries. You have two options here continue to stew the fruit stirring constantly to evaporate any extra moisture or add arrowroot. If you opt for the latter simply take the fruit off the heat, spoon out some of the juice into an egg cup and add a teaspoon of arrowroot, mix to blend (it will go a creamy colour). Add the arrowroot liquid back into the saucepan with the stewed fruit and return to the heat. The arrowroot will lose its creamy colour and go translucent whilst thickening the stewed fruit at the same time.
My fruit base is not sweet enough – add more sugar or sweetener of your choice.
My fruit base is too sweet – add a little lemon juice to level up the sweet and sour ratio.
My cobblers are burning – (sorry, got the giggles writing that!) if you find your cobbler topping is catching/burning in the oven simply add a foil wrap cover to prevent any further colouring.
Can you eat the pear skin too, plus a tip on nutrition?
Yes you most certainly can eat the pear skin, it is after all where most of the nutrition and fibre is contained, in pears and all fruits alike. It's also got good gut bacteria enhancers in the skin so remember that next time you peel your apples and pears! Obviously, you don't have the choice with the dried apricots as this form of apricot has its skin on already. However, once again the apricot skin is edible, packed full of fibre and great for keeping you regular if you know what I mean!

Do you want to add the skin to this Pear and Apricot Cobbler though? Well that my dear reader is entirely up to you. It's going to be a personal preference here. In my Easy Pear and Ginger Crumble Cake I commented on the fact that I'd rather not have the skin on the pears, but this recipe is prepared differently. The stewing process softens the skin and adds another texture, otherwise the underneath of the cobblers would be too much like a fruit puree.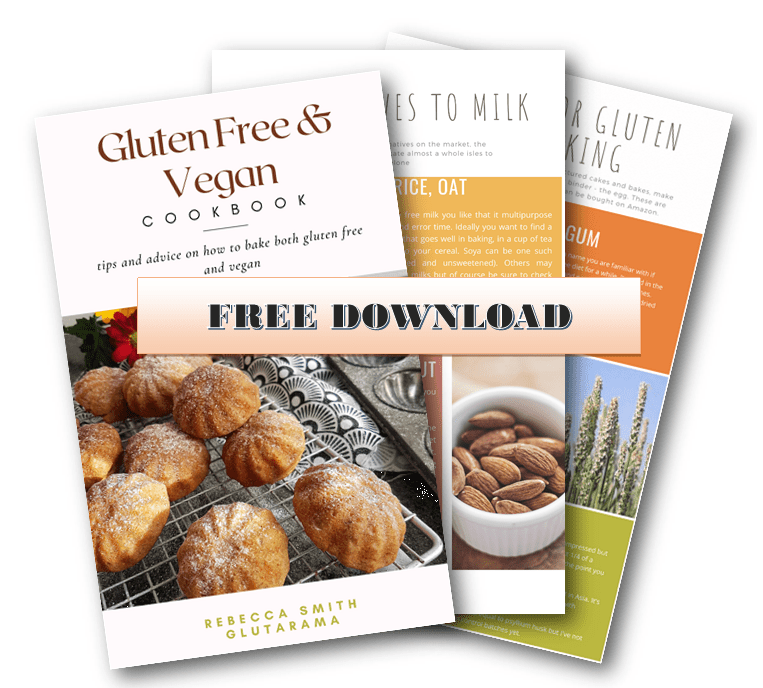 Never miss out again…
Sign up to my weekly Friday newsletter and not only get a FREE e-Book (currently my Gluten Free & Vegan Cookbook) but also get VIP subscriber discounts on free from goodies delivered to your door. Join me in my journey and learn to make anything gluten free.
If you like my Pear and Apricot Cobbler, you'll love these other fruity autumnal harvest bakes
I just know you'll want to check out my and these other recipes I've mentioned above. Deliciously Easy Peach Cobbler – gluten free and vegan or my Easy Pear and Ginger Crumble Cake Recipe made Gluten Free and how about this delicious recipe for Simple Spiced Peach Tarte Tatin – gluten free and vegan
Individual Gluten Free Pear and Apricot Cobbler Recipe
If you make it and like the recipe I would be eternally grateful if you popped back and commented leaving a star rating as this will tell search engines that this recipe is worth checking out and others will get to find it in searches.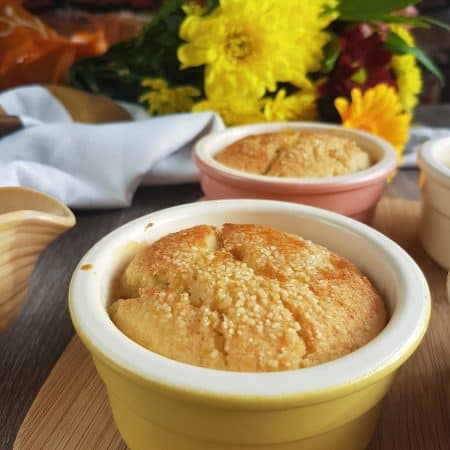 Gluten Free Pear and Apricot Cobbler
This quick and easy to make Pear and Apricot Cobbler is the very best of autumnal comfort food. Using any fruits from the harvest time, you can whip this cobbler up in no time with gluten free ingredients and no egg or dairy so vegan too.
Ingredients
Fruit base
3

ripe pears

I used Bartlett (Williams) pears

6

dried apricots

20

g

caster sugar

2

tbsp

water

¼

tsp

sweet ground cinnamon
Cobbler dough
40

g

butter or butter alternative (I use Flora plant butter)

I used Flora vegan salted block

40

g

caster sugar

60

g

gluten free self raising flour

30

g

almonds

if you like omit the almonds and add half the quantity of flour

30

ml

water

½

tsp

flaxseed

or chia seeds

¼

tsp

psyllium husk powder (optional)

or you can use xanthan gum (this is optional)
Instructions
To make the fruit base
Core and chop your pears and cut the apricots into small pieces, I use scissors and cut each apricot into 6 pieces.

Add both the fresh and dried fruit to a saucepan and add the water, sugar and cinnamon.

Cook over a medium heat until the fruit begins to breakdown slightly and the juices get sticky and thicker. Set aside to cool
To make the cobbler dough
In a bowl rub together the butter/dairy free spread and flour into breadcrumbs.

Add the sugar and almonds and mix to combine.

Add your ground seed and psyllium husk (optional) and mix again to combine.

Pour in the 30ml/2tbsp of water and with a knife cut through the breadcrumb mixture until it begins to come together to form larger lumps.

Tip this large crumble mixture onto the kitchen surface and begin to bring together by kneading. Don't worry, it will come together to form a dough.

Roll the cobbler dough into a ball, wrap in foil and pop into the fridge to rest for 30mins.

Preheat the oven to 190°C | 170°C fan | 375°F | Gas 5
To build the cobbler
In your individual ramekin dishes, equally spoon the cooled stewed fruit and pat down with the back of a spoon to achieve a flat surface.

Take the cobbler dough out of the fridge and knead for 1 minute until smooth.

Cut the dough into 4 and gently roll into a ball, then squash it flat inbetween your palms so you have a disc shape.

Place the cobbles on top of each of the fruit filled ramekins.

Sprinkle a little sugar on top of each cobble to help it go a golden colour.

Bake in the oven for 15mins until golden in colour and the fruit bubbles around the edges of the pie dish.

If your cobblers are a bit pale, you can finish these off under the grill until you achieve that beautiful golden colour (this is what I did with the mini cobblers pictured).

Serve once slightly cooled with custard or cream.
Nutrition
Nutrition Facts
Gluten Free Pear and Apricot Cobbler
Amount per Serving
% Daily Value*
* Percent Daily Values are based on a 2000 calorie diet.
Have you tried this recipe?
Let me know how it was & I will be super grateful. Take a picture & tag me @glutarama on your social media posts – I love seeing your photos more than you will ever know x
Don't lose this delicious Pear and Apricot Cobbler recipe – pin it for later.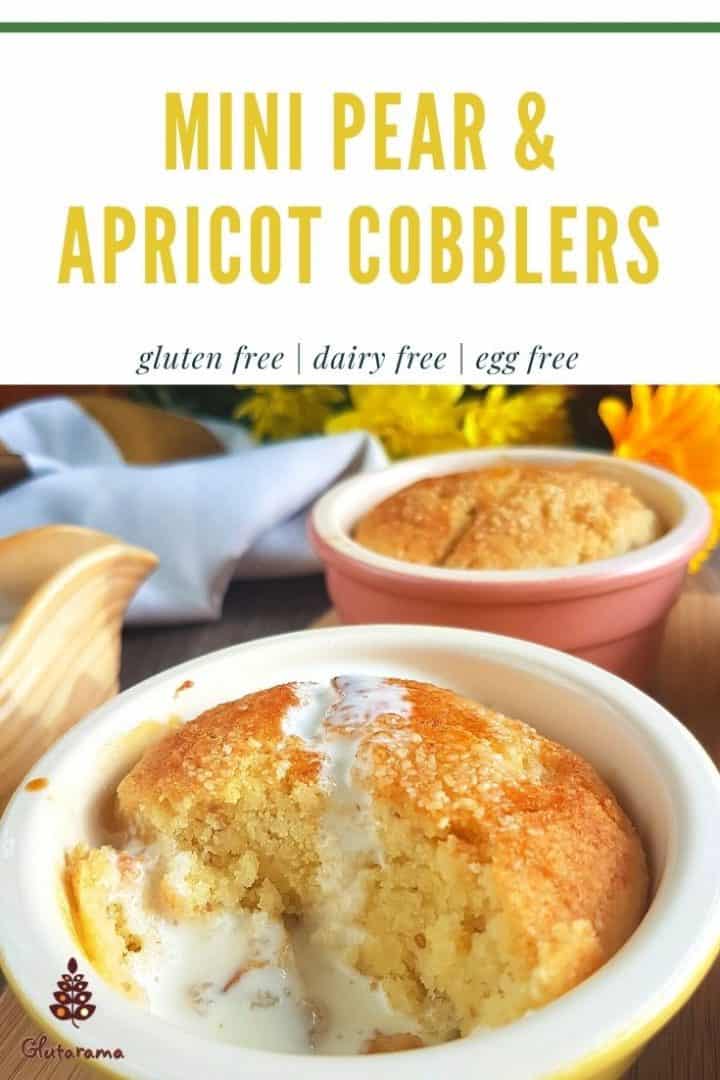 I love to see your own photos of my bakes, dinners and treats head to your favourite social media account and don't forget to tag me in @glutarama
Subscribe to my email list so that you get NEW recipes straight in your mailbox every Friday PLUS a FREEBIE and access to some amazing gluten free DISCOUNTS
And one last thing! I've linked my Pear and Apricot Cobbler with these other awesome Foodies websites, go check them out
Cook Blog Share | Fiesta Friday | Friday Favourites | Over the Moon | Handmade Monday
*disclaimer: I use affiliate codes on my website, the vast majority are to Amazon. If you click on any of the links or images in the post and make a purchase my family will benefit from a small % of that purchase at no extra cost to you, in fact, for full transparency, in 2020 I made my first £25, and recently in 2022 I reached my next £25 (Amazon don't transfer the money until you reach £25). As you can see, it won't make me a millionaire but it will treat me to a few coffees, Lord knows I need the caffeine!