This page contain affiliate links. Please refer to my Disclosures Page for more details.
Also, before you hit 'Jump to Recipe' just check my contents section 'Skip to the Good Bit' below. I may answer a query you have about this recipe straight away in the post.
I have to admit I'm rather smug with myself on this Easy Dairy Free Fudge recipe. It's something I wanted to do for ages but never bothered. This recipe came out of necessity (many of them do). Why is fudge necessary Rebecca I hear you ponder?
I wanted to develop a recipe for Fudge Caramel Cupcakes. Could I get dairy free fudge in the shops, no I could not!
I don't know where all the vegan fudge has hidden but it's no where it used to be on the shelves. So, instead of ordering it in and paying for delivery, I thought, blow it, I'm going to make it for the first-time-ever.
So glad I did. Even better, I worked out a way to make things a wee bit easier on the bingo wings and even worked out how to trouble shoot when fudge goes wrong. How's that for being thorough!
Never miss out again…
Sign up to my Friday newsletter and receive not one, but THREE FREEBIES.
GF and Vegan e-Book
conversion charts
3 simple guides to allergies, intolerances & autoimmune.
Join me and learn to make anything gluten free.
What ingredients do I need for dairy free fudge?
Basic vanilla fudge is super simple to make. Making dairy free fudge is also simple to make but you need to make some obvious ingredient swaps.
Instead of condensed milk, you need dairy free condensed milk. The butter has to be substituted with a plant-based butter and my recipe uses milk too so I have used my usual unsweetened soya milk. The two other ingredients don't need swapping, these are light brown sugar and vanilla extract.
Is all fudge gluten free?
Technically, all standard fudge is gluten free. The issue is when the fudge is produced on the same lines as other confectionary that contain gluten containing cereals. This is where you get 'produced in a factory that contains…' or 'may contain…' warnings.
It's always better to check, this recipe was developed not with just Coeliacs in mind but those who are intolerant or allergic to dairy or lactose.
That said, many Coeliacs find they also cannot tolerate dairy or have a secondary lactose intolerance soon after diagnosis, so this recipe is for you if that is the case.
How do I make my own dairy free condensed milk?
Here's a handy quick guide on how to make your very own dairy free and vegan condensed milk. However, if you want more detailed instructions head to my recipe with top tips, what ingredients to use and storage ideas Easy Dairy Free Condensed Milk.
Dairy Free and Vegan Condensed Milk Recipe (makes approx. 250-300g)
Empty a 400ml tin of coconut milk into a medium saucepan, add 150g caster sugar and stir to combine. Place on a high heat and stir until bubbling. Turn heat down to a gentle rolling boil and leave for 15 minutes. Don't leave unattended and stir occasionally, the condensed milk will halve in volume and go a wallpaper paste colour! Remove from the heat, pour into a glass heatproof jug and cool to room temperature, this will take about an hour.
For the full recipe, method and top tips head to my Easy Dairy Free Condensed Milk recipe.
I can't be bothered to make my own condensed milk!
If this is you then no judgement my dear, none at all. There are times we can and times we can't find the energy to do this extra journey to make dairy free condensed milk. Just for you I've added an affiliate link to Amazon so you can buy your own ready made vegan condensed milk* ready for the next time you need it for one of my recipes. Simply click the link or the image below to go shopping.
How long do you cook fudge?
There are two parts to cooking your fudge. First you need to melt all the ingredients together. Second, you need to boil the melted ingredients to reduce the liquid and begin form sugar crystals.
The first stage takes 2-3 minutes for everything to melt together.
Stage two takes 10-15 minutes.
What you are looking for is a delicious caramel brown colour with huge sticky bubbles in the saucepan [see below].
How do I get the fudge to thicken?
The next stage, once you have melted and rapid boiled your fudge ingredients, is to beat the mixture.
This is the most important part of the fudge-making process. It's jolly hard work on the arms so limber up first and do some stretches.
TOP TIP: Pour the liquid fudge into a large glass bowl – removing from the saucepan will help to cool the liquid quicker and reduce the time you have to beat like crazy.
I begin to whisk the liquid fudge with a large whisk to speed things up. Once the mixture start to thicken and become hard to work with, change the whisk for a silicone spatula and continue to beat.
TOP TIP: draft the family in so you can all work one of your arms!
After 8-10 minutes you will have a beautiful lump of warm silky fudge that simply falls off the spatula. Now you are ready to transfer to a lined tin.
My fudge won't thicken
If you find you have been beating your fudge for 10 minutes and you still don't have the consistency above. Don't despair, the most likely reason is that you didn't boil the liquid long enough or a high enough heat.
I know this seems counter productive, but make peace with the fact you've been beating the fudge for 10 minutes and pop it back into the saucepan and reheat. You'll need it to go back to a liquid state but this time it will stay a lighter colour (I've been there and done this in my development of my recipe).
You'll probably only need a quick 5 minute boil, then go back to beating it in the separate glass bowl. I promise it will work this time – bold statement!
Topping ideas for dairy free fudge
In my recipe I fancied a chocolatey decoration so added Sainsbury's White 'Chocolate' Buttons and Moo Free Caramel Eggs.
melted dairy free chocolate (use more than one colour to add variety)
icing (made with icing sugar, water and maybe some food colouring)
Rum soaked raisins – makes a great gift.
Flavour ideas for dairy free fudge
Adding flavourings is an easy way to add another dimension to your dairy free fudge. Go easy on extracts and oils as this can have an impact on the fudge consistency.
orange extract – add orange zest to the fudge if you like
lemon extract – add lemon zest for texture as well as flavour
almond extract – you could throw in some flaked almonds for a Bakewell flavour
sour cherries and dark dairy free chocolate chips for a Black Forest feel.
Other dairy free recipes you'll love
You're here because you're dairy free or you know someone who is dairy free and you've got a sweet tooth, call me Sherlock! So here's some more sweet dairy free recipes I know you'll love too.
Dairy Free Fudge Cupcakes
These beautifully light and fluffy gluten free fudge cupcakes are the perfect gift, celebration cupcakes or teatime treats. The fudgy pieces and caramel drizzle make these cupcakes extra special. These are also dairy free and egg free as well as gluten free (vegan) but you can choose to use unsalted 'normal' butter and milk if you wish for t he recipe to be just gluten and egg free.
Check out this recipe
Dairy Free Double Chocolate Layer Cheesecake
A deliciously simple double chocolate layer cheesecake with white and milk chocolate layers, topped with triple chocolate chunks for that extra special touch. The perfect gluten free cheesecake for parties and special occasions when you use your normal gluten free digestive biscuits.
Check out this recipe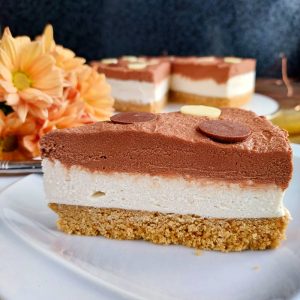 Jumble Squares – Leftover Chocolate Squares
A quick and simple way to use up any celebration leftover chocolate lying around the house post Easter or Christmas. Easy to make diary free as well as gluten free.
Check out this recipe
Easy Gluten Free Rocky Road
A super simple Rocky Road Recipe that you can knock up in no time at all. This Rocky Road is gluten free and can easily be adapted to be dairy free and vegan too.
Check out this recipe
Gluten Free Easter Tiffin
A naughty but very nice Easter Tiffin recipe that's gluten free and can be adapted to be made dairy free and vegan too (with care if still needed to be gluten free – see post). Such a simple no bake recipe that cam be made in advance, a great activity to do with the kids and grandchildren too!
Check out this recipe
Rice Crispy Treats
These cute Rice Crispy Treats are inspired by the rice crispy doughnuts you can get in Costa, but these are friendly for everyone's tummies as they're gluten free, dairy free and vegan.
Check out this recipe
Easy Dairy Free Fudge Recipe
If you make it and like the recipe I would be eternally grateful if you popped back and commented leaving a star rating as this will tell search engines that this recipe is worth checking out and others will get to find it in searches.
Easy Dairy Free Fudge Recipe
A super simple dairy free fudge recipe that's naturally gluten free (without toppings). A great treat to whip up with the kids, take it in turns to do the beating! So easy to make and box up as a gift for a loved one too.
Ingredients
250

g

vegan condensed milk

250

g

light brown sugar

100

g

butter

I use Flora Unsalted plant butter

100

ml

dairy free milk

I use soya milk

2

tsp

vanilla extract
Instructions
Weigh out all the ingredients into a large non stick saucepan.

Add the pan to the hob and on a high heat begin to melt together, this will take about 2-3 minutes.

Once your fudge liquid has started to rapid boil (lots of bubbles rolling into the centre of the pan), turn the heat down to medium-high and set the alarm for 10 minutes.

Check to see in the fudge liquid is a thick sticky liquid, it should be a golden caramel brown. if not, add another 5 minutes to the timer.

TOP TIP: Pour the liquid fudge into a large glass bowl – removing from the saucepan will help to cool the liquid quicker and reduce the time you have to beat like crazy.

The next stage is to beat the mixture to speed up the cooling process and aid the sugar crystals to form.

I begin to whisk the liquid fudge with a large whisk to speed things up. Once the mixture start to thicken and become hard to work with, change the whisk for a silicone spatula and continue to beat.

After 8-10 minutes you will have a beautiful lump of warm silky fudge that simply falls off the spatula. Now you are ready to transfer to your prepared tin.

Press the still warm fudge into the edges of the lined 20 x 20 square tin. this is a thin fudge ideal for small portion sizes and topping with decorations.

If decorating allow to cool to hand temperature before adding anything otherwise you'll end up with a melted mess.

Pop the fudge in the fridge for at least 30 minutes to harden off. Once set you can cut into portions – I've cut mine 4 x 4 to give the family 18 pieces of delicious fudge.
Nutrition
Nutrition Facts
Easy Dairy Free Fudge Recipe
Amount per Serving
% Daily Value*
* Percent Daily Values are based on a 2000 calorie diet.
Have you tried this recipe?
Let me know how it was & I will be super grateful. Take a picture & tag me @glutarama on your social media posts – I love seeing your photos more than you will ever know x
I love to see your own photos of my bakes, dinners and treats head to your favourite social media account and don't forget to tag me in @glutarama
Subscribe to my email list so that you get NEW recipes straight in your mailbox every Friday PLUS a FREEBIE and access to some amazing gluten free DISCOUNTS
Join my friendly Facebook Group
life's a drama, gluten free doesn't have to be….
*disclaimer: I use affiliate codes on my website, the vast majority are to Amazon. If you click on any of the links or images in the post and make a purchase my family will benefit from a small % of that purchase at no extra cost to you.

For full transparency, in 2020 I made my first £25, and in 2022 I reached my next £25 (Amazon don't transfer the money until you reach £25). Recently I got paid a whopping £27.10 for 2023.

So to date I have made £78.58 since I first started the scheme in 2017. It won't pay the bills, that's for sure but it does help to pay for ingredients or little treats to cheer me up!