I thought it about time I added some pub classics to my collection of gluten free recipes, starting with this Gluten Free Steak and Ale Pie.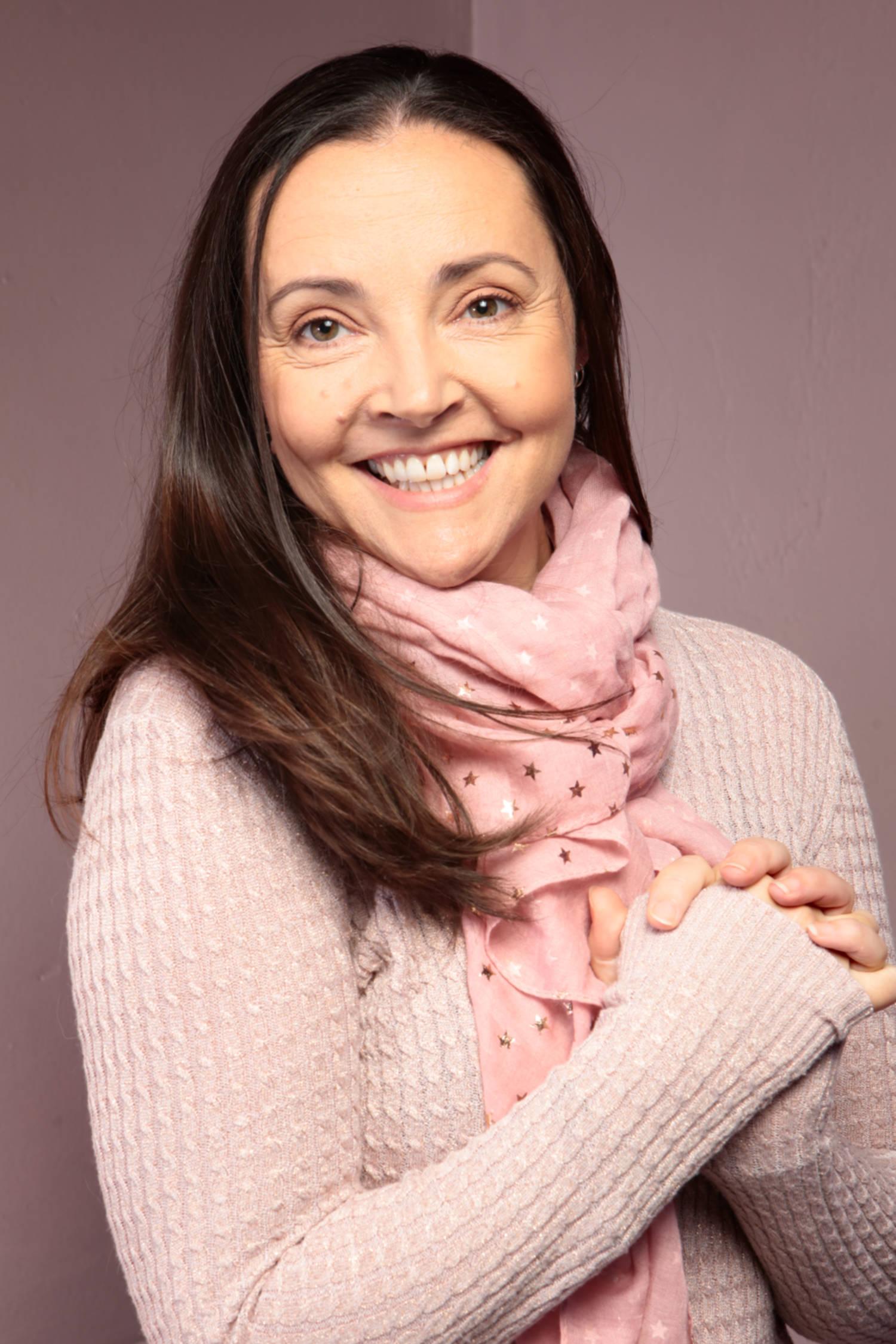 NEVER MISS A RECIPE!
Subscribe for the latest updates from Glutarama!
Why is Steak and Ale Pie a pub classic?
Infuriatingly this is one of those age old recipes that very little is documented. We know that Steak and Ale Pie has been around for centuries. Pies were a staple diet in Britain and came in all shapes, sizes and fillings both savoury and sweet.
I've found articles on the popularity of steak and ale pies in Scotland and the variation in Ireland which uses stout of course. I scanned my Mrs Beeton book of household Management and could only find her recipes for Rump Steak Pie with the added variation of oysters (these were cheap and easy to source in the 19th Century).
Of course the sister to steak and ale pie is steak and kidney pie or pudding but this is very different in flavour due to the kidney and crust.
So I guess the answer to the question, why is it so popular is because it's age old delicious pub grub made with simple ingredients and the ale from the pubs own caskets.
Is Ale gluten free?
Let's be clear here. Not all ale is gluten free. To make a safe gluten free steak and ale pie you need to use a specifically gluten free ale.
For this recipe I happened to use "Old Speckled Hen" ale, here's what that have to say about the process making their ale.
The gluten free beer is brewed with their usual quality ingredients and to their normal recipes, with the reduction in gluten content achieved through an innovation in the brewing process. A bespoke product stream ensures the beers remain segregated and guarantees that they can be designated as gluten free.

Old Speckled Hen
Does Steak and Ale pie have alcohol in it?
Seems an odd question but not at all dear reader, some may be keen to avoid even a trace of alcohol so if this is you you will not want to eat this pie. Unless you cook the pie filling for a good few hours, there will still be a small percentage of alcohol left in the pie even after baking in the oven.
Ingredients you will need
250 g rump steak
1 medium onion
1 small carrot
2 tbsp gluten free beef gravy granules
200 ml gluten free ale
½ tsp dried thyme
1 tsp Henderson's Relish or gluten free Worcestershire sauce
pinch sugar
150 g plain gluten free flour
40 g butter or butter alternative (I use Flora plant butter)
40 g fat (I use Trex white vegetable fat)
3 tbsp cold water
salt and pepper to taste
280 g Jus-Rol gluten free puff pastry or a gluten free alternative
Equipment you will need
How to make Gluten Free Steak and Ale pie
This is a simple, quick to make recipe for steak and ale pie. I've cheated and used a ready-made gluten free puff pastry for the pie crust tops. The bottom pie crust is a simple savoury shortcrust that you pre-bake to prevent a soggy bottom!
To make the filling you soften the vegetable, then cook the steak pieces to get a lovely caramelisation. Next mix the ale, gluten free gravy granules and flavourings in a jug and pour over the meat and vegetables, then heat gently until the gravy thickens.
Fill your pies and top with puff pastry tops cut to the shapes of your pie tins. Glaze and bake, it really is that simple.
Why is my Steak and Ale Pie bitter?
If you've ever drunk ale you will know it has a crisp bitterness to it. Of course, many different flavours of ale are out there and yes, there are lots of gluten free options. You just need to have find out that you love.
I'm not an ale drinker, I actually drink very little alcohol, but I do like a steak and ale pie and love the earthy bitterness you get by adding ale.
Ways to cut through the bitterness are to add Worcestershire sauce. I use Henderson's Relish as it's a naturally gluten free alternative but you can find gluten free Worcestershire sauces on the market.
NOTE: Lea & Perrins is NOT gluten free.
Two more ingredients can be added to your personal taste once you've made the pie filling.
tomato ketchup – this adds sweetness and complements the beef gravy flavours
sugar – simply adding a pinch of sugar can make all the difference.
Some New Gluten Free Beers to Enjoy
For over 12 years the Free From Food Awards has championed GF beer. These are some favourites from their 2023 awards shortlist that are all perfect to drink with bar food or this homemade Gluten Free Steak and Ale Pie.
For lager lovers. Refreshing, crisp, GF and vegan lager from this long-established Sussex brewery. Great with pizza and fish and chips.
Butcombe Stateside Session IPA 4.2%
Butcombe's take on the American Dream. A punchy, resinous GF and vegan IPA from this pub-favourite Bristol Brewery. Great with fried chicken, fish and chips, curry and tacos.
Gun Brewery Gun Control Table Beer 2.5%
A big, low-abv beer from this GF and vegan brewery in Sussex. Roasted caramel body and big fruity hops. Great with fish and chips, pizza, lasagne or any cheese-based dish.
Kirkstall Brewery Spokane West Coast IPA 6.0%
A massive hit of flavour in this strong, mouth-tingling GF and vegan IPA brewed in Leeds. Great with Thai food, oily fish and burgers.
Free Damm Tostada Alcohol Free Beer 0.0%
A zero alcohol, GF and vegan amber beer from the much loved Damm Brewery. Perfect with pretty much anything.
You can read more on gluten free beer but no other than a free from beer expert, Sue Cane over on the Food Allergy Aware website and her guest blog post titled 'Hello Beer'.
Other dinner recipes you will love
Family Friendly Mild Gluten Free Chilli Con Carne
A wonderful way to sneak veggies into a family meal that the whole family will eat and you can sit back in the comfort that everyone's getting a daily dose of nutrients. This is both gluten free and dairy free and can be made vegan too with meat free mince and a vegan stock.
Check out this recipe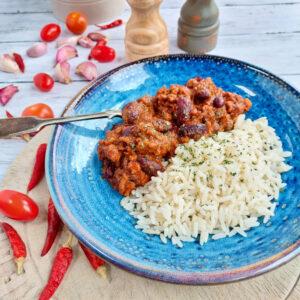 Cheats Sausage Casserole
A super quick and simple sausage casserole using a tin of soup, tin of beans, a packet of sausages and a few other simple ingredients. This is a great recipe for the family as it's always a children's favourite too. Versatile in the fact that you can not only make this gluten free, but also dairy free and vegan too with the right safe ingredients.
Check out this recipe
Easy Gluten Free Beef Lasagne
An easy Gluten Free Beef Lasagne made with dairy free options for the béchamel sauce. Made from a recipe I developed when I was 15 years old and tweaked to be gluten free later in life. The recipe also has a handy tip on how to get the best lasagne pasta with no inedible crunchy bits (a common downside to gluten free lasagne sheets).
Check out this recipe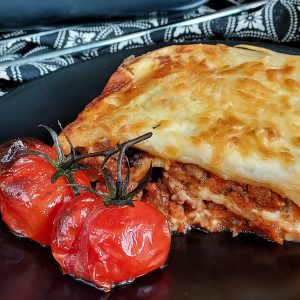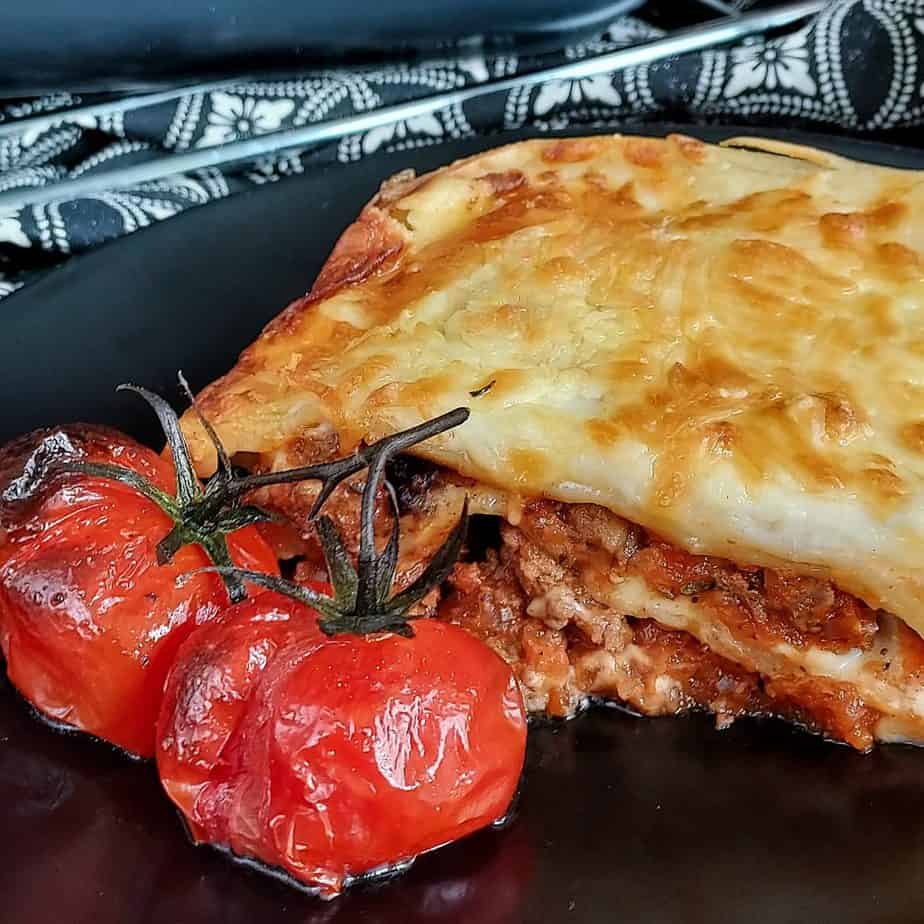 What British puddings go great after pie?
Gluten Free Spotted Dick
The infamous Spotted Dick Pudding but adapted ever so slightly to be gluten free with a dairy free and vegan option too. This old British Classic Pudding is a household name in the UK and many have fond memories of their grandparents homemade puddings. Slightly sweet, steamed pudding always best served with lashing of hot custard.
Check out this recipe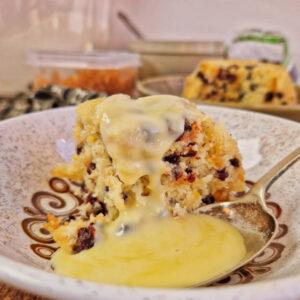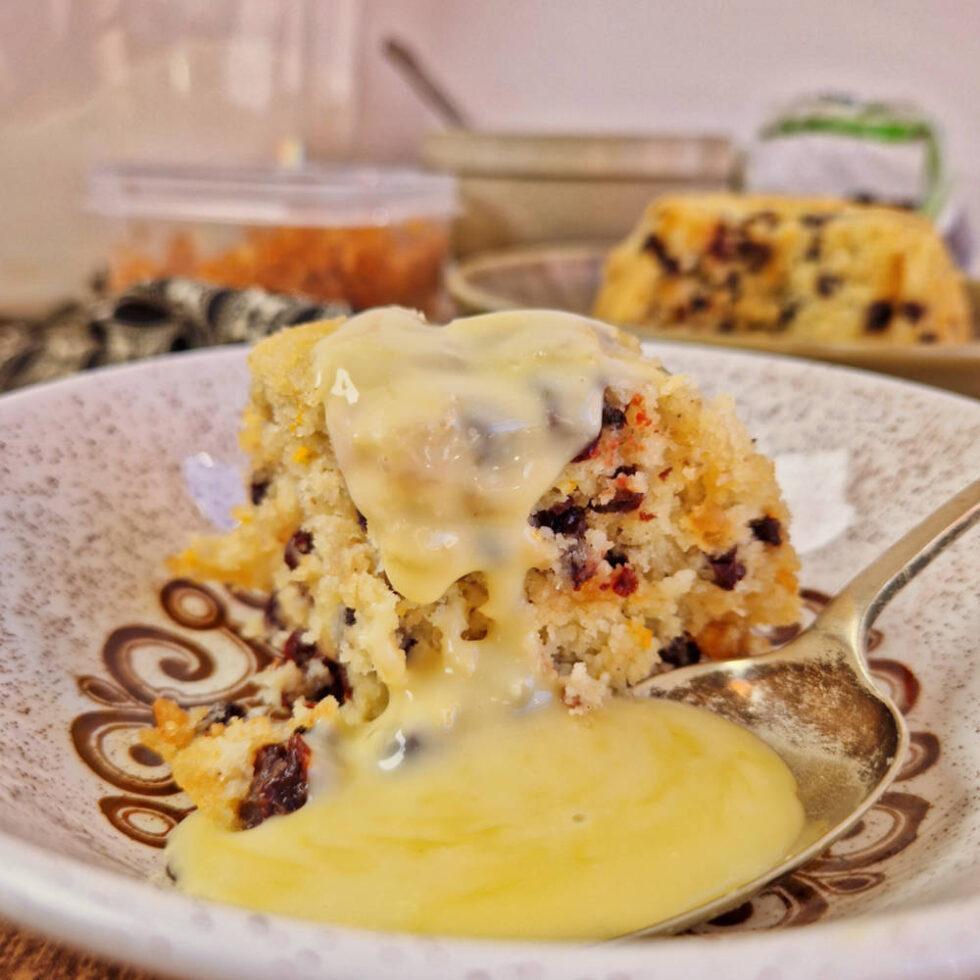 Gluten Free Jam Roly Poly
A delicious free from version of the famous traditional British pudding. This Jam Roly Poly has been adapted to be gluten free, dairy free and vegan using my own gluten free suet recipe. Tastes just like your Nan used to make and now you can make it for the next generation.
Check out this recipe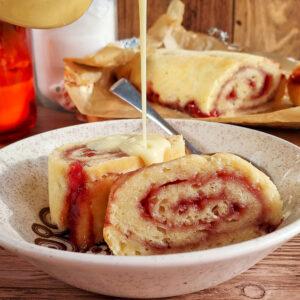 Gluten Free Bread and Butter Pudding
A delicious and simple Bread and Butter Pudding made gluten free with dairy free and vegan options too. A truly traditional comfort food for all the family to enjoy.
Check out this recipe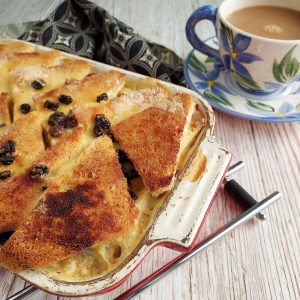 Gluten Free Steak and Ale Pie Recipe
If you make it and like the recipe I would be eternally grateful if you popped back and commented leaving a star rating as this will tell search engines that this recipe is worth checking out and others will get to find it in searches.
Gluten Free Steak and Ale Pie
A delicious British Pub Classic, this Gluten Free Steak and Ale Pie is very simple to make with two types of pastry; short crust and puff pastry. Using a simple method to make a gluten free rich gravy, this pie will not fail to impress the family.
Ingredients
For the steak and ale filling
250

g

rump steak

or lean stewing steak which may be cheaper

1

medium

onion

chopped finely

1

small

carrot

peeled and chopped finely

2

tbsp

gluten free beef gravy granules

200

ml

gluten free ale

½

tsp

dried thyme

1

tsp

Henderson's Relish

or gluten free Worcestershire sauce

pinch

sugar

optional – check for taste before you add
For the make the pie pastry base
150

g

plain gluten free flour

40

g

butter or butter alternative (I use Flora plant butter)

40

g

fat (I use Trex white vegetable fat)

3

tbsp

cold water

salt and pepper to taste
For the pie crust (top)
280

g

Jus-Rol gluten free puff pastry

or a gluten free alternative
Instructions
To make the pie base
In a mixing bowl, measure out both the butter (dairy free if necessary) and white hard fat or lard if you prefer.

Add the gluten free plain flour and seasoning and using your fingertips or a pastry blender work the fats into the flour until you have a mixture resembling breadcrumbs.

To the bread crumbs add the cold water one spoon at a time and mix in with a silicone spatula. The mixture will begin to clump together.

Tip the mixture out onto a lightly floured surface and gently work into a ball. Pop this into the fridge until you need to roll it out.
To make the pie filling
Cut off any fat from the steak and chop the meat into small pieces about the size of a dice. Set aside for later.

In a large non stick frying pan add a splash of oil and the chopped onions and begin to gently brown on a medium heat.

After approx. 5 minutes, add the finely chopped carrot and continue to heat gently to soften.

After about 5 more minutes, tip the softened onion and carrot onto a small plate and return the frying pan to the heat with another splash of oil.

Now add the chopped steak to the pan and fry on a medium heat until the meat has a lovely brown caramelised look to it. Turn the heat down and prepare your gravy.

In a jug, measure 200ml of gluten free ale. To the ale add the gluten free gravy granules, dried thyme and Henderson's Relish. Give the ingredients a mix to combine.

Now pour the gravy and ale mix to the frying pan, turn the heat up slightly and begin to mix constantly as the liquid will thicken quite quickly. Carefully taste test the gravy for flavour and if you think it's too bitter add a little sugar or even tomato ketchup to taste.

Remove from the heat and leave too cool while you work on the pie base.
To part bake the pie case
Preheat the oven to 200°C | 180°C Fan | 400°F | Gas 6

Take the homemade pie base pastry out of the fridge and work for a minute or two to make it supple. Next, roll out the pastry to about ½cm thickness.

Cut the rolled pastry into four and press the pastry shapes into you pie tins cutting off any excess or patching up any gaps. No need to worry about this looking perfect. Place your pie tins on a baking sheet.

You could use baking beans to blind bake these little pies, personally I don't bother and just bake for 10mins in the oven.
To make the pie crust (top)
Ideally you'll have a ready-rolled gluten free puff pastry. Unroll the pastry and using your pie tins as a template, cut out lid shapes for all 4 pie tins. Set these aside on a lightly floured surface until you need them.
To build the steak and ale pie
Take your part baked pie cases and fill each case equally with the slightly cooled steak and ale pie filling.

TOP TIP: leave a bit of gravy in the pan to use as a glaze.

Brush the edges of the pie tins to help the tops stick, then place the cut out puff pastry shapes over the filled pies. Press down gently with your thumb or a fork to seal the pie. Finally, make an incision in the middle to allow steam to escape.

Glaze each pie with any leftover gravy using a pastry brush. Put each pie back on the baking sheet and place in the oven for 20 minutes until the puff has turned a golden colour.

Serve with mashed potato, vegetables and gravy or eat cold as part of a picnic or teatime snack.
Nutrition
Nutrition Facts
Gluten Free Steak and Ale Pie
Amount per Serving
% Daily Value*
* Percent Daily Values are based on a 2000 calorie diet.
Have you tried this recipe?
Let me know how it was & I will be super grateful. Take a picture & tag me @glutarama on your social media posts – I love seeing your photos more than you will ever know x
I love to see your own photos of my bakes, dinners and treats head to your favourite social media account and don't forget to tag me in @glutarama
Subscribe to my email list so that you get NEW recipes straight in your mailbox every Friday PLUS a FREEBIE and access to some amazing gluten free DISCOUNTS