My Vegan Lemon Curd recipe was born because originally I craved my childhood favourite the humble Lemon Meringue Pie. I knew I had to overcome two hurdles. The first was to create a vegan lemon curd, the second (and more scary) was to conquer aquafaba meringue.
I am thrilled to report that I needn't have been worried about either hurdles. In fact, these were mere stepping stones and not at all scary. You can find my triumph here Easy Vegan Lemon Meringue Pie made gluten free and see for yourself that this is very achievable.
Now, let's crack on with the egg free lemon curd shall we – pun very much intended.
Top questions regarding Lemon Curd
Does Lemon Curd contain egg? Yes, normally it would contain either the whole egg or the yolks.
Does Lemon Curd contain dairy? Yes, normally it would contain butter.
Is Lemon Curd safe to eat? As this is a vegan lemon curd it is completely safe to eat as it's never seen an egg! However, to be fair a non-vegan curd is made as you would make a Hollandaise Sauce and the egg yolks are gently cooked over a pan of simmering water so they are semi-cooked.
Never miss out again…
Sign up to my Friday newsletter and receive not one, but THREE FREEBIES.
GF and Vegan e-Book
conversion charts
3 simple guides to allergies, intolerances & autoimmune.
Join me and learn to make anything gluten free.
How do you make Lemon Curd from scratch?
With a 'normal' lemon curd you use a Bain Marie method. This is where you heat your ingredients in a bowl over a simmering pan of water. The process makes for gentle heating and eliminates the risk of the eggs curdling. You start with the lemon juice, water (if using) and sugar and heat until the sugar has dissolved. Then add your beaten eggs, one by one, until the curd has thickened to a custard consistency.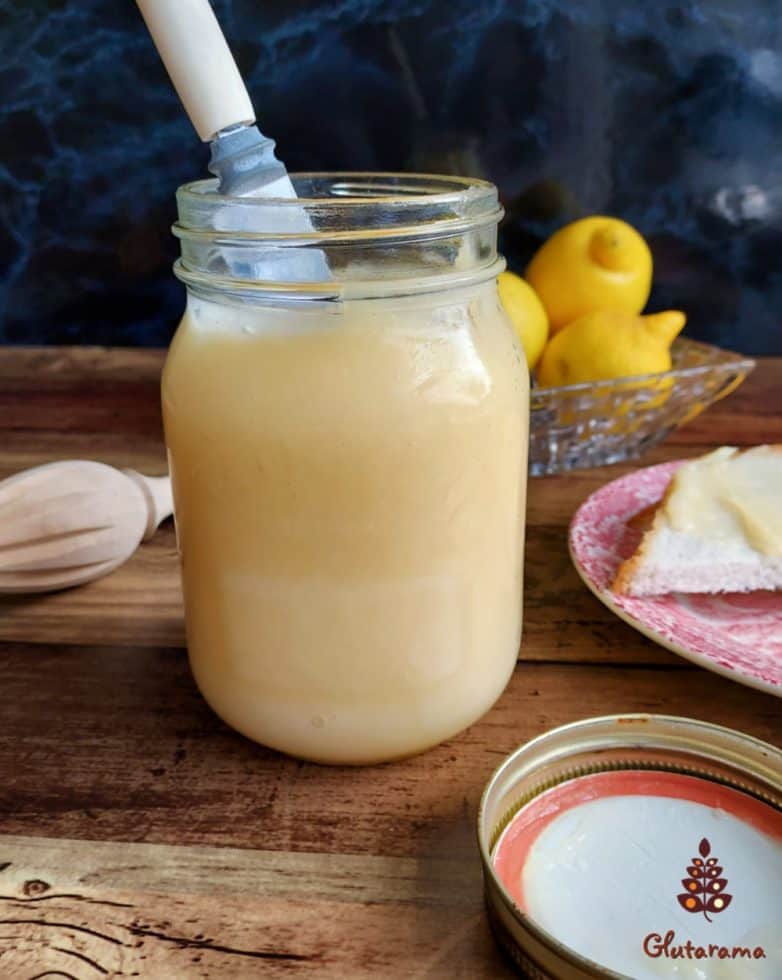 How do you make a vegan Lemon Curd from scratch?
How do you make a vegan lemon curd? Nothing like the method I just mentioned above!
To make a vegan curd you heat the first lot of ingredients in a saucepan over a medium to high heat. This is the sugar, lemon juice and water.
Once the sugar has dissolved you then add cornflour, custard powder, arrowroot and water. It's is a magical thing, because the law of physics means that you have to carefully mix all the ingredients to make a paste.
This is my favourite part of the process because I'm sure we all know what happens when you add water to corn starch at just the right ratio. That's right, you get science magic and a liquid that turns to solid if you're too bossy with it.
This is a great recipe to make with the little ones in the family just to see their faces when they try to mix the powders into the water, or stick their (clean) fingers into the sinking mud and try to pull them out again. Yes, yes I do do this. How can you NOT it's too much fun!.
I've gone off on a tangent haven't I? Once you've played, I mean prepared your cornflour paste, pour this into the lemon liquid and remove from the heat.
Stir like mad and the colour of the curd will go from pastel cream/pale yellow to darker slightly translucent pale natural yellow. Hey-presto you have a vegan lemon curd.
Why use Arrowroot?
It's simple, I use arrowroot because it is odourless, clear when turned to liquid and tasteless. It helps bind the curd to prevent splitting and thickens it to. I use arrowroot to thicken my vegan clotted cream. You can find the recipe for this here Homemade Clotted Cream made dairy free and vegan
How can I make my vegan lemon curd yellow?
Firstly ask yourself why you'd want it to be day-glow yellow? Many lemon curds you see in the shop have had a colour added to them. Of course in a 'normal' curd the yellow of the egg yolks aids the colour and in this vegan curd you have no natural yellow colouring.
This is why I've added Birds Custard (TM) to the recipe, it adds a tiny bit of welcome colour and a lovely note of vanilla too. Please note that Birds Custard powder is a may contain for milk so no good for those with allergies.
Other options are to add gram flour. I have it on good authority that it adds a lovely yellow warmth but without any aftertaste.
Another option is to add turmeric but this is a definite no-no for me. The flavour is way too strong and would ruin this delicious lemon curd recipe.
I have pondered whether using a couple of strands of saffron would work but I have none in stock. If you have and try this please let me know how you get on by coming back here and commenting. I'd love to know what you think.
What can you do with Lemon Curd?
I've already told you about using this Lemon Curd recipe to make my delicious Easy Vegan Lemon Meringue Pie made gluten free. How about making Belgium Buns? They use lemon curd in the swirls of sweet dough. Another idea would be to top a cheese cake with it, or how about making holes in muffins and adding a surprise lemon curd filling. Another idea would be to use it to coat the top of my No Bake Lemon Cheesecake made gluten free and vegan.
Personally I don't think you can top a Lemon Curd sandwich or Curd on toast with a hot cup of tea.
How long does Curd keep?
I've kept my lemon curds both in the fridge and out of the fridge. Keeping it in the fridge may cause a little bit of separation where the sugar juices seep from the curd. This is nothing to worry about, simply give the jar a jolly good shake up. If keeping out of the fridge, I'd use this within the week. This is fine if you're using it in another recipe like meringue pie. Kept in the fridge you could keep it for up to a month.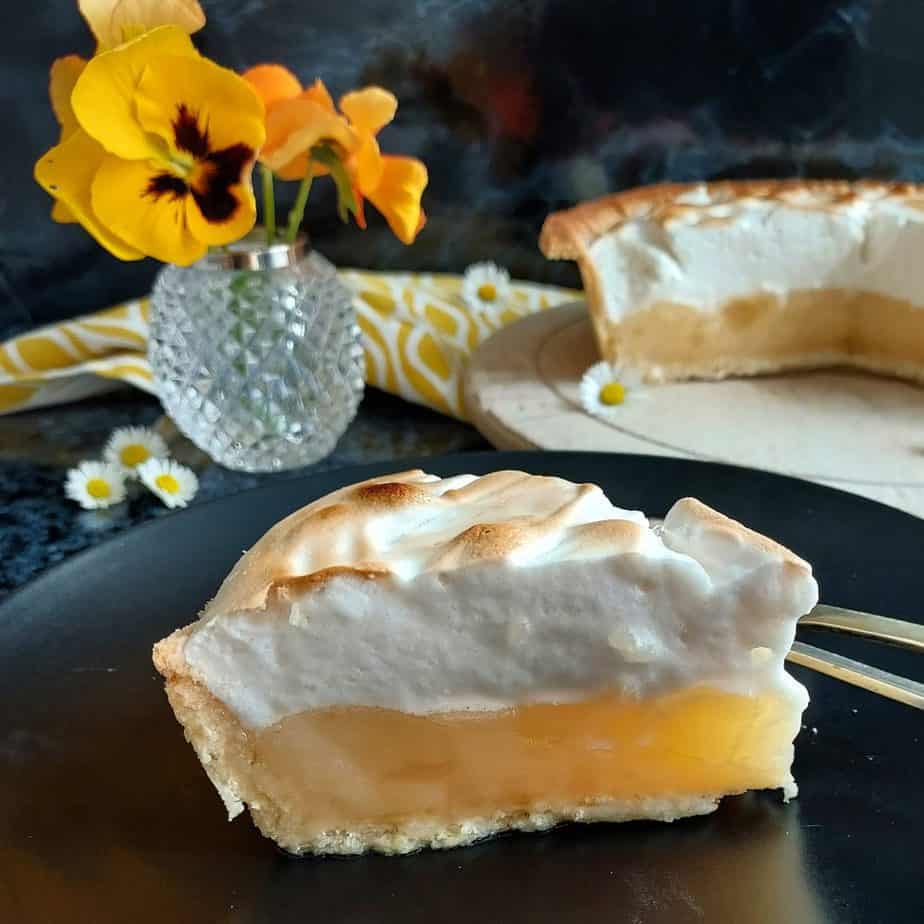 How about another gluten free and vegan spread?
Homemade Gluten Free Lotus Biscoff Spread
This Gluten Free Lotus Biscoff Cookie Spread is a celebration of perseverance to get the taste just right. Easy to make using ingredients you normally would have at home, this gluten free and vegan biscuit spread is delicious in sandwiches, on toast and use in baking or in smoothie bowls.
Check out this recipe
Simple Homemade Vegan Lemon Curd Recipe
Simple Homemade Vegan Lemon Curd
A simple to follow recipe for vegan lemon curd. This recipe requires no eggs or dairy and is an excellent base for other recipes such as lemon meringue pie, lemon cheesecake or just a really lovely old school lemon curd sandwich filler.
Ingredients
5

lemons

squeezed

200

g

caster sugar

60

g

cornflour/cornstarch

1

tbsp

Bird's original custard powder

1

tsp

arrowroot

4

tbsp

water
Instructions
Squeeze all your lemons into a jug and make the liquid up to 300ml by adding water.

Pour this into a medium saucepan and add the caster sugar.

Heat on a medium to high heat until all the sugar has dissolved, turn the heat down to a simmer while you do the next step.

In a small jug measure the cornflour, custard powder and arrowroot.

Add the tablespoons of water and using a teaspoon stir to combine. This will be tough at first but keep going until all the powder is mixed into the water.

Pour your cornflour paste into the saucepan of sugar and lemon juice and remove from the heat.

Using a small whisk, beat the mixture quickly. It will almost immediately start to thicken and change colour, keep beating to ensure you don't end up with any clear arrowroot lumps in your mixture.

Once thoroughly beaten, leave to one side to cool.

To store add to a sterilised jar and leave to cool completely. I use Kilner 500g jars (you may have a tiny bit extra as a bonus to have on toast now!).
Notes
How to sterilise a jar: simply boil the kettle and pour into the jar and leave until you're ready to use. To use pour the water away and fill the jar making sure the lid is secured tightly.
Nutrition
Nutrition Facts
Simple Homemade Vegan Lemon Curd
Amount per Serving
% Daily Value*
* Percent Daily Values are based on a 2000 calorie diet.
Have you tried this recipe?
Let me know how it was & I will be super grateful. Take a picture & tag me @glutarama on your social media posts – I love seeing your photos more than you will ever know x
I love to see your own photos of my bakes, dinners and treats head to your favourite social media account and don't forget to tag me in @glutarama
Subscribe to my email list so that you get NEW recipes straight in your mailbox every Friday PLUS a FREEBIE and access to some amazing gluten free DISCOUNTS
*disclaimer: I use affiliate codes on my website, the vast majority are to Amazon. If you click on any of the links or images in the post and make a purchase my family will benefit from a small % of that purchase at no extra cost to you.

For full transparency, in 2020 I made my first £25, and in 2022 I reached my next £25 (Amazon don't transfer the money until you reach £25). Recently I got paid a whopping £27.10 for 2023.

So to date I have made £78.58 since I first started the scheme in 2017. It won't pay the bills, that's for sure but it does help to pay for ingredients or little treats to cheer me up!