This page contain affiliate links. Please refer to my Disclosures Page for more details.
Every day's great for Pancakes right?
When my two children were toddlers and either still at home full time or part time playschool, we used to have pancakes EVERY TUESDAY! I distinctly remember the play-staff exclaiming with jealousy when I'd pick up Bethany before lunch on Tuesdays and announce to her 'Pancake Day'. Now my two are both at school it's a less frequent treat but over the holidays I try to get at least one gluten free pancake day in.
Can I make these Pancakes dairy free?
These pancakes are easy to make dairy free, you simply swap the milk for your favourite dairy free alternative. I have made these using soya milk and know for a fact that they will work equally as well made with rice, almond or coconut milks for example.
The other swap you'll ned to make is the melted butter in the gluten free pancake batter. In this case I use a little sunflower oil or melted coconut oil. By adding, the batter holds better and you're guaranteed a no-stick pancake!
Why do we have Pancake Day?
Jolly good question. I love to research the history behind traditional recipes ad this was a fun one to read up on, we all know the basics right? Well this post goes one step further and tells you why we have pancake day, what Shrove Tuesday means and who started the famous Pancake Day Races!
Pancake Day! Enjoy a Happy Free From Shrove Tuesday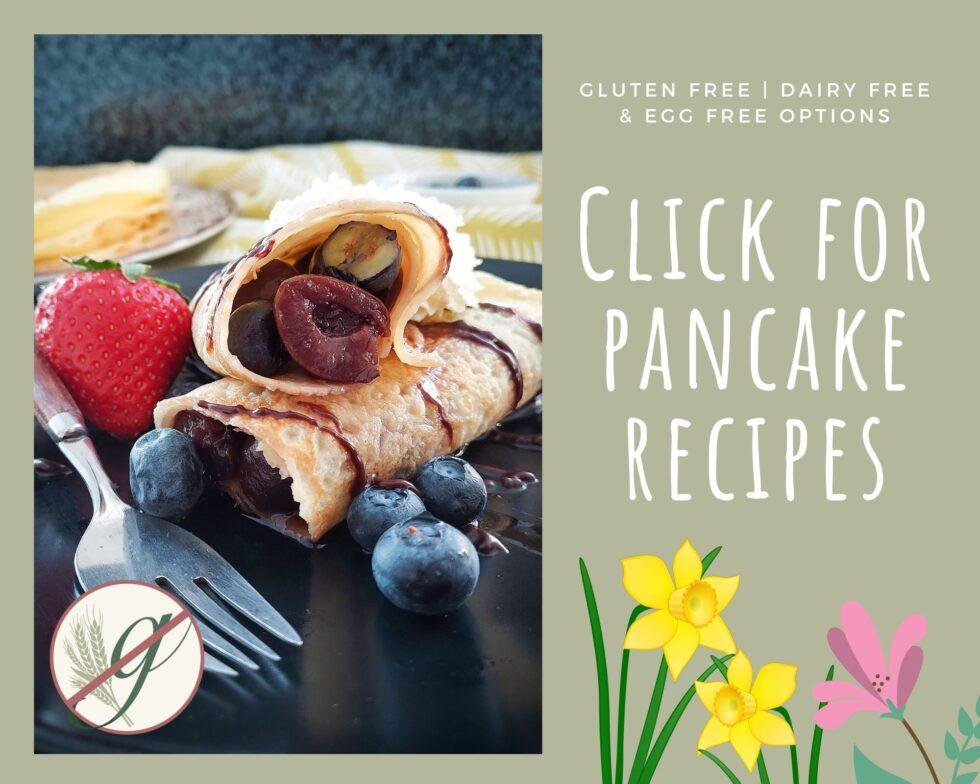 Do you Toss or Flip a Pancake?
Another good question. I think I do both, actually, let me rephrase that. Lewis does both! I'm not always confident enough to toss our pancakes but my son Lewis is becoming a dab hand in the kitchen and he doesn't care, he just goes for it! The difference is that Flipping a Pancake is to use a utensil to flip it over, Tossing a Pancake is to take the frying pan and launch the pancake into the air, do a mid-air flip and land back in the pan the other side up. Easy right?
How do you know when a pancake is ready to toss? In the method below I explain that a pancake is ready to flip when its come free from the pan and sounds like sandpaper as you jiggle it holding onto the frying pan handle.
How do you Toss a Pancake?
Well first of all you have to commit to it, there's no backing out halfway else you're headed for disaster! The best method is to ensure your pancake is totally cooked and free from the frying pan (no sticky uncooked patches). Then follow these 'simple' instructions;
take the frying pan in your hand and set away from the stove
holding firmly onto the handle, jiggle the pancake to the front edge of the frying pan (the edge away from you) you might even be clever enough to get a little over hang where the pancake looks like its trying to escape the pan.
now in one quick action push the frying pan AWAY and UPWARDS at the same time. This action will launch the pancake into the air and create a flipping motion.
immediately bring the frying pan back to its original position before tossing the pancake and your pancake will dutifully land back in the pan on its other side … hopefully!
Good Luck!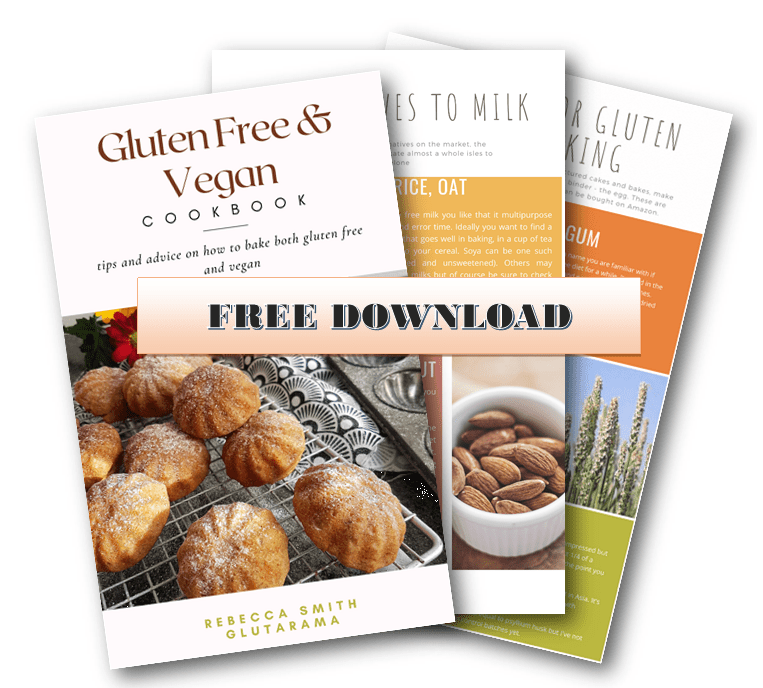 Never miss out again…
Sign up to my weekly Friday newsletter and not only get a FREE e-Book (currently my Gluten Free & Vegan Cookbook) but also get VIP subscriber discounts on free from goodies delivered to your door. Join me in my journey and learn to make anything gluten free.
Other Pancake Recipes you might like
Vegan and Gluten Free Pancakes
These vegan and gluten free pancakes or crepes are the ultimate free from dream and often missed on a special diet. American Pancakes are great and all but it has got to be a proper pancake on Shrove Tuesday right
Check out this recipe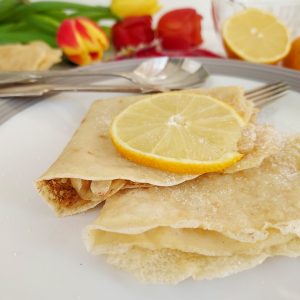 Vegan Beetroot American Pancakes (GF)
These Beetroot American Pancakes are a great way to use up old beetroot that is past its best, or if you have a glut of homegrown beetroot. These are also gluten free, dairy free and vegan too so great for dietary needs AND hidden veggies for the little ones. Winners all round.
Check out this recipe
Gluten Free Scotch Pancakes
These Gluten Free light and fluffy Scotch Pancakes (or Drop Scones) are so simple to make. My daughter's been making this recipe since she was 12. Whipped up and ready to eat in under 30mins – no excuse not to have for a delicious breakfast, dinner or tea! Easy to adapt and make dairy free too.
Check out this recipe
Easy Gluten Free Pancake Recipe
If you make it and like the recipe I would be eternally grateful if you popped back and commented leaving a star rating as this will tell search engines that this recipe is worth checking out and others will get to find it in searches.
Easy Gluten Free Pancakes
Everyday is pancake day in our house! This easy gluten free pancake recipe works every time to make more simply increase the serving size and follow the instructions
Ingredients
250

g

gluten free plain flour

4

egg(s)

450

ml

milk

or dairy free alternative

2

tbsp

melted butter

or dairy free alternative such as sunflower or coconut oil
Topping/Filling Ideas (we have these on the table every time)
banana(s)

Strawberries

Blueberries

Nutella

Maple Syrup

Lemon Juice

Caster Sugar

Squirty Cream
Instructions
Measure out the flour into a large bowl and crack the eggs into the centre, whisk together like your life depended on it!

The mixture will be very thick and 'claggy' at this point and probably get stuck in your whisk, have faith, start to add 400ml of the milk but only a little at a time. Keep whisking furiously until the mixture looks smooth, you get a work out with this recipe!

Once 400ml of the the milk has been added, allow the mixture to rest, you need to do this with any GF batter mixture i.e Yorkshire's to allow the flour to plump up. I normally give it 30mins at room temp.

After 30mins you may need to add just enough milk to loosen the batter so that it can pour freely, you want a pouring double cream thickness. This is when you can add the remainder 50ml of milk if you wish (a splash more may be necessary to get a pouring consistency, this depends on the GF flour blend you have used)

Heat the frying pan on a medium ring, these pancakes cook better on a lower heat for slightly longer, I use a tiny knob of butter in the pan each time. If dairy free use oil, even better one of those oil sprays, so much easier.

Have a peek of the underside of the pancake and give the pan a jiggle, if the pancake slips about freely and sounds like sandpaper your read to flip over. Using a spatula or traditional flipping motion is up to you – good luck if you choose the latter, I'm not always feeling that brave!

Once the second side has been gently browned to perfection (half the time of the first) slide the pancake onto a plate to serve. Alternatively pop onto a plate in the oven on the plate-warming setting or 40-50°C to keep warm.

Once your ready fill and decorate your pancakes to your liking – enjoy!
Nutrition
Nutrition Facts
Easy Gluten Free Pancakes
Amount per Serving
% Daily Value*
* Percent Daily Values are based on a 2000 calorie diet.
Have you tried this recipe?
Let me know how it was & I will be super grateful. Take a picture & tag me @glutarama on your social media posts – I love seeing your photos more than you will ever know x
I love to see your own photos of my bakes, dinners and treats head to your favourite social media account and don't forget to tag me in @glutarama
Subscribe to my email list so that you get NEW recipes straight in your mailbox every Friday PLUS a FREEBIE and access to some amazing gluten free DISCOUNTS
*disclaimer: I use affiliate codes on my website, the vast majority are to Amazon. If you click on any of the links or images in the post and make a purchase my family will benefit from a small % of that purchase at no extra cost to you, in fact, for full transparency, in 2020 I made my first £25, and recently in 2022 I reached my next £25 (Amazon don't transfer the money until you reach £25). As you can see, it won't make me a millionaire but it will treat me to a few coffees, Lord knows I need the caffeine!