Oh my goodness it was so much fun to make these Mini Christmas Cakes as part of our free from gangs #FreeFromChristmas collaboration. There's two amazing stories linked to this bake…if you can bear to wait read on to find out more if not click above to jump straight to the recipe.
Why I developed my totally free from Mini Christmas Cakes
Right! First story, my sister is a TA in a local primary school and she's been pestering, sorry, asking the family to save up mini baked beans tins for ages now. She had the idea she was going to make Mini Christmas Cakes with her Reception Class children. The only problem was to ensure that the cake mix was safe for all her children to bake with. That's where I came in. I gave Nicola advice on how to make a vegan cake, she had no issue with the gluten free bit due to catering for Bethany for 8 years now.
When Nicola actually showed me the recipe we were adapting she said 'not sure if you've come across this blogger'…it was only Grace from Eats Amazing who's a honorary member of our free from gang! I had to giggle and when Nicola baked the cakes successfully I contacted Grace that same day and asked for permission to use her recipe and blog about the adapted version. Grace was pleased as punch and said yes!
Now! I do like to make life a wee bit more difficult for myself and it would seem that I needed to take this challenge one step further, so naturally I decided to make a nut free marzipan to decorate each Mini Christmas Cake. Not wishing to blow my own trumpet but by-jingo I cracked it!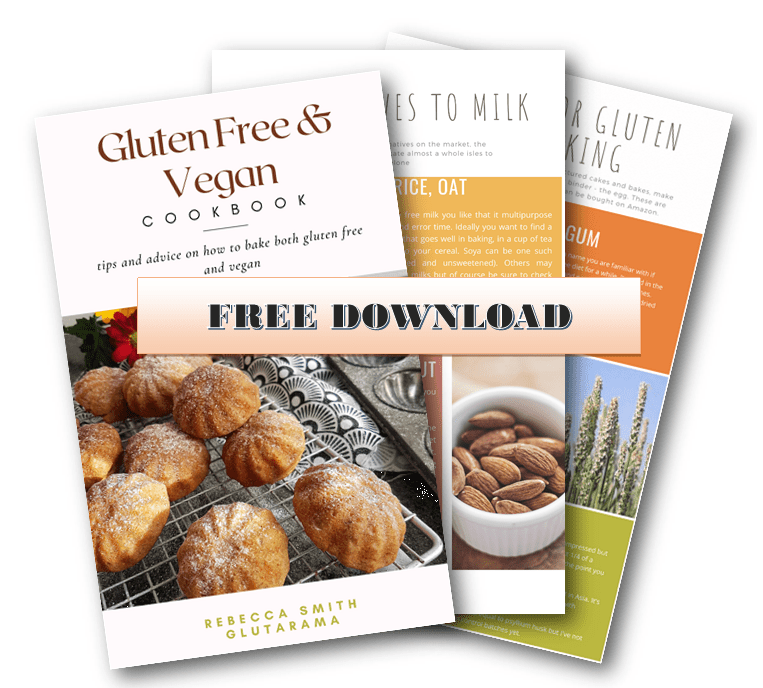 Never miss out again…
Sign up to my weekly Friday newsletter and not only get a FREE e-Book (currently my Gluten Free & Vegan Cookbook) but also get VIP subscriber discounts on free from goodies. Join me and learn to make anything gluten free.
My Mini Christmas Cakes got 5 mini minutes of fame!
You ready for the second story? This one is totally random, but I heard Chris Moyles mentioning on his Breakfast Show on Radio X that he was considering going gluten free due to digestion issues. I'd literally made the final perfect batch of cakes the morning before! So I thought to myself; 'wonder if Chris would like one of my cakes'…so I sent him one. I added a letter in the parcel explaining who I am, why I bake free from and that I have a blog. I wasn't sure if I'd get a mention but it seemed the nice thing to do!
Monday morning imagine my surprise when I came downstairs, after trying to crowbar Lewis out of bed (unsuccessfully), feeling the weight of the world on my shoulders, to then hear Dominique Burns reading my letter out on live radio and describing my Mini Christmas Cakes cute face to the listeners. Chris was a tad weary of eating it after Dom had placed his grubby mits all over it but they all seemed genuinely grateful at my gesture – thank you Breakfast Team, you'll never understand how much you gave me strength to deal with the day I was going to have ahead of me (that's another story for another time!)
The perfect Christmas Gift Idea
since I first developed this recipe I've made these little cuties for Christmas gifts for friends and family and even made a heap of them for a Christmas Fayre at Bethany and Lewis' old primary school. They went down a treat, I mean who could not love their little faces.
Good news; they keep well too as you'd expect as rich fruit cake would so you don;t have to be in the kitchen baking and decorating these in the final hours before Christmas Day.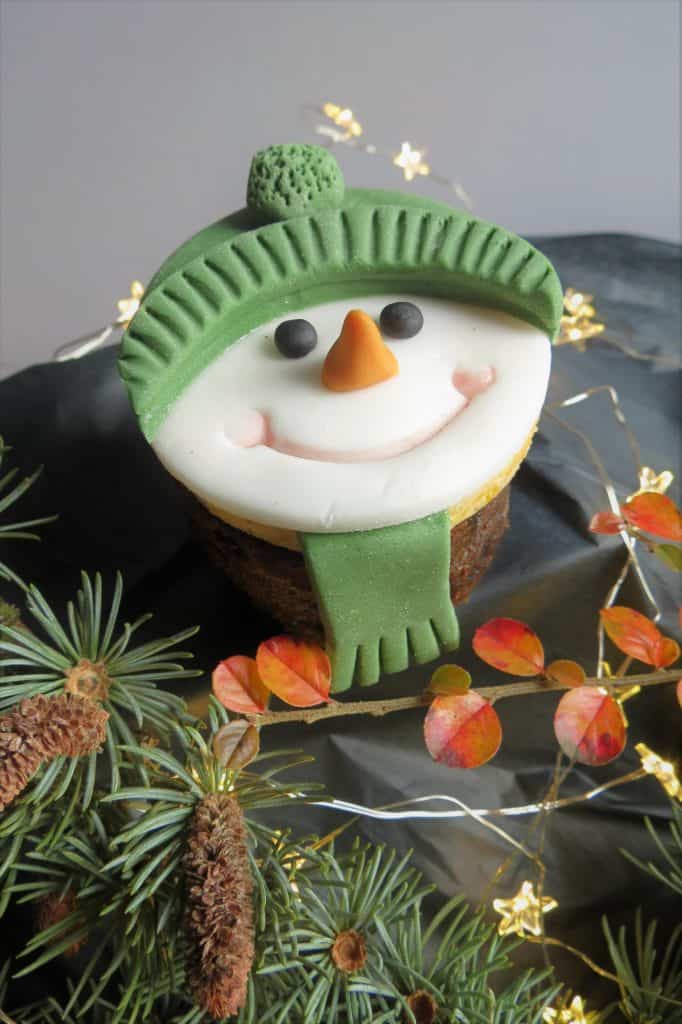 Other gluten free festive recipe inspiration
Easy Gluten Free Christmas Truffle Cake Pops
Adorable little raw truffle cake pops made to look like mini Christmas Puddings. These are no-bake treats made using mincemeat and spices to get an authentic Christmas Cake taste in one easy bite. Gluten free, dairy free and vegan too
Check out this recipe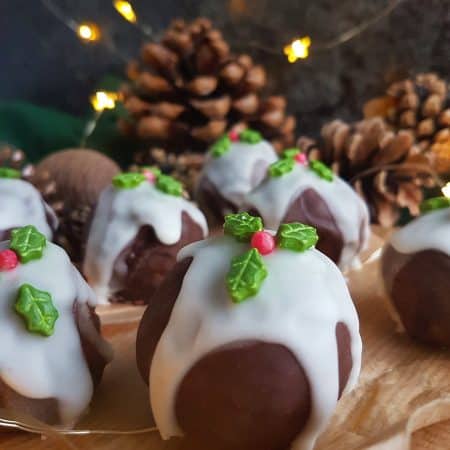 Festive Dairy Free Crispy Christmas Wreaths
You'll love to see the reactions on peoples faces this festive season when you present them with these Mini Edible Crispy Christmas Wreaths made gluten free and dairy free, they're a treat everyone can enjoy. Even better get the children or grandchildren to help out and make them with you.
Check out this recipe
Gluten Free Candy Cane Rice Krispy Treats
These Candy Cane Rice Crispy Treats are a simple, fun recipe to make with the kids or for them! Easy to make gluten free, dairy free and vegan if you buy vegan marshmallows. Have fun decorating with festive decorations, why not make them as gifts for loved ones?
Check out this recipe
Anyway, if you humoured me and read this far rather than pressing the jump to recipe button, finally here's the recipe for my Mini Christmas Cakes. I hope you enjoy making these and please do let me know how you got on either in the comments below or via Twitter or Facebook
Mini Gluten Free Christmas Cakes with Nut Free Marzipan Recipe
If you make it and like the recipe I would be eternally grateful if you popped back and commented leaving a star rating as this will tell search engines that this recipe is worth checking out and others will get to find it in searches.
Mini Christmas Cakes
Free from gluten, dairy, eggs and decorated with a nut free marzipan, these Mini Christmas Cakes cane be enjoyed by everyone this Christmas
Ingredients
175

g

gluten free plain flour

½

tsp

ground mix spice

½

tsp

ground nutmeg

1

tsp

psyllium husk powder (optional)

this helps to bind and prevents the cake from crumbling

125

g

butter or butter alternative (I use Flora plant butter)

150

g

soft dark brown sugar

1

tbsp

black treacle

2

tbsp

ground chia seeds

100

ml

water

500

g

raisins

75

g

glace cherries

75

g

candied mixed peel

2

tbsp

brandy
Nut free marzipan
100

g

marshmallows

150

g

icing/confectioners sugar

20

g

dried banana chips

10

whole

dried apricots

2

tbsp

water

100

ml

sunflower oil

few

drops

yellow food colouring

optional
To decorate
500

g

block of fondant icing

use white and you can colour what you don't use for hats and scarves etc

4

tbsp

apricot jam
Instructions
Preheat the oven to 180˚C/350˚F/ gas mark 4.

Grease and double line 6 mini baked bean tins with grease proof paper.

Sift the flour, psyllium and spices into a bowl and stir to combine.

In a separate bowl whisk the butter and sugar until light in colour.

Add the treacle and whisk again.

Fold in the sifted dried ingredients, dried fruit and cherries.

Stir to completely combine then spoon into the prepared tins. Smooth the tops down on each cake with the back of a wet spoon.

Place in oven and bake for 15 minutes.

After 15 minutes turn down the oven to 140˚C/275˚F/gas mark 1 and bake for 1 hour.

Check with a skewer to see if they are ready. The skewer should come out clean.

Once cool remove the grease proof paper and turn out to cook on a rack.

To decorate level off the tops of the cakes and cover with marzipan and icing.
To make the nut free marzipan
In a blender (I actually used my smoothie maker) blitz the apricots and banana chips together until you have fine crumbs, set aside.

Add the marshmallows, water and 1 tsp of the oil to a bowl and heat in the microwave. Times vary so keep an eye on your marshmallows they'll start to expand to twice the size when they're ready.

Remove bowl and add the icing sugar and crumbed apricots and banana and beat together quickly. Add the oil a teaspoon at a time to keep the mixture pliable.

Once the mixture is cool enough to touch tip out onto the kitchen surface DO NOT FLOUR THE SURFACE.

Working quickly, begin to knead the marshmallow fondant. I use the remaining oil to coat my hands and the worktop to aid the kneading process, if you like you can add a little yellow food colouring if you wish.

Your nut free marzipan will be ready once you have a supple dough, it will appear a little greasy once rolled into a ball, don't worry about this.

Pop into the fridge and keep chilled until you're ready to decorate
To decorate
Be imaginative, you don;t have to attempt my design, a simple marzipan layer followed by fondant and topped with a pre-made sugar craft decoration will look just as beautiful. Remember to paint your cake with apricot jam before adding the marzipan and repeat when you add the fondant to glue each layer into place.
Notes
If making my nut free marzipan for a large cake I would recommend the following;
10″ (24cm)
Total coverage – triple marzipan ingredients
Cover the top – double ingredients
8″ (20cm)
Total coverage – double marzipan ingredients
Cover the top – stick with current recipes ingredients
Nutrition
Nutrition Facts
Mini Christmas Cakes
Amount per Serving
% Daily Value*
* Percent Daily Values are based on a 2000 calorie diet.
Have you tried this recipe?
Let me know how it was & I will be super grateful. Take a picture & tag me @glutarama on your social media posts – I love seeing your photos more than you will ever know x
I love to see your own photos of my bakes, dinners and treats head to your favourite social media account and don't forget to tag me in @glutarama
Subscribe to my email list so that you get NEW recipes straight in your mailbox every Friday PLUS a FREEBIE and access to some amazing gluten free DISCOUNTS
*disclaimer: I use affiliate codes on my website, the vast majority are to Amazon. If you click on any of the links or images in the post and make a purchase my family will benefit from a small % of that purchase at no extra cost to you.

For full transparency, in 2020 I made my first £25, and in 2022 I reached my next £25 (Amazon don't transfer the money until you reach £25). I'm now up to £17.80 for 2023 so edging closer to the magical £25 mark!!

To date I have made £69.28 since I first started the scheme in 2017. It won't pay the bills, that's for sure but it does help to pay for ingredients or little treats to cheer me up!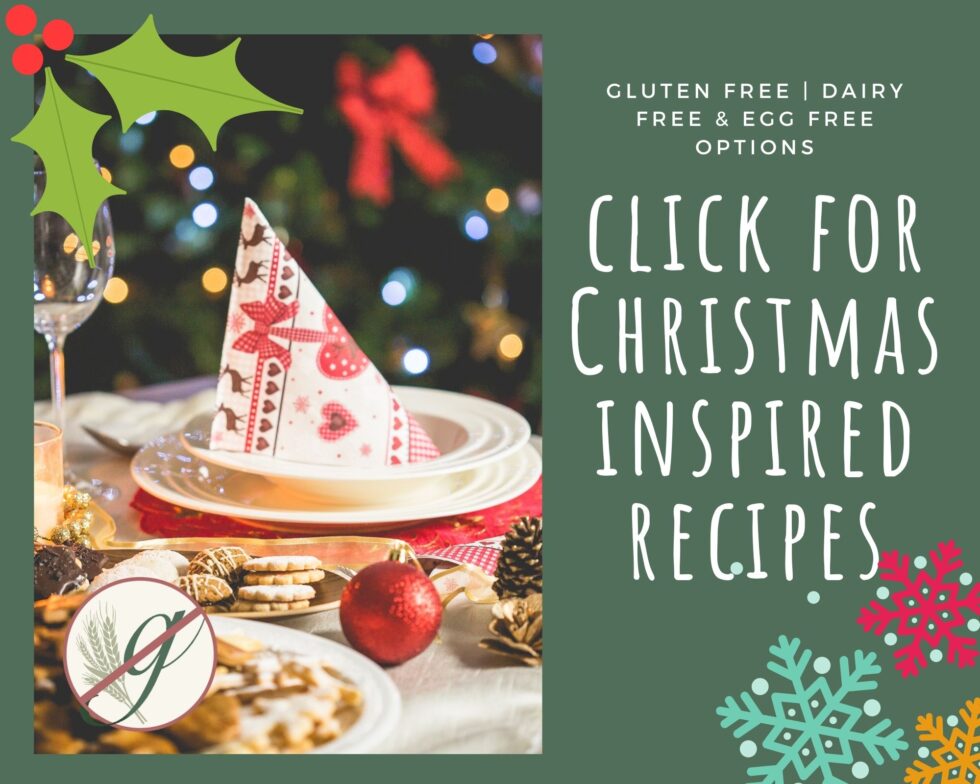 Shop new arrivals