This page contain affiliate links. Please refer to my Disclosures Page for more details.
Also, before you hit 'Jump to Recipe' just check my contents section 'Skip to the Good Bit' below. I may answer a query you have about this recipe straight away in the post.
This is not just any Gluten Free Jam Roly Poly, this is a dairy free and egg free Jam Roly Poly too! I've wanted to make this recipe gluten free and dairy free for sometime now but kept putting it off.
It's one of those traditional old fashioned recipes that you manage to put on a pedestal and imagine it to be super difficult to make. Of course, as with most old fashioned recipes, the exact opposite is true. This Jam Roly Poly could not be more so the case.
I got out my trusty Mrs Beeton's 'Book of Household Management' and there it was, the recipe for a simple suet crust add some jam and hey-presto. Didn't I have egg on my face. Let me rephrase that, there was no egg in the recipe so this is in fact a Vegan Jam Roly Poly too if you make it with my Homemade Gluten Free Suet Recipe.
Where does Roly Poly come from?
The dish was invented in the early 19th century and comprises a flat suet pudding spread with jam, rolled and steamed

The Guardian – The Joys of Jam Roly Poly
Jam Roly Poly is 100% British and can be dated back to 1845 all thanks to Eliza Acton a food writer and poet who lived 1799-1859. Her recipe for Roly Poly was printed in her book 'Modern Cookery for Private Families'. This recipe gave you the option to use jam, marmalade or (sweet) mincemeat.
Mrs Beeton republished a similar recipe in 1867 in her 'Book of Household Management' but this just suggested jam as a filling.
Do you add sugar to a Jam Roly Poly crust?
Traditional puddings were never sweet or meant to be served after dinner or at teatime. Traditional puddings were savoury, tended to be packed with suet and/or butter and steamed. Take the Traditional Steak and Kidney Pudding or the Yorkshire Pudding as an example of this.
In 1874 the UK Government removed heavy taxes on sugar, making it more widely available for all classes and not just the upper middle and upper classes who had, up until then, enjoyed in it their tea and coffee.
This seem to coincide with puddings becoming sweet so we can assume it had a great deal to do with the evolution of puddings as we know them now.
Some recipes on the internet have sweet crusts for their Jam Roly Poly's but I've kept mine old fashioned and more authentic to the Mrs Beeton version from 1867.
That said, I have added a teaspoon of vanilla extract which you are free to omit if you like.
Never miss out again…
Sign up to my Friday newsletter and receive not one, but THREE FREEBIES.
GF and Vegan e-Book
conversion charts
3 simple guides to allergies, intolerances & autoimmune.
Join me and learn to make anything gluten free.
How to make a gluten free and vegan suet?
Homemade Gluten Free Suet Recipe
This super simple recipe for making your own gluten free suet is a great way to open up lots of exciting recipes you'd possible not considered before such as Jam Roly Poly, Steak & Kidney Puddings and of course the old favourite; dumplings.
Check out this recipe
Can you buy gluten free suet?
Yes you can, it is available on The Vegan Kind Supermarket. The brand Suma make a gluten free vegetable suet that costs £2.19 before P&P. You can also now buy a vegetable suet from Tesco and Morrisons that is made with rice flour rather than WHEAT. It's worth pointing out that the UK brand Atora is NOT gluten free as it has WHEAT in it.
OR – you can make your own gluten free suet using a £1 block of vegetable fat and some gluten free flour and end up with 300g of suet that will keep in your fridge of freezer for months.
Kitchen equipment and accessories you'll need
Large mixing bowl
aluminium foil
greaseproof baking paper
medium jug
kitchen scales
silicone spatula
pastry brush
How do you make a Jam Roly Poly from scratch?
I find it's much more effective to measure out the dry ingredients into a large bowl, then heat the milk or plant alternative with the butter or butter alternative with a dash of vanilla extract. This wet mix of ingreidents is then poured into the centre of the dry ingredients and I simply work the mixture gently with a spatula in a figure of eight until its only just combined.
The key to this suet crust is to NOT OVERWORK IT.
Keeping that in mind I tend not to roll the suet crust out but instead I place the suet dough onto a very well floured surface and press the dough gently into a short rectangular shape about 24x28cm.
The dough is very light a soft so take care rolling it towards you once covered with jam.
I use a cake spatula to help me transport the rolled pudding over onto the prepared paper and foil sheets. But you can use whatever kitchen utensils you have handy to do this (maybe two fish slices?).
How to wrap a Jam Roly Poly ready for cooking?
The fact you have to wrap your Jam Roly Poly, before steaming it in the oven, might put some people off making this recipe. I'm not going to lie, it did me in the beginning.
Hand on my heart, this is super simple – I promise.
STEP ONE: You'll need a length of foil and an equal length of baking paper. No need to grab a measuring tape just cut a piece one or two inches longer than the distance from your elbow to your finger tips.
STEP TWO: With some melted butter/plant butter (about 1tbsp) brush the baking paper liberally, then place it (greased side up) on top of the foil.
STEP THREE: take the short side of both ends of the foil and paper and create a crease or 'Z' to make an expansion joint. Much like you would for the top of a Delicious Gluten Free Christmas Pudding.
STEP FOUR: Once you've made your Roly Poly, gentle place it above the expansion joint (seam side down) and roll the pudding towards you wrapping it in the foil and paper as you go. Now the top of your Roly Poly is directly in line with the expansion joint.
STEP FIVE: secure both ends by pinching the foil and folding it in on itself, taking care not to squish the pudding inside.
There you have it, you've wrapped your Jam Roly Poly and can now place it in the oven over a pan of boiled water to steam.
How do you cook a Jam Roly Poly?
So I've alluded to the fact that you have to steam a Jam Roly Poly but it's not steaming as you would expect. This form of steaming is perfect for keeping the pudding moist but at the same time giving it a delicious crust.
Traditional Jam Roly Polys are not golden and crisp to the finish, if fact they can often look pale and uninteresting. Lets face it, many traditional recipes from the 19th Century aren't going to win any beauty contests.
Another thing to remember is that whilst this appears to be similar to the familiar Swiss Roll, it is not, so don't expect your Roly Poly to form a beautiful spiral. These puddings are rather more flat and dense in structure owing to the pre-rolled before cooking method and the heaps of fat in them.
Cooking a Jam Roly Poly could not be simper.
Before you set to work wrapping your pudding, turn the oven on to 180°C | 160°C fan | 350°F | Gas 4. Next, place a roasting tin or the grill tray in the bottom of the oven and boil the kettle.
Pull the tray out far enough to pour half a kettle of boiled water into the tin or tray and gently push back into place on the bottom of the oven.
Pop your shiny wrapped pudding into the oven on the shelf directly above your pan of steaming water, close the door and leave it to steam/bake for 60 minutes.
How do you store a Roly Poly?
Ideally this traditional dessert should be made and then served straight from the oven. However, over the course of my development to make this a gluten free, dairy free and vegan Jam Roly Poly, I made a few puddings. This meant lots of pudding for the family who didn't always feel like pudding!
Therefore, I can confirm that this can be made and then reheated in the microwave. I would recommend portioning it into slices fresh from the oven and then reheat slices as you want them. I kept my Roly Poly in its wrapping in a Tupperware container on the kitchen worktop for a couple of days but you can keep yours in the fridge if you have a warm home.
Custards to go with your Jam Roly Poly
Quick and Easy Dairy Free Custard
A quick guide to making dairy free vanilla custard using safe instant custard powders. There is also guidance on how to make your very own instant custard powder for the store cupboard.
Check out this recipe
Homemade Vegan Custard Recipe
A quick guide to making dairy free, egg free vanilla custard using just three ingredients to make a vegan custard powder. Simply add your favourite dairy free alternative milk and you're ready to enjoy with a delicious gluten free and vegan pudding (Self Saucing Chocolate Pudding used as serving suggestion) This recipe makes enough custard for two people.
Check out this recipe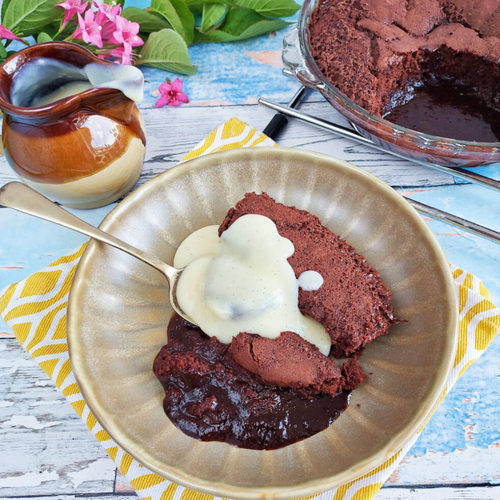 Other comfort puddings made gluten free and vegan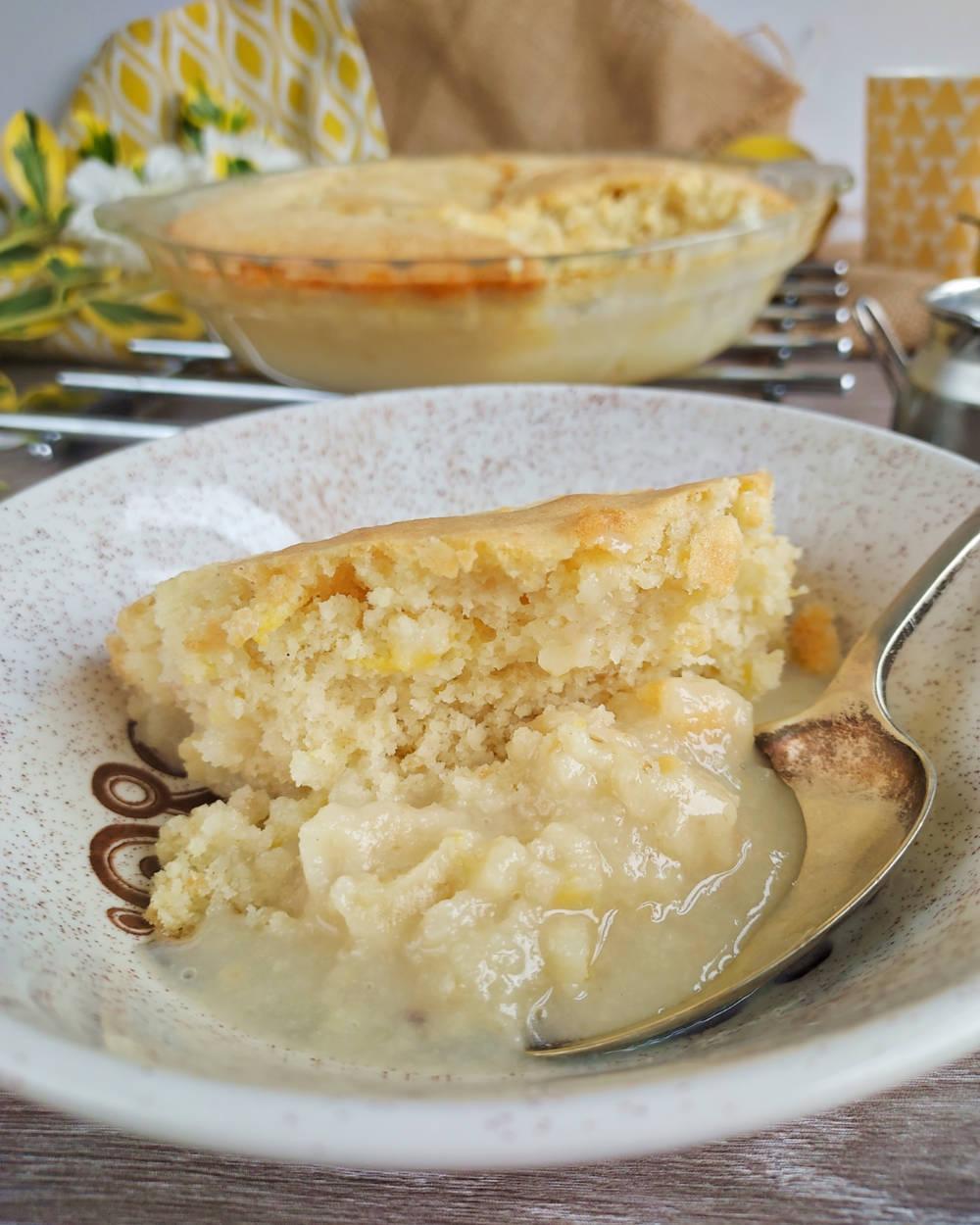 Gluten Free Spotted Dick
The infamous Spotted Dick Pudding but adapted ever so slightly to be gluten free with a dairy free and vegan option too. This old British Classic Pudding is a household name in the UK and many have fond memories of their grandparents homemade puddings. Slightly sweet, steamed pudding always best served with lashing of hot custard.
Check out this recipe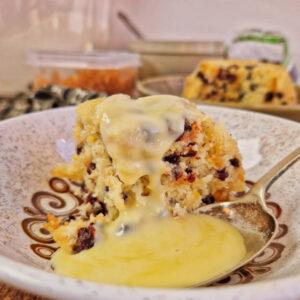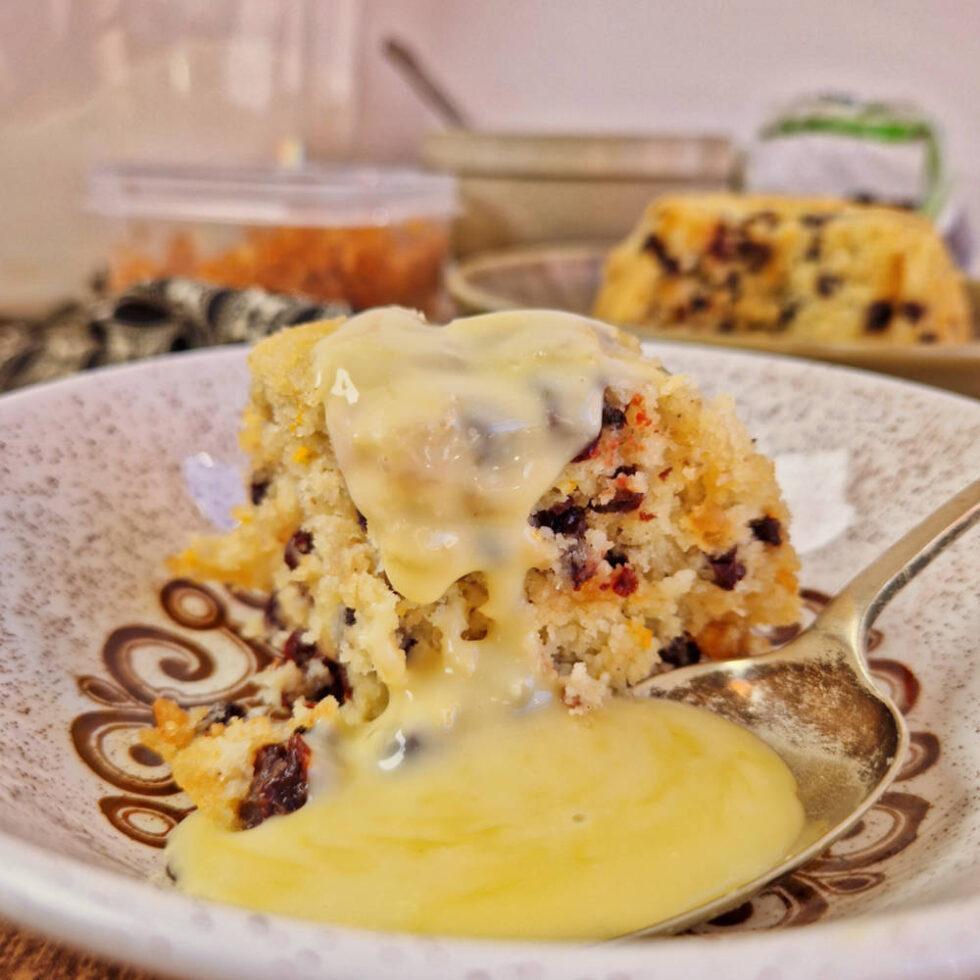 Vegan Jam Roly Poly Recipe
If you make it and like the recipe I would be eternally grateful if you popped back and commented leaving a star rating as this will tell search engines that this recipe is worth checking out and others will get to find it in searches.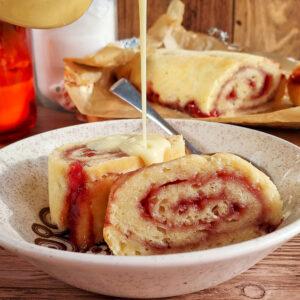 Gluten Free Jam Roly Poly
A delicious free from version of the famous traditional British pudding. This Jam Roly Poly has been adapted to be gluten free, dairy free and vegan using my own gluten free suet recipe. Tastes just like your Nan used to make and now you can make it for the next generation.
Ingredients
For the dry ingredients
250

g

gluten free self raising flour

50

g

tapioca starch

see notes if you have none

50

g

gluten free vegetable suet

¼

tsp

salt
For the wet ingredients
200

ml

dairy free milk

50

g

butter or butter alternative (I use Flora plant butter)

plus a little extra for greasing

1

tsp

vanilla extract
For the filling
150

g

jam

I use seedless raspberry, but strawberry is also delicious
Instructions
To make the suet crust
To make the gluten free suet crust, add the dry ingredients (flour, suet, salt) to a large bowl mix to combine and make a well in the middle.

In a medium jug, measure out the milk you plan to use and add the butter cut into small cubes. Heat this is the microwave for approx. 30 seconds so the butter starts to melt.

Stir the milk and butter (obviously plant based in this case) until the butter has melted and the liquid has cooled to hand temperature. Add the vanilla extract now too.

Pour the liquid into the well you made in the dry ingredients and using a silicone spatula, make a figure of eight pattern in the ingredients until they have come together.

TOP TIP: do not over work this suet dough, it needs to be rough.

Set the bowl aside (the suet crust dough will thicken slightly) and make your foil and paper jacket for you Roly Poly.
To make the paper and foil wrapping
Cut a piece of foil, then a similar length piece of baking paper (I measure a few inches more then the length of my elbow to my finger tips). Place the paper on top of the foil.

Grease the paper with a little extra melted butter. I use a silicone pastry brush to do this.

Next take the short sides of the foil and paper layers and crease a zig-zag or letter 'Z' into the foil and paper. This is your expansion joint for you Roly Poly to grow.
Prep the oven for steaming
Preheat your oven to 180°C | 160°C fan | 350°F | Gas 4. Next place a roasting tin or the grill tray in the bottom of the oven and boil the kettle.

Pull the tray out far enough to pour half a kettle of boiled water into the tin or tray and gently push back into place on the bottom of the oven.
To make your Roly Poly
Now your suet crust will have thickened a little and be more manageable to hold. Place the dough onto a very well floured surface and start to press the dough gently into a short rectangle approx. 24x28cm.

Next spread the jam over your suet crust.

TOP TIP: stir up the jam before spreading it. you'll loosen up the jam and make easily spreadable.

Spread to the edges, no bit of crust wants to be missed out here!
To roll and wrap the Roly Poly
Now you can roll your Roly Poly. Starting with the edge furthest away from you gently roll the crust until you've roll all the dough into a swiss roll shape.

This bit is tricky but now move the rolled pudding over to the prepared foil and paper wrapping. Place the Roly Poly one side of the expansion joint with the seam facing down.

Now roll the pudding towards you with the foil and paper as you go. Your 'tidy' top side of the Roly Poly will roll onto the expansion joint as you go (making the expansion joint sit on the top of the pudding as it cooks).

Tuck in the ends of the foil and paper wrap and squeeze them together to seal – don't get overzealous and squash your pudding.
To cook the Jam Roly Poly
Pop your shiny wrapped pudding into the oven on the shelf directly above your pan of steaming water, close the door and leave it to steam/bake for 60 minutes.
Notes
Tapioca Starch is a great ingredient to make bready bakes more elastic with a bit of chew. This is a great ingredient to add to gluten free bakes that may otherwise be crumbly or tough.
If you do not have any tapioca starch you can simply add the equal amount in GF self raising flour HOWEVER, as tapioca starch is more thirsty, you may find you need less liquid so I'd recommend adding leave a bit at the end and then add all the liquid if you think your suet crust needs it.
Nutrition
Nutrition Facts
Gluten Free Jam Roly Poly
Amount per Serving
% Daily Value*
* Percent Daily Values are based on a 2000 calorie diet.
Have you tried this recipe?
Let me know how it was & I will be super grateful. Take a picture & tag me @glutarama on your social media posts – I love seeing your photos more than you will ever know x
I love to see your own photos of my bakes, dinners and treats head to your favourite social media account and don't forget to tag me in @glutarama
Subscribe to my email list so that you get NEW recipes straight in your mailbox every Friday PLUS a FREEBIE and access to some amazing gluten free DISCOUNTS
*disclaimer: I use affiliate codes on my website, the vast majority are to Amazon. If you click on any of the links or images in the post and make a purchase my family will benefit from a small % of that purchase at no extra cost to you.

For full transparency, in 2020 I made my first £25, and in 2022 I reached my next £25 (Amazon don't transfer the money until you reach £25). Recently I got paid a whopping £27.10 for 2023.

So to date I have made £78.58 since I first started the scheme in 2017. It won't pay the bills, that's for sure but it does help to pay for ingredients or little treats to cheer me up!
Join my friendly Facebook Group
life's a drama, gluten free doesn't have to be….