This page contain affiliate links. Please refer to my Disclosures Page for more details.
Also, before you hit 'Jump to Recipe' just check my contents section 'Skip to the Good Bit' below. I may answer a query you have about this recipe straight away in the post.
I'm proud as punch about my Gluten Free Puff Pastry Snowflake inspired by the wonderful Sisley over at Sew White. I found Sisley's version of how to make a Nutella Puff Pastry Snowflake the easiest and most fool-proof. You see gluten free puff pastry is way less elastic than normal puff so I needed a design that was up to the challenge.
Now the original recipe is not gluten free, nor dairy or egg free, and it's not nut free either so a total free from no-no! That's where I step in and make a mini Christmas miracle! I agree that may seem an exaggeration but this was devoured by my family within an hour so this is how I rate my miracles these days!
Never miss out again…
Sign up to my Friday newsletter and receive not one, but THREE FREEBIES.
GF and Vegan e-Book
conversion charts
3 simple guides to allergies, intolerances & autoimmune.
Join me and learn to make anything gluten free.
What puff pastry can I use for my snowflake?
Here in the UK we now have a couple of options when it comes to gluten free ready-made puff pastry. I tend to always use the ready-rolled version just to make life easier. This is made by Jus-Rol and it's not only gluten free, but it's dairy and egg free too.
Another option we have is the Genius block of puff pastry that you need to roll out. The downside to this is a. you need to roll it out and b. it's got egg in it.
Fancy making your own? Well I commend your bravery dear friend. if you do want to tackle making your own gluten free puff pastry then you could always try this gluten free puff pastry recipe on the Coeliac UK website. There are in fact three slightly different recipes on the site for you to try, let me know how you get on if you do have a go at one of them.
What chocolate spreads are safe to use if making this a vegan snowflake?
There are a surprisingly large number of options when it comes to dairy free and vegan chocolate spreads on the market. The ones pictured below can be bought in store or online via The Vegan Kind Supermarket. On that note, I do most of my dairy free shopping in bulk via The Vegan Kind as you get points for purchases and I've earnt well over £15 in vouchers to use in the online shop since starting an account.
Here's a link to all the dairy free and vegan chocolate spreads they have in stock right now.
---
Can I make this puff pastry snowflake nut free too?
This puff pastry snowflake can also be made nut free too if you opt to have a nut free chocolate spread. I used Nature's Store Hazelnut and Cocoa Spread on this occasion. There are many nut free options out there though and again, I'd recommend clicking on the link above to see what The Vegan Kind have in their online store. As with the gluten free filter, you can also add a nut free filter to ensure you only see products that are safe for you and your family.
The easiest way to make a puff pastry snowflake shape?
As I mentioned before, I looked at various designs before making my gluten free version of a puff pastry chocolate snowflake. Sisely's design was by far the prettiest and simplest (in my opinion) to make.
I've also created a video to demonstrate how to make this, however, the step-by-step photos below should help you too.
How to make the snowflake twists?
Once you have cut your 16 equal sixed sections. Simply twist one way three times with each even strand, then the opposite way three times with each odd strand. Another way to put it is that your winding each pair of strands towards one another.
How to get a golden colour on gluten free puff pastry?
As this is an egg free puff pastry snowflake, you can't use an egg wash to ensure a golden bake. To guarantee a golden bake every time I add a wash made from a tablespoon of jam (I normally use apricot jam) watered down with a splash of boiled water.
What can I do with puff pastry trimmings?
Have a bit of fun my friend, I know I do! On this occasion I felt like making some chocolate filled puff pastry stars. I happen to have different sized star shape cutters so it seemed like the decent thing to do to accompany my showstopper puff pastry snowflake.
That said, you may want to make chocolate puff pastry twists or use circle cutters or even gingerbread men cutters. Use your imagination, just don't let any pastry go to waste, it's too expensive not to use every last bit.
Can this Festive Snowflake be made in advance?
You can make this puff pastry snowflake in advance and either have it cold or reheat it. It's much more delicious eaten hot so I'd recommend reheating.
To warm up the snowflake you can either pop in the microwave (if you have one big enough) or pop into a preheated hot oven for 5 minutes. Then dust with icing sugar and serve. Want to jazz things up even more? how about serving it with my Homemade Vegan Clotted Cream for that extra touch of indulgence.
Festive tea table inspiration
Since you're hear, I'm guessing your mind has turned to the festive season and you're starting to do some research on what you can make gluten free for Christmas. Or maybe you have guests coming unexpectedly? Well these recipes may fit the bit and keep everyone happy?
Festive Gluten Free Tart Tatin
This quick and easy to make Festive Tart Tatin is a wonderful way to use up dried fruits, marzipan and mincemeat. At the end you get a delicious tart in no time at all with gluten free ingredients plus no egg or dairy.
Check out this recipe
Luxury Gluten Free Stollen Mince Pies
A deliciously cheeky fusion of two wonderful traditional Christmas recipes, the humble mince pie and heart-warming Stollen combine to make these Stollen Mince Pies, let's start a new tradition! These are also gluten free, dairy free and vegan too so everyone can enjoy them.
Check out this recipe
Gluten Free Stollen Bites
Following my popular Stollen recipe I was asked for a recipe for Gluten Free Stollen Bites so I've adapted my recipe so that everyone can enjoy gluten free Stollen Bites that can also be made dairy free and vegan too.
Check out this recipe
As if that's not enough to whet your festive whistle, then click the image card below to dash off to my entire Free From Christmas Collection of recipes.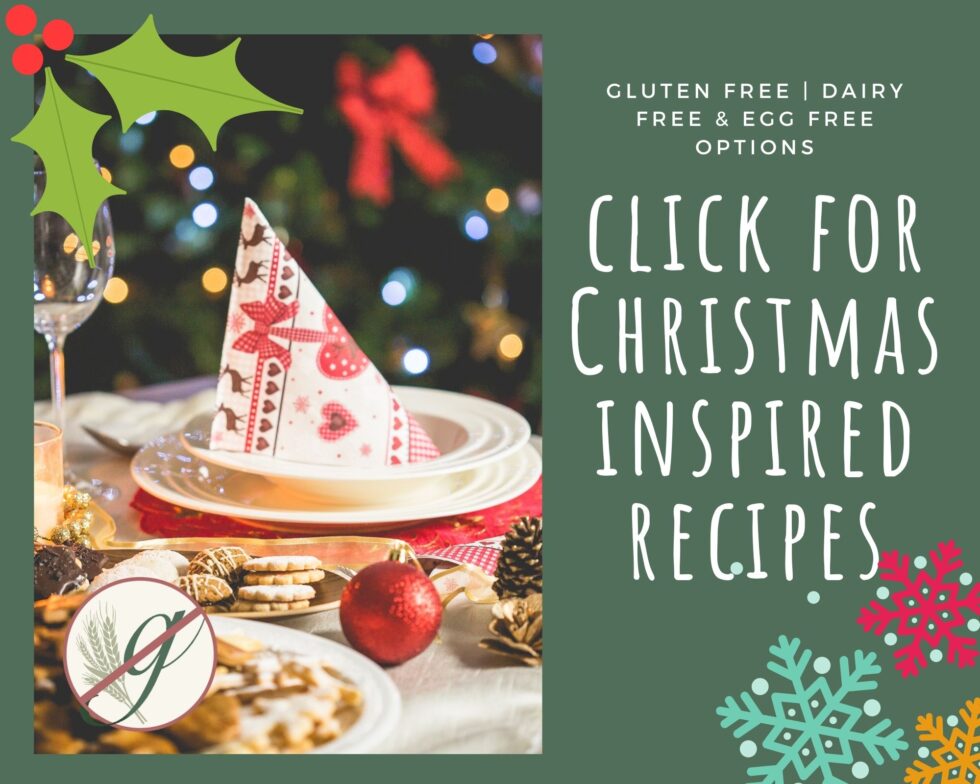 Gluten Free Puff Pastry Snowflake Recipe
If you make it and like the recipe I would be eternally grateful if you popped back and commented leaving a star rating as this will tell search engines that this recipe is worth checking out and others will get to find it in searches.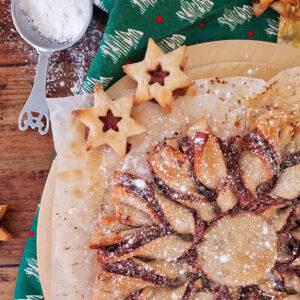 Gluten Free Puff Pastry Snowflake
A wonderfully fun gluten free bake to make over the festive period. This Gluten Free Puff Pastry Snowflake is also dairy and egg free if you source the right pastry and chocolate spread. Can be nut free too. Simple to make despite looking masterclass quality. A treat you and your guests will love this Christmas.
Ingredients
For the snowflake
580

g

Jus-Rol Gluten Free Puff

(2x packets)

100

g

chocolate spread

I used Natures Store vegan spread
For the glaze
1

tbsp

apricot jam

1

tbsp

boiled water
To decorate
1

tbsp

icing/confectioners sugar
Instructions
Preheat your oven to 200°C | 180°C fan | 400°F | Gas 6

Unroll your ready-rolled puff (or roll out your block of puff to 05.cm thickness)

Place a tea plate approximately 20-22cm wide on the first sheet of puff and gently cut round the plate to make a circle.

Repeat with second sheet of pastry and place the trimming to one side for now.

Place the first circle on a baking sheet that's been lined with baking paper – no need to grease.

Spread the first circle liberally with your chosen safe chocolate spread.

Now turn your attention to the second circle of puff and with a 6cm circle cutter, gently press a circle shape into the centre of the puff – DO NOT CUT THROUGH THE PASTRY. This is just to use as a visual guide for the next step.

Gently place the marked circle over the top of the chocolate spread circle.

Make four equal distance cuts starting at the outside of the circle impression all the way to the edge of the puff pastry cutting all the way through.

Repeat this action in-between each cut and then again until you've made 16 cuts all of equal sizes.

Now take a pastry strand and gently twist 3x in a clockwise direction.

Take the next strand and repeat but in a counter-clockwise direction.

Repeat this process until you've twisted all strands and created a snowflake-style shape.

Make up your glaze by mixing together the jam and boiled water and gently brush the snowflake with the glaze using a pastry brush.

Place in the preheated oven and cook for 20 minutes or until the snowflake has gone a beautiful golden brown.

Using any pastry trimmings create decorative bite-sized puff pastry shapes filled with chocolate spread, I made stars on this occasion. These will only need 10 minutes to cook in the oven at the same temperature.

The snowflake can be served immediately whilst hot or allowed to cool and eaten at a later date. This can be reheated in the oven or microwave too if you want to make in advance.
Nutrition
Nutrition Facts
Gluten Free Puff Pastry Snowflake
Amount per Serving
% Daily Value*
* Percent Daily Values are based on a 2000 calorie diet.
Have you tried this recipe?
Let me know how it was & I will be super grateful. Take a picture & tag me @glutarama on your social media posts – I love seeing your photos more than you will ever know x
I love to see your own photos of my bakes, dinners and treats head to your favourite social media account and don't forget to tag me in @glutarama
Subscribe to my email list so that you get NEW recipes straight in your mailbox every Friday PLUS a FREEBIE and access to some amazing gluten free DISCOUNTS
---
Gluten Free Christmas Gift Guide
Updated every year to give you the latest gluten free gifts perfect for a loved one or to gift yourself. The guide includes; Advent Calendars, gifts for Christmas Day, Hampers for a gluten free Christmas and much more.
Gluten Free Small Business Guide
Updated on a regular basis, this guide champions small gluten free producers in the UK who deliver awesome free from bakes, cakes and savoury goods.
Join my friendly Facebook Group
life's a drama, gluten free doesn't have to be….
*disclaimer: I use affiliate codes on my website, the vast majority are to Amazon. If you click on any of the links or images in the post and make a purchase my family will benefit from a small % of that purchase at no extra cost to you.

For full transparency, in 2020 I made my first £25, and in 2022 I reached my next £25 (Amazon don't transfer the money until you reach £25). Recently I got paid a whopping £27.10 for 2023.

So to date I have made £78.58 since I first started the scheme in 2017. It won't pay the bills, that's for sure but it does help to pay for ingredients or little treats to cheer me up!