These Tortillas are proof that my confidence must be growing along with this blog. I'm finding courage to try new things all the time, I also think that as the children grow up they're becoming more adventurous in their eating too so that certainly helps. One thing my two have ALWAYS loved is Mexican food. Chilli Con Carne, Nachos and Fajitas are all family favourites but I used to buy Bethany second rate wraps or cardboard pittas to fill. Today I decided I could do better and boy am I glad I did!
The recipe below made eight good sized tortillas and the whole family ate them with finger licking success, in fact, the non Coeliac members of the family decided that these were actually better than the glutenous ones that came packaged!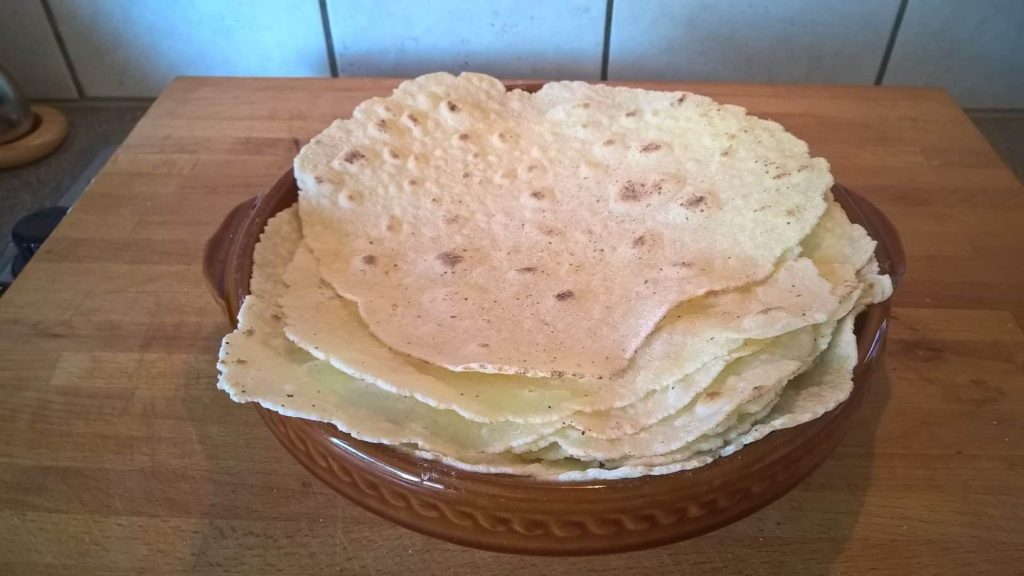 Can I make these flour tortillas in advance?
Yes you can. If making them for later on that day, I'd simply wrap them in a damp tea towel and pop into the fridge. When you're ready to use them just heat them up in the frying pan for a few seconds or pop onto a plate and into the microwave for a few seconds to bring some life back into them.
if you plan to keep them for longer you can wrap them in foil and keep in the fridge for up to 4 days or if you plan to freeze them I'd recommend cutting a piece of baking paper to place in-between each tortilla and then wrap in foil tightly and freeze. this way you can take out as many tortilla's as you wish without them getting frozen together.
Like the look of these Tortillas? then you'll love these recipes
I've got a few dinner time ideas on the Glutarama website now, my family can be quite picky when it comes to foods, maybe it's their autism as well as dietary needs or maybe it's just a kid thank and they'll grow out of it (I flipping hope so!). In the meantime why not check out these recipes for my Chilli con Carne in this post Hidden veggies; managing fussy eaters with Baby Cübes from Lickalix. Then there's my popular Gluten Free Sausage Casserole and Beef Stew and Dumplings | gluten and dairy free
Gluten Free Flour Tortilla Recipe
Tortillas
Quick to make and actually taste better than shop bought ones that are filled with gluten containing ingredients so there's no excuse not to make these!
Keyword:
easy, Gluten Free, simple, Tortilla
Ingredients
250

g

/8oz GF plain flour

1/2

tsp

salt

1

tsp

Xanthan Gum

5

tbsp

vegetable oil

150

ml

warm water
Instructions
Measure the flour into a large bowl and add the salt

Add the oil one tbsp at a time, using a rounded knife cut through the flour to incorporate, the idea is to create a breadcrumb mixture like a crumble topping.

Add the warm water 50ml at a time and continue to cut through the mixture with a rounded knife until all water has been added.

Tip mixture onto a well floured surface and knead for several minutes, don't panic if it gets really sticky and sticks to the worktop, keep going and add a little more flour to the surface. After a while it will form a soft ball.

Cut ball into half, then half again and repeat until you have 8 portions. Roll each portion into a ball and press flat on a well floured surface.

Start to heat a dry, oil free frying pan.

Using s rolling pin roll out the squashed dough ball so approx a tip of thumb to little finger span (8inches), the round will be super thin, almost see-through!

You could strive for perfection and cut around the rolled dough using a plate to create a perfect circle, or like me you could think sod that and go for a rustic look.

Fry for 30secs on one side and then turn over to repeat for another 30secs on the other side.

Repeat process with remaining dough balls – you will probably need to wipe the frying pan clean from excess flour in between cooking to prevent burning.

To complete the dish we used Old El Paso's Mild Fajita Kit mixed with chicken strips, red pepper and onion. The seasoning paste is gluten free but the sour cream herbs are not so we buy fresh sour cream, salsa and guacamole to dress the fajita.
Nutrition Facts
Tortillas
Amount Per Serving
Calories 190
Calories from Fat 81
% Daily Value*
Fat 9g14%
Sodium 158mg7%
Potassium 33mg1%
Carbohydrates 24g8%
Protein 3g6%
Calcium 5mg1%
Iron 1mg6%
* Percent Daily Values are based on a 2000 calorie diet.
Each week I link up to these awesome linkies by other wonderful bloggers and recipe developers
Cook Blog Share  | Fiesta Friday | Friday Favourites | Handmade Monday | Sundays on Silverado | Full Plate Thursday | Traffic Jam Weekend Linky | What's For Dinner?
I really love to read your comments and feedback and will always comment back. Do drop a line in the comment section if you liked this post I would love to hear your thoughts, if you share photos of your delicious creations, please do tag me or use the hashtag #Glutarama on Facebook, Twitter and Instagram. Subscribe to my email list so that you get all my reviews and recipes straight in your mailbox.
*disclaimer: I use affiliate codes on my website, the vast majority are to Amazon. If you click on any of the links or images in the post and make a purchase my family will benefit from a small % of that purchase at no extra cost to you, in fact, for full transparency, in 2020 I've made my first £25, so it won't make me a millionaire but it will treat me to a few coffees, Lord knows I need the caffeine!