This page contain affiliate links. Please refer to my Disclosures Page for more details.
My Gluten Free Tortillas are one of the first recipes I developed back in 2016 one year into the creation of Glutarama. I had a blog before that called You Gotta Larf which was really a diary to me about our journey into the unknown with Coeliac Disease and Type 1 Diabetes. Little did I know that seven years later I'd be here with an awesome following and a huge catalogue of gluten free recipes to my name!
Original Opening Paragraph: These No Corn Gluten Free Tortillas are proof that my confidence must be growing along with this blog. I'm finding courage to try new things all the time, I also think that as the children grow up they're becoming more adventurous in their eating too so that certainly helps. One thing my two have ALWAYS loved is Mexican food. Chilli Con Carne, Nachos and Fajitas are all family favourites but I used to buy Bethany second rate wraps or cardboard pittas to fill. Today I decided I could do better and boy am I glad I did!
The recipe below originally made eight small tortillas and the non Coeliac members of the family decided that these were actually better than the glutenous ones that were on the table. The photo below was those very first Gluten Free Tortillas photo taken in my old kitchen.
The rest of this recipe post is the updated version with new photos, a better tortilla blend (with age comes experience) and some useful information on how to make tortillas, how to store them, how to reheat tortillas and what you can do with your delicious gluten free tortillas.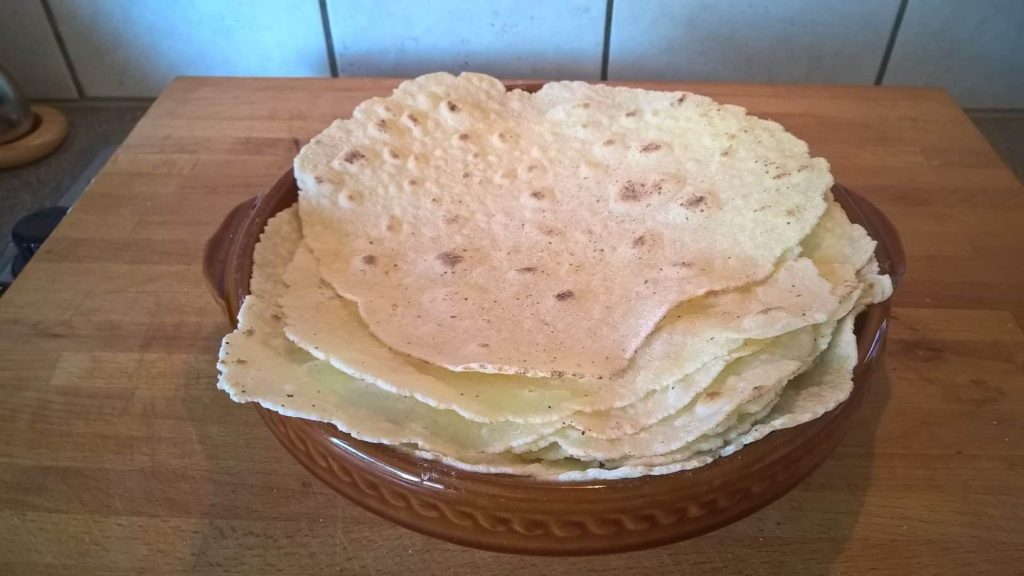 Why make gluten free tortillas instead of buy them?
Since first making these tortillas way back in 2016, there have been more options introduced to the free from market in the form of gluten free tortillas. Old El Paso have since brought out a gluten free fajitas kit and they also sell smaller street food style tortilla wraps. This is great news for those who want to whip up a meal in a hurry for convenience or the less confident cooks.
The downside to these supermarket gluten free tortillas is that they have an odd after taste. I've not quite put my finger on the culprit but they almost have a chemically flavour to them. How about you, what do you think?
The bonus to making your own gluten free tortillas from scratch is that there's no odd aftertaste. They just taste like flour tortillas. I mentioned in the opening paragraphs that my whole family loves these tortilla's even the non-coeliac's.
But, for anyone interested, here is the full list of products currently certified gluten free by Old El Paso. Availability in UK supermarkets varies.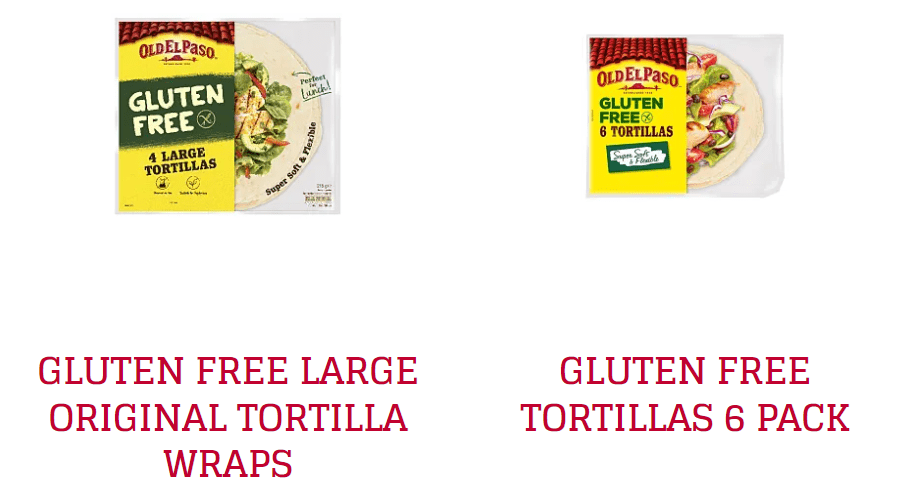 How do you make tortillas from scratch
The full method is below but I thought it would be useful on this occasion to add some images to help you with the process so you can see what to expect with each stage.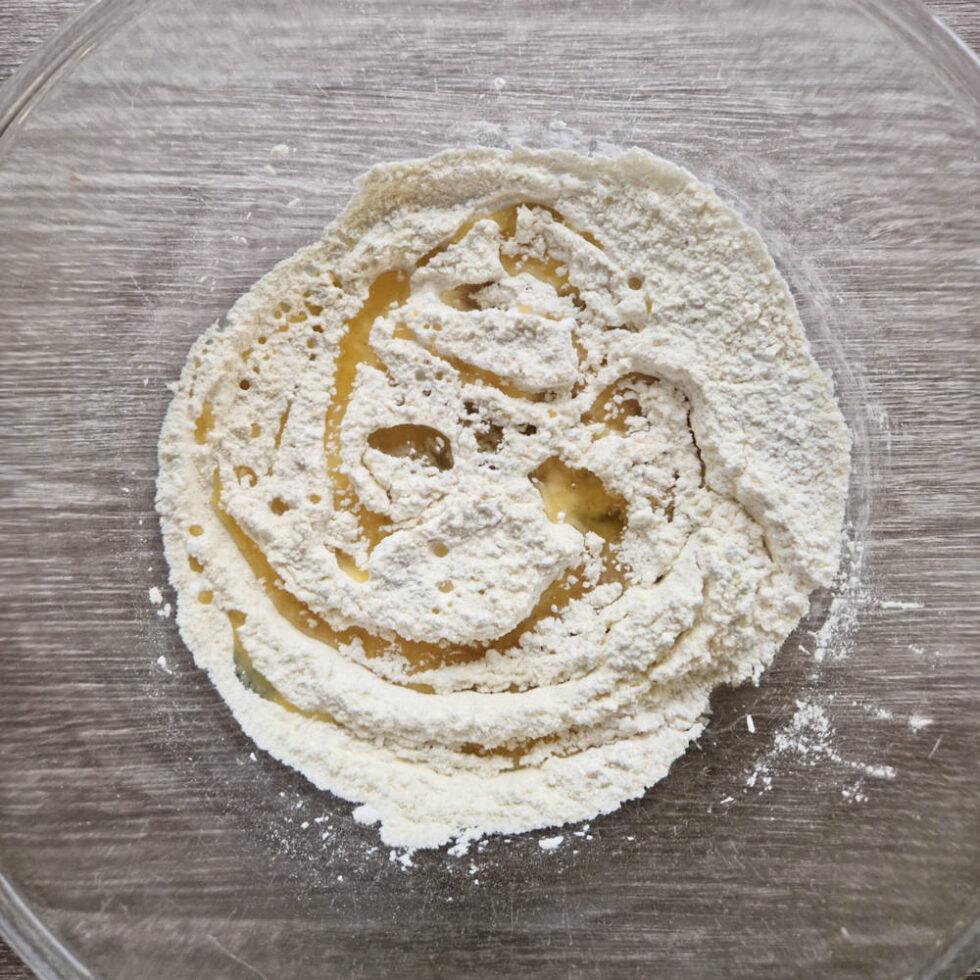 The image above illustrate the different finish you get with a rustic rolled tortilla and a tortilla that's been rolled and then cut round with a tea plate. Both are equally as delicious its just down to personal preference as to which finish you prefer.
Can I make these flour tortillas in advance?
Yes, you can make these gluten free tortillas in advance. In fact I'd recommend it if you're planning on entertaining for dinner. While these are easy to make, they do take time, just like it takes time to make pancakes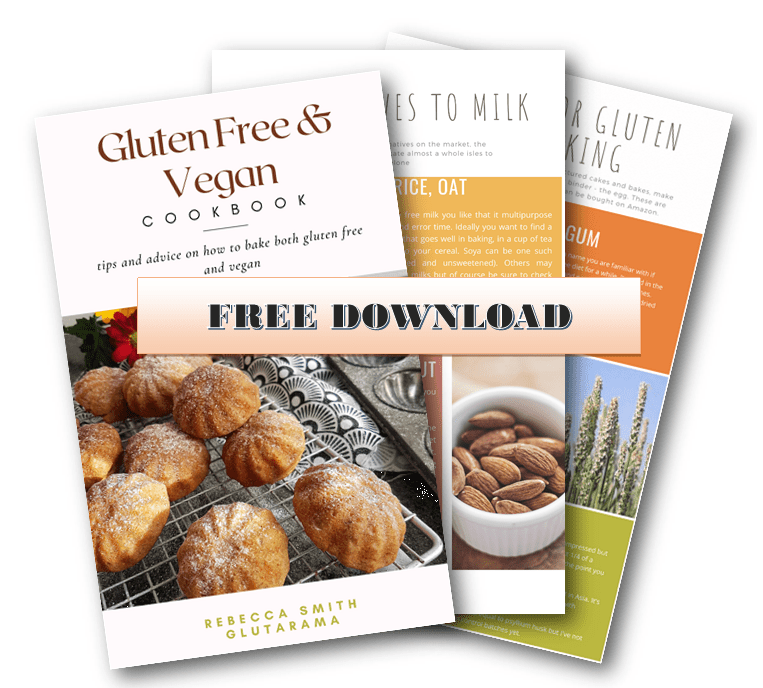 Never miss out again…
Sign up to my weekly Friday newsletter and not only get a FREE e-Book (currently my Gluten Free & Vegan Cookbook) but also get VIP subscriber discounts on free from goodies. Join me and learn to make anything gluten free.
Why make these tortilla's corn free?
I'm finding that there are increasing numbers of people who cannot tolerate corn in their diets so I've made a point of these being gluten free flour tortillas made without corn. It's always a way to distinguish these from the hard taco-style corn tortillas that you commonly serve with chilli con carne.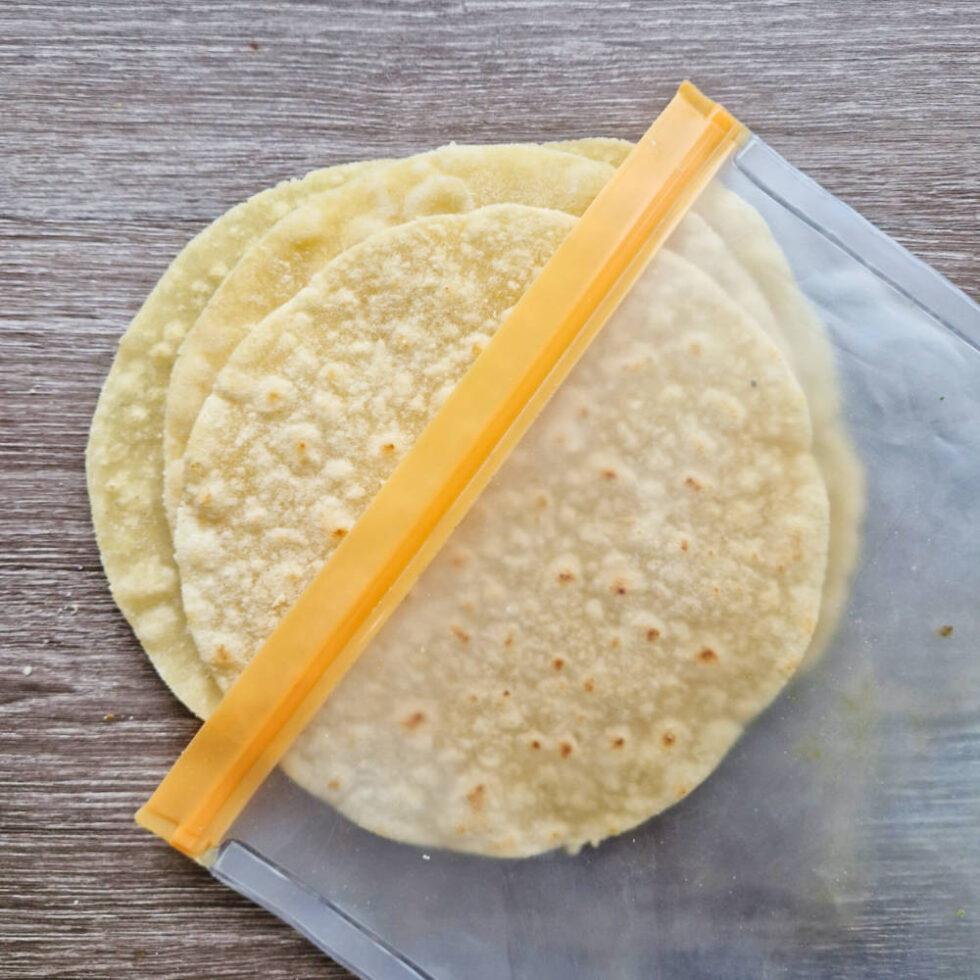 How do I store these gluten free tortillas?
I think that using reusable ziplock bags is hands down the best way to keep these tortillas fresh and supple for use at a later time. Not only are they eco-friendly but these bags are so handy to have at home. I use them for all manner of foods from raw meats to portion out and freeze to lunchbox bags for sandwiches. As they come in different colours and sizes you can allocate different bags for different uses to prevent cross contamination too.
Before adding your gluten free tortillas to the ziplock bag, I still find it best to cover with a damp cloth or tea towel until the cooked tortillas have cooled to room temperature. This way, when you transfer the tortillas to the ziplock bags you have supple tortillas thanks to the steam effect and the tortilla's won't sweat in the bags making them tacky and sticky in places.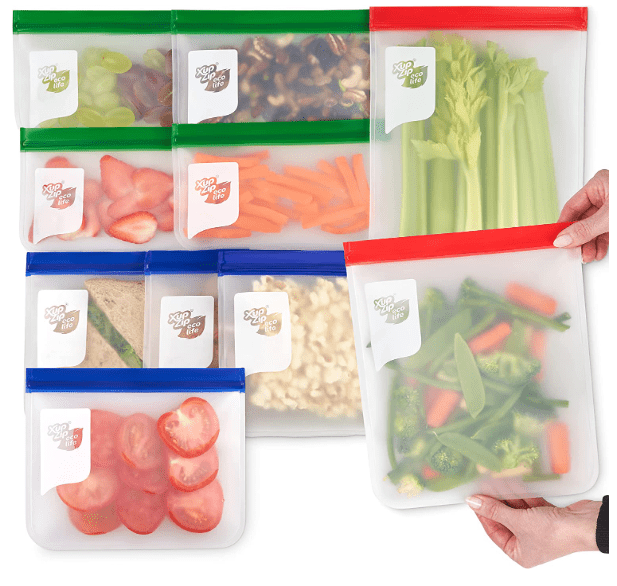 Different ways to eat tortillas
I've mentioned these tortillas are delicious with fajitas and chilli con carne but you can also use them for other Mexican meals. How about making enchiladas or burritos. Tortillas don't have to be eaten with hot meals though as you can see by the images in this post, I love to use them as an alternative to sandwiches.
There's no end to the different types of filling, ham, cheese, salad. You can even roll up a tortilla with cheese and pepperoni and then toast it in a panini maker – obviously make adjustments for vegan/vegetarian options.
I even make sweet wraps with chocolate spread with any leftover tortillas. All you need to do it heat for 10 seconds in the microwave so you get a delicious oozy chocolaty filled wrap.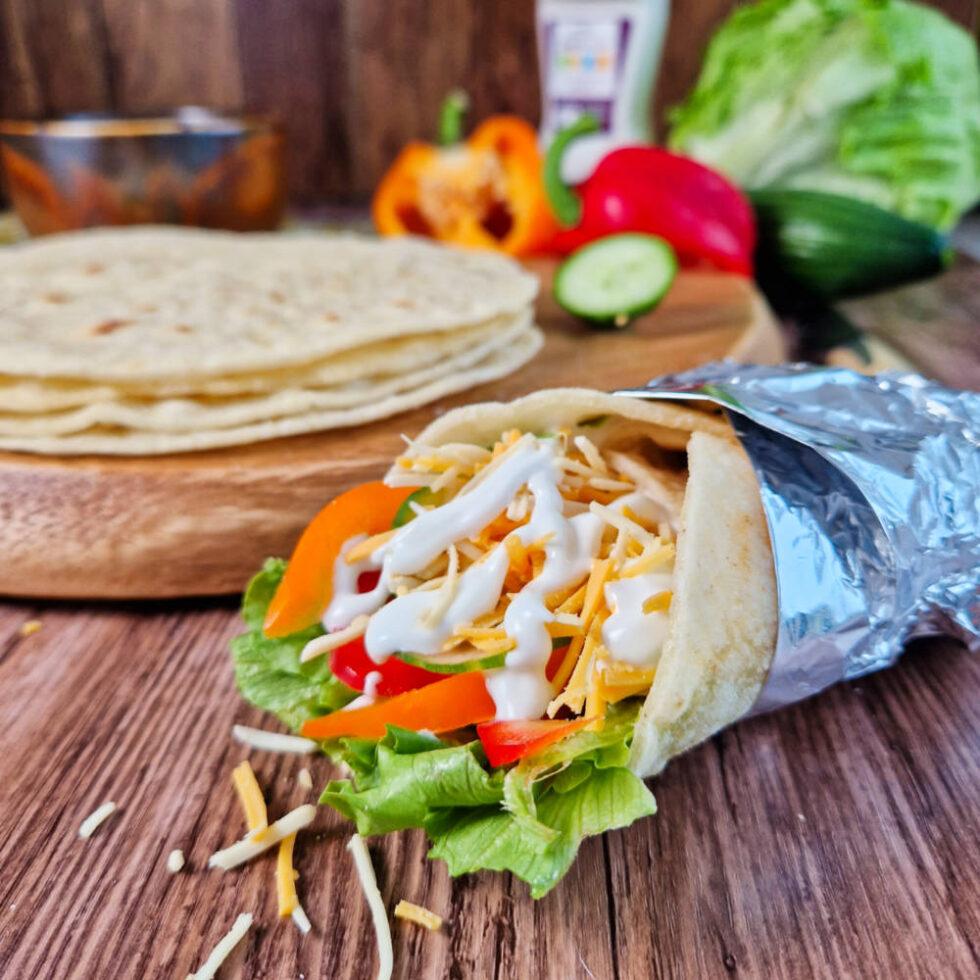 Like the look of these Tortillas? then you'll love these recipes
I've got a few dinner time ideas on the Glutarama website now, my family can be quite picky when it comes to foods, maybe it's their autism as well as dietary needs or maybe it's just a kid thank and they'll grow out of it (I flipping hope so!). In the meantime why not check out these recipes for my Mild Chilli Con Carne with hidden vegetables. Then there's my popular Gluten Free Sausage Casserole and Beef Stew and Dumplings | gluten and dairy free
Family Friendly Mild Gluten Free Chilli Con Carne
A wonderful way to sneak veggies into a family meal that the whole family will eat and you can sit back in the comfort that everyone's getting a daily dose of nutrients. This is both gluten free and dairy free and can be made vegan too with meat free mince and a vegan stock.
Check out this recipe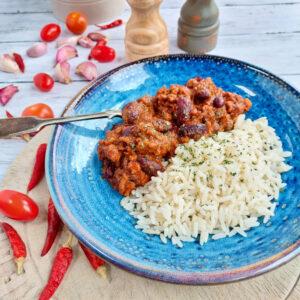 Gluten Free Sausage Casserole with Wine
This one-pot Sausage Casserole with wine is a simple comfort food favourite in our family. Using gluten free sausages it's perfect for our whole family to enjoy and with a lump of fresh gluten free bread to mop up the gravy it's pure bliss, comfort food at its best.
Check out this recipe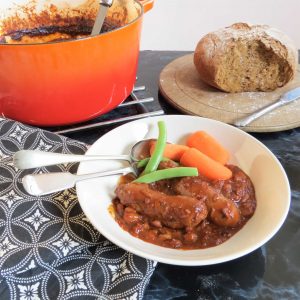 Gluten Free Beef Stew and Dumplings
Beef Stew and Dumplings has to be the epitome of winter comfort food, depending on the cut of beef you use it doesn't have to be expensive either. Everything you need for a delicious and nutritious meal is in this stew; meat, root vegetables and your carbs in the form of delicious soft dumplings. Add a chunk of crusty gluten free bread and you have perfection on a plate.
Check out this recipe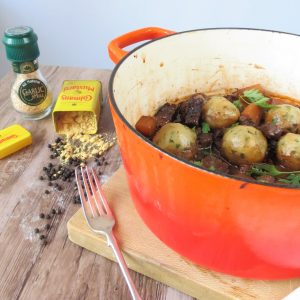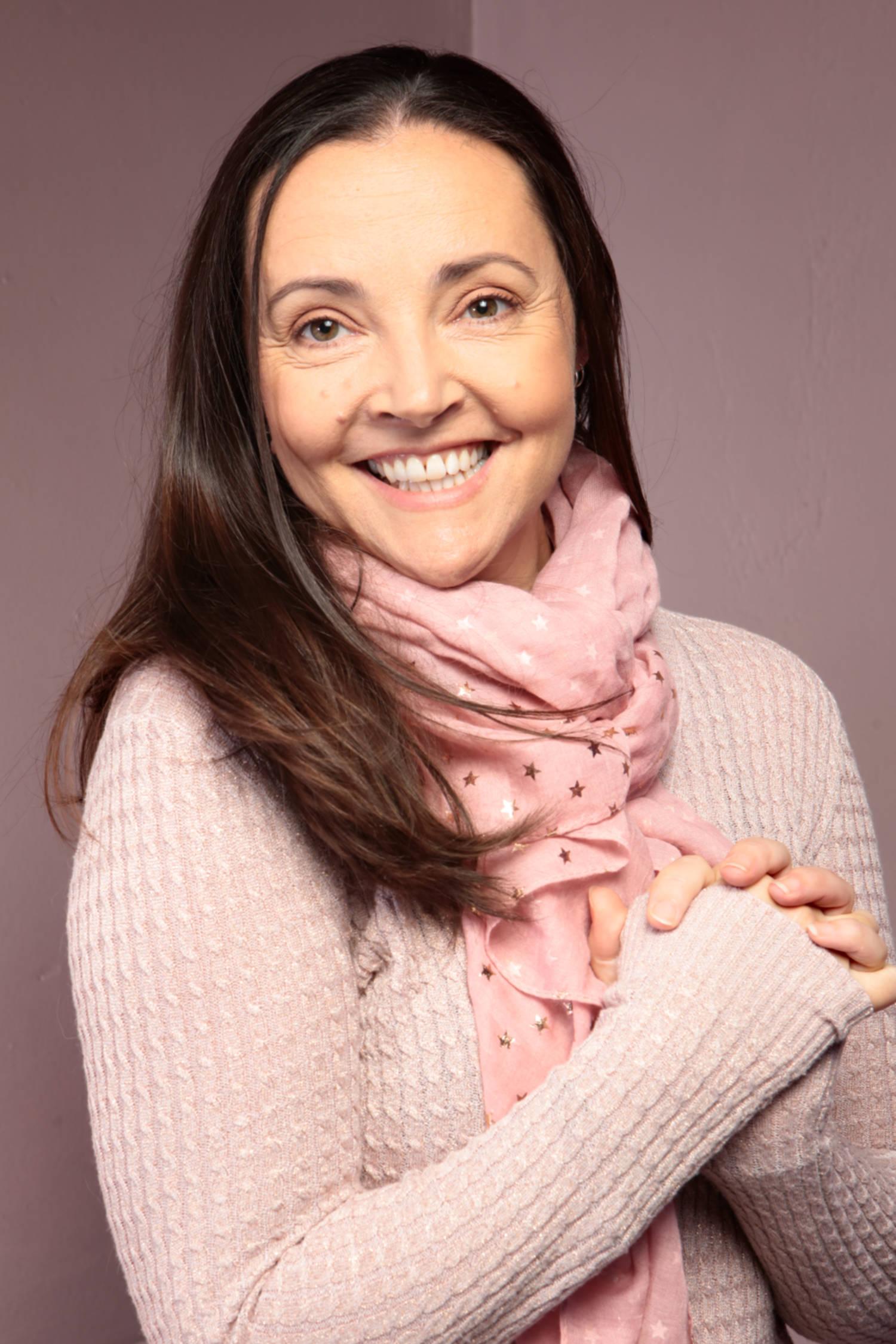 NEVER MISS A RECIPE!
Subscribe for the latest updates from Glutarama!
Easy No Corn Gluten Free Tortillas Recipe
If you make it and like the recipe I would be eternally grateful if you popped back and commented leaving a star rating as this will tell search engines that this recipe is worth checking out and others will get to find it in searches.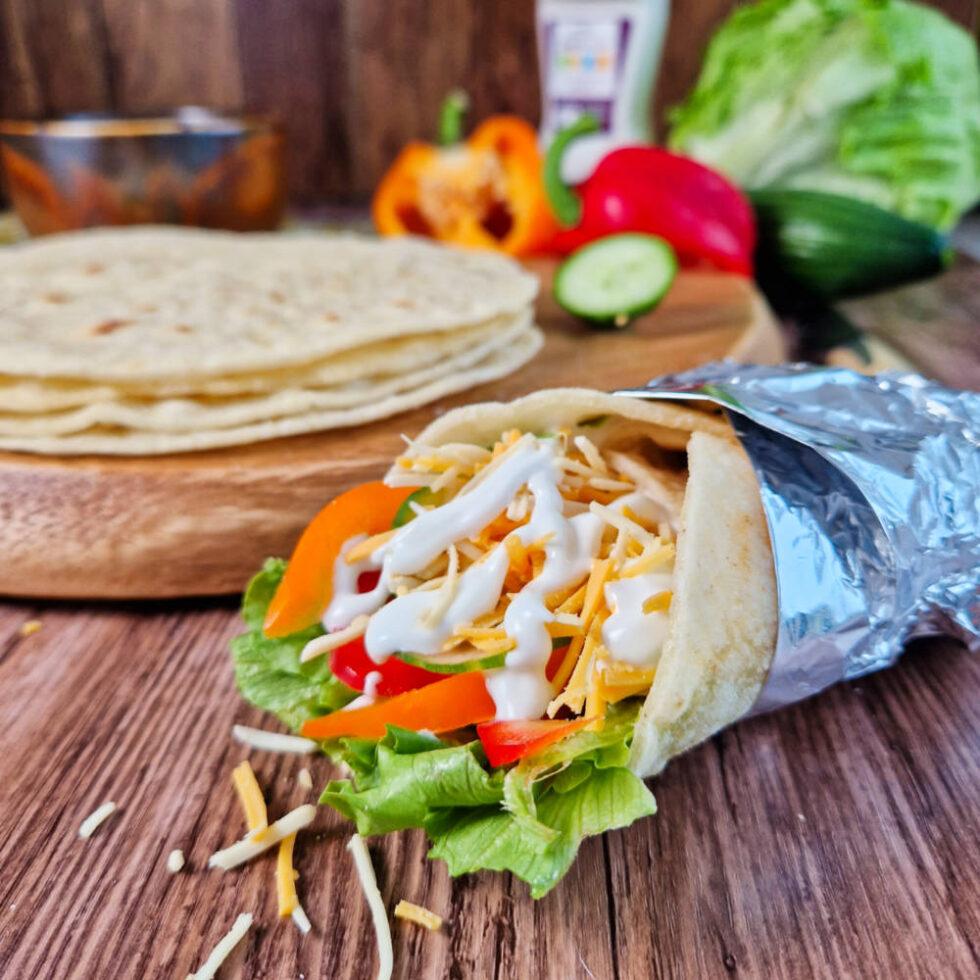 Easy No Corn Gluten Free Tortillas
These Easy No Corn Gluten Free Tortillas are so simple to make with a little time on your hands. Great to make in advance and keep for up to 2-3 days if store correctly. So versatile, these can be made to eat with Mexican food such as chilli and fajita's or use as a wrap filled with all manner of delicious deli fillings. Great for lunchboxes and picnics.
Instructions
Measure the gluten free plain flour and tapioca starch into a large bowl and add the salt and psyllium husk powder. Give it a stir with a whisk to combine.

Add the oil one tbsp at a time, using a rounded knife cut through the flour to incorporate, the idea is to create a breadcrumb mixture like a crumble topping.

Add the warm water 50ml at a time and continue to cut through the mixture with a rounded knife until all water has been added. Don't worry, it will look like a watery paste at first.

Using a non-stick utensil (I use a silicone spatula) beat the ingredients together. After a while it will form a soft shiny ball of dough.

Leave to rest for 5 mins.

Cut ball into half, then make two more cuts so you have 6 equal-sized portions. Each section will weigh about 75-80g.

Roll each portion into a ball and press flat on a well floured surface. Cover with a damp tea towel or wet kitchen paper to prevent the dough balls from drying out.

Start to heat a dry, oil free frying pan on a medium heat – I use a crepe pan for an even cook.

On a well floured surface, press a doughball into a disc and then roll out as thin as you can with a rolling pin. This takes a little time and patience to get the desired thin tortilla shape.

You can choose at this point to leave as a rustic shape or take a small tea plate and cut your tortilla into a perfect round shape.

Fry for 30secs on one side and then turn over to repeat for another 30secs on the other side.

Place the cooked tortilla on a plate and cover with another damp tea towel or wet kitchen paper to keep the tortilla supple.

Repeat process with remaining dough balls.

If eating immediately as part of a dinner simply fill with your choice of filling; fajita, chilli. If eating for lunch as a wrap allow to cool to room temperature before filling.

To store and keep for later I use reusable eco-friendly food bags. These also keep the tortilla's supple and fresh. When you want to use a tortilla simply bring it back to perfection by heating in the microwave for 10 seconds.
Nutrition
Nutrition Facts
Easy No Corn Gluten Free Tortillas
Amount per Serving
% Daily Value*
* Percent Daily Values are based on a 2000 calorie diet.
Have you tried this recipe?
Let me know how it was & I will be super grateful. Take a picture & tag me @glutarama on your social media posts – I love seeing your photos more than you will ever know x
I love to see your own photos of my bakes, dinners and treats head to your favourite social media account and don't forget to tag me in @glutarama
Subscribe to my email list so that you get NEW recipes straight in your mailbox every Friday PLUS a FREEBIE and access to some amazing gluten free DISCOUNTS
*disclaimer: I use affiliate codes on my website, the vast majority are to Amazon. If you click on any of the links or images in the post and make a purchase my family will benefit from a small % of that purchase at no extra cost to you.

For full transparency, in 2020 I made my first £25, and in 2022 I reached my next £25 (Amazon don't transfer the money until you reach £25). I'm now up to £17.80 for 2023 so edging closer to the magical £25 mark!!

To date I have made £69.28 since I first started the scheme in 2017. It won't pay the bills, that's for sure but it does help to pay for ingredients or little treats to cheer me up!
Join my friendly Facebook Group
life's a drama, gluten free doesn't have to be….