This page contain affiliate links. Please refer to my Disclosures Page for more details.
I couldn't wait to write up this Gluten Free Cheats Sausage Casserole which is not only super easy to make but family friendly and cheap too.
What gluten free sausages can I use in this casserole?
There are so many options out there now we can finally say we're spoiled with choice here in the UK. The thing you need to consider is the people who will be eating this Cheats Sausage Casserole.
If the recipients of this sausage casserole have no issue with punchy flavours, you could go for a Cumberland or Lincolnshire sausage with extra flavours added. There are also gluten free options out there with pork and cider and caramelised onion sausages.
If you have a tough crowd when it comes to stronger flavours, then stick to the good ole chipolatas, basic pork sausages or even chicken sausages.
I've collected a selection of the top specifically gluten free brands here in the UK but remember; Aldi, Lidl, Co-op and other supermarkets have own brand sausages that are now gluten free too. You may just have to pay more in places like Tesco or Sainsbury as they often reserve the gluten free sausages for the the Tesco Finest or Taste the Difference products.
What tin's of tomato soup are suitable for this cheats sausage casserole
This recipe is intended for a family, therefore it needs to suit children's palates, I recommend using a cream of tomato soup. The brand of tomato soup you decide to use is up to you. You may wish to use your normal brand or, if looking to cook on a budget, you may wish to go for a cheaper option.
The top contenders are obviously; Heinz Tomato Soup and Campbell's Cream of Tomato Soup. The prices range from £1.20 per tin to 0.60p depending on whether you opt for a brand or a supermarket's own version.
Just remember, always read the label for GLUTEN and may-contains.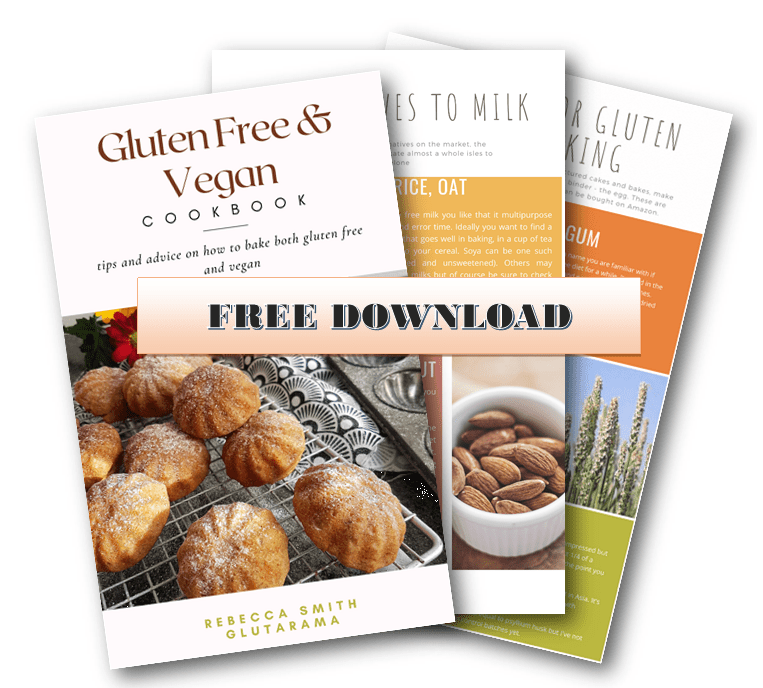 Never miss out again…
Sign up to my weekly Friday newsletter and not only get a FREE e-Book (currently my Gluten Free & Vegan Cookbook) but also get VIP subscriber discounts on free from goodies. Join me and learn to make anything gluten free.
What beans can I use in this cheats sausage casserole?
There's a theme here, if you don't think your younger family are going to entertain eating this cheats casserole if they can see an adzuki bean at 5 paces then don't add them, save yourself the frustration!
I'll bet the kids enjoy baked beans though? So why not add a tin of those instead?
I have never been able to make up my mind which of the legumes family I like the most. I have also not quite worked out which of them hate me! As a possible IBS sufferer, beans and certainly lentils can have an adverse effect on me. If this sounds like you, give the beans a miss and maybe add a tin of sweetcorn instead or throw in a handful or two of frozen mixed veggies.
In the sausage cheats casserole pictured, I knew I was making this for the rest of the family not myself as well so I added adzuki beans, on other occasions I've use the following legumes with equal success;
butter beans
harricot beans (these are used to make baked beans)
blacked-eyed beans (not the band of peas!)
cannellini beans
pinto beans
mixed beans
adzuki beans
Can I make this dairy free as well as gluten free?
Finding a tin of tomato soup that's not got dairy in it can be a challenge. Actually, finding ANY tinned soups that don't have dairy in them can be a challenge, believe me, I've tried. Fortunately, if you have the patience to look, they do exist. Sadly, they are often considered a luxury soup and are therefore more expensive.
I've found a couple of examples of soup you could swap the cream of tomato soup for in this recipe. The first, is this tin of Baxter's Tomato Soup. As it has herbs in it already, you may feel less inclined to add the sage, but I would still add a pinch to tone down the basil and give the sausage casserole and more earthy taste.
The second tin of soup I only came across the day after drafting this recipe post. It's all thanks to the lovely Alison at Coeliac Sanctuary. She posted an image of a new Vegan Heinz Tomato Soup on her Facebook page that's also safe for Coeliacs. I have found this to be available on Ocado for £1.70 but at the time of posting it was on offer for £1.
Can I make this sausage casserole vegan too?
Use a safe tinned soup and vegan and gluten free sausages then YES, you can make this cheats sausage casserole vegan too.
Please be mindful that many vegan products are showing up on our shelves right now and sadly not all businesses' appreciate the importance of may contains.
I mention this because if it says it vegan, it doesn't always mean its DAIRY FREE too. I know, bonkers right?
The same rule applies for gluten free. So, for fear of sounding like a broken record – CHECK THE LABELS you lovely person you.
Slow cooked or oven cooked?
We can all agree that the cost of living is getting higher and we're all feeling the pinch. Therefore I've gone for the option to cook this family friendly gluten free sausage casserole in my trusty Morphy Richard Slow Cooker rather than a conventional oven or even the hob.
Slow cookers are also an energy-efficient cooking appliance – they use just a little more energy than a traditional light bulb, and you can leave your food to cook slowly throughout the day while you're at work or when you need to get on with other things.

USwitch – Energy efficient cooking
Batch cook to save money
We all know that batch cooking is a cheaper way to produce hearty, healthy, filling meals for the family. This sausage casserole is no different.
My recipe cards all have a really cool feature whereby you can increase or decrease portion sizes. Say you only want to make this recipe for 2 people then choose the 0.5x button and the recipe card will adjust as if by magic.
If you want to make this recipe for 8 people or make enough for a meal for the family on another day, simply choose the 2x button and the ingredients will double for you. Feeling particularly productive and have a freezer the size of a coffin? Click 3x and you'll have enough sausage casserole to feed an army (a small army of 12 people).
Portion sizes
This recipe works on the presumption that you have 4 people with good appetites therefore this works on a portion size of 3 sausages each.
If you are a family with smaller tummies then maybe you don't want three sausages each so you could use the 0.5x button and smaller mouths can have 1 or 1/2 a sausage each.
---
Autoimmune, Allery or Intolerance?…
Sign up to my weekly Friday newsletter and not only get THREE FREE mini guides to explain the differences but also get VIP subscriber discounts on free from goodies delivered to your door.
How to store this cheats sausage casserole for another day?
I have a cupboard full of Tupperware and one of my favourite brands is Igluu their rectangular tubs come in one piece, 2 piece and 3 piece compartments and I find the 1 piece is perfect for 2 portion sizes or this casserole (then you just cook up some mash and veggies to go with it).
The link is an affiliate link so if you did buy some tubs I'd get a few pennies at no extra cost to you.
All you need to do is wait for the leftover casserole to cool down completely to room temperature. Portion the casserole into the number of tubs required and freeze.
On the day you want to eat your frozen casserole get the tub out of the freezer in the morning and pop in the fridge to defrost safely ready to heat for dinner later.
Other meal time ideas for the family
Sausage Pasta Bake
A simple family friendly recipe that's equally satisfying and filling. This is both gluten and dairy free but can be made with dairy products if you're able to eat dairy.
Check out this recipe
Giant Gluten Free Sausage Dinner Roll
Need a quick and simple recipe for mid week family dinners, then this Giant Sausage Dinner Roll is perfect. Super quick and easy suet pastry (using my gluten free suet recipe). A packet of gluten free sausages and veggies to bulk it out – perfect comfort food everyone will enjoy.
Check out this recipe
Gluten Free Sausage Plait
This Gluten Free Sausage Plait is really simple to make, especially if, like me, you use ready made gluten free pastry! I've added apple for moisture and celery for a little crunch but this meal is so flexible so have fun with it and add your own twist. Perfect for picnics too, plus can be made vegetarian and vegan if using suitable plant based sausages.
Check out this recipe
Roasted Parsnip Soup
Just a flavoursome as my curried parsnip recipe, this roasted parsnip soup is full of flavour without the added spice, perfect for children too, plus it's naturally gluten free and vegan. A simple, cheap soup recipe that can be added to if you wish to use up other leftover vegetables from your Sunday Roast.
Check out this recipe
For a full soup recipe collection and top tips on how to; make free from soups from scratch, thicken soup, source gluten free stock cubes and more head over to my Delicious Free From Homemade Soup Recipe Collection
Gluten Free Cheats Sausage Casserole Recipe
If you make it and like the recipe I would be eternally grateful if you popped back and commented leaving a star rating as this will tell search engines that this recipe is worth checking out and others will get to find it in searches.
Cheats Sausage Casserole
A super quick and simple sausage casserole using a tin of soup, tin of beans, a packet of sausages and a few other simple ingredients. This is a great recipe for the family as it's always a children's favourite too. Versatile in the fact that you can not only make this gluten free, but also dairy free and vegan too with the right safe ingredients.
Ingredients
12

gluten free sausages

(two packs of 6 sausages

400

g

tinned tomato soup

400

g

tinned beans

(adzuki, haricot, kidney etc…)

400

g

tinned chopped tomatoes

400

ml

cold water

1

Knorr beef stock pot

or gluten free beef stock cube, crumbled

1

tbsp

dried sage

1

tsp

garlic (powder, puree or clove)

I use powder for this recipe

1

tbsp

Henderson's Relish

or gluten free Worcestershire Sauce

salt & pepper to taste
Instructions
No need to brown the sausages off first, so add all the gluten free sausages to the slow cooker/casserole dish.

To the dish, add the tomato soup, tinned tomato's, beans, relish, garlic powder and sage.

Using the tinned tomato can, fill to the top with tap water and pour this into the dish as well.

Give everything a good mix up with a spatula and add the lid.

For a slow cooker – heat on high for 3 hours.

NOTE: For the last 30mins leave a gap in the lid to allow the sauce to thicken.

For a casserole dish – heat in the oven on 200°C | 180°C fan | 400°F | Gas 6 for 1 hour.

NOTE: No need to remove the lid, this method will thicken the sauce naturally.
Nutrition
Nutrition Facts
Cheats Sausage Casserole
Amount per Serving
% Daily Value*
* Percent Daily Values are based on a 2000 calorie diet.
Have you tried this recipe?
Let me know how it was & I will be super grateful. Take a picture & tag me @glutarama on your social media posts – I love seeing your photos more than you will ever know x
I love to see your own photos of my bakes, dinners and treats head to your favourite social media account and don't forget to tag me in @glutarama
Subscribe to my email list so that you get NEW recipes straight in your mailbox every Friday PLUS a FREEBIE and access to some amazing gluten free DISCOUNTS
Still got room for pudding, how about these winter favourites?
*disclaimer: I use affiliate codes on my website, the vast majority are to Amazon. If you click on any of the links or images in the post and make a purchase my family will benefit from a small % of that purchase at no extra cost to you.

For full transparency, in 2020 I made my first £25, and in 2022 I reached my next £25 (Amazon don't transfer the money until you reach £25). I'm now up to £17.80 for 2023 so edging closer to the magical £25 mark!!

To date I have made £69.28 since I first started the scheme in 2017. It won't pay the bills, that's for sure but it does help to pay for ingredients or little treats to cheer me up!
Join my friendly Facebook Group
life's a drama, gluten free doesn't have to be….