This page contain affiliate links. Please refer to my Disclosures Page for more details.
I am so proud of these Gluten Free Ring Doughnuts, and believe me, they taste as good as they look.
The recipe I adapted was for originally for gluten-filled cake pops but I'd been shopping that day and a silicone ring doughnut baking tray beckoned to me from across the shop and of course it would have been rude not to give it a test run as soon as I got home! If I'm honest, these Doughnuts taste uncannily like the Iced Lebkuchen you see in shops at Christmas but I reckon if you omit the nutmeg and stick with just the teaspoon of vanilla extract you'll get a more authentic dough nutty flavour.
Since that day they have become a favourite bake in the family. I affectionately call them my Homer Simpson Donuts as they remind me so much of the style of doughnut he eats in The Simpsons!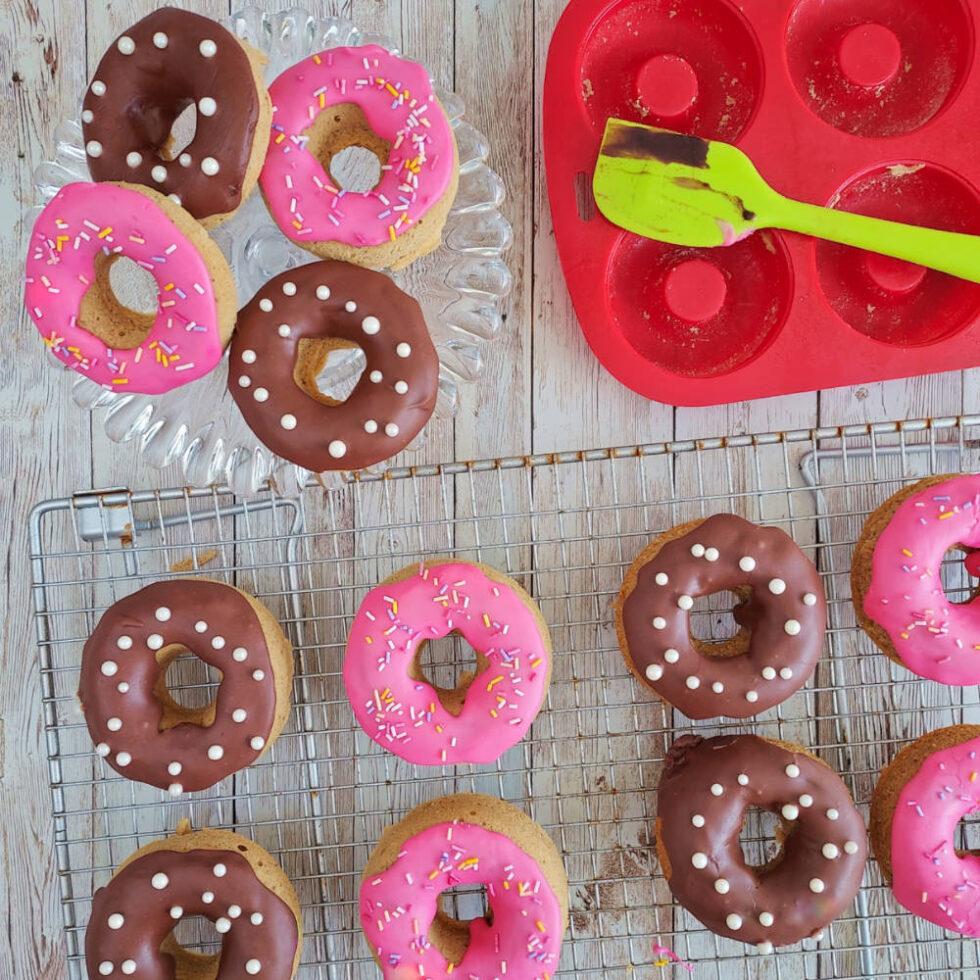 What's the best doughnut mould to use?
This recipe makes 12 good sized large doughnuts using a large silicone ring doughnut mould*. The four-ring mould I've linked is the perfect size. The only thing is you need to make in batches unless you buy more than one mould.
Alternatively you could make smaller ring doughnuts (like the smaller ones in the images). These smaller doughnuts are made with a six-ring silicone doughnut mould*. The link takes you to a set of 2x moulds so that's 12 in total and I think you could easily get 18 smaller doughnuts with this recipe.
Can I make these Iced Doughnuts dairy free?
To make these dairy free is quite simple, just swap the milk for your usual dairy free alternative. Then swap the butter for plant butter (I find hard blocks of plant butter work better in baking than margarine).
Can I make these Gluten Free Doughnuts Vegan?
Yes, you can make these ring doughnuts vegan as well as gluten free. To do this is not a straight forward swap. To make these vegan you need;
2 tbsp ground flaxseed or chia seed
0.5 tsp psyllium husk
You also need to use more liquid. So, if you're making 12 large ring doughnuts you'll need 250ml dairy free milk instead of just 200ml. This is because an egg is 50g/50ml so you're losing that 'liquid' element.
To make the doughnut batter you simply add 2 tbsp flaxseed when you add the flour, this is when you also add the psyllium husk powder.
I have made these using this method and they are okay but a very fragile crumb. The better vegan doughnut recipe is this Baked Doughnuts two ways: dairy and gluten free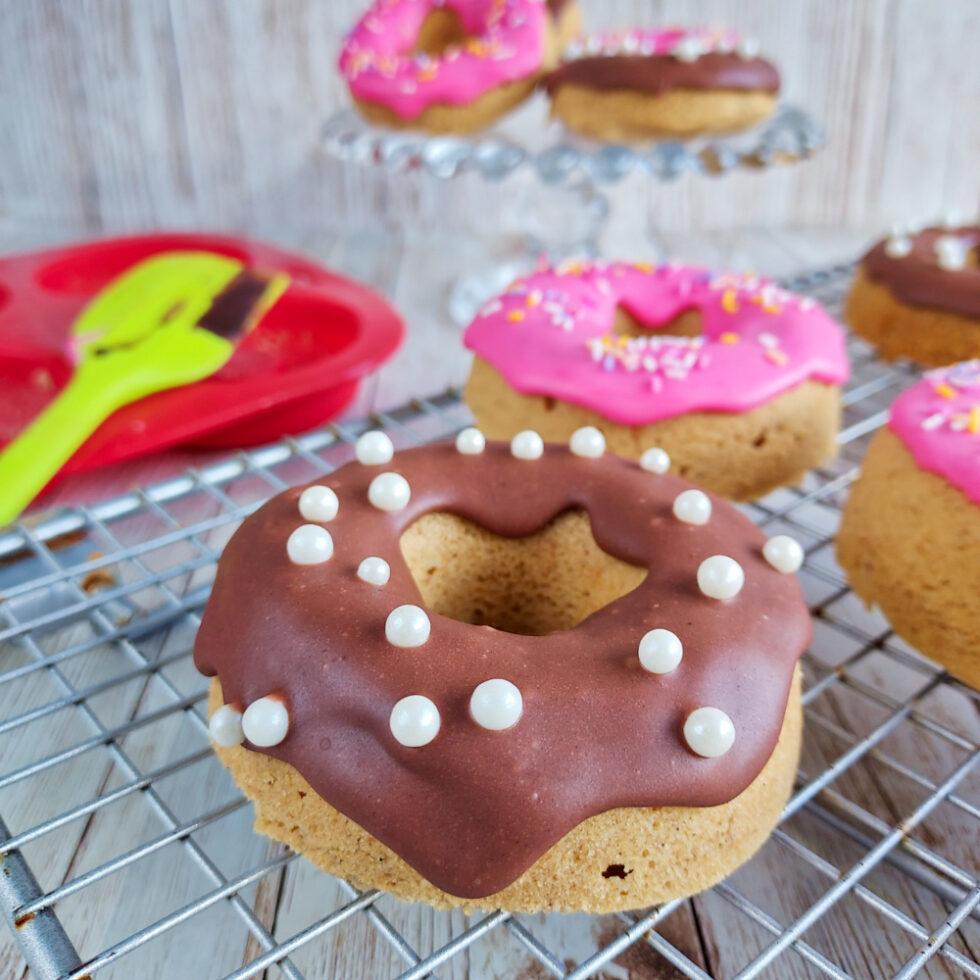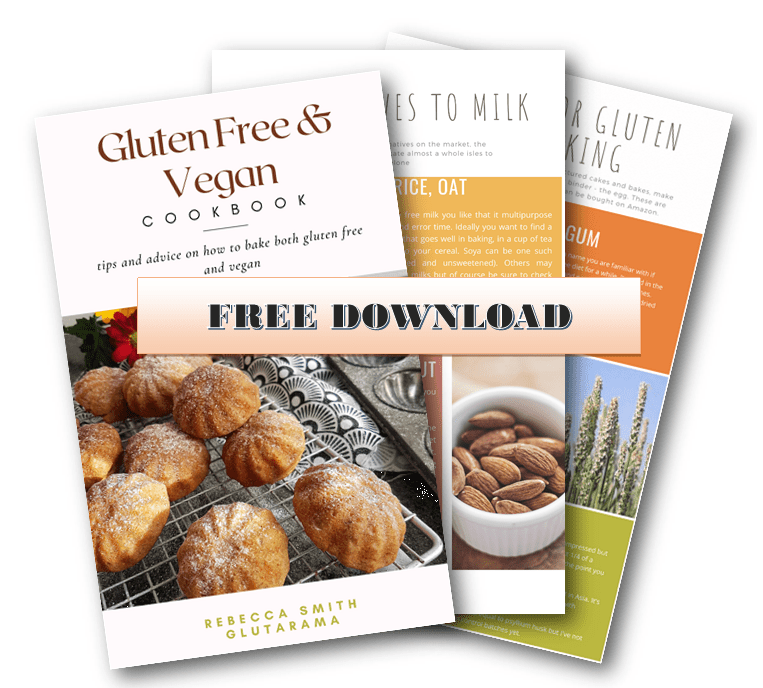 Never miss out again…
Sign up to my weekly Friday newsletter and not only get a FREE e-Book (currently my Gluten Free & Vegan Cookbook) but also get VIP subscriber discounts on free from goodies delivered to your door. Join me in my journey and learn to make anything gluten free.
Where's the hole in my ring doughnut gone?
In some cases the mixture may rise so much that the hole in the middle disappears. On the plus side, if this happens, simply use an apple corer (which is the perfect size) or the smallest circle cutter you have and gently press in the centre of the sealed doughnut to make it a ring doughnut. The plus side is you get to nibble the off cuts – double winner!
Other gluten free cakes and bakes you might like
I've a huge catalogue of baked goodies on my website waiting for you to explore, who not try these other gluten free bakes, many are also dairy free and egg free too making them vegan.
Gluten Free Ring Doughnuts Recipe
If you make it and like the recipe I would be eternally grateful if you popped back and commented leaving a star rating as this will tell search engines that this recipe is worth checking out and others will get to find it in searches.
Gluten Free Ring Doughnuts
Simple to make, these gluten free ring doughnuts have a slight spice to them which makes them all the more delicious. Baked instead of fried, they're a safer and healthier version of the traditional doughnut (donut) but still have all the bouncy texture and delicious vibes. Can be made dairy free with simple ingredient swaps and even vegan too.
Ingredients
50

g

butter

50

ml

oil (I use vegetable or sunflower)

100

g

granulated sugar

70

g

brown sugar

2

egg(s)

400

g

gluten free plain flour

200

ml

milk

1.5

tsp

baking powder

0.5

tsp

bicarbonate of soda

pinch of salt

1

tsp

ground nutmeg

1

tsp

vanilla extract
To decorate – pink icing
100

g

icing/confectioners sugar

3

tsp

water

1

tsp

vanilla extract

food colour paste & sprinkles

optional
To decorate – chocolate icing
100

g

icing/confectioners sugar

1

tsp

cocoa powder

4

tsp

water

1

tsp

vanilla extract
Instructions
Preheat the oven to 170°C | 150°C fan | 325°F | Gas 3 and grease the doughnut mould(s) with butter or oil spray.

Beat together the butter, oil and both sugars until they turn lighter in colour and smooth.

Add the eggs and stir in the baking powder, soda salt, nutmeg and vanilla.

Next whisk in the flour then add the milk gradually until you get a soft dropping consistency cake batter.

NOTE: Depending on the size of your eggs you may need a little less than the amount of milk recommended.

Spoon into the doughnut moulds just below the middle bump level.

Bake for 15-18 minutes in the middle of the oven, the doughnuts will be ready when there have a gentle bounce when pressed with a finger.

TOP TIP: if making smaller doughnuts with a different size mould, bake for 10 minutes only.

Repeat two more times to use up the mixture (unless the kids and their wooden spoons have got to it first!)
To decorate
Simply mix the icing sugar, water and vanilla and add colour as required.

Add sprinkles and decoration as you see fit.
Notes
TOP TIP: in some cases the mixture rose so much that the hole in the middle disappeared on the topside, to cheat and recreate the hole I used an apple corer which was the perfect size to make the hole and I got to nibble the off cuts – double winner!
Nutrition
Nutrition Facts
Gluten Free Ring Doughnuts
Amount per Serving
% Daily Value*
* Percent Daily Values are based on a 2000 calorie diet.
Have you tried this recipe?
Let me know how it was & I will be super grateful. Take a picture & tag me @glutarama on your social media posts – I love seeing your photos more than you will ever know x
I love to see your own photos of my bakes, dinners and treats head to your favourite social media account and don't forget to tag me in @glutarama
Subscribe to my email list so that you get NEW recipes straight in your mailbox every Friday PLUS a FREEBIE and access to some amazing gluten free DISCOUNTS
*disclaimer: I use affiliate codes on my website, the vast majority are to Amazon. If you click on any of the links or images in the post and make a purchase my family will benefit from a small % of that purchase at no extra cost to you, in fact, for full transparency, in 2020 I made my first £25, and recently in 2022 I reached my next £25 (Amazon don't transfer the money until you reach £25). As you can see, it won't make me a millionaire but it will treat me to a few coffees, Lord knows I need the caffeine!
Never miss out again…
Sign up to my weekly Friday newsletter and not only get this super handy FREE conversion guide but also get VIP subscriber discounts on free from goodies delivered to your door. Join me in my journey and learn to make anything gluten free.
p.s. I have this on the back of a cupboard door in my kitchen – true story!
This recipe has been linked to NOMSS.COM as part of the #CookBlogShare Linky