This page contain affiliate links. Please refer to my Disclosures Page for more details.
Also, before you hit 'Jump to Recipe' just check my contents section 'Skip to the Good Bit' below. I may answer a query you have about this recipe straight away in the post.
The recipe for this Vegan Lemon Curd Genoise Slice came about during the development stage for my Dairy Free Jubilee Trifle. I battled with a vegan swiss roll and whole the thinner sponge was happy to roll, the thicker sponge was have none of it!
Basically, I gave up as I reminded myself of the whole ethos behind Glutarama – life's a drama, gluten free doesn't have to be. I'd lost my way and was about ready to throw the towel in. So my trifle didn't have gluten, dairy and egg free swiss roll in it, it had lemon slices in it instead. My mojo was back and the trifle was a success.
It also meant I had a delicious sponge dessert I could share with you in it's own right. And that dear reader is how the Vegan Lemon Curd Genoise Slice came about.
How do you make a vegan genoise sponge?
Normal Genoise
To make a 'normal' Genoise sponge you use whipped egg whites, sugar and then fold the remaining egg yolks into the mixture before adding flour (plain and self raising). That's it. No fat in the form of butter or otherwise.
Gluten Free Genoise
In a gluten free Genoise sponge you do exactly the same but with gluten free flours (a little less than a 'normal' sponge as gluten free flour is more absorbent).
Vegan Genoise
In a vegan Genoise sponge you hit a stumbling block, what can you use for the egg whites and egg yolks? Well the egg yolk alternative disappears in a vegan recipe. But the egg whites are replaced with a magical liquid called aquafaba.
You also need to use 100% gluten free self raising instead of a combination of plain and self as you need additional rising agents for this sponge to work.
Finally I use golden caster sugar. This is to add flavour but also to help add a delicate golden colour to the finished sponge that you otherwise wouldn't get due to the lack of egg yolks.
What is aquafaba?
So what is aquafaba? Simply speaking it's the left over liquid in a tin of chickpeas. Basically, when chickpeas are canned in production, they are submerged in water. The time the chickpeas spend in the water turns the liquid into a rich starchy biproduct called aquafaba. This chickpea water can then be used to whip up into a froth.
By whipping the aquafaba you trap air bubbles in the slightly slimy liquid and this can imitate egg whites.
There is an issue with retaining this structure however, so this is why you must add a stabiliser such as cream of tartar. This will increase the whipped aquafaba volume and improve its stability making it something you can work with in baking and cold desserts such as vegan mousses.
Never miss out again…
Sign up to my Friday newsletter and receive not one, but THREE FREEBIES.
GF and Vegan e-Book
conversion charts
3 simple guides to allergies, intolerances & autoimmune.
Join me and learn to make anything gluten free.
How do you make an egg free lemon curd?
I'm not sure there is a vegan lemon curd on the market that can be bought in shops? A quick search of the interweb has come up with very little information indeed. This is why I decided to make my own lemon curd recipe that has no egg in it making it safe for allergies and those following a vegan diet.
Simple Homemade Vegan Lemon Curd
A simple to follow recipe for vegan lemon curd. This recipe requires no eggs or dairy and is an excellent base for other recipes such as lemon meringue pie, lemon cheesecake or just a really lovely old school lemon curd sandwich filler.
Check out this recipe
In fact, if you do get to grips with this vegan genoise recipe and the vegan lemon curd above you're halfway there to making the Platinum Jubilee Trifle Recipe I mentioned before so here's the recipe below.
Dairy Free Jubilee Trifle
This recipe for Dairy Free Jubilee Trifle is not just dairy free but egg free and gluten free too. There are links to alternative options if you don't need egg free genoise or egg free amaretti biscuits so hopefully this recipe suits as many dietary requirements as possible.
Check out this recipe
Can I use a shop bought Lemon Curd?
As mentioned above, I've struggled to find an egg free lemon curd in the supermarkets. There always the option to make this Lemon Curd Genoise Slice with normal curd if you can tolerate eggs, but then I'd ask why you'd be looking at a vegan genoise sponge recipe in the first place?
Can I make this Genoise Sponge with eggs?
Carrying on with the topic of an egg-filled recipe, you can of course make this recipe using my gluten free and dairy free genoise sponge recipe. That recipe has egg whites and egg yolks in it, making the recipe easier to make with shop bought lemon curd too. You simply follow those instructions on how to make and follow the remainder of this recipe on how to build you Lemon Curd Genoise Slices.
Gluten Free Lemon Swiss Roll
A simple gluten free Lemon Swiss Roll recipe that anyone can make, don't be scared of the rolling process, it's not difficult I promise! Filled with shop bought or homemade Lemon Curd, the perfect teatime treat fit for a Queen.
Check out this recipe
Other lemon inspired recipes that are gluten free and vegan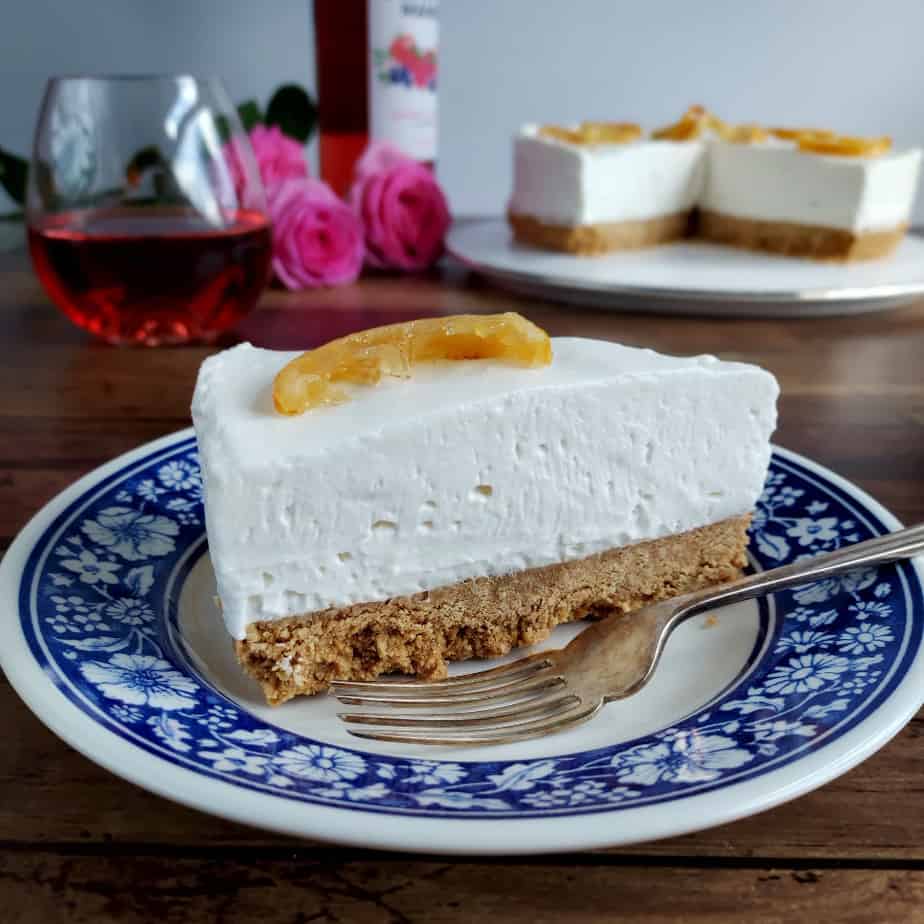 Gluten Free Lemon Frangipane
A zingy, sweet lemon frangipane bake that's simple to make with minimal washing up and stress! Can be eaten cold by the slice or serve warm with a scoop of your favourite ice cream, custard or cream. Much like its cousin the Bakewell Tart but this is crustless and easier to prepare at short notice for unexpected guests!
Check out this recipe
If you are new to baking gluten free and vegan you're going to find this post really useful Ingredients and Simple Recipes for a Gluten Free Veganuary, the post is aimed at Veganuary but the same tips and advice apply all year round.
Vegan Lemon Curd Genoise Slice Recipe
If you make it and like the recipe I would be eternally grateful if you popped back and commented leaving a star rating as this will tell search engines that this recipe is worth checking out and others will get to find it in searches.
Vegan Lemon Curd Genoise Slice
A gluten free and vegan triple layer Genoise sponge, sandwiched with homemade vegan lemon curd and dusted with icing sugar. A beautiful addition to any afternoon tea table or to have on its own with a cup of tea.
Ingredients
For the genoise sponge
200

ml

aquafaba

I use Oggs or 2x drained chickpea cans

160

g

golden caster sugar

1

tsp

cream of tartar

4

tbsp

oil (I use vegetable or sunflower)

I use vegetable oil

1

tsp

vanilla extract

270

g

gluten free self raising flour

30

g

tapioca starch

swap for flour if you don't have it but this helps with sponge flexibility.

2

tsp

psyllium husk powder (optional)
For the filling
150

g

lemon curd

[see notes for homemade vegan curd]
Instructions
To make the genoise sponge
Prepare a 32×23 baking tray by spraying with oil and lining with baking paper.

Preheat the oven to 190°C | 170°C fan | 375°F | Gas mark 5.

In a large bowl or mixer, whisk the aquafaba and cream or tartar to stiff peaks.

Next, whilst continuing to whisk, add the golden caster sugar one tablespoon at a time. Keep going until all the sugar is combined and you have a thick glossy base for a meringue.

Now, in a cup or small jug, whisk together the vegetable oil and vanilla extract. To add the extract on it's own will react to the whipped aquafaba. Pour straight into the whipped meringue and fold quickly with a silicone spatula.

In a separate bowl. Sieve together the tapioca starch, psyllium husk and self raising gluten free flour.

Now add the mixed dry ingredients in three parts, each time folding into the whipped aquafaba.

NOTE: do not worry, your lovely fluffy mixture will reduce in size by half, this is to be expected.

Scrape the genoise sponge mixture onto the baking sheet and tip the sheet to encourage the mixture to spread. Finally tease the last bit of mixture into the corners. The mixture will be very bubbly and active.

Bake for 15 minutes, it doesn't need long at all.

Remove from the oven and rest on a cooling tray for 5mins before removing from the tin.

Once cool enough, mark the sponge out into 18 rectangles (I use a pen to mark the baking paper to give me an idea of size) You need 3x rows of 6 rectangles about 4x6cm.

Cut the sponge carefully and using the lemon curd (I added mine to a piping bag to make this 100% more bearable) cover 12 of the shapes with curd, leaving 6 'tops'.

Stack your genoise lemon slices so you end up with 6 triple layer lemon slices. Dust with icing sugar to finish.

TOP TIP: to get the dusted finish in the images, I gently placed the cooling rack over the sponges at a 45° angle and dusted.
Nutrition
Nutrition Facts
Vegan Lemon Curd Genoise Slice
Amount per Serving
% Daily Value*
* Percent Daily Values are based on a 2000 calorie diet.
Have you tried this recipe?
Let me know how it was & I will be super grateful. Take a picture & tag me @glutarama on your social media posts – I love seeing your photos more than you will ever know x
I love to see your own photos of my bakes, dinners and treats head to your favourite social media account and don't forget to tag me in @glutarama
Subscribe to my email list so that you get NEW recipes straight in your mailbox every Friday PLUS a FREEBIE and access to some amazing gluten free DISCOUNTS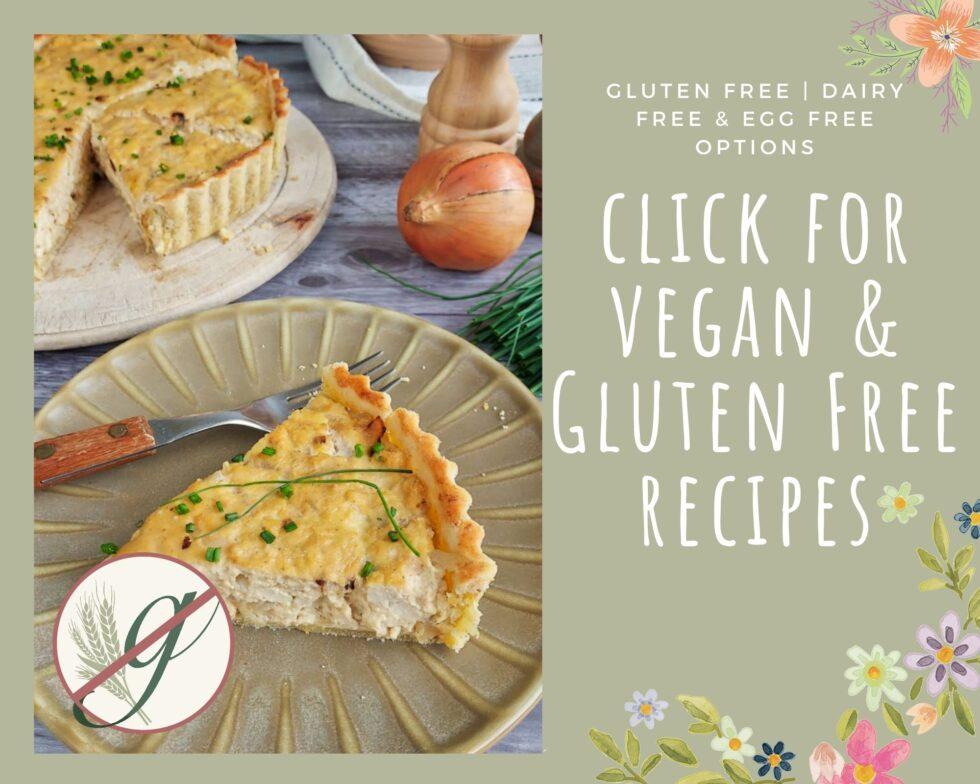 This recipe has been linked to NOMSS.COM as part of the #CookBlogShare Linky