This page contain affiliate links. Please refer to my Disclosures Page for more details.
I feel a bit embarrassed to post this recipe for my Leftover Roast Chicken Slice. Odd way to start a post! The fact is this is really, really easy to make.
Take some ready-rolled gluten free puff pastry. Add some leftovers from the Sunday Dinner. Mix it up with some dairy free cream and lots of seasoning. Maybe even go wild and add some herbs. Hey-presto, you have a Leftover Roast Chicken Slice.
But should I really feel embarrassed to share this recipe on the interweb? Actually, the answer is no! How do I know this? Because you are here reading this post possibly after searching for a recipe for a gluten free quick and easy recipe that uses leftover chicken.
Another reason I know I need not feel daft – we all too often assume that other people know things. I know how to make this, therefore you must know how to make this too? It's taken me a while, but I've remembered why I started Glutarama in the first place. To make easy recipes and teach others to bake and cook gluten free too. Because after all, life is a drama. Gluten free doesn't have to be.
What gluten free puff pastry should I use?
In this recipe I've used Jus-Rol gluten free ready rolled puff pastry. It's super easy to use and has pretty good results. I also have some top tips for this gluten free puff pastry, so keep reading.
You may wish to use a frozen block of puff pastry. Here in the UK Genius do such a thing. I've not used it for years, so hand on heart cannot comment on its results in this recipe.
Please feel free to pop back and comment below if you do use a different brand of gluten free puff pastry. Not only do I love to read your comments, but it's also super helpful for other readers.
Top Tips for Ready Roll Gluten Free Puff Pastry
Don't add any unnecessary fat – gluten free puff pastry is very oily already.
Try tilting the shelf or baking tray in the oven, this will allow this excess fat to drain away.
Remove the pastry from the fridge and bring to room temp to handle (less brittle).
If you need to cut into slices (e.g. sausage rolls) return to fridge to harden first for easier cutting.
Free from puff can be quite pale in colour – use something brown to wash the pastry!
– sweet: brown sugar mixed with milk/dairy free milk
– savoury: GF Worchester sauce, GF gravy granules mixed with water/milk/dairy free milk
– not egg free? Well that's fine, just use a whisked egg to brush the pastry.
Can I use different Sunday Dinner joints for this slice?
Roast pork, turkey, beef? These Sunday Dinner leftovers can be used in the same way, simply follow the recipe below and you'll end up with a leftover pastry slice.
Add a small diced apple to the pork leftovers, cranberry sauce and stuffing to the turkey, mushrooms and cream to the beef. The possibilities are endless and the next day you have a new dinner to enjoy and no two Monday dinners need be the same.
What other leftovers can I use?
I'm going to put my head on the block here and say – anything. Last nights dinner was spaghetti bolognaise and you've got leftovers. Not to worry, add the left over ragu to some ready-rolled puff and you have yourself an Italian Pasty.
What about nut loaf and roasted vegetables? These make an excellent filling for a totally vegan leftover slice experience (Jus-Rol gluten free pastry is vegan).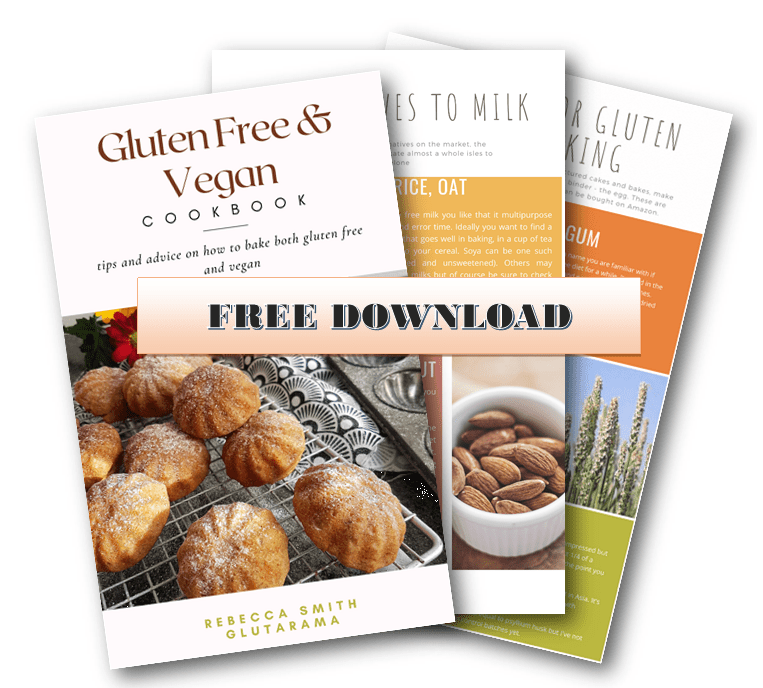 Never miss out again…
Sign up to my weekly Friday newsletter and not only get a FREE e-Book (currently my Gluten Free & Vegan Cookbook) but also get VIP subscriber discounts on free from goodies delivered to your door. Join me in my journey and learn to make anything gluten free.
How about a creamy curry slice instead?
These don't just make a delicious next-day-dinner, they're also delicious in packed lunches or for picnics.
To make a creamy Leftover Curry Slice follow the recipe below but add a spoonful of curry paste if you have it, or some safe gluten free curry powder such as garam masala. You're in charge here so keep adding curry flavour and cream until you have a the desirable heat to suit your palette.
Different ways to decorate your Roast Chicken Slice
Folded – in this recipe I've folded the ready roll puff, rather than make 4 individual slices I've made two large 'meal for two' slices. This way if there are only two of you you can freeze one for another day. Plus by filling this way you get more filling in to the slice and it's less fiddly.
An example of another folded slice in my Gluten Free Sausage Roll with Chutney and Mustard
Plaited – you could place the filling down the centre of the puff rectangle and make identical incisions either side. Then fold one strip into the centre at a 45 degree angle, then fold over the opposite side over that and repeat until you have a plait shape.
An example of a plaited dish is this Simple Sausage Plait – perfect for picnics or dinner time
Cornish Pasty Style – This is a bit wasteful but you could cut your pastry into circles and crimp the edges. I'd suggest making two large pasties for the reasons I give in the folded description.
Lattice – This is a wee bit fancy and the easiest way to achieve a beautiful lattice is to invest in a lattice roller*. Here you need to mark the puff pastry into thirds and cut a third away to roller. You need less pastry for the lattice top, as once you've rolled it and gently pulled the pastry wide, you'll realise you needed less pastry to cover the base.
Be inventive, don't be scared of gluten free baking – you have my permission to play with your food!
Great gluten free dinner inspiration
Gluten Free Leftover Roast Chicken Slice Recipe
If you make it and like the recipe I would be eternally grateful if you popped back and commented leaving a star rating as this will tell search engines that this recipe is worth checking out and others will get to find it in searches.
Gluten Free Leftover Roast Chicken Slice
This easy recipe for my Leftover Roast Chicken Slice is such a feel good recipe. You're saving waste and creating a delicious dinner for the day after a Roast Dinner. So versatile, these pastry slices can be made with any roast dinner leftovers including roasted potato's and vegetables. Made gluten free and dairy free using a ready rolled gluten free puff pastry. Can also be easily adapted to be vegan too.
Ingredients
1

packet

Jus-Rol Gluten Free Puff

– I use Jus-Rol puff pastry

300

g

roast chicken

– cut into bite size pieces.

150

g

leftover vegetables

– e.g. carrots, brussels, broccoli, roast potatoes

100

ml

cream

– I use Alpro soya or Elmlea Plant cream

salt & pepper to taste

½

tsp

of dried thyme

– optional, use whatever herbs you fancy.
For the pastry wash
1

tbsp

milk

– I use dairy free milk or some of the cream use above.

1

tsp

gluten free Worcestershire Sauce

– alternatively use a teaspoon of GF gravy granules
Instructions
Remove the puff pastry from the fridge and leave for 10mins to get close to room temperature.

Preheat the oven to 200°C | 180°C fan | 400°F | Gas 6

In a large bowl add the leftover chicken pieces or shreds.

Add to this any leftover gravy from the day before, chopped cold roast potatoes, leftover vegetables.

Season with salt and pepper to taste and give the leftover a gentle stir to combine. Don't stir too hard you'll end up with baby food! Set to one side to prep the pastry.

Decide how you plan to decorate your slices. For the folded version [pictured] cut the room temperature pastry into two large rectangles.

Add half the chicken leftover mixture to one slice and repeat with the second piece of pastry.

In a small bowl combine the milk/cream and Worchester sauce/gravy granules. You'll end up with a caramel-brown pastry wash. use this wash to brush the outside edges of the pastry rectangles (this will glue the pastry together when folded).

Gently fold the slices and press the edges down. I use the back of a fork to achieve a firm seal and pretty finish.

Brush both large slices with the remaining wash. Season with salt and pepper and gently score the tops to let out air and add to the decoration.

Place on a baking tray in the oven for 20-25 mins or until the pastry is a beautiful golden colour.

Top Tip: as gluten free puff pastry is very oily, I tilt the oven shelf to allow the excess oil to drain away from the slices. You may want to place a dish beneath to catch any drips that escape.

Once baked to perfection, serve immediately with dinner or allow to cool completely and eat cold – ideally with a glass of gluten free beer!
Nutrition
Nutrition Facts
Gluten Free Leftover Roast Chicken Slice
Amount per Serving
% Daily Value*
* Percent Daily Values are based on a 2000 calorie diet.
Have you tried this recipe?
Let me know how it was & I will be super grateful. Take a picture & tag me @glutarama on your social media posts – I love seeing your photos more than you will ever know x
I love to see your own photos of my bakes, dinners and treats head to your favourite social media account and don't forget to tag me in @glutarama
Subscribe to my email list so that you get NEW recipes straight in your mailbox every Friday PLUS a FREEBIE and access to some amazing gluten free DISCOUNTS
Join my friendly Facebook Group
life's a drama, gluten free doesn't have to be….