This page contain affiliate links. Please refer to my Disclosures Page for more details.
The recipe for this Amaretto White Cream Liqueur was (once again) borne out of pure selfishness! I wanted to be able to enjoy a cream liqueur like the Disaronno Velvet too. So I did what any needy dairy intolerant person would do, and made my own recipe.
But wait for the bonus – only 4 ingredients are needed to make a litre of Amaretto White Cream Liqueur (5 if you're making your own vegan condensed milk).
A bottle of Disaronno Velvet costs £16.00rrp. My Amaretto White Cream Liqueur costs £5.75 for a litre if you make your own condensed milk and no more than £8.00 per litre if you buy ready made condensed milk*.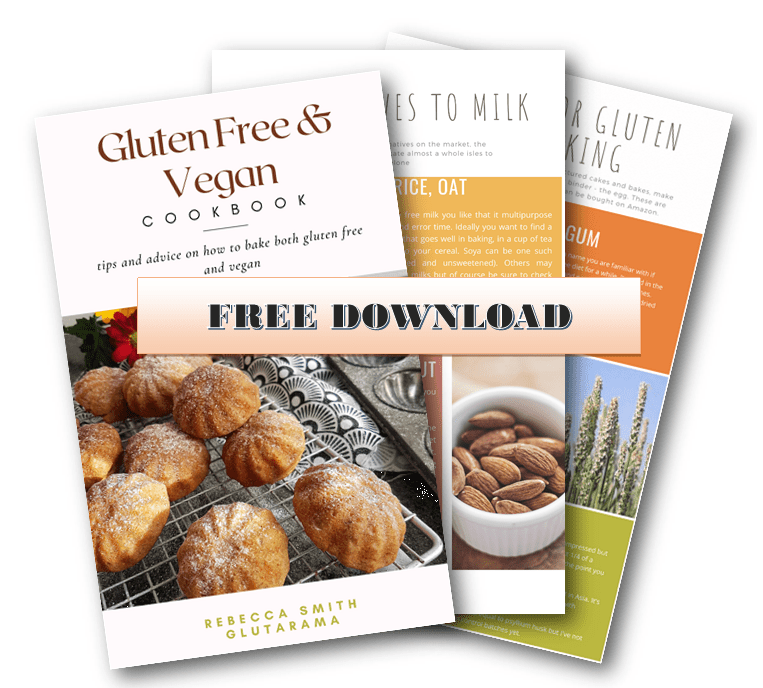 Never miss out again…
Sign up to my weekly Friday newsletter and not only get a FREE e-Book (currently my Gluten Free & Vegan Cookbook) but also get VIP subscriber discounts on free from goodies delivered to your door. Join me in my journey and learn to make anything gluten free.
Is Amaretto White Cream Liqueur dairy free?
This recipe is dairy free as I've stated but the shop version has milk in it (not cream as you may expect, just milk). As far as I can tell with the research I have done there are no other Amaretto style cream liqueurs on the market, certainly not in her UK.
Does this taste like Disaronno Velvet?
Good question, obviously I have not been able to try Disaronno Velvet myself as it contains milk so I can't comment on the flavour. It is however naturally gluten free. Ocado describe its flavour below;
Disaronno Velvet is a distinctly smooth light creamy liqueur that seduces your senses with toasted almonds, apricot, vanilla and a hint of toffee.

Ocado
How would I describe the flavour of my Amaretto White Cream Liqueur? It is an intense creamy flavour with almond and marzipan flavours not unlike Bakewell Tart!
How to make vegan condensed milk
If you can be bothered I would strongly recommend making your own vegan condensed milk. There are a couple of reasons as to why. First, it's way cheaper to make your own with a 90p tin of coconut milk (65%+ coconut extract) and some caster sugar. Second, it adds to the sense of accomplishment. Third, once you know how to make your own (it's ridiculously easy) you will open up the door to so many more recipes.
Dairy Free and Vegan Condensed Milk Recipe
Empty a 400ml tin of coconut milk into a medium saucepan, add 150g caster sugar and stir to combine. Place on a high heat and stir until bubbling. Turn heat down to a gentle rolling boil and leave for 15 minutes. Don't leave unattended and stir occasionally, the condensed milk will halve in volume and go a wallpaper paste colour! Remove from the heat, pour into a glass heatproof jug and cool to room temperature, this will take about an hour.
For the full recipe, method and top tips head to my Easy Dairy Free Condensed Milk recipe.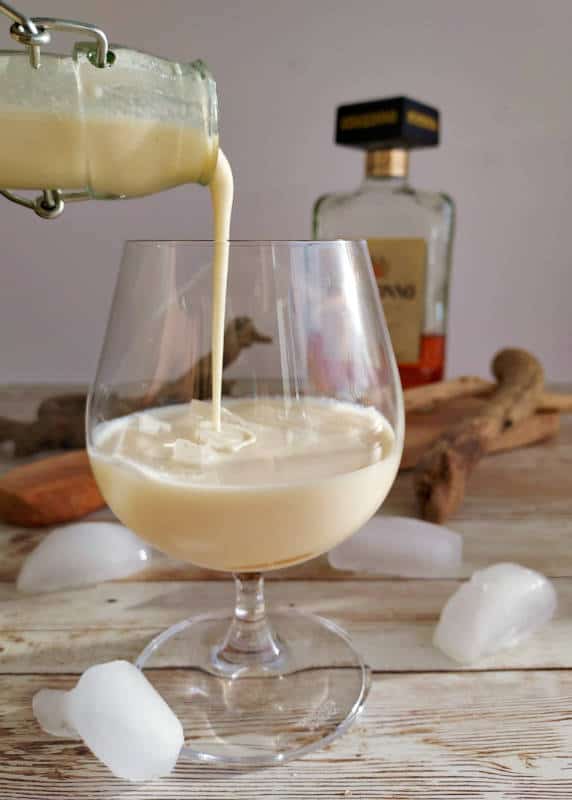 Dairy Free Cream Liqueur recipes
You may have sensed my love of cream liqueurs in the opening paragraph. I hold my hands up when I say I am a Bailey's addict. Scrap that, addict is a strong word, I enjoy a glass or three during the festive season.
But, as more and more cream liqueurs come out on the market, I find myself experiencing cream liqueur FOMO (fear of missing out for those who don't know). As producers keep them coming, I'll keep trying to recreate them with my personal homemade dairy free and vegan recipes.
Speaking of recipes, here are a few I prepared earlier;
Homemade Dairy Free Baileys
This Homemade Dairy Free and Vegan Baileys Recipe is simple to follow showing you how to make (in my opinion) the most delicious creamy liqueur there ever was! This recipe will keep for up to 2 weeks in the fridge. But, honestly who's going to keep it for that long?
Check out this recipe
Dairy Free Homemade Baileys Pumpkin Spice
Not only have I now cracked a recipe for the best tasting dairy free Baileys but I've also developed a pumpkin spice version to coincide with the current limited edition in the supermarkets. This is a luxurious creamy drink with a warm spicy undertone and yes, it tastes like pumpkin pie! You'll be thrilled to hear this recipe is also gluten free and vegan too.
Check out this recipe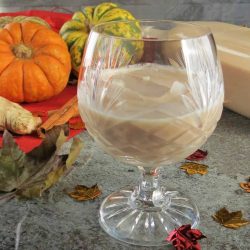 Homemade Vegan Chocolate Orange Baileys
A deliciously rich and creamy Irish Cream that's gluten free and dairy free too, nobody need miss out this Christmas, perfect for a gift…or enjoy all to yourself! This recipe make 1 litre of Bailey's.
Check out this recipe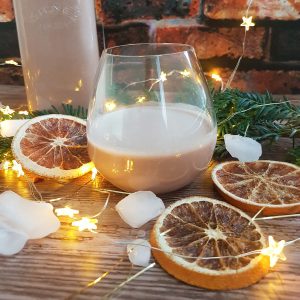 No Eggnog – A Vegan Festive Drink
This vegan Eggnog is deliciously creamy custard like festive liqueur that you simply would not believe is eggless and dairy free. Perfect to festive parties and homemade Christmas gifts.
Check out this recipe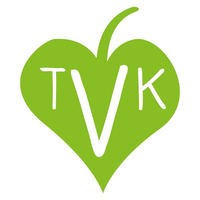 I have an account with The Vegan Kind and do most of my dairy free and vegan shopping when it comes to stocking up for ingredients. Buying in bulk is cheaper and you get points for purchases too. If you use the link I get a few pennies as I am now an affiliate for TVK. They also have heaps of gluten free products too so well worth a look if you and your family have complex dietary needs.
Are spirits safe for coeliacs?
This comes up a lot on social media and in forums. I thought I'd use the opportunity to quote Coeliac UK to clarify the do's and don'ts of Spirits.
Cider, wine, sherry, spirits, port and liqueurs are gluten free.
Experts agree that there is no physical way that pure distilled alcohol can contain gluten – this is because the gluten protein cannot travel through to the vapour produced by the prolonged heating in the distillation process and become part of the final alcohol product.
Distilled spirits only contain gluten if gluten containing ingredients are added after the distillation process and in this case, there is labelling legislation that ensures the product states CONTAINS wheat, barley, rye or oats on the label.
Source – Coeliac UK FAQ page for more answers to top gluten free questions follow the link Coeliac UK FAQ's
Please note: some people are also intolerant to certain grains such as barley, rye and oats so even with the gluten removed this can cause digestive issues. If concerned please consult your doctor.
Enjoy your dairy free liqueurs with these festive treats
Gluten Free Puff Pastry Snowflake
A wonderfully fun gluten free bake to make over the festive period. This Gluten Free Puff Pastry Snowflake is also dairy and egg free if you source the right pastry and chocolate spread. Can be nut free too. Simple to make despite looking masterclass quality. A treat you and your guests will love this Christmas.
Check out this recipe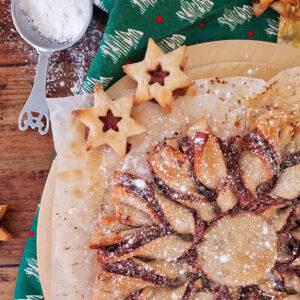 Festive Gluten Free Tart Tatin
This quick and easy to make Festive Tart Tatin is a wonderful way to use up dried fruits, marzipan and mincemeat. At the end you get a delicious tart in no time at all with gluten free ingredients plus no egg or dairy.
Check out this recipe
Easy Gluten Free Christmas Truffle Cake Pops
Adorable little raw truffle cake pops made to look like mini Christmas Puddings. These are no-bake treats made using mincemeat and spices to get an authentic Christmas Cake taste in one easy bite. Gluten free, dairy free and vegan too
Check out this recipe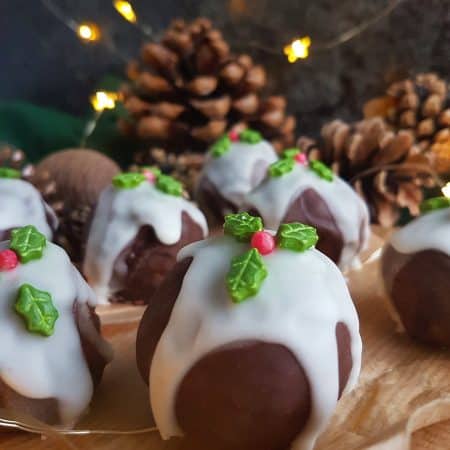 Amaretto White Cream Liqueur Recipe
If you make it and like the recipe I would be eternally grateful if you popped back and commented leaving a star rating as this will tell search engines that this recipe is worth checking out and others will get to find it in searches.
Vegan Amaretto White Cream Liqueur
No cream liqueur fan need miss out with my simple and quick Amaretto White Cream Liqueur recipe. Using only 4 ingredients, this recipe makes 1ltr of delicious almond flavoured cream liqueur that's reminiscent of Bakewell Tart. It lasts way past 2 weeks so also a great gift idea decanted into smaller bottles maybe? Oh, it;s also dairy free and vegan too as well as being naturally gluten free.
Ingredients
For the vegan condensed milk (makes 250g)
1

400ml tin

tin coconut milk needs to be 60% or over in coconut extract

needs to be 65% or over in coconut extract

150

g

Caster Sugar
other ingredients
200

ml

almond liqueur

or a supermarket Amaretto

250

ml

dairy free milk

250

ml

soya cream or usual dairy free alternative
Instructions
To make the condensed 'milk'
Tip the contents of the tinned coconut milk into a large saucepan.

Add the 150g caster sugar and stir to combine, the liquid may appear lumpy unless you buy the creamed milk version, don't worry if it is lumpy.

Turn the hob onto full heat and stir until all the coconut lumps have melted, then leave to boil for 20 minutes.

Stir occasionally as the liquid reduces. You want to keep the liquid at a rapid/rolling boil stage (bubbles rolling into the centre of the pan from the edges)

Remove the pan from the heat after 20 minutes, pour into a jug and set on a window sill to cool.
To make the Amaretto White Cream Liqueur
Measure out the 'cream' and 'milk' into a blender.

Add the cooled condensed 'milk' and blend.

Finally pour in the measured Disaronno and give the liqueur a final blend.

Pour into a 1ltr container (you may have a bonus 50ml just for you to celebrate your successful alchemy) Pop in the fridge and serve over ice when cooled.
Notes
This will keep in the fridge for well over 2 weeks…if indeed it lasts that long!
Nutrition
Nutrition Facts
Vegan Amaretto White Cream Liqueur
Amount per Serving
% Daily Value*
* Percent Daily Values are based on a 2000 calorie diet.
Have you tried this recipe?
Let me know how it was & I will be super grateful. Take a picture & tag me @glutarama on your social media posts – I love seeing your photos more than you will ever know x
I love to see your own photos of my bakes, dinners and treats head to your favourite social media account and don't forget to tag me in @glutarama
Subscribe to my email list so that you get NEW recipes straight in your mailbox every Friday PLUS a FREEBIE and access to some amazing gluten free DISCOUNTS
*disclaimer: I use affiliate codes on my website, the vast majority are to Amazon. If you click on any of the links or images in the post and make a purchase my family will benefit from a small % of that purchase at no extra cost to you, in fact, for full transparency, in 2020 I made my first £25, and recently in 2022 I reached my next £25 (Amazon don't transfer the money until you reach £25). As you can see, it won't make me a millionaire but it will treat me to a few coffees, Lord knows I need the caffeine!
Join my friendly Facebook Group
life's a drama, gluten free doesn't have to be….