The reason for me developing this gluten free No Bake Lemon Cheesecake is because I already have a Easy No Bake Gluten Free Lemon Cheesecake but it's not dairy free. Oddly enough I'm not a huge cheesecake fan. Actually, let me rephrase that, I wasn't a cheesecake fan….until I couldn't have cheesecake anymore.
A follower on my Glutarama Facebook Page was having this exact conversation with me recently when we agreed that when you can't have something your primitive brain immediately shouts 'But I want it', even if you weren't all that keen on it before.
Just us, or does this happen to you too? Actually, let me know in the comments – you may just give me inspiration for my next recipe?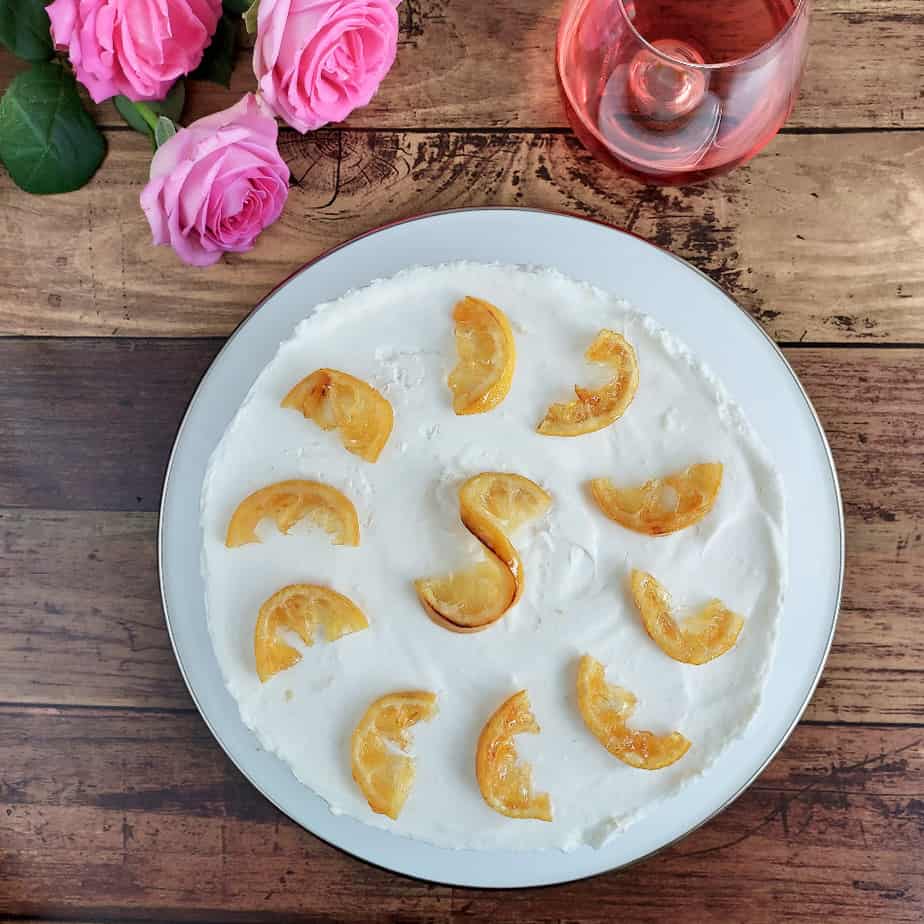 Does adding lemons do anything to the texture of the cheesecake?
I'll be honest, I was worried about adding lemon juice to a dairy free cheesecake. The gluten free base is no bother at all, so simple you could make that in your sleep if you want!
What worried me about the lemon, is the impact it would have on the structure of the no bake lemon cheesecake topping. If you're a regular you'll know I mention structure a lot. It's like building a house (indulge me here!) without the right materials the house will fall down. In baking you cannot simply take away ingredients like wheat, dairy and eggs and expect the bake to stand up – that's bonkers.
To make a successful free from anything, you need to replace the building blocks with something equally as robust. This is why I add fat to my cheesecake topping and don't rely on the reduced fat dairy free version.
I digress, what about the lemons and how will it affect the cheesecake? Here comes the science bit. Lemon juice reacts with the casein protein in cream and makes it curdle (clump together), thus thickening the cream or milk. In dairy free milks and creams this works better with the higher fat content (as dairy free products do not contain casein). I am pleased to report that the juice does exactly what it does in a dairy filled cheesecake and gradually thickens it.
How long can you keep this cheesecake?
Unlike my No Bake Vanilla Cheesecake made gluten free and dairy free, this cheesecake needs longer in the fridge to reach its full potential. The cheesecake pictured was chilled for 12hrs. But wait! It took me nearly a week to eat this cheesecake (the family are fed up with cheesecake, think I've over done it!). As the week went on, the cheesecake got better and better in flavour and texture.
What I'm saying is, you can make it WAY in advance, and this no bake lemon cheesecake will deliver 100%.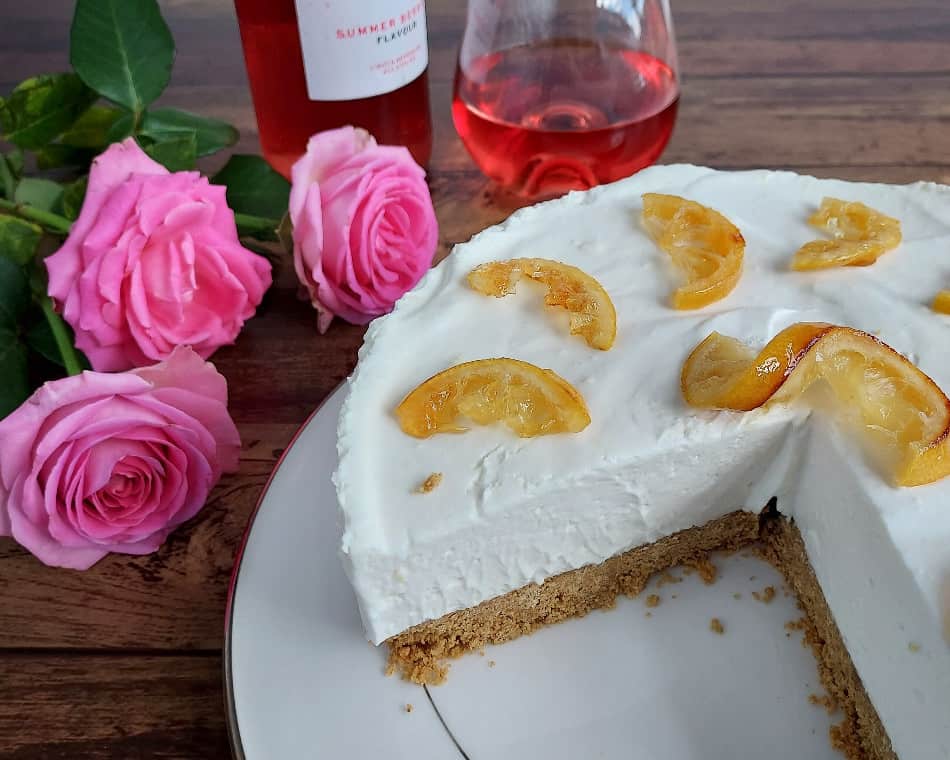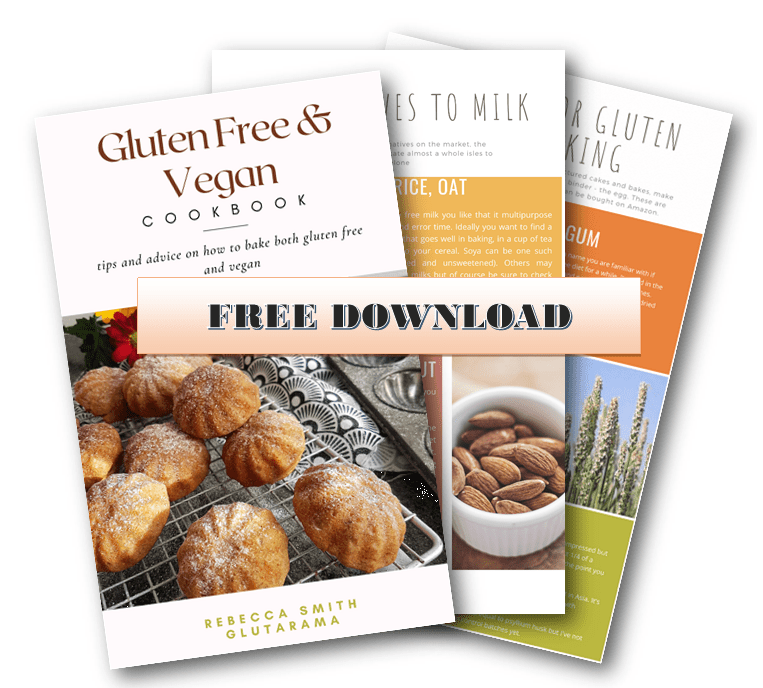 Never miss out again…
Sign up to my weekly Friday newsletter and not only get a FREE e-Book (currently my Gluten Free & Vegan Cookbook) but also get VIP subscriber discounts on free from goodies. Join me and learn to make anything gluten free.
What biscuits can I use for the cheesecake base?
I have used basic gluten free, dairy free digestive biscuits for this base. You want the lemon flavour to be the star here. This doesn't mean you have to do the same. Why not try ginger biscuits or shortbread for an extra creamy rich flavoured base.
Another great idea is to really push the boat out and use lemon flavour biscuits for the base too. Honestly, go wild and please let me know if you do tweak the recipe. I'd love to hear how you get on.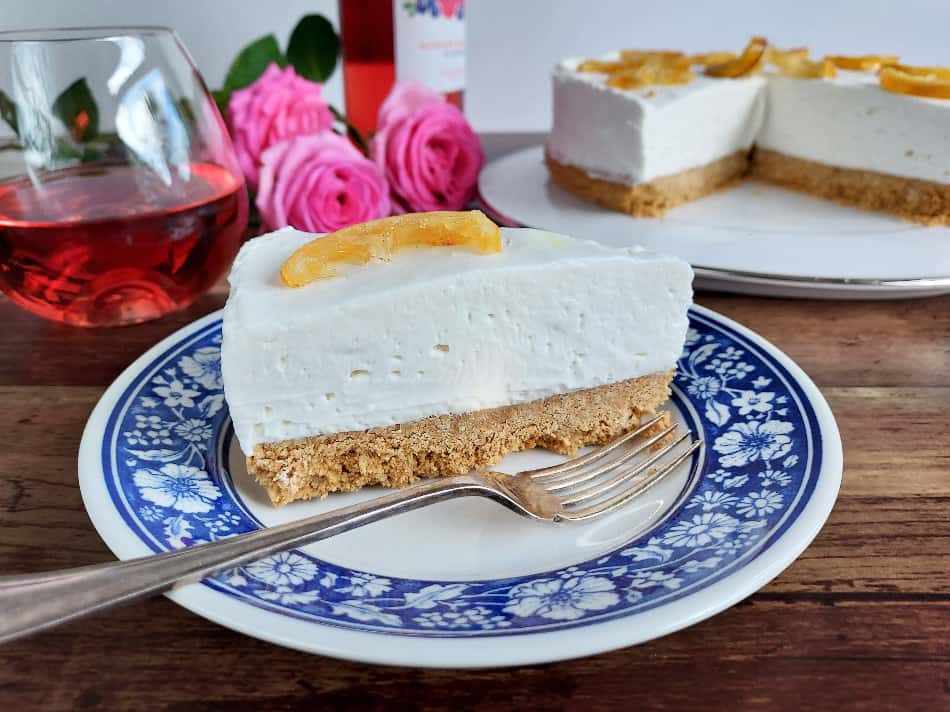 What dairy free cream should I use for a cheesecake?
Dairy Free / Vegan Creams
I get asked 'what is the best dairy free cream to use' a lot, so I've added some advice here.
Baked recipes
If using cream alternatives in baked recipes the type of cream matters less but care needs to be taken when cooking it as dairy free cream can still split like dairy cream. Therefore you are free to use any of the following brands; Elmlea (single or double), Alpro (single), Food Heaven – Heavenly (Sweetened or Unsweetened), Coconut Cream (any % or coconut extract)
No Bake recipes
Usually in a no bake recipe the cream you add is part of the building block to add structure. For example whipped cream in a Victoria Sponge Gateau. For this reason you need to use a dairy free cream that has the highest fat content so a double cream (Elmlea produce double plant cream) or a Coconut Cream that has 60+ of coconut extract. However, Heavenly also behaves well when whipped.
Ice Creams
I have made my ice creams with all the dairy free creams mentioned above, single, double, high fat, low fat and all work because I always add a little dairy free butter to stabilise the structure so you can use all types of plant/soya/coconut dairy free creams.
Will a no bake cheesecake firm up in the fridge?
I've already covered this to some extent above but the straight forward answer is yes, no bake cheesecakes do continue to firm up in the fridge. With a classic baked cheesecake you're creating a bake that sets in the oven much like a custard tart. As there is no baking process in this type of cheesecake, you're relying on the ingredients to change in a way that strengthens the structure all by themselves.
This is why it is so important to add extra fat content to my dairy free and vegan cheesecakes. Without the additional fat your cheesecake will struggle to firm up and retain its shape and structure.
This is also why I insist on you using a white solid fat such as Trex, Crisp n Dry or lard (not vegan). You want the melted fat to return to its solid state acting as the mortar holding the bricks in place (I'm back to building analogies if you hadn't noticed?)
Dairy Free and Vegan Condensed Milk Recipe (makes approx. 250-300g)
Empty a 400ml tin of coconut milk into a medium saucepan, add 150g caster sugar and stir to combine. Place on a high heat and stir until bubbling. Turn heat down to a gentle rolling boil and leave for 15 minutes. Don't leave unattended and stir occasionally, the condensed milk will halve in volume and go a wallpaper paste colour! Remove from the heat, pour into a glass heatproof jug and cool to room temperature, this will take about an hour.
For the full recipe, method and top tips head to my Easy Dairy Free Condensed Milk recipe.
Gluten Free Lemon Frangipane
A zingy, sweet lemon frangipane bake that's simple to make with minimal washing up and stress! Can be eaten cold by the slice or serve warm with a scoop of your favourite ice cream, custard or cream. Much like its cousin the Bakewell Tart but this is crustless and easier to prepare at short notice for unexpected guests!
Check out this recipe
No Bake Vegan Lemon Cheesecake Recipe
If you make it and like the recipe I would be eternally grateful if you popped back and commented leaving a star rating as this will tell search engines that this recipe is worth checking out and others will get to find it in searches.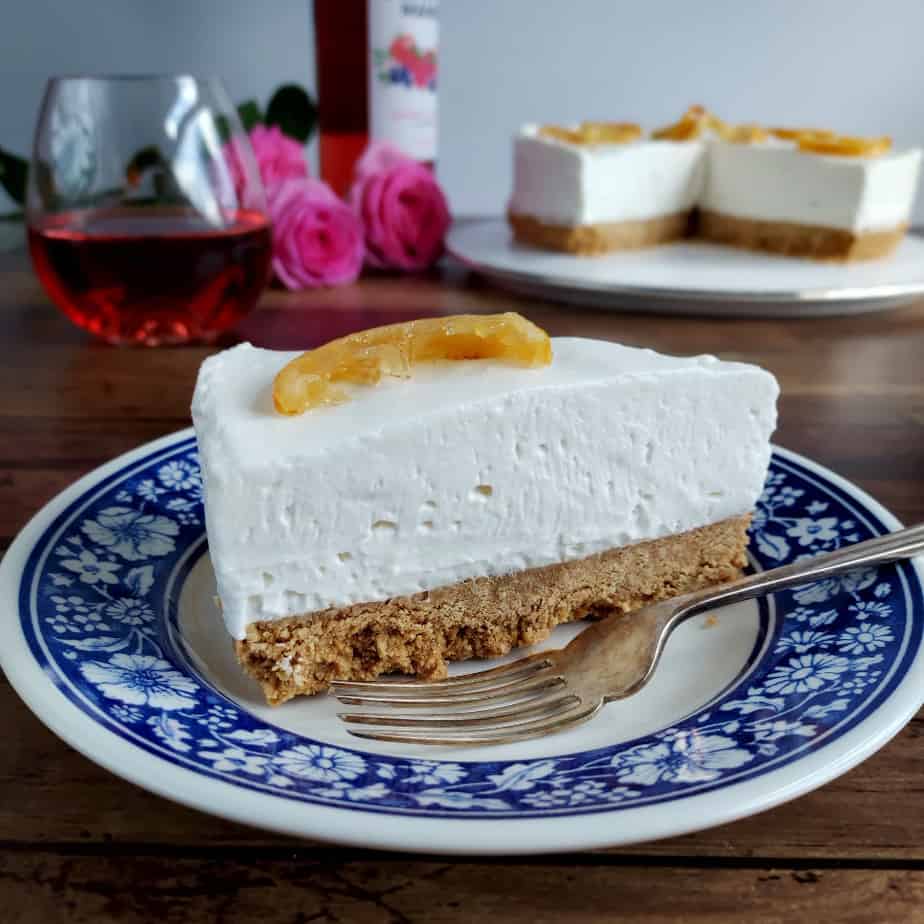 No Bake Vegan Lemon Cheesecake
This gluten free, dairy free and vegan lemon cheesecake is (like all my recipes) so simple to make. No one will realise it's free from any ingredients at all. This delicious cheesecake can be whipped up for surprise guests or made at your leisure for teatime or dessert.
Ingredients
For the biscuit base
300

g

gluten free biscuit(s)

I use digestives

80

g

butter

I use Flora plant butter
For the cheesecake topping
200

g

cream cheese

I use own brand dairy free cream cheese

200

ml

cream

I use Elmlea Plant Cream or Alpro Soya Cream, both work well

50

g

vegan condensed milk

[see notes on how to make your own]

80

g

fat (I use Trex white vegetable fat)

I use Trex but Crisp n Dry works too.

5

tbsp

icing/confectioners sugar

or as much as you desire to taste

1

lemon

zest removed and squeezed
To decorate
1

lemon

sliced

50

g

caster sugar
Instructions
To make the biscuit base
Making the biscuit base could not be simpler. Crush the biscuits (this works out around two packets of gluten free biscuits) or blitz them in a food processor.

Melt the 'butter' in the microwave for 30 seconds and then pour into the biscuit crumbs and mix or blitz again to combine.

Pour the buttery biscuit crumbs into a 20cm loose bottom round cake tin. I use a circle to baking parchment to line the tin to prevent the biscuit base from sticking.

Using the bake of a metal spoon press down the biscuit crumbs and smooth flat until you have a solid biscuit base – possibly the most satisfying thing to do ever!

Pop the tin into the fridge to help the butter to harden and crack on with the cheesecake topping.
To make the cheesecake topping
Pop the measured solid white vegetable fat into the microwave for 30 seconds to soften, it probably won't melt to a liquid, don't worry, you just need to soften it.

In a large bowl or food mixer add the 'cream cheese' and softened white vegetable fat and beat for a minute or until you see no fatty lumps in the mixture.

Add the vegan condensed milk and cream then whip with a whisk, hand whisk or food mixer for at least 3 minutes. You want the mixture to thicken so that the whisk trail stays and you have firm peaks.

You can now add the zest of one lemon and the juice of half a lemon (keep the juice from the other half back for the decoration)NOTE: this will make you cheesecake seem a bit looser than normal, don't worry, the lemon juice helps to 'curdle' the cream and cream cheese so it will thicken in the fridge.

Now you can add your icing sugar to taste. 5 tablespoons should be plenty so maybe add 1 tablespoon at a time and test until you have the desired sweetness.

Remove the cake tin from the fridge and pour the mixture into the tin smoothing flat with a silicone spatula.

Pop back into the fridge for at least 60 mins or until you wish to serve it. This cheesecake will keep for 2-3 days no problem if kept in a sealed container in the fridge (to prevent soaking up fridge smells).
To make the lemon slice decoration
Pour the other half lemon juice into a non-stick saucepan, add the 50g sugar.

Slice the second lemon as thinly as possible and add the slices to the saucepan.

Gently heat the lemon juice and sugar until it melts and thickens. You're aiming for a thick sugar syrup. This should take about 10mins on a medium heat. Take care not to leave un attended and stir occasionally to prevent burning.

Carefully remove the lemon slices with a fork or tongs and place on a silicone baking sheet or greaseproof paper and leave to cool completely. Once cooled you can leave whole or cut into halves and decorate your cheesecake.
Notes
Top tip when making your own vegan condensed milk is to use a tin that has 50%+ coconut extract in it. The tins I use are from Aldi and Sainsbury's here in the UK (own brands). They have 75% coconut extract in them, making them fatty enough to thicken, and achieve that tell-tale condensed milk consistency.
Dairy Free and Vegan Condensed Milk Recipe
Empty a 400ml tin of coconut milk into a medium saucepan, add 150g caster sugar and stir to combine. Place on a high heat and stir until bubbling. Turn heat down to a gentle rolling boil and leave for 15 minutes. Don't leave unattended and stir occasionally, the condensed milk will halve in volume and go a wallpaper paste colour! Remove from the heat, pour into a glass heatproof jug and cool to room temperature, this will take about an hour.
Nutrition
Nutrition Facts
No Bake Vegan Lemon Cheesecake
Amount per Serving
% Daily Value*
* Percent Daily Values are based on a 2000 calorie diet.
Have you tried this recipe?
Let me know how it was & I will be super grateful. Take a picture & tag me @glutarama on your social media posts – I love seeing your photos more than you will ever know x
I love to see your own photos of my bakes, dinners and treats head to your favourite social media account and don't forget to tag me in @glutarama
Subscribe to my email list so that you get NEW recipes straight in your mailbox every Friday PLUS a FREEBIE and access to some amazing gluten free DISCOUNTS
*disclaimer: I use affiliate codes on my website, the vast majority are to Amazon. If you click on any of the links or images in the post and make a purchase my family will benefit from a small % of that purchase at no extra cost to you.

For full transparency, in 2020 I made my first £25, and in 2022 I reached my next £25 (Amazon don't transfer the money until you reach £25). I'm now up to £17.80 for 2023 so edging closer to the magical £25 mark!!

To date I have made £69.28 since I first started the scheme in 2017. It won't pay the bills, that's for sure but it does help to pay for ingredients or little treats to cheer me up!