This quick and simple Double Chocolate Brownie Dessert recipe is a great hack for turning a shop bought brownie mix into an impressive looking dessert in no time at all. I'm all for quick and easy recipes like this and my popular Easy One Minute Gluten Free Fudgy Brownie in a Mug. This post will guide you through what brownie mixes are suitable, where you can get them and how you can adapt this recipe to make it your own.
How do you make Double Chocolate Brownies from scratch?
I personally don't have a brownie recipe on this website. I think it's due to the fact that my daughter Bethany got fed up to the back teeth with it being the only option available in cafes!
If you use this link you will find a host of gluten free brownies you can make from scratch by the lovely Kate at Gluten Free Alchemist.
Meanwhile, over on Vicki's website, Free From Fairy, there are these delicious moist gluten and dairy free brownies
The brownies in my recipe are designed to be gluten, dairy and egg free but depending on the Brownie Mix you buy, will depend on whether its gluten free and suitable for vegans.
What Brownie Mix should I use for this recipe?
I have added some suggestions below as I've used them and trust them to be excellent quality brownie mixes with great results.
Ideally you need to find a mix that is naturally dairy and egg free. This means no albumen (the Latin for white is albus apparently so this is how it gets its name). You also need to check for powdered milk and whey.
The idea behind any dry mix is that, surprise-surprise, you have to add the liquids so you could go ahead and add egg and milk, but more often than not, the instructions will give you a vegan or dairy free alternative.
In this recipe I suggest what you can add to a mix weighing 400g to make it dairy and egg free. Generally mixes come in 350-400g boxes or packets so these ratios should work for you and the packet you choose to use.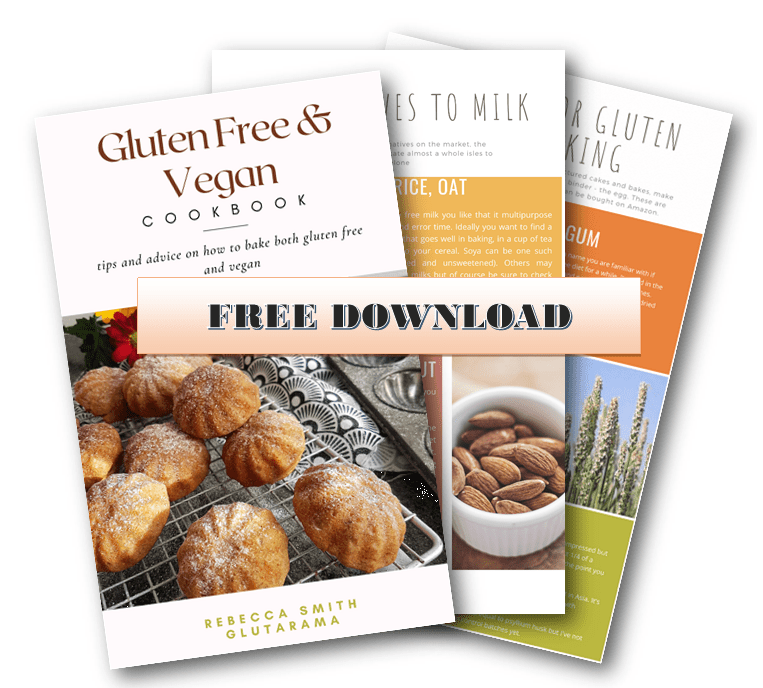 Never miss out again…
Sign up to my weekly Friday newsletter and not only get a FREE e-Book (currently my Gluten Free & Vegan Cookbook) but also get VIP subscriber discounts on free from goodies delivered to your door. Join me in my journey and learn to make anything gluten free.
Where can I buy gluten free brownie mixes?
As mentioned. I've added some suggestions below (amazon affiliate links so I get a few pennies if you click and buy) I've used all of these. I have also used Betty Crocker, Doves Freee and supermarket own brands such as Asda and Tesco mixes. It's also worth mentioning that some of the small businesses included in my Guide for Gluten Free small businesses that deliver across the UK also stock mixes too.
What other fruits can I add to these Double Chocolate Brownie Desserts?
Chocolate and raspberry just lend themselves to a perfect matrimony but you can of course use other fruits. How about trying cherries? You could add those gorgeous tinned cherries intended for pies. Another idea is strawberries, gooseberries or why not skip berries altogether and go for pear and chocolate. This flavour combination goes so well as demonstrated in my Quick and Simple Chocolate & Pear Cake – Gluten Free
How about making them Triple Chocolate Brownies?
There is nothing stopping you from pushing the boat out and adding even more chocolate! Most mixes will have little bits of chocolate in them but you could add more. You could also add dark, white and milk chocolate and drizzle the tops with them all too.
Other chocolate inspired gluten free recipes you might like to try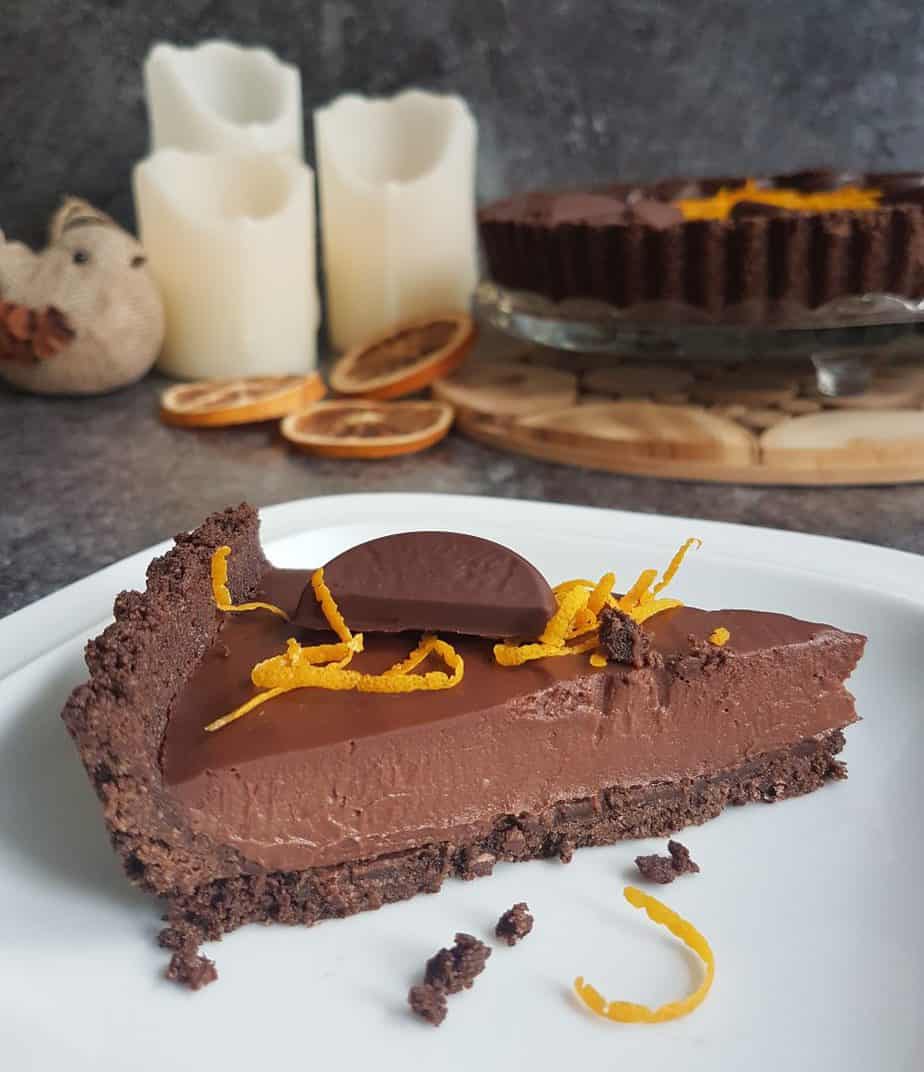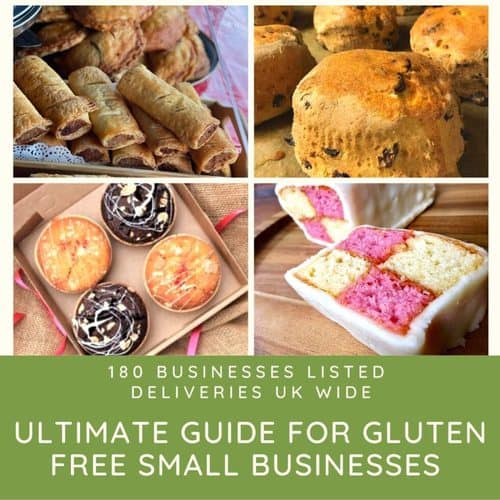 Fancy buying yourself a treat or a gift for a loved one this festive season, then go small…small businesses' that is!

Guide for Gluten Free small businesses that deliver across the UK

— Glutarama, supporting small businesses
---
Gluten Free Double Chocolate Brownie Dessert Recipe
Gluten Free Double Chocolate Brownie Dessert
A super simple recipe to make a Double Chocolate Brownie Dessert out of a shop bought gluten free brownie mix. Simply add a few extra ingredients to make the humble brownie into a delicious gluten free, dairy free and egg free dessert (non vegan options covered too)
Ingredients
To make the brownie dessert
400

g

gluten free brownie mix

150

g

dairy free butter, melted

I use Flora Plant Butter

110

ml

water

you can use a dairy free milk instead if you wish

3

tbsp

flaxseed

1

tsp

psyllium husk powder (optional)

optional but does prevent crumbling

100

g

raspberries

70

g

raspberry jam

or seedless jelly
To decorate
50

g

white dairy free chocolate

melted
Instructions
To make the brownie mix
Don't worry about what the packet says…follow these instructions!

Tip the packet into a large bowl, to this add the flaxseed and psyllium husk powder and mix with a whisk to combine the dry ingredients.

Add the melted butter and 90ml of the water (hold the rest back for now just in case the mixture ends up too wet) Mix with whisk thoroughly to combine all ingredients.

If the mixture has thickened in the 5 mins and you feel it could do with loosening, add the remaining water and mix to combine. You want a soft dropping consistency (not a lump nor and pourable mix!)
To build your dessert
Prep your 4 mini tart dishes with a circle of paper and spray the sides with oil.

Spoon the mixture into each tin evenly.

Press your raspberries into the brownie mixture and using a spoon cover them over by teasing the mixture.

Now warm the jam for a few seconds in the microwave or in a saucepan and add dollops of this to each brownie dessert. Using the handle of the teaspoon swirl the jam gently into the mixture.

Cook on 180°C | 160°C fan | 400°F | Gas Mark 4 for 15-20 minutes.

15 = still slightly gooey in the middle

20 = cooked through more like a cake

Remove from the oven and allow to cool
To decorate
Melt the white dairy free chocolate and with a reusable piping bag drizzle across each brownie dessert.
Notes
Other serving option: you could serve this straight from the oven and drizzle melted chocolate over the top or why not pour a little melted chocolate into small milk jugs to serve on the side.
Nutrition
Nutrition Facts
Gluten Free Double Chocolate Brownie Dessert
Amount per Serving
% Daily Value*
* Percent Daily Values are based on a 2000 calorie diet.
Have you tried this recipe?
Let me know how it was & I will be super grateful. Take a picture & tag me @glutarama on your social media posts – I love seeing your photos more than you will ever know x
I love to see your own photos of my bakes, dinners and treats head to your favourite social media account and don't forget to tag me in @glutarama
Subscribe to my email list so that you get NEW recipes straight in your mailbox every Friday PLUS a FREEBIE and access to some amazing gluten free DISCOUNTS
*disclaimer: I use affiliate codes on my website, the vast majority are to Amazon. If you click on any of the links or images in the post and make a purchase my family will benefit from a small % of that purchase at no extra cost to you, in fact, for full transparency, in 2020 I made my first £25, and recently in 2022 I reached my next £25 (Amazon don't transfer the money until you reach £25). As you can see, it won't make me a millionaire but it will treat me to a few coffees, Lord knows I need the caffeine!