This recipe for gluten free self saucing lemon pudding is very similar to my gluten free self saucing chocolate pudding. This is one of those true classic comfort food puddings and is best enjoyed on a cold winter's eve. However, having said that I've also eaten this cold from the fridge in the summertime so don't think it's just a winters pud, oh no!
And while I'm on the subject of cold pudding, it's worth noting that this pudding is just as delicious the next day, or day after that and can easily be reheated in the microwave so don't let any go to waste.
I've said it before, I'm not the world's biggest chocolate fan and would much rather scoff jelly beans or something sweet and chewy! So the idea behind this gluten free self saucing lemon pudding was to feed a craving I had for a sweet pudding with a delicious zing to it. Of course if you prefer your puddings with less zing add more sugar, like more zing, add less sugar. It really is that easy.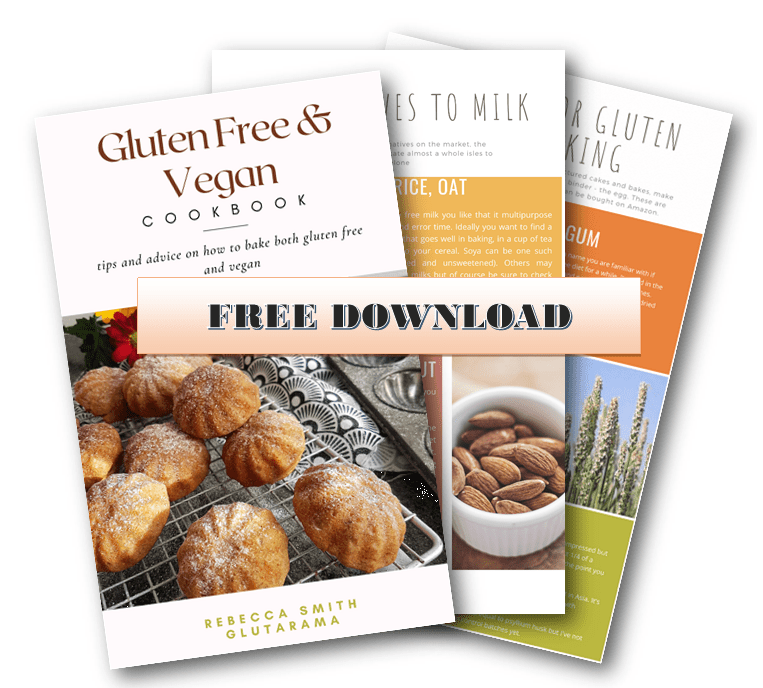 Never miss out again…
Sign up to my weekly Friday newsletter and not only get a FREE e-Book (currently my Gluten Free & Vegan Cookbook) but also get VIP subscriber discounts on free from goodies delivered to your door. Join me in my journey and learn to make anything gluten free.
So what is a self saucing pudding?
For those unfamiliar with self saucing puddings, have faith with the method, it seems completely daft to make a sponge batter and then drown it in a runny chocolate liquid but believe me, this works. The chemistry of baking means the sauce sinks and thickens at the bottom and a super soft moist sponge appears on top by magic. The best bit of all…that first dip into the pudding to see the hidden treasure beneath, it never fails to make me smile. Incidentally, this is why this pudding can also be known as the Magic Pudding or Magic Sauce Pudding.
HOW DOES A SELF SAUCING PUDDING WORK?
Well that my dear reader is the magical bit, and I'll confess to being a bit bemused by the science but basically, your make a seemingly normal cake batter with the flavour combination of your choice; lemon, chocolate, coffee (ooh coffee, think I'll give that a go soon). Then you add the batter to your pudding dish. The next thing seems a bit odd but you make a sweet runny liquid with the same flavour notes and then drown you cake or pudding batter – bonkers!
Did you make this?
What did you think? I do so hope you love the recipe as much as were do in our family. I would be so grateful for a comment and STAR rating if you don't mind.
Different ways to serve my Gluten Free Self Saucing Lemon Pudding
As this pudding self sauces, you could simply have it on its own, but come on, what's a pudding without lashings of custard. To make cheap dairy free custard I use Birds Custard Powder in fact, for those new to dairy free here's my simple guide here Quick and Easy Dairy Free Custard. While I do like the ready-made dairy free custards out there, I find that most of them don't like being heated up and can turn quite watery. With my trusty old Birds I am in control and can make it as thick or as runny as I wish.
My kids love to have squirty cream with most puddings so that would probably be their top choice but if I'm not in a custard mood then it has to be cream (soya cream in my case). If you have other ways you love to eat your puddings and if you make my gluten free self saucing lemon pudding I'd love to know how you eat yours? Feel free to comment below, I love to hear from my readers.
Homemade Vegan Custard Recipe
A quick guide to making dairy free, egg free vanilla custard using just three ingredients to make a vegan custard powder. Simply add you favourite dairy free alternative milk and you're ready to enjoy with a delicious gluten free and vegan pudding (Self Saucing Chocolate Pudding used as serving suggestion) This recipe makes enough custard for two people.
Check out this recipe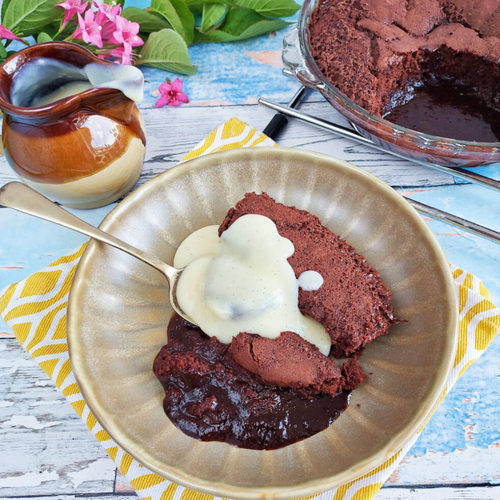 Quick and Easy Dairy Free Custard
A quick guide to making dairy free vanilla custard using safe instant custard powders. There is also guidance on how to make your very own instant custard powder for the store cupboard.
Check out this recipe
Other recipes that are similar to this Gluten Free Self Saucing Lemon Pudding
Here's a thought, how about my Gluten Free Swiss Roll made with Granny's Quick Lemon Curd from Fab Food 4 All. There's also my Easy Gluten Free Lemon Cheesecake for you to try your hand at, it really is very easy indeed. How about this Gluten and Dairy Free Lemon and Polenta Cake by Free From Fairy. Finally, stop the press and hold onto your hats, this Lemon, Ginger and Dark Chocolate Tart from the Gluten Free Alchemist is a right show stopper, prepare to be amazed!
Never miss out again…
Sign up to my weekly Friday newsletter and not only get this super handy FREE conversion guide but also get VIP subscriber discounts on free from goodies delivered to your door. Join me in my journey and learn to make anything gluten free.
p.s. I have this on the back of a cupboard door in my kitchen – true story!
Gluten Free Self Saucing Lemon Pudding Recipe
If you make it and like the recipe I would be eternally grateful if you popped back and commented leaving a star rating as this will tell search engines that this recipe is worth checking out and others will get to find it in searches.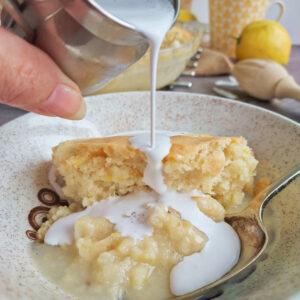 Gluten Free Self Saucing Lemon Pudding
A delicious alternative to the chocolate version, this self saucing lemon pudding has a delicious citrus bite with zest running throughout the light sponge and a lemony sweet sauce hidden beneath. This is not only gluten free but also easy to make vegan too, so free from eggs and no dairy.
Ingredients
For the sponge
60

g

butter or butter alternative (I use Flora plant butter)

or butter if you like

150

g

caster sugar

1

tbsp

ground flaxseed

or ground chia seeds

200

ml

dairy free milk

or your favourite dairy free alternative

200

g

gluten free self raising flour

1

tsp

baking powder

2

lemons

zest only
For the liquid
100

g

caster sugar

2

lemons

juice from both lemons that you took zest from

150

ml

dairy free milk
Instructions
How to make the sponge
In a mixer or large bowl cream together the dairy free spread or butter with the caster sugar until light a fluffy.

Add the chia seeds and lemon zest and repeat beating together.

Pour in the milk or milk alternative and beat rapidly, the sponge batter will probably appear curdled at this point, don't worry, this is normal.

Add the self raising flour and baking powder and beat to a smooth batter.

Pour the batter into a well greased pudding dish, you'll need a 2pt pudding dish for this recipe.
To make the lemon sauce
In a jug measure the caster sugar and add the lemon juice, top up to the 200ml mark with soya milk (approx. 150ml) and stir thoroughly to combine until the sugar dissolves.

Pour the lemon sauce over the top of the sponge batter, it will look an awful mess, don't panic, this is fine!

Pop into a preheated oven at 180°C or 160°C fan/350°F/Gas Mark 4 for 30-35 minutes, the pudding will be ready, when the sponge is springy to the touch and the sauce beneath bubbles, if you've not baked in a glass dish you'll see the sauce bubbling up the sides of the dish.
Nutrition
Nutrition Facts
Gluten Free Self Saucing Lemon Pudding
Amount per Serving
% Daily Value*
* Percent Daily Values are based on a 2000 calorie diet.
Have you tried this recipe?
Let me know how it was & I will be super grateful. Take a picture & tag me @glutarama on your social media posts – I love seeing your photos more than you will ever know x
I love to see your own photos of my bakes, dinners and treats head to your favourite social media account and don't forget to tag me in @glutarama
Subscribe to my email list so that you get NEW recipes straight in your mailbox every Friday PLUS a FREEBIE and access to some amazing gluten free DISCOUNTS
*disclaimer: I use affiliate codes on my website, the vast majority are to Amazon. If you click on any of the links or images in the post and make a purchase my family will benefit from a small % of that purchase at no extra cost to you, in fact, for full transparency, in 2020 I made my first £25, and recently in 2022 I reached my next £25 (Amazon don't transfer the money until you reach £25). As you can see, it won't make me a millionaire but it will treat me to a few coffees, Lord knows I need the caffeine!
Join my friendly Facebook Group
life's a drama, gluten free doesn't have to be….