This page contain affiliate links. Please refer to my Disclosures Page for more details.
This Persimmon Fruit Cake has the family divided. Half think that it smells and tastes like Biscoff Biscuits, the other half (including me) thinks the cake smells of Christmas Spices and Pumpkin Pie all rolled into one. If you're a fan of any of the above flavours, then this is the cake for you.
Originally this gluten free cake recipe required 4 fruits. However, persimmon (or Sharon Fruit) are often sold in packs of three so whenever I fancied making this particular cake, it annoyed me that I'd have to buy two packs to achieve it.
That made me wonder if any one else had seen my Persimmon Fruit Cake recipe and thought exactly the same? I decided to do something about it, plus it also meant I could at long last re-shoot the cake with my newly developed photography skills. I've also had a dabble with reducing the sugar content and making it vegan too (the cake in the photo's is a vegan version, just to prove it can be done!).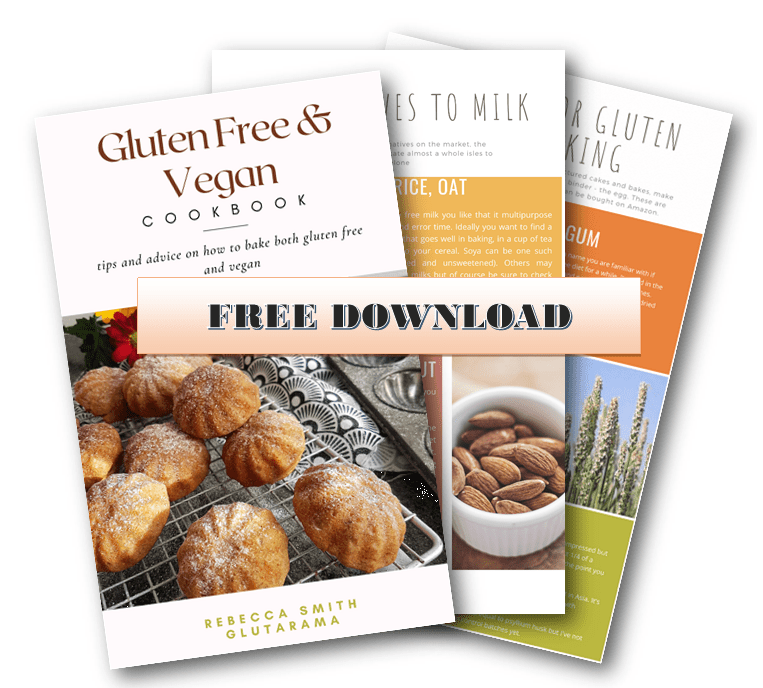 Never miss out again…
Sign up to my weekly Friday newsletter and not only get a FREE e-Book (currently my Gluten Free & Vegan Cookbook) but also get VIP subscriber discounts on free from goodies. Join me and learn to make anything gluten free.
What is a Sharon Fruit (Persimmon)
I do like Persimmon fruit once in a while and keep trying to introduce the teens to them but with little success. They say the fruit is too sweet, as if there was such as thing! I appreciate the texture isn't to everyone's liking and the skins are quite waxy and tough but still, these are beautifully aromatic with a unique flavour.
Sharon fruit (also known as persimmon, kaki or diospyros) looks like an orange tomato and tastes like a cross between a mango and a pumpkin. It can be eaten like a plum and makes a delicious snack eaten whole straight from the fruit bowl.

Abel & Cole – A lovers Guide to Sharon Fruit
The cake is quite dense but is oh so moist and delicately perfumed by the Persimmon purée and a definite must-try for anyone familiar with the fruit or not.
How do I know if my Persimmon is ripe enough?
Quite simply, you know if the Sharon Fruit is ripe enough when you can smell the sweetness of the flesh and the fruit gives when you gently squeeze it. Much like a peach or a plum. As Persimmons tend to have a slightly tougher skin, some prefer to cut the fruit into quarters and scoop the flesh out as you might do with a kiwi fruit.
Personally, I cut into quarters and eat the whole with skin on. As longs as the fruit is ripe enough, the skin won't be unpleasant to eat.
Can I make this cake with a different fruit?
Technically, you can make this Sharon Fruit Cake without Persimmons, but then you'd have to ask yourself the question 'why am I here'? if you don't like the fruit in the first place!
If you like the idea of a dense spices fruit Bundt then how about making this recipe with apricots? I would recommend 4-5 fresh, stoned apricots to replace the 3 Sharon Fruits.
Can I make a dairy free Persimmon Fruit Cake?
You may have noticed that this cake has no added fat so there's already no need to replace butter. All you would need to do to make this a dairy free cake is to swap the milk for your usual dairy free alternative. I tend to use gluten free oat milk or soya milk.
Can I make this cake without egg?
I have made this cake vegan on a couple of occasions (without dairy or eggs) so I know that this is possible. To make an egg free Persimmon Fruit Cake you'll need to add 2 flaxseed eggs. I've added a how-to box below to tell you how to make a flax egg.
How to make a flax egg

to make 1 flax egg you need the following ingredients:
– 1tbsp ground flax seed
– 3tbsp water
– 1tsp psyllium husk (optional but does add elasticity to baking)

Simply add all ingredients to a glass and stir before measuring out the other recipe ingredients, by the time you come to use your 'egg' mixture it will have thickened to a frog-spawn consistency (thicker if you added psyllium husk)

Then just add to your baking as you would an egg. For 2 eggs double the ingredients but note that recipes that require more than two eggs may fail due to lack of support in the structure.
How well does this cake keep?
This is a dense cake. Think of a dense fruit cake or gingerbread cake. For that reason, and the fact that it's made with fresh fruit, this cake does not last more than 48hrs. After that point, you could reheat in the microwave and slop a load of custard over it for a delicious spiced sponge pudding.
Other Gluten Free Fruit Cake Recipes
If you decide Persimmon isn't the fruit for you, then you may be interested in some other fruit cake recipes I've created free from such as my Apple Cake, Apple and Cinnamon Cake or Bara Brith (Welsh fruit cake made with tea)
Apple & Cinnamon Cake
Gluten Free and easily made egg and dairy free too. This Apple & Cinnamon Cake is a firm favourite of mine, it comes out delicious every time no matter what apple is in season. Why not try with a Bramley or a Cox, slightly different taste, same scrumptious results.
Check out this recipe
Gluten Free Bara Brith
This Traditional Bara Brith recipe made gluten free is such an easy bake to make, everything goes in one bowl, stir and bake for an hour – simple! Soak your fruit over night in tea for that added moist texture to this Welsh favourite recipe.
Check out this recipe
Gluten Free Apple and Blueberry Tray Bake
A simple and deliciously light Apple and Blueberry tray bake to make for afternoon tea, also a great way to use up apples that may be passing their best. This makes 8 bar size pieces or 9 squares and keeps well for up to three days.
Check out this recipe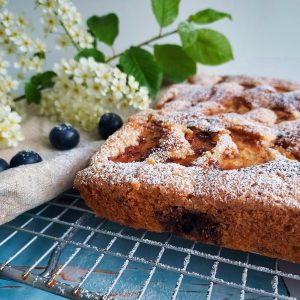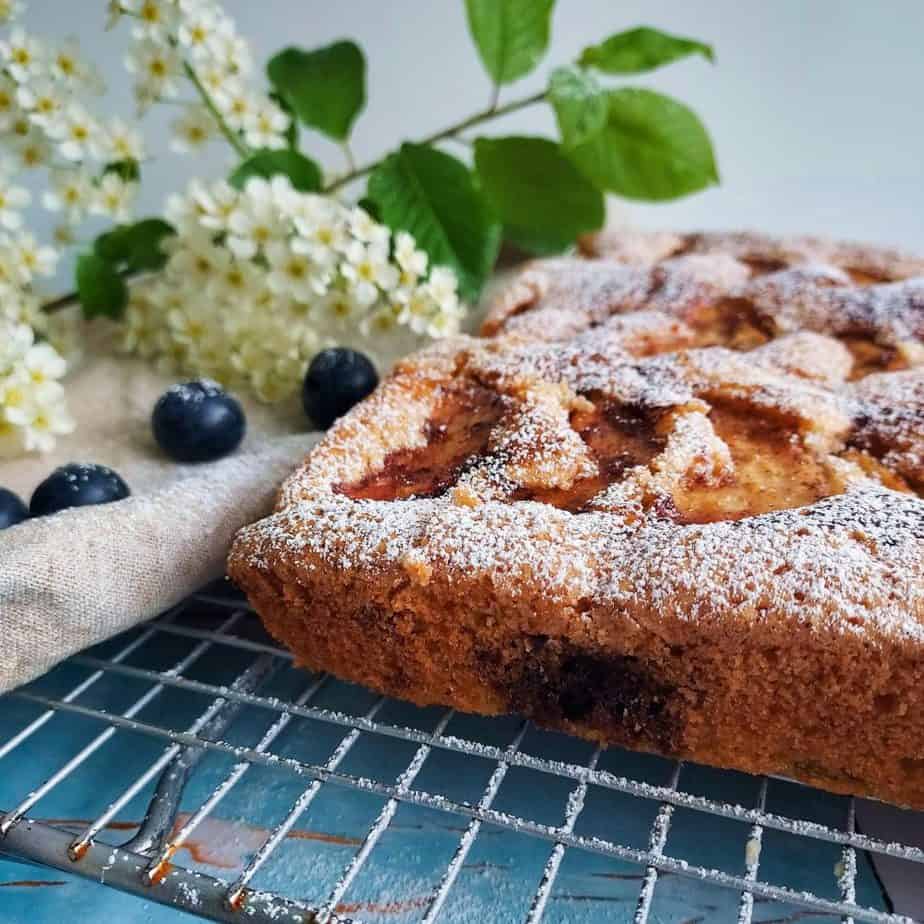 Gluten Free Rhubarb Muffins
These simple one bowl muffins are so quick to whip up for teatime. Made both gluten free and vegan with no egg or dairy, this recipe is accessible to most restricted diets. By adding a crumbled gluten free biscuit to each muffin before they bake you get that extra punch of flavour and texture, making these not your average Rhubarb Muffin.
Check out this recipe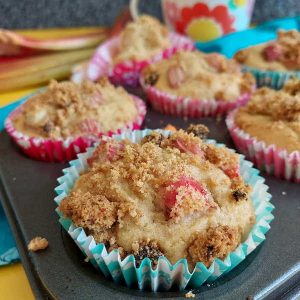 Gluten Free Persimmon Fruit Cake Recipe
If you make it and like the recipe I would be eternally grateful if you popped back and commented leaving a star rating as this will tell search engines that this recipe is worth checking out and others will get to find it in searches.
Persimmon Fruit Cake (Sharon Fruit)
This Persimmon Fruit Cake has a rich texture and delicately perfumed flavour and is a perfect afternoon piece of cake to have with a cup of tea. It's easily adapted to be vegan and is dairy and gluten free too.
Ingredients
300

g

gluten free plain flour

(I use Free From Fairy flour)

125

ml

dairy free milk

(I use soya)

200

g

soft dark brown sugar

2

egg(s)

(for vegan version use 2 tbsp ground chia/flax seeds

3

persimmons

(cut into quarters)

2

tsp

vanilla extract

2

tsp

baking powder

1

tsp

bicarbonate of soda

1/2

tsp

nutmeg

1

tsp

psyllium husk powder (optional)
Instructions
To make the Persimmon puree cut off the tops and blend until smooth, I've made with peeled fruit (the skin can be very hard a waxy) and I've been lazy and not bothered to peel…to be fair, I can't tell the difference so it's up to you!

In a large bowl or mixer, add the puree, eggs, sugar, vanilla and milk or dairy free alternative and mix until aerated and colour turns a lighter shade.

Sift all the dry ingredients into the bowl and beat until combined.

Pour into a prepared cake tin, I used a ring mould, you can use an 8″ tin but this is a dense cake and the middle will take sometime too cook so if necessary you will need to cover with tin foil.

If baking in a ring mould, place on a baking sheet in the oven on 160°C | 140°C | 325°F |Gas 3 for 50 minutes. I have not baked this in a cake tin yet but would imagine a longer time necessary.

Allow to cool for 5 mins before gently removing from the ring mould onto a cooling rack, then allow to cool completely before dusting with icing sugar (other ideas below)
Notes
In the past I've decorated this cake with half a tin of condensed milk (you can get a vegan version) that I had left over in the fridge (200g) and approximately 100g icing sugar to thicken. simply mix to combine, pour over the cake and let it drizzle down the sides and decorate with orange zest if available. I've also sprinkled chopped nuts too, equally as delicious.
Nutrition
Nutrition Facts
Persimmon Fruit Cake (Sharon Fruit)
Amount per Serving
% Daily Value*
* Percent Daily Values are based on a 2000 calorie diet.
Have you tried this recipe?
Let me know how it was & I will be super grateful. Take a picture & tag me @glutarama on your social media posts – I love seeing your photos more than you will ever know x
I love to see your own photos of my bakes, dinners and treats head to your favourite social media account and don't forget to tag me in @glutarama
Subscribe to my email list so that you get NEW recipes straight in your mailbox every Friday PLUS a FREEBIE and access to some amazing gluten free DISCOUNTS
*disclaimer: I use affiliate codes on my website, the vast majority are to Amazon. If you click on any of the links or images in the post and make a purchase my family will benefit from a small % of that purchase at no extra cost to you.

For full transparency, in 2020 I made my first £25, and in 2022 I reached my next £25 (Amazon don't transfer the money until you reach £25). I'm now up to £17.80 for 2023 so edging closer to the magical £25 mark!!

To date I have made £69.28 since I first started the scheme in 2017. It won't pay the bills, that's for sure but it does help to pay for ingredients or little treats to cheer me up!
Join my friendly Facebook Group
life's a drama, gluten free doesn't have to be….