Roast Orange and Pecan Cake … ROAST ORANGE! Really? Yep, this is one of those wonderful moments where I totally misunderstood something someone told me and despite realising my mistake, I went ahead and did my idea anyway, and it worked.
Stubborn old cow me, but I'm so glad I am. This recipe idea was originally born in Gascony, France. It was back in September when I organised a group of bloggers to accompany me to a Pilates Retreat hosted by my darling friend Susie and her husband James. I wrote about my experience at Pignoulet and you can read more about it via the link Pilates Retreat; my little free from adventure in the South of France but this is about cake, and not just any cake. A free from, moist, rich, superbly orangey cake.
Susie liked to leave out cake, iced water and all the things we'd need to make a cup of tea each afternoon whilst we relaxed between meals and pilates. One such cake was a recipe by the lovely Rick Stein, Susie kindly emailed me the recipe on my return to England…which I promptly lost! (rolls eyes and shakes head).
For weeks and weeks I promised myself I'd look up the recipe with a view to adapting it to be totally free from egg, dairy and gluten. I kept buying oranges for that purpose but instead Lewis and I kept eating the oranges and a few were turned into Orange & Clove Gin and my newest Bailey's recipe; Chocolate Orange Bailey's.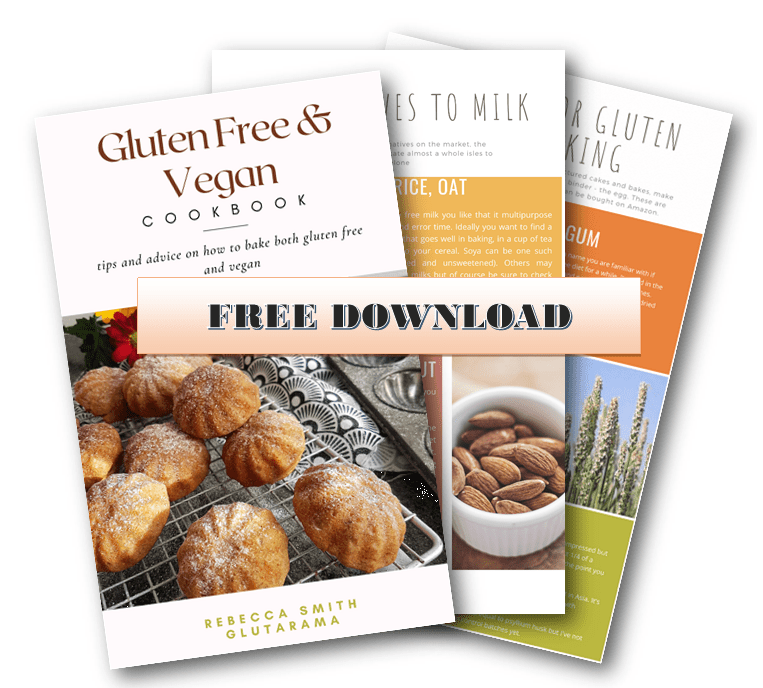 Never miss out again…
Sign up to my weekly Friday newsletter and not only get a FREE e-Book (currently my Gluten Free & Vegan Cookbook) but also get VIP subscriber discounts on free from goodies delivered to your door. Join me in my journey and learn to make anything gluten free.
Anyway, when I finally found the recipe on the interweb it called for clementine's that are boiled and blended whole.
'Ahhhhhh, I seeeee, boiled clementines, yes that would make sense'!
You see all this time in my mind the recipe had called for oranges that were roasted in the oven. Yes that's right, I imagined roasting an orange. The thing is that I'd thought so much about it that I simply couldn't get the idea out of my head. So I did just that, covered an orange in olive oil and shoved it whole into the oven to roast for 40 minutes. I half expected it to explode but I was sure that this process would only improve and intensify the flavours. Guess what, I was right.
The original recipe called for almonds, which I agree do go ever so well with orange but there were two issues with this the first time I made the cake. Firstly, I had no ground almonds, secondly I felt that the intensified orange flavour would drown out any almond notes so as I had a bag of pecan halves it seemed to me that this was the flavour match I needed. This sounds like a way to shoehorn an advert for pecans into my recipe, it's honestly not, I promise (laughs).
I've made this cake several times now and with each tiny tweak it got better and better, now I'm totally satisfied with the end result. So this is my Roast Orange and Pecan Cake to celebrate our time in Pignoulet.
If you like the idea of this Roast Orange Cake, then give these a try
I have a lot of fruit and vegetable inspired cakes on the website now so I've taken the liberty of adding a few links below to tickle your taste buds.
Roast Orange and Pecan Cake Recipe
If you make it and like the recipe I would be eternally grateful if you popped back and commented leaving a star rating as this will tell search engines that this recipe is worth checking out and others will get to find it in searches.
Roast Orange and Pecan Cake
A deliciously moist and rich cake, packed with an orange punch from the roast orange. No waste, you use the whole orange, skin and all.
Ingredients
1

large orange(s)

150

g

pecans

blended into fine crumbs

150

g

light brown sugar

200

g

gluten free self raising flour

I used Free From Fairy Flour

2

egg(s)

flax seed eggs 2tbsp flaxseed and 100ml cold water

50

ml

olive oil

1

tsp

baking powder

100

ml

water
For the orange glaze
1

orange juiced

50

g

light brown sugar

1

tsp

Cointreau

optional
Instructions
To roast the orange
Simply massage olive oil into the orange skin and bake in a roasting tin in the oven for 40mins on 200°C/180°C Fan.

After 40mins remove from oven and cool
To make the cake
Once the orange has cooled cut into chunks and add whole, including the skin and pith to a blender, blitz into a paste and tip into a mixing bowl/cake mixer.

Add the ground pecans, sugar, flour, olive oil and 2 eggs (or flaxseed eggs) to a mixer and combine on a slow speed.

Start to add the 100ml of water until you achieve a soft dropping consistency, you may need a little less, or a little more depending on absorbency of the flour you use.

Spoon into a greased and lined cake tin or flan tin, I used a 9" fluted flan tin with a loose bottom.

Smooth down the surface with a wet metal spoon and if you have extra pecan halves use these to decorate the cake.

Cook in the oven at 200°C/180°C Fan for 30mins.
To make the orange glaze
Add the juice of the other orange to a saucepan with the sugar and heat rapidly to melt the sugar, keep stiring for 5-10mins and the glaze will begin to thicken.

Remove from heat and at this stage you can add your orange liqueur if you wish to use it.

With the cake removed from the oven and cooled you can now add the glaze which will continue to thicken slightly as it cools.

The glaze will harden as the cake completely cools and create a delicious sugary crust.
Nutrition
Nutrition Facts
Roast Orange and Pecan Cake
Amount per Serving
% Daily Value*
* Percent Daily Values are based on a 2000 calorie diet.
Have you tried this recipe?
Let me know how it was & I will be super grateful. Take a picture & tag me @glutarama on your social media posts – I love seeing your photos more than you will ever know x
I love to see your own photos of my bakes, dinners and treats head to your favourite social media account and don't forget to tag me in @glutarama
Subscribe to my email list so that you get NEW recipes straight in your mailbox every Friday PLUS a FREEBIE and access to some amazing gluten free DISCOUNTS
*disclaimer: I use affiliate codes on my website, the vast majority are to Amazon. If you click on any of the links or images in the post and make a purchase my family will benefit from a small % of that purchase at no extra cost to you, in fact, for full transparency, in 2020 I made my first £25, and recently in 2022 I reached my next £25 (Amazon don't transfer the money until you reach £25). As you can see, it won't make me a millionaire but it will treat me to a few coffees, Lord knows I need the caffeine!
Join my friendly Facebook Group
life's a drama, gluten free doesn't have to be….