This is my Gluten Free Easter Mint Chocolate Celebration Cake and while it is a sight to behold I'm going to say something odd. I hated making it! To be more precise I stressed about decorating it, the baking bit is easy.
Oh please, don't let this put you off. It's not a difficult cake to make I'm just not a grand, showstopper-style baker. I much prefer traditional bakes, you know the kind. The ones that are only one tier and don't need an engineering degree to make.
That last statement was wrong, you don't need an engineering degree, just very big tea plates!
What do I need to make this Mint Chocolate Cake?
You're going to need the following equipment and ingredients and a bit of patience for the decorating!
3x 20cm round cake tins
baking paper to line tins
large piping bag with star nozzle
plain gluten free flour
lots of cocoa powder (I mean a lot!)
butter (can be dairy free)
golden syrup (corn syrup)
bicarbonate of soda
icing sugar (confectioners sugar)
chocolate spread (I use Cadbury's chocolate spread but you could use a dairy free version)
ground flaxseed (or you could use two eggs if this isn't an issue)
What Easter Eggs are suitable for Coeliac Diets?
Every year Laura from My Gluten Free Guide updates her Gluten Free Easter Eggs Round Up for Coeliac safe products available in the UK. I'm doing what many GF Bloggers rarely do and referring you to her page, after all this is not a competition, I'm here to help you as much as I can!
However, to give you an idea, the eggs I used on this particular Gluten Free Mint Chocolate Cake are Aero minty mini eggs and After Eight Mint mini eggs. You get 8 in a packet of After Eight eggs and about 12 in the Aero packets.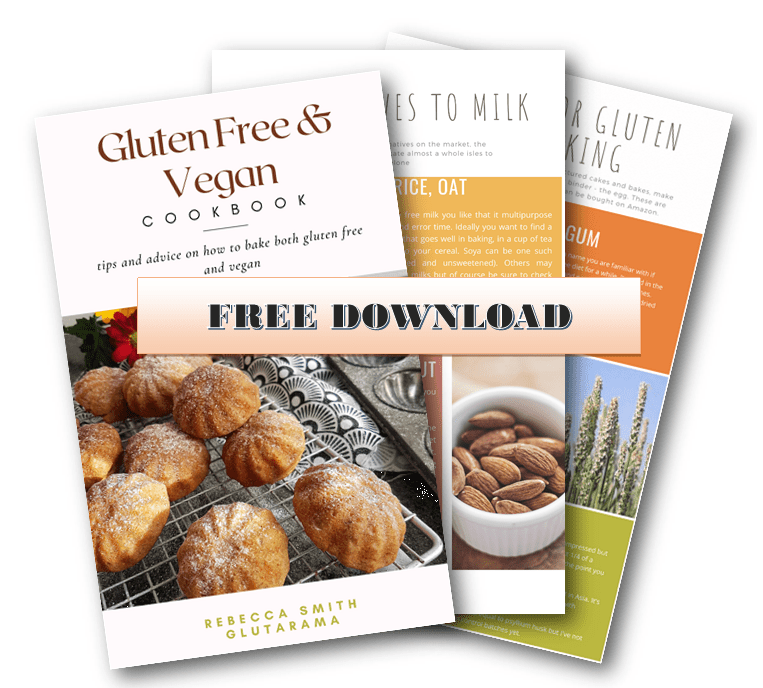 Never miss out again…
Sign up to my weekly Friday newsletter and not only get a FREE e-Book (currently my Gluten Free & Vegan Cookbook) but also get VIP subscriber discounts on free from goodies delivered to your door. Join me in my journey and learn to make anything gluten free.
Can I make this Celebration Cake dairy free?
This can be made dairy free, I know this because I have made this cake before for birthdays and it's been completely dairy, egg and gluten free. As this is a Gluten Free Mint Chocolate Celebration Cake you'll want to source some dairy free chocolate eggs to decorate. This is where you may come unstuck.
I've struggled to find both gluten and dairy free mini eggs that are safe for a Coeliac diet with no may contains. I go into more detail in my recipe for Gluten Free Easter Tiffin as to what alternatives there are out there.
If you want to make this dairy free then how about adding a touch of spring by topping with these beautiful Nono Chocolate Sprinkles. Not only are these adorable but the Nono are a company that provide work for people with Autism. They are also free from 14 allergens and often on special offer too!
Can I make this Chocolate Mint cake vegan?
The recipe for this cake is inspired by the delicious dairy and egg free cake by Free From Farmhouse. I took Emma's recipe and swapped out the plain flour for gluten free plain flour and added flaxseed egg instead of an egg replacer. I find egg replacers can be very hit and miss when making something gluten free as well.
Therefore, this is a tried and tested cake that's been made egg free before and if you can find suitable gluten free and vegan decorations it is able to be made successfully vegan too.
---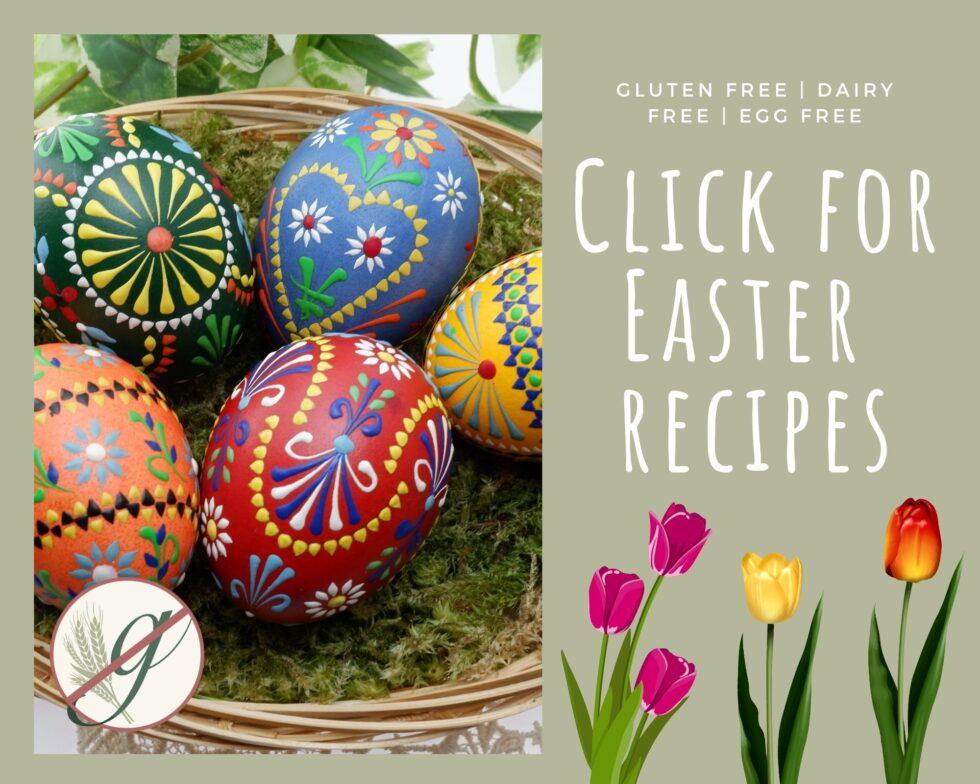 ---
Gluten Free Celebration Cake inspiration
Want gluten free gift ideas for Easter?
No time to make my Gluten Free Mint Chocolate Celebration Cake but want to give some one a free from surprise? Check out my guide for small businesses that deliver to the UK, many of these small run businesses have seasonal goodies waiting for you to find. They are all gluten free with many offering dairy free and vegan options too. Make someone's day by sending them an edible gift that's safe and make a small business owner do a happy dance in their kitchen too.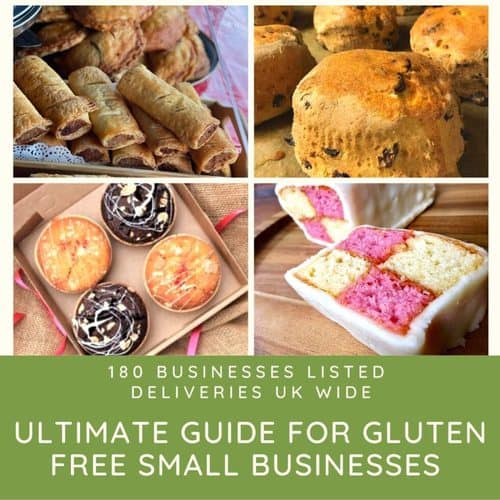 Fancy buying yourself a treat or a gift for a loved one this festive season, then go small…small businesses' that is!

Guide for Gluten Free small businesses that deliver across the UK

— Glutarama, supporting small businesses
---
Gluten Free Mint Chocolate Celebration Cake Recipe
If you make it and like the recipe I would be eternally grateful if you popped back and commented leaving a star rating as this will tell search engines that this recipe is worth checking out and others will get to find it in searches.
Gluten Free Mint Chocolate Celebration Cake
A showstopper of a gluten free cake. This Mint Chocolate Celebration Easter Cake is three layers of chocolate sponge sandwiched with mint choc butter cream and topped with minty mini Easter eggs. Can be made dairy free and vegan too.
Ingredients
For the chocolate sponge
200

g

golden syrup (corn syrup)

200

g

soft dark brown sugar

200

g

butter

can use dairy free butter blocks

280

ml

milk

can use dairy free alternative

300

g

gluten free plain flour

all purpose

150

g

cocoa powder

3

tsp

bicarbonate of soda

2

tbsp

ground flaxseed

or two eggs if suitable

1

tsp

psyllium husk powder (optional)

not necessary if using real eggs
For the chocolate mint buttercream
300

g

butter

or dairy free butter block

450

g

icing/confectioners sugar

confectioners sugar

150

g

cocoa powder

6

tbsp

milk

or dairy free alternative

½

tbsp

peppermint extract
Additional chocolate filling
100

g

chocolate spread

preferably not hazelnut, if necessary use a dairy free spread
To decorate
3

tbsp

icing/confectioners sugar

confectioners sugar

1

tsp

water

1-2

drop(s)

peppermint extract

100

g

mini chocolate Easter eggs

or free from alternative
Instructions
To make the chocolate sponge
Preheat oven to 180°C | 160°C fan | 350°F | Gas 4

In a saucepan add the golden syrup, brown sugar and butter. Gently heat until melted whilst continuously stirring. Remove from the heat.

In a large mixing bowl measure the gluten free flour, cocoa powder, flaxseed and psyllium husk (if using) and bicarbonate of soda. Use a whisk to combine the dry ingredients.

Add the milk to the melted sugar mixture and whisk.

Now add the melted chocolate and butter mixture to the bowl of dry ingredients and mix thoroughly to combine. The cake mixture will be quite wet so don't worry, this is fine.

NOTE: if you can have egg, add the two eggs now and whisk to combine.

Spoon the mixture evenly into 3 round 20cm cake tins that have been greased and lined – it works out about 450g per cake tin if you want to weight them.

Pop into the oven for 20mins, they are ready when a cocktail stick is inserted and comes out clean. You want to be on the side of seeming underdone, trust me they won't be.

Allow to cool before going onto the next stage.
To make the chocolate mint buttercream
In a large mixing bowl or mixer, beat the butter, peppermint extract, milk and about 3 tbsps of icing sugar together until light and creamy.

Add the rest of the icing sugar and cocoa power in stages until all the dry indredients have been combined.

If you find the buttercream is too stiff add another tablespoon of milk.

Spoon the buttercream into a large piping bag with a star nozzle and set aside ready to decorate.
To decorate the cake
Spoon half the chocolate spread over one chocolate sponge then the other half over the second.

TOP TIP: use the best looking sponge for the top layer

Now pipe buttercream rosettes around the edge of the two chocolate spread sponges until you've covered the sponge. repeat with second sponge.

Place the sponge layer one on top of the other with your best looking sponge on the top. Now pipe rosettes evenly around the edge of the cake until you've run out of space. I piped 8 with one large piped star in the middle.

Next top each piped rosette with a chocolate egg and pile the rest in the middle.
To make the peppermint cake drizzle
Combine the icing sugar, water and 1-2 drops of peppermint extract in a small bowl or cup and then using a teaspoon drizzle the white peppermint icing over the cake to finish.

Now sit yourself down, pat yourself on the back and revel in the wonder of your Mint Chocolate Celebration Cake!
Nutrition
Nutrition Facts
Gluten Free Mint Chocolate Celebration Cake
Amount per Serving
% Daily Value*
* Percent Daily Values are based on a 2000 calorie diet.
Have you tried this recipe?
Let me know how it was & I will be super grateful. Take a picture & tag me @glutarama on your social media posts – I love seeing your photos more than you will ever know x
I love to see your own photos of my bakes, dinners and treats head to your favourite social media account and don't forget to tag me in @glutarama
Subscribe to my email list so that you get NEW recipes straight in your mailbox every Friday PLUS a FREEBIE and access to some amazing gluten free DISCOUNTS
*disclaimer: I use affiliate codes on my website, the vast majority are to Amazon. If you click on any of the links or images in the post and make a purchase my family will benefit from a small % of that purchase at no extra cost to you, in fact, for full transparency, in 2020 I made my first £25, and recently in 2022 I reached my next £25 (Amazon don't transfer the money until you reach £25). As you can see, it won't make me a millionaire but it will treat me to a few coffees, Lord knows I need the caffeine!
Join my friendly Facebook Group
life's a drama, gluten free doesn't have to be….