This page contain affiliate links. Please refer to my Disclosures Page for more details.
Also, before you hit 'Jump to Recipe' just check my contents section 'Skip to the Good Bit' below. I may answer a query you have about this recipe straight away in the post.
If like me, you find yourself with spare mincemeat and marzipan this Festive Tart Tatin is an excellent way of using up the mincemeat with delicious consequences. I've slightly adapted my Spiced Peach Tart Tatin by adding ground almonds to make it a little richer. However, if you need a nut free version there is a paragraph on how to swap out the nuts used in this recipe. In addition, I give you some delicious alternative topping ideas.
What's the history of the Tart Tatin?
I took this information from a hugely informative post by Taste Atlas Tart Tatin Authentic Recipe their website is full of history of recipes and being a historian myself (you didn't know that did you!) I love to hear about the origin of recipes. Of course, you can also find this kind of info on Wikipedia but this is the most comprehensive history of the Tart Tatin I've found;
Tarte Tatin was created in the 1880s by the Tatin sisters at their hotel in Lamotte-Beuvron, France. The first written record of the tart hails from a 1903 issue of the Bulletin of the Geographical Society of Cher (an administrative district of Sologne). Later, unpublished, hand-written notes were found containing first-hand observations of how the tarte was made.
These notes were taken by Marie Souchon, a close friend of the sisters, and they are thought to be the first recorded recipe of the now-famous tarte. One popular legend regarding this tart states that it was invented when one of the sisters left the apples for a pie poaching in butter and sugar for too long, and the sugar began to caramelise. Not having time to make another one, she ended up simply covering it with pie crust and turning it upside down in an attempt to salvage it. The guests at the hotel loved it, and it became the sisters' signature dessert.
What type of pan do I need to make this Tart Tatin?
I am super lucky and finally have a gorgeous skillet pan that my mum got me for my birthday. I've wanted an oven proof skillet for ages and had made-do with a square griddle pan with a metal handle up until that point. If you do not have a skillet or metal handled frying pan, you could use the largest metal flan dish or cake tin you have, ideally 28cm or larger.
NOTE: do not use a loose bottom tin, your tart juices will caramelise and seep through the bottom leaving you with a bomb-proof puddle in the bottom of your oven that will take forever to clean off!
Alternatively, in the servings section of the recipe you can halve the servings and the recipe will automatically adjust to half the ingredients. This way you could make a smaller version in a 20cm cake or flan tin
Can I make this Festive Tart Tatin nut free?
There are three nutty elements to this Festive Tart Tatin recipe; the ground almonds in the Tatin base, the marzipan balls and the nuts that decorate the tart.
To make this Tart Tatin nut free, simply remove the ground nuts from the base and replace like for like with gluten free flour. To decorate, again you can simply omit the walnuts or pecans that I've used in my photos and replace them with something else. In the next paragraph I list some handy topping suggestions you can pick and choose from depending on your personal taste.
What different toppings can I use for my Festive Tart Tatin?
I the Festive Tart Tatin's pictured I've opted for toppings that I know both myself and my family enjoy. However, I personally am not a massive fan of walnuts as I find them a little bit sour. Other dried fruits and nuts will work wonderfully. I have listed a few below with added spices you might like to try;
Dried dates, cherries or cranberries – ideally you want the fruits to be big enough to contribute to the overall patten.
Blanched almonds – these will stand out and make the pattern very attractive like a Dundee Cake
Multi-coloured glace cherries
If you want to swap the marzipan how about adding some lumps of fudge or marshmallows to add a similar chewy quality.
You can also use frozen or tinned/canned fruit. The apple slices work well because they hold their shape and add to the design, but you could go for an orange theme and use tinned mandarin slices or maybe a both with one circle of each.
Be creative, have fun and please feel free to tag me in on any photos you share on social media as I would be thrilled to see your creations (@Glutarama)
How long does this Festive Tart Tatin last?
If you plan to make this Festive Tart Tatin in advance, you'll be pleased to hear that the tart keeps really well covered in the fridge for a couple of days.
You can eat the Tatin straight from the oven and served with cream, or one of the toppings I mention above. Alternatively, you can reheat it from the fridge. To do so, I would recommend popping into the oven covered in foil for 10 minutes or pop the tart under a grill.
Trouble shooting for this Gluten Free Tart Recipe
My fruit is too watery – this may happen if you've chosen to add tinned fruit to your tart, I'd recommend patting down the fruit between two layers of kitchen roll, otherwise you may end up with a soggy bottom (little GBBO reference there).
The tart dough is not sweet enough – add more sugar or sweetener of your choice.
My tart is burning in the oven – if this happens before the time is up, you could add a foil lid to the skillet pan. Ideally you want the tart to cook for the allotted time. This will allow the juices and sugars to caramelise giving you that beautiful golden toffee colour.
The toppings are not brown enough – if you've removed your tart from the oven and turned it out to find it's not caramelised then simply pop it under the grill. Be sure to always watch it as it will catch (burn) easily.
What can I serve my Festive Tart Tatin with?
As this is intended to be a Christmas festive dessert, you may as well go the whole hog and top the Tart Tatin with all the festive toppings there is on offer. How about trying out my recipes for Homemade Dairy Free Clotted Cream or Dairy Free Brandy Butter. Heck why not pour over some Dairy and Gluten Free Brandy Sauce.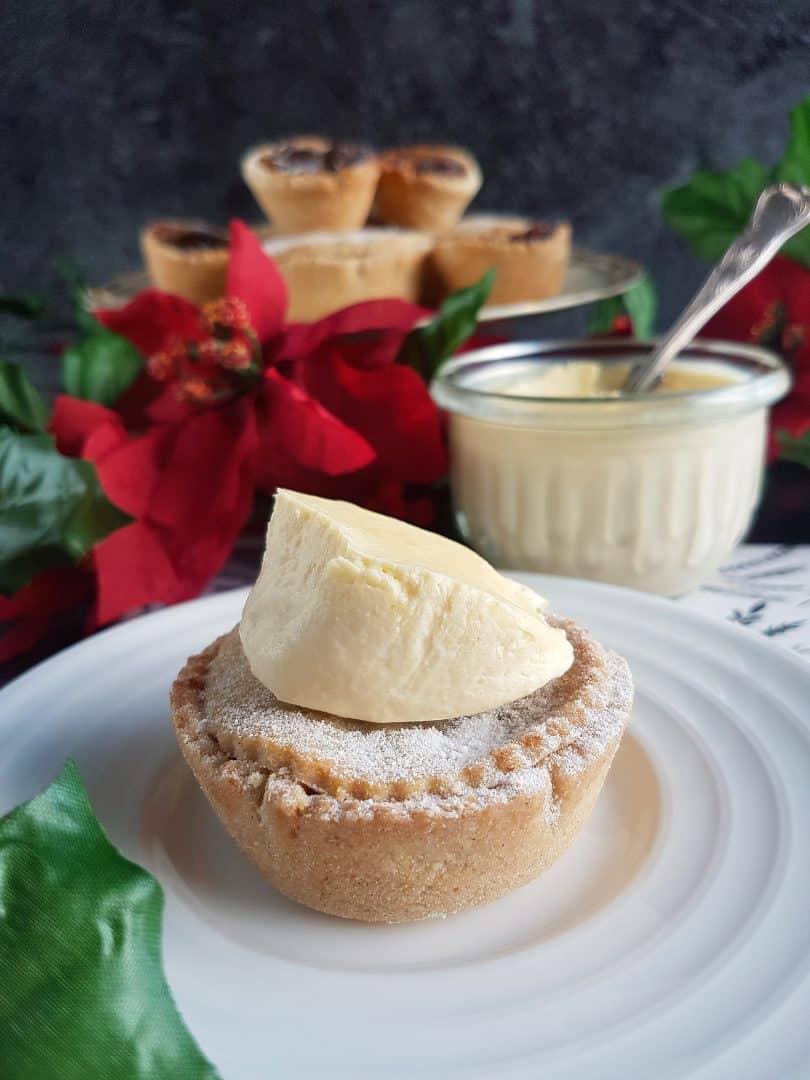 If you like this festive treat, you'll love these other holiday recipes
I just know you'll want to check out these other festive recipes. How about my Gluten Free Stollen Bites or this Gluten and Yeast Free Stollen; simple to make. Then you have these Deliciously Festive Lebkuchen – gluten free with a vegan option a delicious tea time treat and finally my Easy Christmas Truffle Cake Pops Homemade and Gluten Free
Never miss out again…
Sign up to my Friday newsletter and receive not one, but THREE FREEBIES.
GF and Vegan e-Book
conversion charts
3 simple guides to allergies, intolerances & autoimmune.
Join me and learn to make anything gluten free.
Festive Gluten Free Tart Tatin Recipe
If you make it and like the recipe I would be eternally grateful if you popped back and commented leaving a star rating as this will tell search engines that this recipe is worth checking out and others will get to find it in searches.
Festive Gluten Free Tart Tatin
This quick and easy to make Festive Tart Tatin is a wonderful way to use up dried fruits, marzipan and mincemeat. At the end you get a delicious tart in no time at all with gluten free ingredients plus no egg or dairy.
Ingredients
Toppings
100

g

marzipan

150

g

mincemeat

30

g

pecans

or walnuts or almonds

80

g

glace cherries

2

large dessert apples
Tart Tatin dough
170

g

gluten free plain flour

30

g

ground almonds

80

g

butter

or dairy free alternative, I use Flora

20

g

caster sugar

1

tbsp

flaxseed

you could add 1 egg instead of the seed and water

3

tbsp

water

1

tsp

psyllium husk powder (optional)

optional

Pinch

of salt
Instructions
To prepare the toppings
Core and chop your apples into thin slices.

Break pieces of marzipan off and roll into marble-sized balls.

If you wish, cut your glace cherries in half.
To create your Tart Tatin pattern
I start with a cherry in the middle and work my way outwards to the edge of the skillet pan.

Add your apple slices in a fan arrangement and then dot the nuts in the gaps.

Keep adding layers of dried fruits and fruit slices until you reach the edges of the pan.

Next dot the marzipan balls evenly around the pan, filling in any visible gaps.

Finally add spoonful's of the mincemeat over the top of the arranged fruit and nuts and set aside to make your tart base.
To make the Tatin dough
In a bowl rub together the butter/dairy free spread and flour into breadcrumbs.

Add the sugar and almonds and mix to combine.

Add your ground seed and psyllium husk (optional) and mix again to combine.

Pour in the 45ml/3tbsp of water and with a knife cut through the breadcrumb mixture until it begins to come together to form larger lumps.

Tip this large crumble mixture onto the kitchen surface and begin to bring together by kneading. Don't worry, it will come together to form a dough.

Roll the tart dough into a ball, wrap in foil and pop into the fridge to rest for 30mins.

Preheat the oven to 190°C | 170°C fan | 375°F | Gas 5

After 30mins roll out your dough into a disc the size of your skillet or pan and place over the arranged fruit. Tuck the edges down to seal the fruit in and make a small incision with a knife in the centre to let any steam escape while baking.

Cook for 20-25 minutes until the bottom of the tart goes a golden brown and the sticky juices bubble around the edges of the pan.

Remove from the oven and allow to cool for 5mins only – this next bit is dangerous so be careful.

Taking care, turn your pan over onto a large plate. You can use this plate to serve OR return the tart back to the skillet and present the tart in the pan.

If your tart is a bit pale I would do as above and put the tart back in the pan, you can finish it off under the grill until you achieve that beautiful golden colour.

Serve once slightly cooled with custard or cream or a festive topping of your choice.
Nutrition
Nutrition Facts
Festive Gluten Free Tart Tatin
Amount per Serving
% Daily Value*
* Percent Daily Values are based on a 2000 calorie diet.
Have you tried this recipe?
Let me know how it was & I will be super grateful. Take a picture & tag me @glutarama on your social media posts – I love seeing your photos more than you will ever know x
I love to see your own photos of my bakes, dinners and treats head to your favourite social media account and don't forget to tag me in @glutarama
Subscribe to my email list so that you get NEW recipes straight in your mailbox every Friday PLUS a FREEBIE and access to some amazing gluten free DISCOUNTS
Don't lose this delicious Festive Tart recipe – pin it for later.
*disclaimer: I use affiliate codes on my website, the vast majority are to Amazon. If you click on any of the links or images in the post and make a purchase my family will benefit from a small % of that purchase at no extra cost to you.

For full transparency, in 2020 I made my first £25, and in 2022 I reached my next £25 (Amazon don't transfer the money until you reach £25). Recently I got paid a whopping £27.10 for 2023.

So to date I have made £78.58 since I first started the scheme in 2017. It won't pay the bills, that's for sure but it does help to pay for ingredients or little treats to cheer me up!