This page contain affiliate links. Please refer to my Disclosures Page for more details.
I needed a kick up the bottom to make this Vegan and Gluten Free Tiramisu Recipe a reality. Thanks to White Rabbit announcing their NEW Gluten Free Tiramisu, I got the kick I needed!
I already have a Gluten Free Tiramisu recipe on my website and had promised myself I'd make one that I could eat too, not just my Coeliac daughter. I reckon I've cracked it…and not an egg in sight – pun very much intended!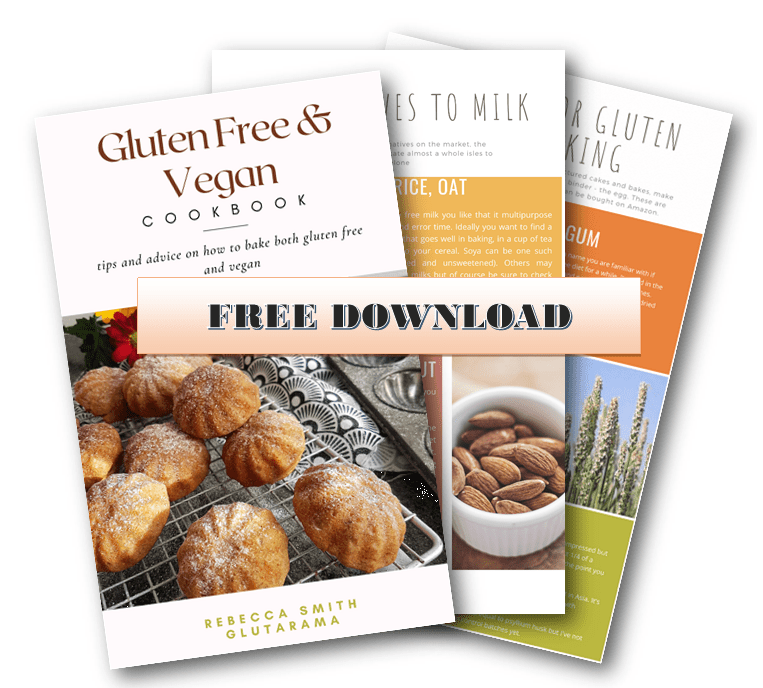 Never miss out again…
Sign up to my weekly Friday newsletter and not only get a FREE e-Book (currently my Gluten Free & Vegan Cookbook) but also get VIP subscriber discounts on free from goodies. Join me and learn to make anything gluten free.
Why is Tiramisu not vegan?
Traditional Tiramisu is made with layers of sponge, mascarpone cheese, cream and eggs. The sponge fingers are soaked in masala and coffee and the dessert is finished with a dusting of cocoa or dark chocolate.
As you can see, this recipe is PACKED full with eggs in the sponge, eggs in the cream layer, milk in everything and potentially chocolate too! Not at all vegan or intolerance friendly for little old me.
This recipe has been developed so that each component of the Tiramisu is not only dairy and egg free but of course gluten free too – all the recipes on my website are gluten free.
Disclaimer: I am NOT vegan. I am intolerant to eggs and dairy, they argue with my tummy something rotten. So if you are here because you are vegan then firstly 'Hi' and secondly, you may stumble across none vegan recipes too so apologies for that but all my vegan recipes are safely kept here.
How do you make vegan lady fingers?
I may be wrong, and please do comment below if you know of any, but I don't think there are any gluten free and vegan Savoiardi (Ladyfingers) on the market?
I have bought these from our local Italian store called The Italian Shop in Bedford. Sadly these are only gluten free.
Incidentally, the shop delivers too so great to know if you're in the UK as they have lots of amazing gluten free products.
So, to have gluten, dairy and egg free Savoiardi or Ladyfingers you have to make them from scratch. This is how I make mine.
To ensure your ladyfingers are lovely and crisp, leave them in the oven with the door ajar until it has completely cooled. Even better, turn the genoise biscuits upside down whilst they cool in the oven to allow all the trapped moisture to escape.
What is the best plant based cream for this vegan Tiramisu?
Here in the UK we have Elmlea Plant Based Cream (£1.50rrp) and I cannot fault it for it's flavour and whipping capabilities. We do have Coconut Collaborative Double Cream (£2.00rrp) too but this is not as widely available and a bit more expensive.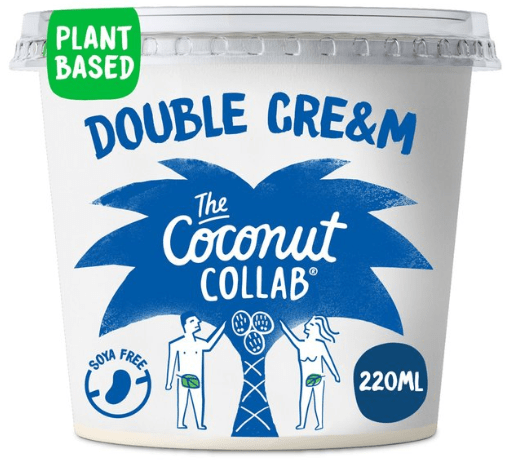 What do you use instead of Mascarpone?
Mascarpone is an Italian soft cheese made with cream as opposed to milk. This makes it richer and less tart in taste. To replace the mascarpone in this recipe I use a combination of plant based cream cheese and plant based condensed milk to reduce the acidic twang you get from cream cheese (and vegan cream cheese in particular).
You can buy ready made vegan condensed milk (such as Natures Charm) or, like me, make your own – it's very easy and it keeps really well in the fridge, this jar has been in my fridge for over a month now and I just keep dipping into it as and when needed.
Easy Dairy Free Condensed Milk
I promise you that making your own homemade dairy free condensed milk is simple, cheap and ideal for many free from recipes. Using only two ingredients and 30 minutes of your time you too can have a jar of vegan condensed milk to use immediately or store for later.
Check out this recipe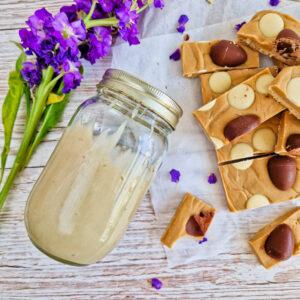 How do you make a vegan and gluten free Tiramisu?
Step one: make the sponge fingers
As above, you need to make your Ladyfingers or Savoiardi using whipped aquafaba. I used the water from 2 tins of chickpeas. (approx. 140ml of chickpea water per tin) You need 200ml for this recipe unless you change the number of servings.
Step two: make the cream filling
The mascarpone alternative is simply vegan cream cheese, dairy free condensed milk, plant based cream and a touch of icing sugar all beaten together. I combine the cream cheese and condensed milk first to beat out any lumps then add the cream and whisk for a good 5 minutes.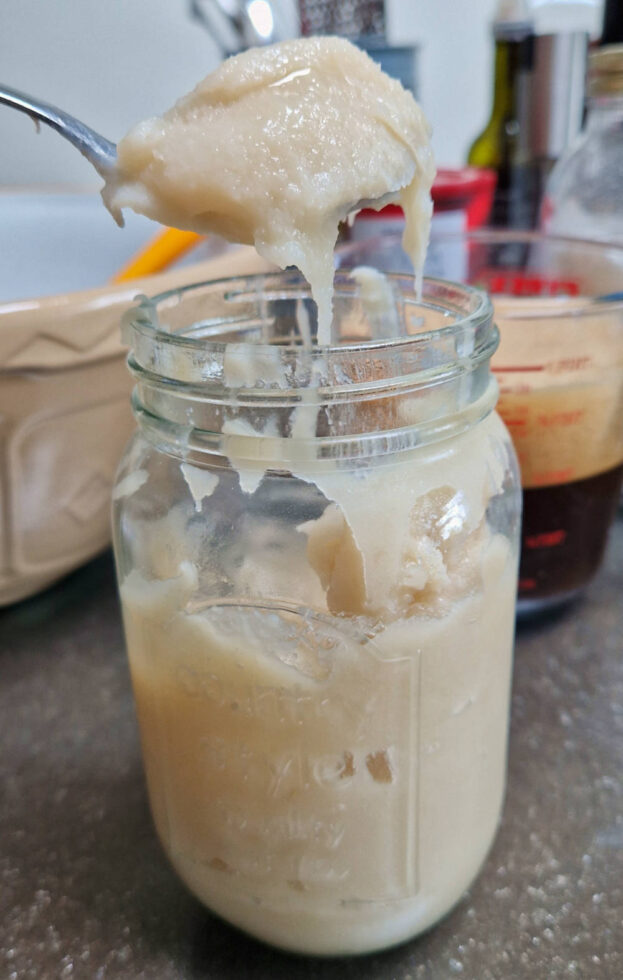 Step three: build and be patient!
The building bit is the fun part, much like making a Lasagna (link not vegan, only gluten and dairy free). In the images I didn't dip the sponge fingers on this occasion, this method gives you a contrasting texture to the Tiramisu.
Repeat the process above so you get the familiar two layers of sponge and sweet cream and then top with more sieved cocoa powder or, if you feel fancy, grate some dairy free plain chocolate on top.
To soak, or not to soak, that is the question!
As mentioned in the previous section, I tend to drizzle the coffee and brandy mixture over the Savoiardi/Ladyfingers once they are in the serving dish. The reason for this is that, like my trifle, I like to get a bite of sponge that's not soggy every now and again. The bottom layer of sponge is often the soggiest as it naturally absorbs all the liquid you add to it plus any excess liquid from the creams.
The other option is to pre-soak the sponge fingers. This is an excellent choice if you love super soggy sponge bits packed with coffee and brandy.
To do this simply pour your coffee/brandy liquid into a high-sided plate or dish and dip each sponge finger in the liquid. This will make the sponge fingers fragile so take care when placing them in the serving dish.
Alcohol free Tiramisu
I appreciate that not everyone would like to have alcohol in their desserts so you can of course omit the brandy and simply have the coffee and sugar alone. An alternative for this Vegan and Gluten Free Tiramisu is to add brandy flavouring to get the authentic Tiramisu flavour but with 0% alcohol. There are a few brandy extracts and flavourings on the market, not all state they are gluten free and vegan so be mindful of this and go for one that is clearly marked safe. These are not cheap but you use less and it would work out cheaper than an actual bottle of brandy!
Other gluten free and vegan dessert ideas
Dairy Free Black Forest Trifle Dessert
A delicious twist on the traditional trifle and the Black Forest Gateau. This Black Forest Trifle is the best of both worlds. Layers of rich chocolate sponge, cherry jelly, blancmange and chocolate custard. Finally topped with lashings of cream. And all the while being a gluten, dairy and egg free dessert!
Check out this recipe
Gluten Free Christmas Pudding
A simple gluten free Christmas Pudding (or Plum Pudding) recipe. also made dairy and egg free with my own homemade gluten free suet. The perfect traditional centre piece for Christmas Day dinner. Makes a 1ltr pudding.
Check out this recipe
Gluten Free Self Saucing Lemon Pudding
A delicious alternative to the chocolate version, this self saucing lemon pudding has a delicious citrus bite with zest running throughout the light sponge and a lemony sweet sauce hidden beneath. This is not only gluten free but also easy to make vegan too, so free from eggs and no dairy.
Check out this recipe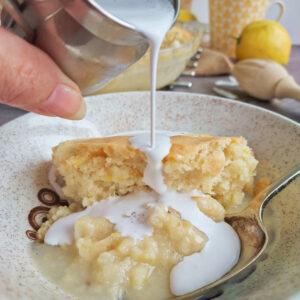 Gluten Free Self Saucing Chocolate Pudding
A superbly rich and comforting gluten free self saucing chocolate pudding that's so easy to make and a real showstopper at the dinner table. This will serve 4-6 people or just me! No really! I don't normally 'do' chocolate puddings but this one I make an exception! This can also be made dairy and egg free so safe for vegans.
Check out this recipe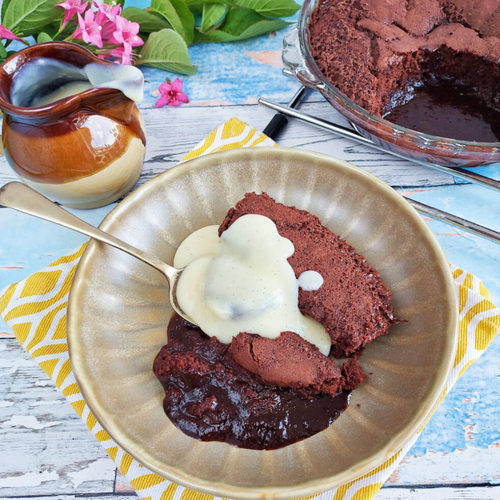 Ingredients you will need
For the Genoise 'Ladyfingers'
aquafaba
cream of tartar
gluten free self raising flour
caster sugar
For the coffee liqueur
instant coffee
hot water
brandy
sugar
For the mascarpone cream
dairy free cream cheese
dairy free double cream
icing/confectioners sugar
To decorate
cocoa powder or dairy free plain chocolate
Equipment you will need
How long do I need to chill this Vegan and Gluten Free Tiramisu?
I promise you that waiting is best. Any Tiramisu, free from, vegan or not is better left overnight before eating. It allows the ingredients to set. To prove a point, these two photos were taken 12hrs apart The first had been chilling for 3hrs the second was the next day and had been chilling for 15hrs.
Vegan and Gluten Free Tiramisu Recipe
If you make it and like the recipe I would be eternally grateful if you popped back and commented leaving a star rating as this will tell search engines that this recipe is worth checking out and others will get to find it in searches.
Vegan and Gluten Free Tiramisu Recipe
A delicious Italian inspired dessert that's been developed to be gluten free, dairy free and egg free – that's right a gluten free and vegan Tiramisu! This free from Tiramisu is rich, creamy, boozy and has just the right tones of coffee and brandy to lift spirits!
Ingredients
For the Genoise 'Ladyfingers'
200

ml

aquafaba

1

tsp

cream of tartar

400

g

gluten free self raising flour

200

g

caster sugar

2

tsp

psyllium husk powder
For the coffee liqueur
3

tbsp

instant coffee

200

ml

hot water

5

tbsp

brandy

or Masala or Madeira if you can get it.

1

tbsp

sugar
For the mascarpone cream
300

g

dairy free cream cheese

150

ml

dairy free double cream

150

g

vegan condensed milk

3

tbsp

icing/confectioners sugar
To decorate
2

tbsp

cocoa powder

to dust over both layers
Instructions
To make the vegan sponge fingers
Drain the liquid (aquafaba) from two cans of chickpeas. You need 200ml of this liquid (assuming you've not changed the serving sizes).

In a large bowl, whisk the aquafaba and cream of tartar for at least 5mins until you achieve stiff peaks just like egg whites.

Next add the caster sugar one spoonful at a time and repeat whisking. The beaten aquafaba will develop a glossy appearance.

In a separate bowl measure out the gluten free self raising flour, and psyllium husk and mix to combine.

Now sieve the dry ingredients into the whisked aquafaba (I do this in three go's) and fold gently together.

Finally, add the thick Genoise batter to a large piping bag (I use a large star nozzle, you use what you have handy) and pipe approximately 20 fingers onto two lined baking sheets.

Bake in a preheated oven at 200°C | 180°C fan | 400°F | Gas 6 for 15-20mins until just starting to turn golden.

Turn off the oven, loosen each sponge finger and turn upside down on the trays. Leave the sponge in the oven with the door ajar and let the oven cool to room temperature – this will crisp up your sponge fingers.
To make the coffee liqueur
Add the instant coffee granules to a jug with the sugar. Pour over hot water and mix until the coffee has dissolved.

Add the brandy to the coffee and set aside to cool.
To make the mascarpone cream
In a large bowl beat the dairy free cream cheese and condensed milk until smooth.

Next pour in the dairy free cream and repeat until fully incorporated, add icing sugar to taste.

Pop the bowl into the fridge until you are ready to build your Tiramisu.
Now it's time to build…
Layer the bottom of a large serving bowl with half the sponge pieces. Don't worry about symmetry or it being a masterpiece. The key is to have some of the sponge touching the sides of the dish so it looks pretty!

Drizzle some of the brandy and coffee liquid over the sponge fingers.

Now add half the dairy free cream cheese filling, smooth down gently with a silicone spatula and dust liberally with cocoa powder.

Next, repeat the sponge layer.

NOTE: this is where you decide if you're going to soak the fingers first or add then drizzle the coffee liquid over each sponge.

Add the remaining dairy free cream cheese filling and smooth the top.

Finally dust the top with more cocoa powder (or grated chocolate) and pop in the fridge for 8hrs at least but if you can wait, 24hrs is perfect.
Nutrition
Nutrition Facts
Vegan and Gluten Free Tiramisu Recipe
Amount per Serving
% Daily Value*
* Percent Daily Values are based on a 2000 calorie diet.
Have you tried this recipe?
Let me know how it was & I will be super grateful. Take a picture & tag me @glutarama on your social media posts – I love seeing your photos more than you will ever know x
I love to see your own photos of my bakes, dinners and treats head to your favourite social media account and don't forget to tag me in @glutarama
Subscribe to my email list so that you get NEW recipes straight in your mailbox every Friday PLUS a FREEBIE and access to some amazing gluten free DISCOUNTS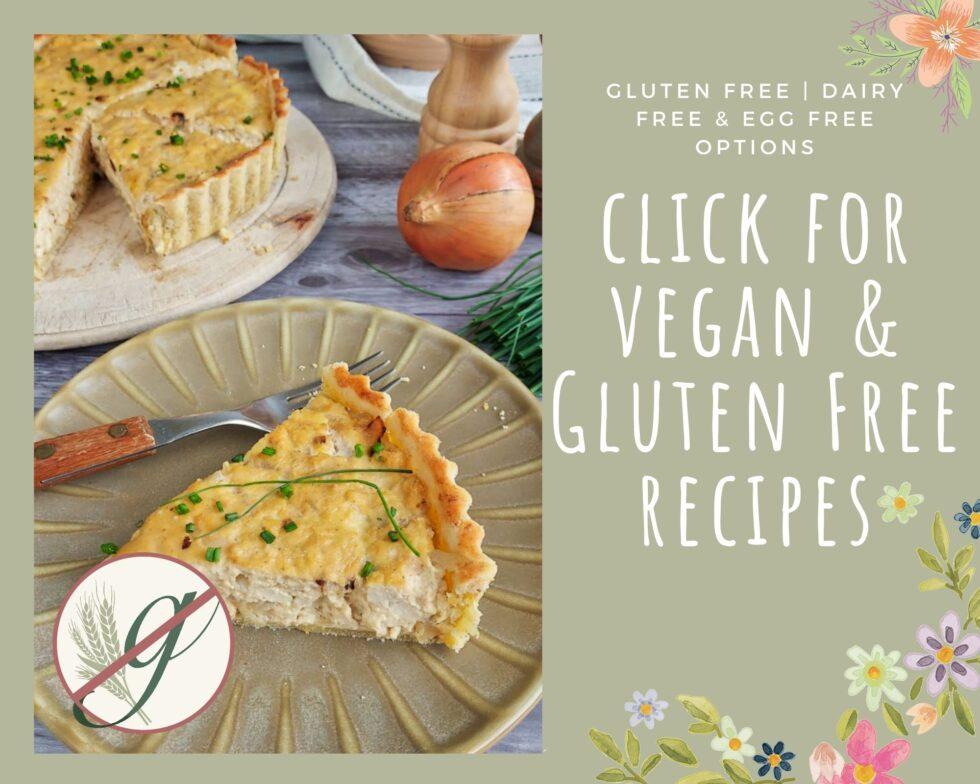 *disclaimer: I use affiliate codes on my website, the vast majority are to Amazon. If you click on any of the links or images in the post and make a purchase my family will benefit from a small % of that purchase at no extra cost to you.

For full transparency, in 2020 I made my first £25, and in 2022 I reached my next £25 (Amazon don't transfer the money until you reach £25). I'm now up to £17.80 for 2023 so edging closer to the magical £25 mark!!

To date I have made £69.28 since I first started the scheme in 2017. It won't pay the bills, that's for sure but it does help to pay for ingredients or little treats to cheer me up!