This page contain affiliate links. Please refer to my Disclosures Page for more details.
This recipe for Gluten Free Chicken Gravy comes with a public service announcement on may contains. I'll hold my hands up and say that when it comes to gravy I was always a Bisto Best girl. Then Bisto did the dirty and stopped producing gluten free Bisto Best (noooooooo!). The product came off the Coeliac UK safe list a while back, but I carried on using it for our roast dinner.
Then Beth was contaminated. We weren't sure but thought it could only be the gravy.
So, what did I do…I used it again then next time we had a roast dinner. Don't bother hate commenting me, I hated myself more than you ever could.
Lo and behold, Beth was contaminated again – DEFINATELY THE GRAVY. The trouble is when she's contaminated it effects her Type 1 Diabetes and her blood sugar levels (you can read more about that here A day in the life of Diabetes and Coeliac Disease!).
We now use Tesco gravy granules for Bethany on a day-to-day basis.
How do you make your own gravy?
For those special occasions, or when you're feeling chef-like nothing beats making your own. You have two options, the first is to make the gravy from the meat juices of the roast you're making at that moment. The second option is to make gravy in advance, a great idea for Christmas Day or celebrations.
With the latter idea you'll need to cook meat for the sole purpose of making gravy. This may seem wasteful but fear not, I have a delicious recipe to use the leftover meat and vegetables that don't go into your gravy.
Make a gravy from roast meat juices
Method One – making gravy using your Sunday meat joint
This method makes a delicious gravy using meat juices from your Sunday roast. When cooking your roast (beef, chicken, pork, lamb) pop some stock base ingredients into the roasting dish to roast and caramelise;
Carrots
Celery
Herbs
Onions
When your meat is finished, remove, cover and rest for 10-20 minutes. Using the roasting pan on the hob, de-glaze the black sticky bits with a splash of boiling water, or better still red/white wine, sherry or port! Take a couple of tablespoons of the liquid and add to a small bowl of 2-4 tablespoons of gluten free plain flour to make a paste, add the paste to the roasting pan, season generously and keep scraping away at the sides until the roasting pan is clean and the sauce is thickening.
Now you can pour on boiling water, spices and flavouring (I add onion powder and rosemary, thyme or sage depending on the roast joint I'm using).
Pass the gravy through a sieve into a saucepan and continue to heat and thicken. The meat will have rested by now, so carve and retain any juices so you can add these to the gravy in the saucepan.
How to make gravy in advance
Method Two – make your gravy in advance
Method one is all very well and good when you're preparing the weekly Sunday Dinner, but what about on Christmas Day or any other family holiday. When you have a multitude of guests and courses to cater and prepare for, de-glazing a sticky pan for 10 minutes would feel like an eternity!
So if you want the kudos of serving up homemade gravy without the effort on the special day, simply make in advance, freeze and reheat when you need it. Even better, use the leftover meat or carcass from a previous roast dinner and pat yourself on the back for your excellent money management skills too!
This method means roasting a fraction of the meat needed for a roast dinner (I use chicken drum sticks in this recipe), adding a few chopped stick vegetables and roasting in a casserole dish in the oven or on the hob. As with method one, you still deglaze the dish, add flour to thicken, seasoning, spices, flavourings and that's it!
Jump to Recipe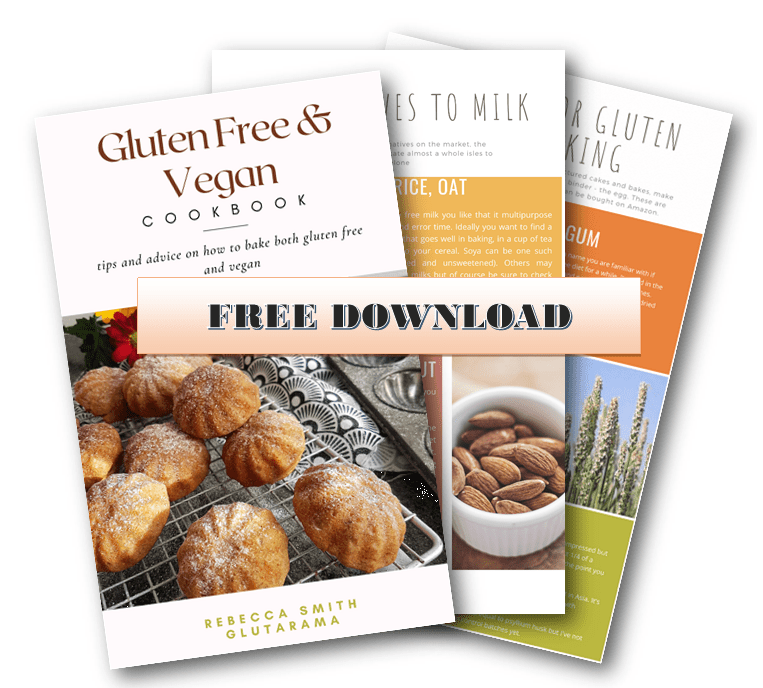 Never miss out again…
Sign up to my weekly Friday newsletter and not only get a FREE e-Book (currently my Gluten Free & Vegan Cookbook) but also get VIP subscriber discounts on free from goodies delivered to your door. Join me in my journey and learn to make anything gluten free.
How to make this gravy with wine
As this is a gluten free chicken gravy, adding white wine works really well. In fact, adding wine or spirits to the pan to deglaze is far more effective than adding plain boiled water, I think it has something to do with the alcohol content? Sherry is also a great choice and adds to the festive feel if you're making this for Christmas. I simply add 300ml of wine (or alcohol of your choice) to de glaze then top up with the 900ml of boiled water as directed.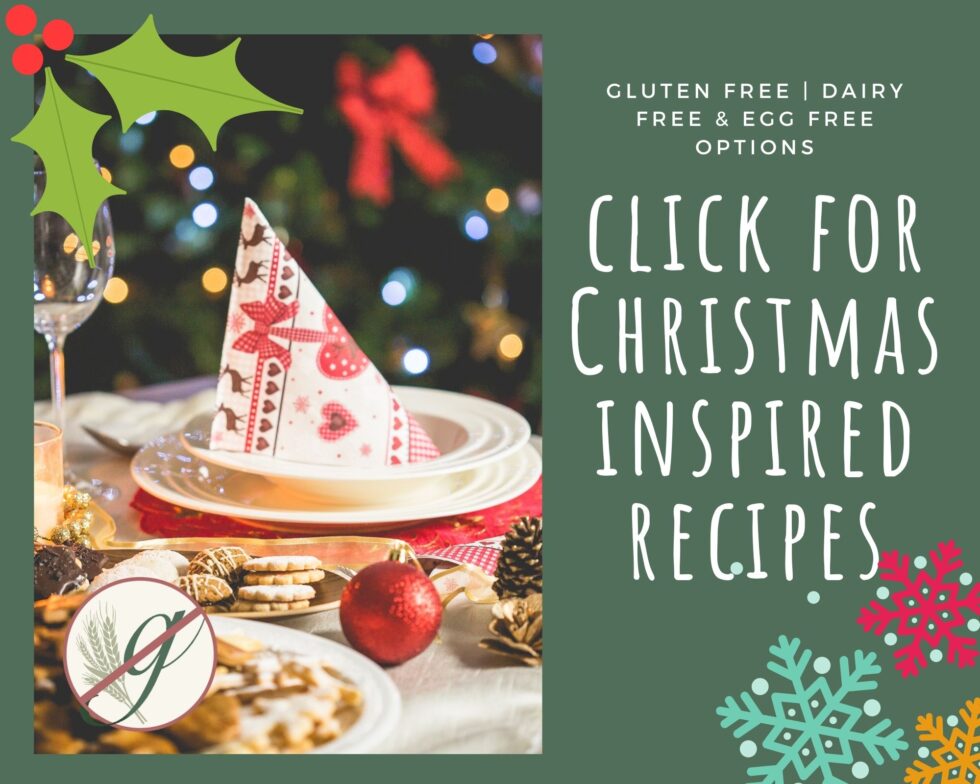 Cranberry Gravy
If you plan to make this gluten free gravy for Christmas you could also add cranberries. Check with your guests that they can all eat cranberries first, some people can't eat cranberries with certain medication. You have two options here, add a handful of dried cranberries or add fresh cranberries (best to cut the berries in half). If you decide on using fresh cranberries you may need to add a little sugar to counteract the tartness of the gravy.
Turkey Gravy
To make your own turkey gravy from scratch, simply swap the chicken drumsticks for turkey. You'll need to find turkey on the bone and as turkey legs are bigger than chicken drumsticks, you'll need about 3-4 legs of turkey to make this gravy. If you plan to make this in advance of Christmas Day when you'll be roasting a turkey you might be interested in this guide on How to Roast the Perfect Turkey by Easy Peasy Foodies.
Gluten Free Christmas Gift Guide
Every Year I update this post on Glutarama's website to give you the latest gluten free gifts perfect for a loved one or to gift yourself. The guide is broken into advent calendars, gifts for the Christmas Day, hampers for gifts or to cater for a gluten free Christmas and finally I try to find something a bit special to treat yourself in the new year.
How to get rid of lumps in gravy
If you find your gravy has gone lumpy this may be because the flour wasn't mixed to a paste before adding to the roasted meat and vegetables. Not to worry, you can strain the gravy through a sieve into a saucepan and work out the lumps with the back of a spoon.
What if the gravy is too thin?
Depending on how thin the gravy is, you could heat for longer to reduce the gravy which will thicken it. If this looks like it won't work, then you could add more flour. Remember to make the flour into a paste first with a little water or gravy juices otherwise you'll go the other way and end up with lumpy gravy!
How do you reheat homemade gravy?
I nearly didn't add this paragraph. I was all ready to press publish and suddenly remembered that making gravy in advance leads to the gravy turning into a gloopy jelly – completely unpourable!
You may have made this and thought you'd gone wrong when you took it out of the fridge to reheat. Fear not, the jug of jelly before you is perfectly normal, it's all the meat juices and fat that's congealed into this meat jelly.
To reheat you have two options but with both you'll need to grab a whisk and whip up the gravy to break up the jelly.
Option One: Heat the jug in the microwave and give it a stir at 1 minute intervals.
Option Two: Tip the gloopy mess into a saucepan and stir until the jelly bits have all dissolved and turned back into your delicious looking chicken gravy.
Other recipe ideas for mealtimes
Homemade Gluten Free Chicken Gravy Recipe
If you make it and like the recipe I would be eternally grateful if you popped back and commented leaving a star rating as this will tell search engines that this recipe is worth checking out and others will get to find it in searches.
Gluten Free Chicken Gravy
A simple to follow recipe for homemade gluten free chicken gravy made from scratch. This gravy can be made in advance and frozen if necessary. Batch cook to make lots of gravy for future roast dinners or special occasions to prevent overwhelm in the kitchen.
Ingredients
6

chicken drumsticks

2

medium onions

chopped

1

large carrot(s)

chopped

2

sticks of celery chopped

(optional)

2-3

tbsp

oil (I use vegetable or sunflower)

1

tsp

onion powder

1/2

tsp

dried thyme

(or even better handful of fresh)

300

ml

boiling water

to deglaze (or white wine/sherry)

2

tbsp

gluten free plain flour

(mixed into a paste)

900

ml

boiling water

to top up the gravy
Instructions
Take the chicken drumsticks and add to a roasting pan or heavy casserole dish along with the prepped onion, carrots, celery, spice and herbs then coat in oil.

Pop in the oven uncovered on 220°C | 200°C fan | 425°F | Gas 7 for 1 hour to brown the drumsticks and soften the vegetables.

Remove from the oven and place onto of the hob. (This is why I use a cast iron casserole pot as I have an induction hob). Add 300ml of boiling water from the kettle. If using wine or sherry add 300ml of this instead.

Using a wooden spoon set to work on getting all the dried and sticky bits off the side of the roasting tin.

Try to mush up the vegetables as much as possible and continue to heat the ingredients, the liquid should turn a brown colour.

Now add the flour paste (2tbsp flour mixed with a bit of water), this will prevent lumps forming, mix thoroughly. You will see the liquid start to thicken.

Now add 900ml of boiling water, this is your last chance to de-glaze and scrape of all the stubborn bits on the sides of the roasting tin/casserole dish.

Set hob to simmer gently for 15 minutes, stir occasionally to make sure nothing sticks to the bottom.

Pass gravy, through a sieve into a 1ltr jug making sure to squash all the goodness out of the leftovers.
Notes
This makes approximately 600ml homemade chicken gravy (depending on how much you reduce the liquid).
To reheat you have two options but with both you'll need to grab a whisk and whip up the gravy to break up the jelly.
Option One: Heat the jug in the microwave and give it a stir at 1 minute intervals.
Option Two: Tip the gloopy mess into a saucepan and stir until the jelly bits have all dissolved and turned back into your delicious looking chicken gravy.
Nutrition
Nutrition Facts
Gluten Free Chicken Gravy
Amount per Serving
% Daily Value*
* Percent Daily Values are based on a 2000 calorie diet.
Have you tried this recipe?
Let me know how it was & I will be super grateful. Take a picture & tag me @glutarama on your social media posts – I love seeing your photos more than you will ever know x
I love to see your own photos of my bakes, dinners and treats head to your favourite social media account and don't forget to tag me in @glutarama
Subscribe to my email list so that you get NEW recipes straight in your mailbox every Friday PLUS a FREEBIE and access to some amazing gluten free DISCOUNTS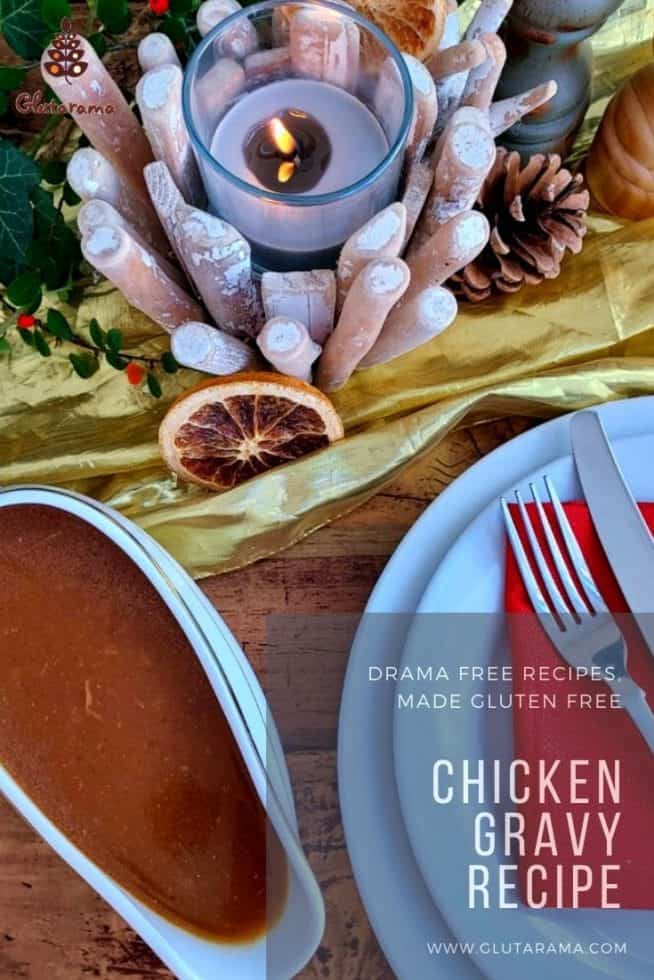 *disclaimer: I use affiliate codes on my website, the vast majority are to Amazon. If you click on any of the links or images in the post and make a purchase my family will benefit from a small % of that purchase at no extra cost to you, in fact, for full transparency, in 2020 I made my first £25, and recently in 2022 I reached my next £25 (Amazon don't transfer the money until you reach £25). As you can see, it won't make me a millionaire but it will treat me to a few coffees, Lord knows I need the caffeine!