Introducing my simple recipe for Homemade Brandy Butter or for those in the US you'll know this as Hard Sauce.
Great addition to top your Christmas Pudding delicious on its own or to accompany brandy sauce or even homemade dairy free clotted cream for that full-on cholesterol hit this festive season!
The History of Brandy or Rum Butter
I really enjoyed researching the subject of where does brandy butter come from? As always with any history (but food history in particular) the exact origins are sketchy, but I've picked out a couple that appear realistic and interesting in equal measure.
This trio of recipes quoted in The Old Foodie illustrates the subtle differences in recipes across the waters from Britain to the US. The heart of each recipe is of course butter, lots and lots of butter and sugar heaps of sugar. However, the hard sauce and rum butter seems to favour a alcohol and spices, while the brandy butter versions tend not to add the spices. The most common spice for this festive butter is nutmeg and I'll be honest and say I've never tried it before now.
This bit of history or folk tale I find fascinating because rum butter originated in Britain in the 1700's in the Lake District, to be precise in Cumberland. Cumberland Butter became a traditional treat for festiviti4es including christenings. But why was there Jamaican originating rum in England? My favourite tale is that a woman found a cask of rum washed up on a beach from a smuggling shipwreck. This rum was hidden away and dripped onto the woman's store of sugar and butter and the rest my dears is history. True or false, I love this idea of the universe coming together to create something as wonderful as rum butter so that's the tale I'm sticking with.
What is Brandy Butter made of?
As we explored in the previous paragraph, brandy butter is essentially made from three main ingredients, brandy, butter and sugar. The amounts you add of each will determine the resulting butter consistency and alcohol content. Often you will see white sugar used in the making of brandy butter, some people use a combination of caster and icing sugars. Others prefer a more granulated result and use just caster or granulated sugar.
I have also seen people use brown sugars in their butters too, I personally think brown sugar works amazingly with rum as you get a delicious caramel flavoured rum butter.
How do you make Homemade Brandy Butter that's dairy free and vegan?
This is the tricky bit. To make a brandy butter that is recognisable as shop bought brandy butter here in the UK, you need a lovely fatty milky butter. The trouble is vegan and dairy free butter is made with plant ingredients, less fatty and tends to curdle. Due to this technicality, I have added a little cornflour to help bind and in a fit of what seemed like madness I added Birds Custard Powder.
It paid off though because I have found that this method adds a familiar golden yellow colour to the butter too. This is totally up to you at the end of the day. However, if you're planning on making one butter for all and have free from moaners sat at the table (we all know the type) then you could make this butter. They'd be none the wiser that it is in fact dairy free and vegan.
Different ways to flavour Homemade Brandy Butter
As I mentioned butters can be flavoured with brandy, rum and even wine (our version on the early wine would be sherry). How about adding Cointreau though for an orange flavoured butter or Drambuie for a warm honey infused flavour.
You could of course add nutmeg as is common with rum butters and as I've mentioned, experimenting with different sugars and combinations of sugars changes the flavours too. Be brave and have a go at experimenting, life's too short to get upset over brandy butter
Cider, wine, sherry, spirits, port and liqueurs are gluten free.
Experts agree that there is no physical way that pure distilled alcohol can contain gluten – this is because the gluten protein cannot travel through to the vapour produced by the prolonged heating in the distillation process and become part of the final alcohol product.
Distilled spirits only contain gluten if gluten containing ingredients are added after the distillation process and in this case, there is labelling legislation that ensures the product states CONTAINS wheat, barley, rye or oats on the label.
Source – Coeliac UK FAQ page for more answers to top gluten free questions follow the link Coeliac UK FAQ's
Please note: some people are also intolerant to certain grains such as barley, rye and oats so even with the gluten removed this can cause digestive issues. If concerned please consult your doctor.
Why has my Brandy Butter Split?
This is asked a lot on Google; how do you keep brandy butter from curdling (splitting)? If you add the cornflour like I suggest in the recipe below this is less likely to happen. Adding more sugar and making sure you beat vigorously on a high setting will also prevent splitting. The split occurs when you add the alcohol so to reduce the possibility of this happening you could add less alcohol. But who in their right mind would want to do that?
Can you freeze this Brandy Butter Recipe?
Yes you can freeze brandy butter, rum butter, Cumberland butter or whatever you want to call it butter. The day before you want to use it, remove from the freezer and leave at room temperature until you can stick a skewer into it with ease. Then tip it into a mixer and beat hard to restore its smooth texture. Then simply transfer it to the dish you plan to serve it in and pop into the fridge.
How to store Homemade Brandy Butter?
I have stored this sauce perfectly in Tupperware cup containers with a good quality sealed lid. I know that this brandy butter will last for up to 3 weeks if kept in the fridge. The alcohol helps to preserve the sauce in this case. I've been known to still be eating left over mince pies or heated up Christmas cake with my brandy butter at the end of January!
What other sauces do you serve with Christmas pudding?
Why not go all out and have a choice of sauces, butters and cream to serve with your Christmas Puddings or mince pies? How about trying my Simple Homemade Brandy Sauce recipe made dairy free and vegan or Vegan Clotted Cream recipes.
What can I serve my Homemade Brandy Butter with?
The possibilities are endless. But, to whet your whistle, and get those taste buds working here are a few of my festive recipes you might consider bathing in brandy butter.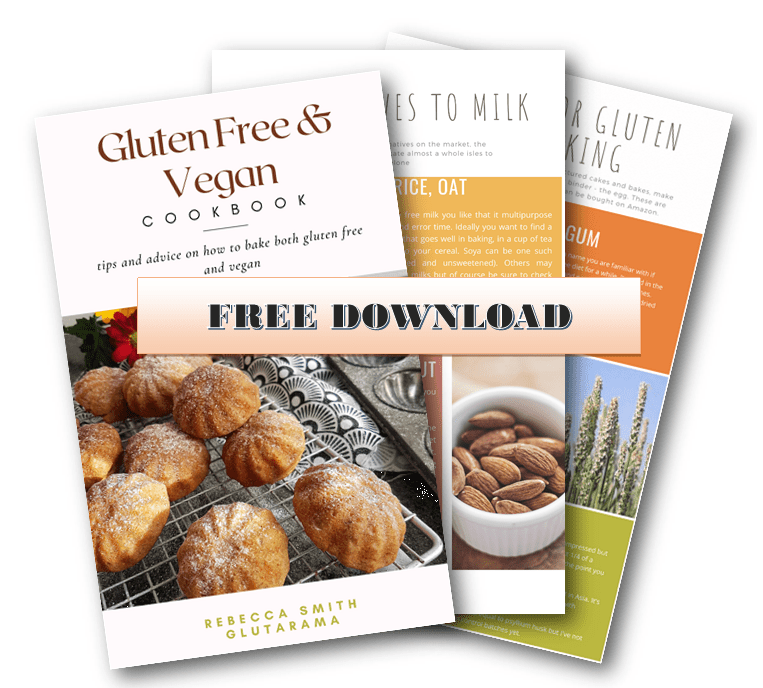 Never miss out again…
Sign up to my weekly Friday newsletter and not only get a FREE e-Book (currently my Gluten Free & Vegan Cookbook) but also get VIP subscriber discounts on free from goodies delivered to your door. Join me in my journey and learn to make anything gluten free.
Luxury Dairy Free Brandy Butter Recipe
If you make it and like the recipe I would be eternally grateful if you popped back and commented leaving a star rating as this will tell search engines that this recipe is worth checking out and others will get to find it in searches.
Luxury Dairy Free Brandy Butter
A simple vegan Brandy Butter just like store bought butter, keeps for up to 1 month and works as the perfect accompaniment to Christmas pudding, mince pies and other festive desserts and treats.
Ingredients
70

g

butter

I use Flora vegan butter

100

g

caster sugar

blended for 15 seconds

½

tbsp

cornflour/cornstarch

½

tbsp

Bird's original custard powder

2

tbsp

brandy
Instructions
For a less grainy butter simply pour 100g caster sugar into a blender and blend on full power for 15 seconds

In a cake mixer add the butter and caster sugar and beat together until light and creamy.

Add the brandy, cornflour and custard powder and repeat mixing on full power until fully combined.

Spoon brandy butter into a serving dish or a Tupperware container with a good quality sealed lid (to prevent fridge smells from getting into the butter)

Butter will keep for 1 month in the fridge.

If you don't have or want to use Birds Custard Powder, simply add 1tbsp cornflour but this will not give the butter its lovely golden yellow colour finish.
Notes
You can use granulated sugar and blend for 30 seconds to break down the grains.
Nutrition
Nutrition Facts
Luxury Dairy Free Brandy Butter
Amount per Serving
% Daily Value*
* Percent Daily Values are based on a 2000 calorie diet.
Have you tried this recipe?
Let me know how it was & I will be super grateful. Take a picture & tag me @glutarama on your social media posts – I love seeing your photos more than you will ever know x
I love to see your own photos of my bakes, dinners and treats head to your favourite social media account and don't forget to tag me in @glutarama
Subscribe to my email list so that you get NEW recipes straight in your mailbox every Friday PLUS a FREEBIE and access to some amazing gluten free DISCOUNTS
Don't lose this delicious Homemade Brandy Butter recipe – pin it for later.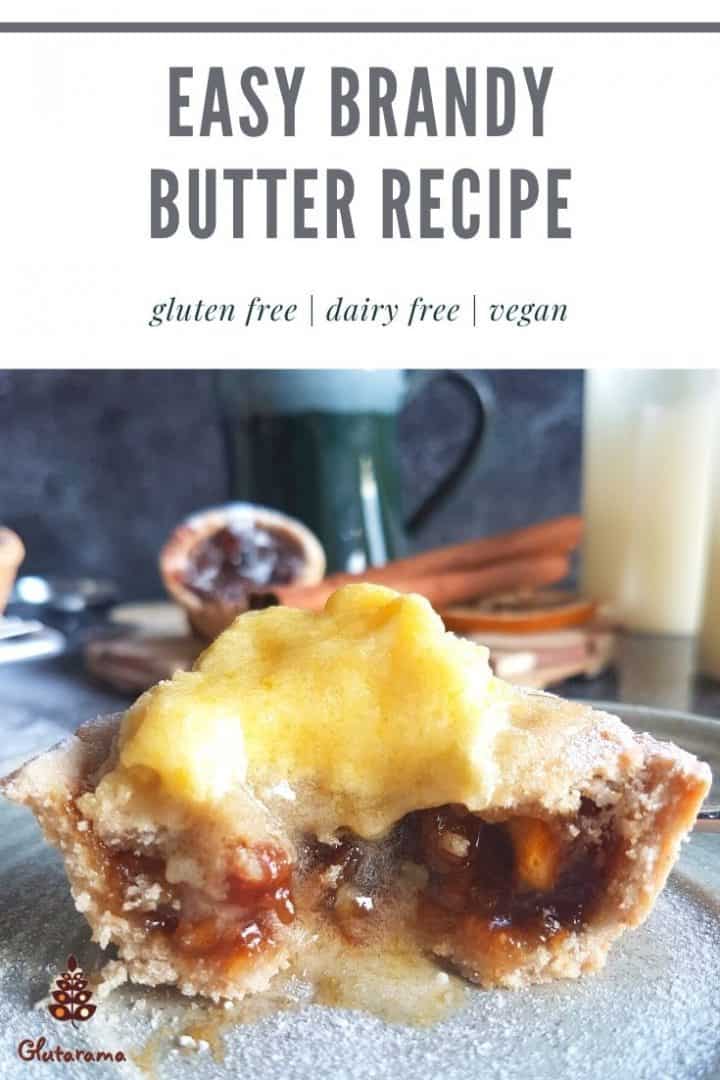 And one last thing! I've linked my Homemade Brandy Butter with these other awesome Foodies websites, go check them out
*disclaimer: I use affiliate codes on my website, the vast majority are to Amazon. If you click on any of the links or images in the post and make a purchase my family will benefit from a small % of that purchase at no extra cost to you, in fact, for full transparency, in 2020 I made my first £25, and recently in 2022 I reached my next £25 (Amazon don't transfer the money until you reach £25). As you can see, it won't make me a millionaire but it will treat me to a few coffees, Lord knows I need the caffeine!