This page contain affiliate links. Please refer to my Disclosures Page for more details.
Also, before you hit 'Jump to Recipe' just check my contents section 'Skip to the Good Bit' below. I may answer a query you have about this recipe straight away in the post.
This Mincemeat and Apple Eve's Pudding recipe is one of those great light bulb moments when you realise you can use up leftover mincemeat following the holiday season. Not only that, but you've got yourself a quick and simple pudding recipe that you can come back to time and time again.
I'd already added The Best Eve's Pudding made gluten free with vegan option to my catalogue of gluten free recipes. Therefore, I knew this would be a simple tweak to add the leftover mincemeat I had from Christmas.
The addition of the mincemeat, with its warm spices is the perfect match for a baked apple pudding. Adding the mincemeat lifts the Eve's Pudding to another level and does feel rather special so an excellent choice for a winters dinner party with friends and family.
Never miss out again…
Sign up to my Friday newsletter and receive not one, but THREE FREEBIES.
GF and Vegan e-Book
conversion charts
3 simple guides to allergies, intolerances & autoimmune.
Join me and learn to make anything gluten free.
Can I make this recipe dairy free?
Psst. It is dairy free, I use dairy free butter and a milk alternative in this recipe.
Want to make it dairy full? No problem, just add your normal butter and cows milk like-for-like.
Can I make this Mincemeat and Apple Eve's Pudding egg free?
I have another surprise, this Mincemeat and Apple Eve's Pudding is also egg free – surprise!
Want to make it with egg? Simply add one beaten egg to the creamed butter and caster sugar before adding the flour and milk. As you've used an egg you are likely to need less liquid. Pour the milk in 50ml at a time. As eggs are approx. 50ml in volume you may find you only need 100ml of milk to reach the desired consistency for your Eve's pudding cake batter.
Ways to use up leftover mincemeat
There are many ways to use up leftover mincemeat. The joy is that mincemeat has a very long shelf life. So, if you over bought mincemeat to make your mince pies at Christmas then fear not. These recipes can be made all year round. As long as you don't mind your jar of mincemeat hanging about in the back of your cupboard until such a day.
The other joy of mincemeat is that is so versatile. You can almost make anything with the odd tablespoon or two of the sweetly spiced fruits and suet.
Here are a few ideas to get your started. And what better way to start than with my Festive Rice Pudding. I can not begin to tell you how awesome this is. So thick, creamy, spiced and positively indulgent. This will certainly warm the winter blues.
Dairy Free Festive Rice Pudding
A delicious twist on the traditional Rice Pudding recipe. This Festive Rice Pudding is made the sweet mincemeat, orange and topped with luxurious brandy soaked cranberries. It's all gluten free and made dairy free and vegan too so more people can enjoy this comfort food pudding.
Check out this recipe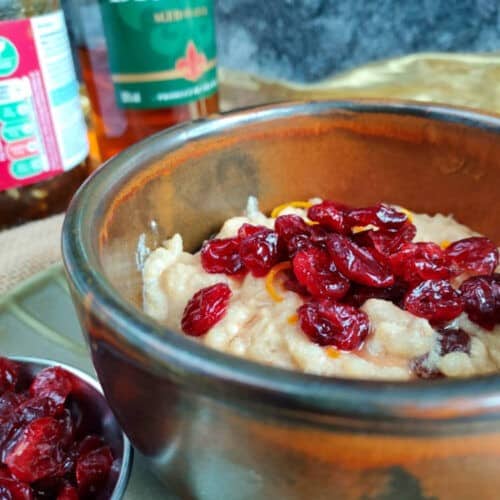 Tart Tatin is fun to make, impressive to present at the table and another way to use up leftover ingredients. If you fancy a giggle you can watch me make my Festive Tart Tatin live here at the Free From Festival Christmas Market.
Festive Gluten Free Tart Tatin
This quick and easy to make Festive Tart Tatin is a wonderful way to use up dried fruits, marzipan and mincemeat. At the end you get a delicious tart in no time at all with gluten free ingredients plus no egg or dairy.
Check out this recipe
I bet you've been in the situation where you've got leftover marzipan too right? This is not the case with me. I will gladly sit and eat a ball of unused marzipan with a cup of tea. Oh the shame! That said, if you're not a piggy like me, then where's the rule to say you can't just make more mince pies? That's right my friend, there is no rule! So why not make these Stollen Mince Pies and then bingo, you've used up both leftover ingredients.
Luxury Gluten Free Stollen Mince Pies
A deliciously cheeky fusion of two wonderful traditional Christmas recipes, the humble mince pie and heart-warming Stollen combine to make these Stollen Mince Pies, let's start a new tradition! These are also gluten free, dairy free and vegan too so everyone can enjoy them.
Check out this recipe
Other recipes that work perfectly with mincemeat
Never miss out again…
Sign up to my Friday newsletter and receive not one, but THREE FREEBIES.
GF and Vegan e-Book
conversion charts
3 simple guides to allergies, intolerances & autoimmune.
Join me and learn to make anything gluten free.
Gluten Free sponge pudding inspiration
If you are new to baking gluten free and vegan you're going to find this post really useful Ingredients and Simple Recipes for a Gluten Free Veganuary, the post is aimed at Veganuary but the same tips and advice apply all year round.
Mincemeat and Apple Eve's Pudding Recipe
If you make it and like the recipe I would be eternally grateful if you popped back and commented leaving a star rating as this will tell search engines that this recipe is worth checking out and others will get to find it in searches.
Gluten Free Mincemeat and Apple Eve's Pudding
How to take a delicious traditional bake and add an extra ingredient to blow your mind! Made gluten free with dairy free and egg free instructions. This Mincemeat and Apple Eve's Pudding is super indulgent and makes for an excellent pudding for family and friends. Delicious served hot with custard or lashing of cream.
Ingredients
For the mincemeat and apple base
300

g

apple(s) peeled and cored

can be baking or eating apples

200

g

mincemeat

or use whatever you have left in the jar (within reason!)
For the sponge topping
100

g

caster sugar

100

g

butter

I use Flora Plant Butter

150

ml

milk

I use soya milk

150

g

gluten free self raising flour

1

tsp

vanilla extract

1

tbsp

ground flaxseed

1

tsp

psyllium husk powder (optional)

optional but does add structure to vegan bakes
Instructions
To make the apple base
Take the peeled, cored chopped apples and either steam them in the microwave with a tablespoon of water or gently heat on the hob with a tablespoon of water. You want your apple chunks to be just softened.

Add the mincemeat, give it a good stir and set aside to cool slightly while you get on with the sponge batter.
To make the sponge batter
In a large bowl cream together the caster sugar and 'butter' until lighter in colour.

Measure the flour and add to it the flaxseed and psyllium husk.

Beat the dry ingredients into the butter and sugar.

Add the milk and beat again into a soft dropping sponge batter
To build the Eves Pudding
It's best to do this gradually, otherwise you'll end up pushing all the fruit to the side. Using two dessert spoons scoop and scrape spoonfuls of cake batter over the softened fruit as if you're adding dumplings to a casserole!

Once you've spooned all the batter into the pudding dish use one of the spoons to smooth the batter to cover the fruit.

Sprinkle the top of the sponge batter with a little caster sugar and pop into the preheated oven set at 200°C | 180°C fan | 400°F | Gas 6 for 20mins. The pudding is ready when the sponge is just turning golden and the sponge has a bounce to the touch.
Nutrition
Nutrition Facts
Gluten Free Mincemeat and Apple Eve's Pudding
Amount per Serving
% Daily Value*
* Percent Daily Values are based on a 2000 calorie diet.
Have you tried this recipe?
Let me know how it was & I will be super grateful. Take a picture & tag me @glutarama on your social media posts – I love seeing your photos more than you will ever know x
I love to see your own photos of my bakes, dinners and treats head to your favourite social media account and don't forget to tag me in @glutarama
Subscribe to my email list so that you get NEW recipes straight in your mailbox every Friday PLUS a FREEBIE and access to some amazing gluten free DISCOUNTS
---
*disclaimer: I use affiliate codes on my website, the vast majority are to Amazon. If you click on any of the links or images in the post and make a purchase my family will benefit from a small % of that purchase at no extra cost to you.

For full transparency, in 2020 I made my first £25, and in 2022 I reached my next £25 (Amazon don't transfer the money until you reach £25). Recently I got paid a whopping £27.10 for 2023.

So to date I have made £78.58 since I first started the scheme in 2017. It won't pay the bills, that's for sure but it does help to pay for ingredients or little treats to cheer me up!