This page contain affiliate links. Please refer to my Disclosures Page for more details.
This Dairy Free Black Forest Pavlova began it's life as a Breton Gateau. Let me rewind and unpick that statement for you!
I made my Gluten Free Breton Gateau with Apricot Filling after years of wanting to make such a bake, but never knowing what to do with the remaining egg whites, I'd put it off. You can see where I'm going with this now can't you.
I did some research and found a pavlova using 6, that's SIX egg whites because I needed the egg yolks for the gateau. That's when I came across Nigella's Chocolate Pavlova recipe and knew I could adapt it, with a few Rebecca-style tweaks, to be dairy free as well as naturally gluten free.
And so dear reader, my Dairy Free Black Forest Pavlova recipe was born.
How can I make a dairy free pavlova?
To make the pavlova part of this recipe dairy free is simple. It is already dairy free and, as mentioned above, naturally gluten free as it has neither dairy or gluten containing ingredents.
If you're sitting there thinking that eggs are dairy, go to the back of the class and turn round to face the wall until I say so! While you are there check out this post by Kat from Loopy Whisk Are Eggs Dairy?
The dairy elements of this Black Forest Pavlova are the chocolate cream layer and the final whipped cream layer. These can easily be achieved by using a plant-based cream. I used Heavenly sweetened on this occasion but for more information on what are the best dairy free creams to use check out the next section below.
What are the best vegan creams to use in this recipe?
Dairy Free / Vegan Creams
I get asked 'what is the best dairy free cream to use' a lot, so I've added some advice here.
Baked recipes
If using cream alternatives in baked recipes the type of cream matters less but care needs to be taken when cooking it as dairy free cream can still split like dairy cream. Therefore you are free to use any of the following brands; Elmlea (single or double), Alpro (single), Food Heaven – Heavenly (Sweetened or Unsweetened), Coconut Cream (any % or coconut extract)
No Bake recipes
Usually in a no bake recipe the cream you add is part of the building block to add structure. For example whipped cream in a Victoria Sponge Gateau. For this reason you need to use a dairy free cream that has the highest fat content so a double cream (Elmlea produce double plant cream) or a Coconut Cream that has 60+ of coconut extract. However, Heavenly also behaves well when whipped.
Ice Creams
I have made my ice creams with all the dairy free creams mentioned above, single, double, high fat, low fat and all work because I always add a little dairy free butter to stabilise the structure so you can use all types of plant/soya/coconut dairy free creams.
How do you make a soft Pavlova?
The trick to making a pavlova that's soft with a marshmallow style centre is to use vinegar. Why does vinegar make a difference? I'm not 100% sure, and much Googling didn't really answer the question sufficiently, except reinforce the fact that without it you have a firmer meringue. With vinegar you have pillow soft centres. I've purposely not said chewy pavlova because you're not looking to create a chewiness, marshmallow much better describes the perfect results.
You'll also find many pavlova recipes call for cream of tartar or cornflour (cornstarch) but in the case of this recipe it's not necessary. The responsibility of the cream of tartar or cornflour is to stabilise the meringue and prevent it seeping. As this pavlova has melted dark chocolate in it the fat helps to bind.
Normally you'd see a white wine vinegar being added to a pavlova but in this case Nigella used balsamic. I think the flavour perfectly matches the deep rich flavour of the chocolate enhancing it further.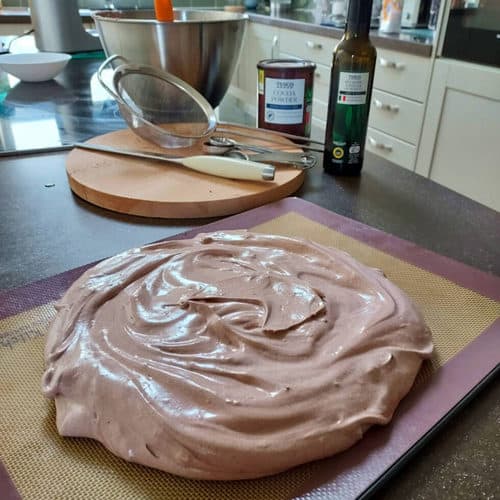 Is Balsamic Vinegar Gluten Free?
Balsamic vinegar is naturally gluten free due to the fact it's made from fermented grapes. It's essentially a reduction of grape juice into a syrup that's then fermented and aged not unlike a fine wine.
The topic of vinegars as a whole can be a confusing one and Coeliac UK have changed their take on listing vinegars in their guide that don't actually test to be gluten free. Barley Malt Vinegar is technically gluten free due to the processes it goes through but CUK have understandably said that the only way to be sure, is for producers to test for ppm (parts per million), and without this seal of approval these vinegars no longer appear in the annual Food & Drink Guide. For more info check out their article here Barley malt vinegar and barley malt extract – suitable for a gluten free diet?
But back to the topic in hand, BALSAMIC VINEGAR is safe for Coeliac diets.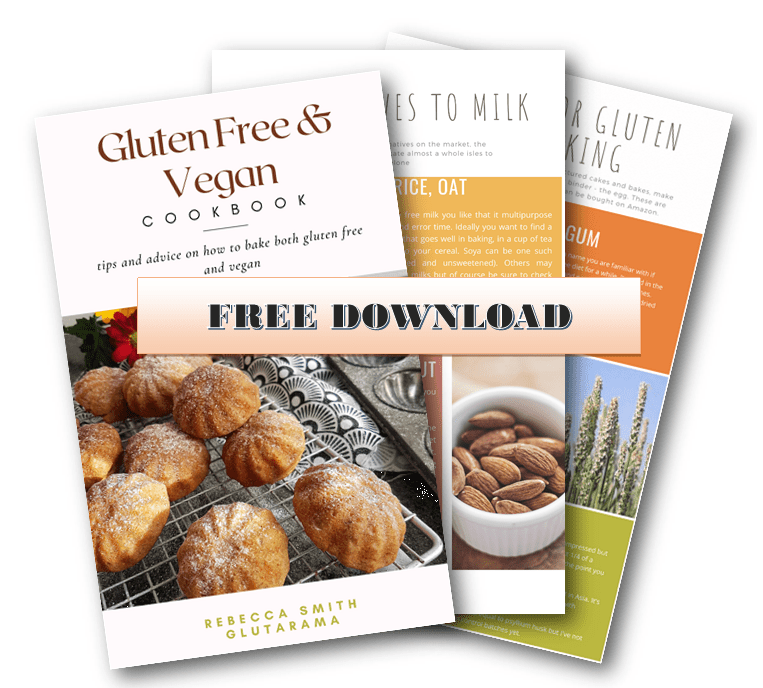 Never miss out again…
Sign up to my weekly Friday newsletter and not only get a FREE e-Book (currently my Gluten Free & Vegan Cookbook) but also get VIP subscriber discounts on free from goodies. Join me and learn to make anything gluten free.
Can I use fresh cherries in this black forest pavlova recipe?
I'll be honest, I'd not recommend it. Here's why; to achieve the Black Forest flavours you really need a rich cherry pie filling with lots of delicious sauce. You also need that pow of colour and with fresh cherries, once you've stewed them they lose their colour.
Another issue to consider, is that cherries are seasonal and rather expensive whilst a tin or can of cherry pie filling is about £1 and can be found in store all year round.
Of course you could still use a few fresh cherries to decorate, it's up to you, just remember to de-stone them first or else you'll be paying people's dentist bills.
What other flavour fruits can I use on my pavlova?
Moving away from cherries would take away the Black Forest element but there's nothing to stop you from using other tinned fruits, how about strawberries or rhubarb or even mandarin segments for a chocolate orange flavour sensation.
Please do experiment and have fun swapping out fruits for one another. I'd love to see what you come up with so remember to come back and let me know and tag me in any posts you share on social media.
Can I add alcohol to this Black Forest Dessert?
If you would like to take this Black Forest Pavlova dessert to the next level then you could add some cherry liqueur (liquor) to the chocolate cream layer.
I recommend adding it to that layer because the chocolate cream will take a slug or two of Kirsh or Cherry Brandy and keep its structure, whilst adding it to other elements of the dessert may make them too wet to work with. It also means you get a delicious alcoholic punch to the centre of the dessert which will seep into the soft rich chocolate meringue.
What can I make with leftover egg yolks?
I kind of gave the game away here in the first 20 seconds of reading this recipe post. My Gluten Free Breton Gateau with Apricot Filling is the obvious option given the fact that you have the exact amount of egg yolks required for the recipe. It's worth pointing out that this recipe is not dairy free, but I do give advice on how to make it dairy free. Obviously it's gluten free!
Other options would be any of my bread pudding recipes whereby you could add just the yolks to the custard. The pudding will still work, you will just get a richer more golden coloured end bake.
Traditional Gluten Free Bread Pudding
Traditional Gluten Free Bread and Butter Pudding
Easy Gluten Free Chocolate Orange Bread and Butter Pudding
How do I keep this Chocolate Pavlova until ready to serve?
The dessert can be eaten immediately, however, if preparing for an occasion in advance this will keep in the fridge for 1-2 days. The chocolate meringue may bleed a little. This is where the sugars liquify and you end up with a gooey sweet syrup. In the case of this pavlova seepage is minimal and frankly any sweet goo you do get is delicious anyway!
Other Dairy Free Desserts you will want to try
Dairy Free Black Forest Pavlova Recipe
If you make it and like the recipe I would be eternally grateful if you popped back and commented leaving a star rating as this will tell search engines that this recipe is worth checking out and others will get to find it in searches.
Dairy Free Black Forest Gateau Pavlova
This Black Forest Gateau Pavlova is dairy free and naturally gluten free too, using a rich chocolate pavlova base, topped with chocolate cream, then black cherries and whipped cream your are sure to impress any family or guests.
Ingredients
For the chocolate pavlova
6

egg white(s)

300

g

caster sugar

3

tbsp

cocoa powder

1

tsp

balsamic vinegar

50

g

dark chocolate

check for may contain milk
For the chocolate cream layer
150

ml

cream

dairy free

100

g

dark chocolate

chopped and melted

2

tbsp

cherry brandy or liqueur

(optional)
For the whipped cream layer
150

ml

cream

dairy free

3

tbsp

icing/confectioners sugar

confectioners sugar
To decorate
410

g

red cherry pie filling

I use Princes tinned pie fillings

50

g

dark chocolate

grated
Instructions
To make the chocolate pavlova
Preheat the oven to 180°C | 160°C fan | Gas 4 | 350ºF

In a large bowl using an electric whisk (or a mixer) whip the egg whites until stiff.

Next add the caster sugar one large spoonful at a time whilst whisking until all the sugar has been added. You'll notice the egg whites become glossy.

Now sieve over the cocoa powder, add the spoon of vinegar and whisk one last time.

Finally add the finely chopped dark chocolate and using a silicone spatula gently fold the chocolate pieces in until fully incorported into the meringue.

Ideally, using a silicone baking mat on a large sturdy baking sheet, start to scoop the chocolate meringue out of the bowl into the centre of the tray.

Use the silicone spatula to smooth the meringue to the edges of the baking sheet into a large round pavlova shape. Don't worry about creating the perfect round meringue here, its going to be big, fat and delicious!

Pop into the oven and immediately turn the temperature down to 150°C | 130°C fan | Gas 2 | 300ºF. Cook for 1 hour 15 minutes.

Once cooked, turn the oven off and wedge the door open (I use my oven gloves to do this). Now you just wait for the oven to cool completely with the chocolate pavlova inside.
To make the chocolate cream
Melt the dark chocolate (I use a microwave on short bursts so I don't burn the chocolate. you could use the bowl over water method).

In a clean bowl whip the dairy free cream until thick and then pour in the melted chocolate and cherry liqueur (if using). Now whip again until combined.

Dollop the chocolate cream onto the cooled pavlova and gently smooth to the edges with a silicone spatula
Cherry pie layer
This bit is easy. Simply spoon the cherry pie filling over the chocolate cream and tease to the edges. Leave some pif illing over to decorate the top of the Black Forest Gateau Pavlova.
Whipped cream later
In a clean bowl (lots of bowls or keep cleaning the same one!) whip the dairy free cream and icing sugar until thick. Spoon the whipped cream over the pavlova and tease to the edges but don't feel you have to hide all the previous layers, its looks lovely if you can see them poking through.
To decorate
Finally, drizzle the remaining cherry pie filling over the pavlova and top with grated dark chocolate.

Serve immediately or pop into the fridge to chill.
Nutrition
Nutrition Facts
Dairy Free Black Forest Gateau Pavlova
Amount per Serving
% Daily Value*
* Percent Daily Values are based on a 2000 calorie diet.
Have you tried this recipe?
Let me know how it was & I will be super grateful. Take a picture & tag me @glutarama on your social media posts – I love seeing your photos more than you will ever know x
I love to see your own photos of my bakes, dinners and treats head to your favourite social media account and don't forget to tag me in @glutarama
Subscribe to my email list so that you get NEW recipes straight in your mailbox every Friday PLUS a FREEBIE and access to some amazing gluten free DISCOUNTS
*disclaimer: I use affiliate codes on my website, the vast majority are to Amazon. If you click on any of the links or images in the post and make a purchase my family will benefit from a small % of that purchase at no extra cost to you.

For full transparency, in 2020 I made my first £25, and in 2022 I reached my next £25 (Amazon don't transfer the money until you reach £25). I'm now up to £17.80 for 2023 so edging closer to the magical £25 mark!!

To date I have made £69.28 since I first started the scheme in 2017. It won't pay the bills, that's for sure but it does help to pay for ingredients or little treats to cheer me up!
Join my friendly Facebook Group
life's a drama, gluten free doesn't have to be….