This post may contain affiliate codes, none of which will cost you a penny extra but may send a penny or two my way*
This Gluten Free Double Chocolate Cheesecake was made for a family BBQ, I rarely do chocolate baking or puddings, I'm more of a carrot/fruit cake person myself. For example my Vegan Carrot and Pineapple Cake made gluten free or this Simple Apple and Blueberry Bake made gluten and dairy free.
However, these types of recipes always impress making them ideal for celebrations and gatherings. Having made this with white and milk chocolate (I had the kiddies in mind) I'm interested to do this again but with more adult flavours. I'm thinking 80% chocolate and an intense orange chocolate, or maybe even chilli chocolate? Let me know if you experiment and how it goes, I'd love to see pictures, you can post them to the Glutarama Facebook page or join my Facebook Group Gluten Free for Life by Glutarama.
Can I make this Chocolate Cheesecake dairy free?
I'll let you into a little secret. The Double Chocolate Cheesecake in the photo's IS the dairy free version. I know, I know, I'm pretty darn awesome (momentary smugness overload). I use lots of different creams to make my dairy free cheesecakes recipes and I've created a little guide here to tell you which ones and what they're good for. The cream cheese is also dairy free and I tend to go for supermarket own brands.
Can I make this Chocolate Cheesecake vegan?
Ready for surprise number two, that's right, this is vegan as well – at least the one pictured is. How? Well I simply make sure I use gluten free biscuits for the biscuit base that also happen to be egg free too. The rest of the cheesecake topping is easily made vegan as all you need is dairy free/vegan chocolate and the same again for the cream and cream cheese.
WHAT IS THE BEST DAIRY FREE CREAM?
Getting vegan bakes and desserts right takes time. You need to ensure that where dairy fat is removed, you replace it with something similar. Likewise, eggs are like the mortar of baking. Without these important building blocks you find that cakes are either solid or crumble. Desserts are too soft and unstable and generally success in the kitchen is a game of chance.
Here's where I step in, I've done all the hard work, failed all the many fails so that you don't have to. If you ever have any questions regarding gluten free, dairy free and vegan baking please do not hesitate to ask in the comment below or email me direct [email protected]
If you're keen to find out more, head over to my post Ingredients and Simple Recipes for a Gluten Free Veganuary even if it's not Veganuary when you read this, the post is packed with tips and tricks to help you to understand the ingredients I use in my baking and more importantly why. Once you understand what each element does, you'll be far more confident to head off and make your own new baking discoveries
Dairy Free / Vegan Creams
I get asked 'what is the best dairy free cream to use' a lot, so I've added some advice here.
Baked recipes
If using cream alternatives in baked recipes the type of cream matters less but care needs to be taken when cooking it as dairy free cream can still split like dairy cream. Therefore you are free to use any of the following brands; Elmlea (single or double), Alpro (single), Food Heaven – Heavenly (Sweetened or Unsweetened)*, Coconut Cream (any % or coconut extract)
No Bake recipes
Usually in a no bake recipe the cream you add is part of the building block to add structure. For example whipped cream in a Victoria Sponge Gateau. For this reason you need to use a dairy free cream that has the highest fat content so a double cream (Elmlea produce double plant cream) or a Coconut Cream that has 60+ of coconut extract. However, Heavenly also behaves well when whipped.
Ice Creams
I have made my ice creams with all the dairy free creams mentioned above, single, double, high fat, low fat and all work because I always add a little dairy free butter to stabilise the structure so you can use all types of plant/soya/coconut dairy free creams.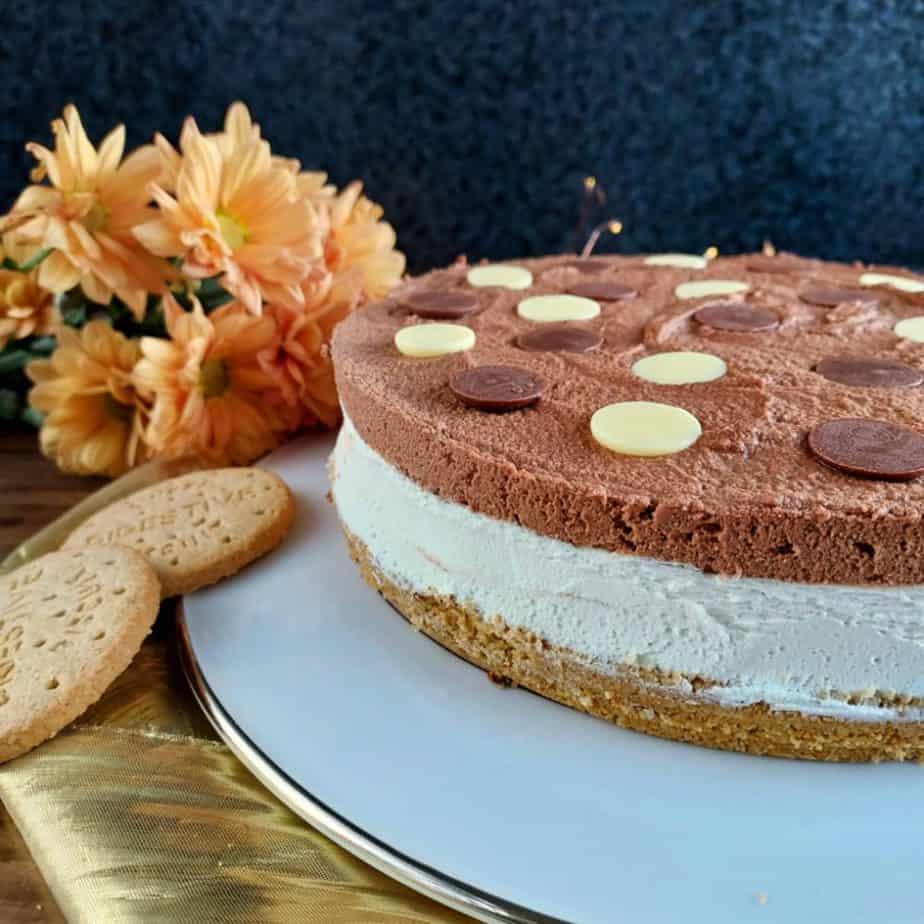 What chocolate should I use for this Double Chocolate Cheesecake?
In the introduction I mention that this is a child-friendly flavour as I use white and milk chocolate to flavour the Double Chocolate Cheesecake layers. However, as stated above, I believe this to be a very versatile cheesecake when it comes to the chocolate flavours you use. I used chocolate drops/buttons as these melt quickly and evenly in the microwave.
TOP TIP: only melt in the microwave in short blasts of 10 seconds at a time. Dairy free chocolate in particular has a tendency to burn easily.
Other chocolate flavours you may wish to try (depending on if you are dairy free or not) are;
orange chocolate
chilli chocolate
salted chocolate
dark 70%+ chocolate
ginger chocolate
What you CAN'T use is chocolate that has a fondant or caramel filling, it will argue with the cream and cream cheese.
What is the perfect biscuit for a cheesecake biscuit base?
This is a good question and the answer really depends on the end flavour result your aiming for. I also go for the good old fashioned digestive biscuit. The gluten free versions are often milk and egg free too (be mindful many have GF oats in them, I know many can't tolerate oat, even gluten free ones).
This said, I have used chocolate chip cookies in the past to add another chocolate dimension. Other options are;
ginger biscuits (would go great with a ginger flavour chocolate
gluten free oreo-style cookies
shortbread (makes a much richer base like millionaire shortbread)
lemon biscuits
Never miss out again…
Sign up to my weekly Friday newsletter and not only get a FREE e-Book (currently my Gluten Free & Vegan Cookbook) but also get VIP subscriber discounts on free from goodies delivered to your door. Join me in my journey and learn to make anything gluten free.
Other No Bake Gluten Free Cheesecake Recipes
If you like this cheesecake then you will love these recipes too
I'm guessing you're a fan of puddings and desserts right? Well dear reader, you are in for a treat because I have lots and lots of gluten and many dairy free dessert recipes too. How about this popular Self Saucing Chocolate Pudding and then there's my Divine Gluten Free Salted Chocolate Tart. If you like that then you'll be sure to want to check out my Chocolate Goo Puddings | gluten free and a vegan version too.
Gluten Free Double Chocolate Layer Cheesecake
If you try and like the recipe I would be eternally grateful if you popped back and commented leaving a star rating as this will tell search engines that this recipe is worth checking out and others will get to find it in searches.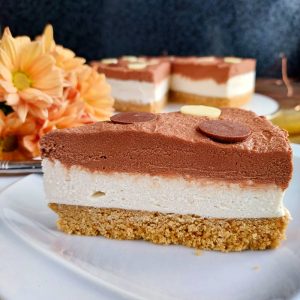 Double Chocolate Layer Cheesecake
A deliciously simple double chocolate layer cheesecake with white and milk chocolate layers, topped with triple chocolate chunks for that extra special touch. The perfect gluten free cheesecake for parties and special occasions.
Cuisine:
Free From – gluten and dairy, Gluten Free
Keyword:
Cheesecake, Chocolate, Dairy Free, Gluten Free, Pudding, simple easy, Vegan
Ingredients
Biscuit Base
300

g

gluten free digestives

this work out as approx. 2 packets

80

g

butter

melted, I used Flora plant butter
White Chocolate Layer
150

g

whipping cream

I used Heavenly sweetened cream on this occasion

200

g

cream cheese

I use a supermarket dairy free cream cheese

150

g

white chocolate

I use dairy free white buttons

4

tbsp

icing sugar

you may want more or less to taste
Milk Chocolate Layer
150

g

whipping cream

I used Heavenly sweetened cream on this occasion

200

g

cream cheese

I use a supermarket dairy free cream cheese

150

g

milk chocolate

I use dairy free milk chocolate buttons

4

tbsp

icing sugar

you may want more or less to taste
Instructions
Bash the cookies in a bowl or a food bag with a rolling pin until it resembles fine breadcrumbs

Add the butter that has been melted and mix to combine.

Tip the crumble mixture into a loose bottomed cake tin that has been lined with greaseproof paper.

Pop into the fridge for 30mins for the biscuit base to set.
to make the white chocolate layer
Melt the chocolate in the microwave or over a pan of simmering boiled water, remove for heat and allow to cool slightly.

Whip the cream to soft peaks

In another bowl cream together the cream cheese and sugar until light and fluffy.

Pour the melted chocolate into the cream cheese mixture and mix thoroughly to combine.

Finally, fold in the whipped cream.

Pour onto the biscuit base and tap cake tin on work surface to remove any air bubbles and pop into the fridge whilst you set to work on the second layer.
to make the milk chocolate layer
Repeat steps 1-6 but with the milk chocolate

decorate with your choice of chocolate chunks, swirls or sprinkles (or all of them!)

Return to the fridge for at least an hour but preferably 2-3 to allow cheesecake to set properly.
Nutrition Facts
Double Chocolate Layer Cheesecake
Amount Per Serving
Calories 624
Calories from Fat 432
% Daily Value*
Fat 48g74%
Cholesterol 128mg43%
Sodium 302mg13%
Potassium 166mg5%
Carbohydrates 46g15%
Protein 6g12%
Vitamin A 1183IU24%
Vitamin C 1mg1%
Calcium 94mg9%
Iron 1mg6%
* Percent Daily Values are based on a 2000 calorie diet.
I really love to read your comments and feedback and will always comment back. Do drop a line in the comment section if you liked this post I would love to hear your thoughts, if you share photos of your delicious creations, please do tag me or use the hashtag #Glutarama on Facebook, Twitter and Instagram.
Subscribe to my email list so that you get all my reviews and recipes straight in your mailbox PLUS a FREEBIE and access to some amazing gluten free DISCOUNTS
Don't lose this delicious recipe in the great world wide web – pin it!
Each week I link up to these awesome linkies by other wonderful bloggers and recipe developers
Cook Blog Share  | Fiesta Friday | Friday Favourites | Handmade Monday | Sundays on Silverado | Full Plate Thursday | Traffic Jam Weekend Linky | What's For Dinner?
*disclaimer: I use affiliate codes on my website, the vast majority are to Amazon. If you click on any of the links or images in the post and make a purchase my family will benefit from a small % of that purchase at no extra cost to you, in fact, for full transparency, in 2020 I made my first £25, and in 2021 I've clocked up £10 – so it won't make me a millionaire but it will treat me to a few coffees, Lord knows I need the caffeine!
Join my friendly Facebook Group
life's a drama, gluten free doesn't have to be….