This page contain affiliate links. Please refer to my Disclosures Page for more details.
Is it possible to say or read Spotted Dick without letting out a little giggle? I think not! In this post, I'm not only going to tell you how to make your very own Spotted Dick gluten free. I'm also going to give you the option to make it dairy free and egg free too.
But wait, this is me here, surely you know by now that I love to research into old classic British recipes? That's right, I'm also going to try to answer those burning questions of where did Spotted Dick originate, when was it first baked, what different ways has Spotted Dick been baked over the years and most important of all – How did Spotted Dick get its name.
It's a tall order but I think I'm up to the challenge.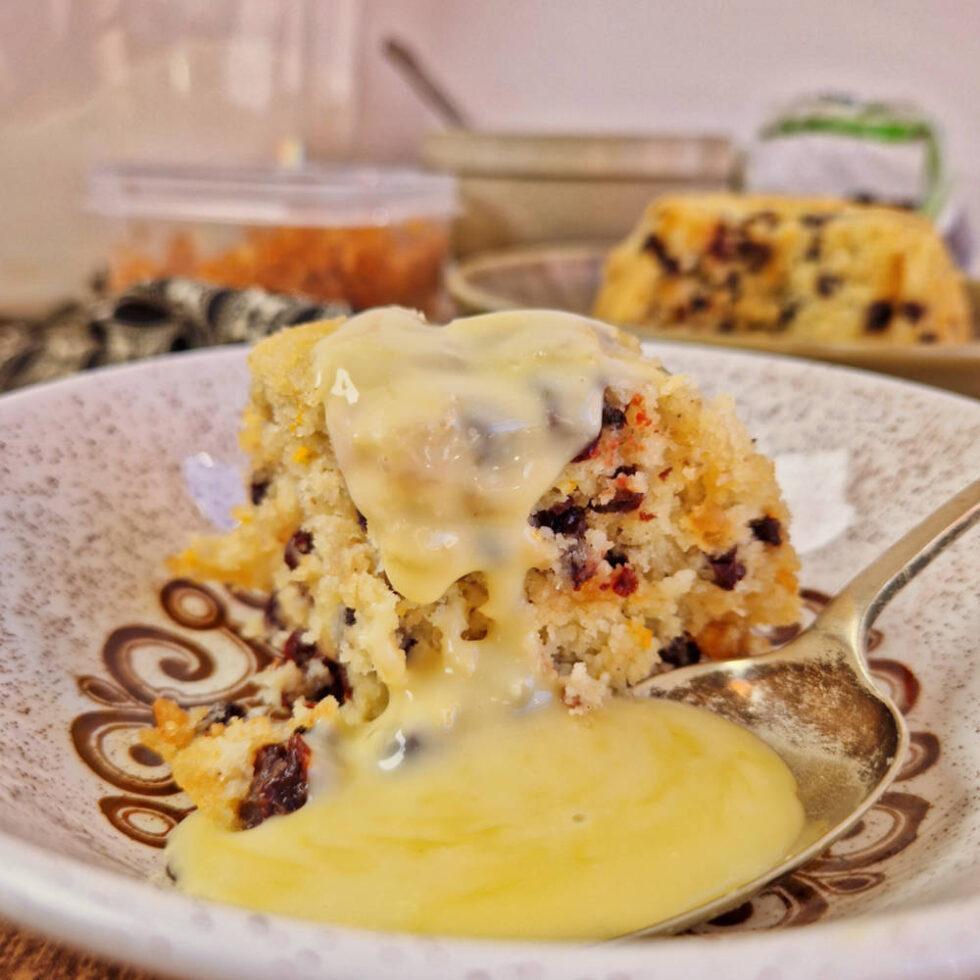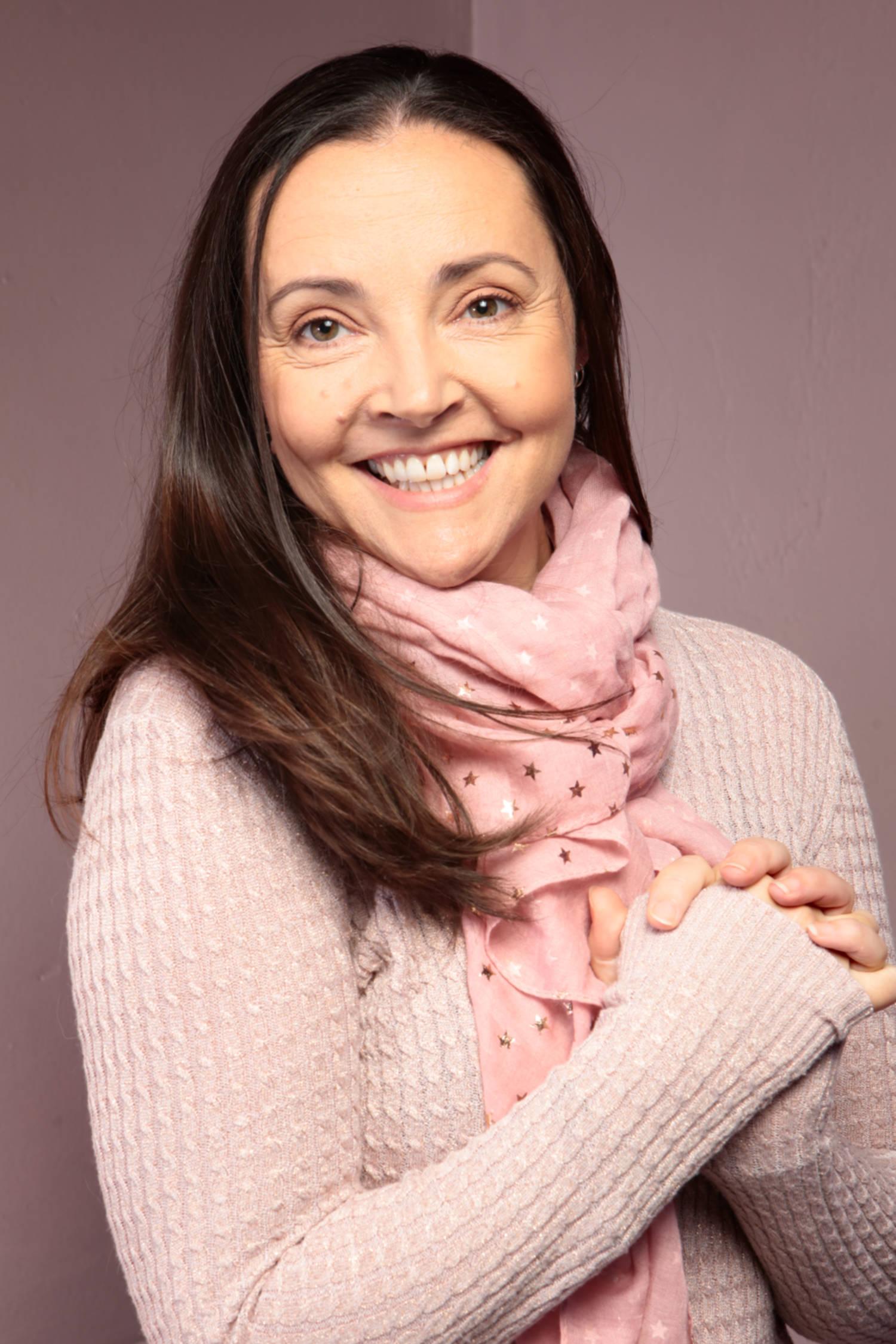 NEVER MISS A RECIPE!
Subscribe for the latest updates from Glutarama!
What is Spotted Dick?
Put simply, Spotted Dick is a dense sponge pudding spotted with dried fruit. It's not too sweet and the dense nature of the pudding is attributed to the suet and the fact there are no raising agents in it. Traditionally it is steamed and served with custard.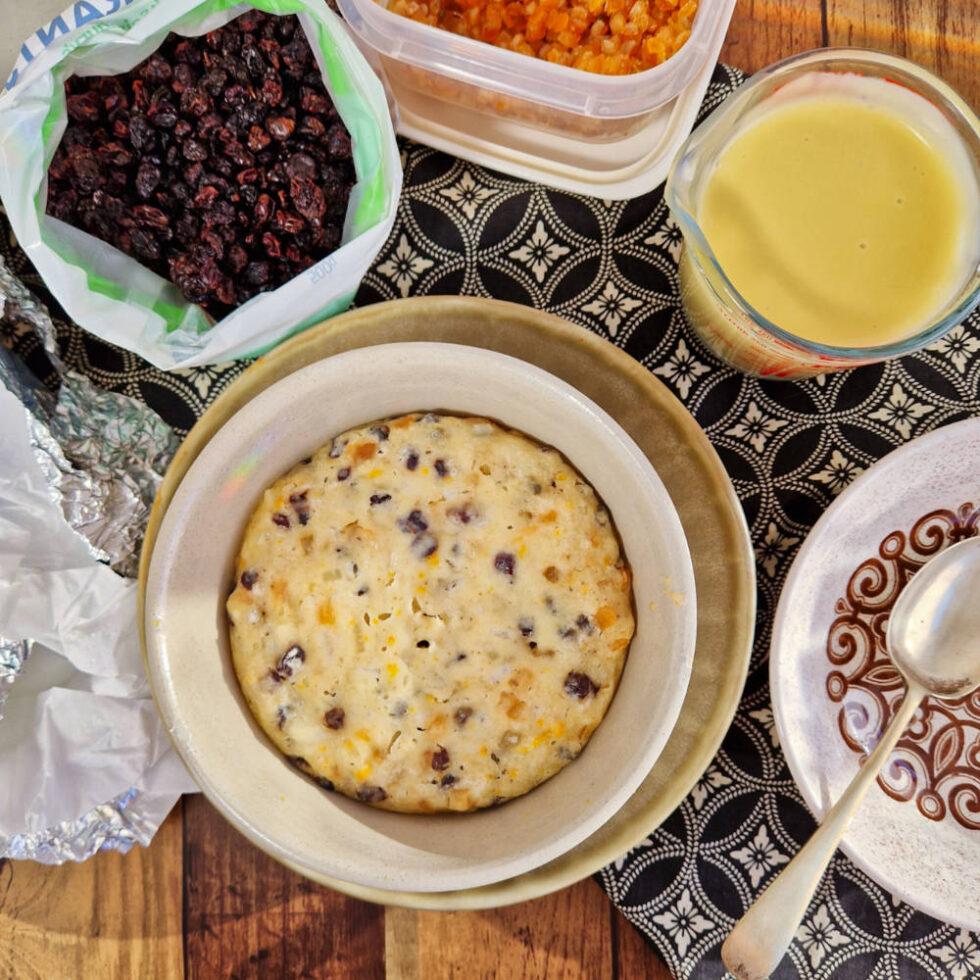 What is a pudding?
You'd think this was a straightforward answer right? The true meaning of pudding is something that has been boiled or steamed. Those are the two key factors.
My husband hates, I mean really, really hates me saying pudding, when I'm referring to a treacle tart for example or a rhubarb crumble.
The curveball here is that black pudding and steak and kidney pudding are also puddings, so for those not in the UK remember that pudding does not always mean a sweet dish here. You could end up with a surprise if you inadvertently order a Pease Pudding!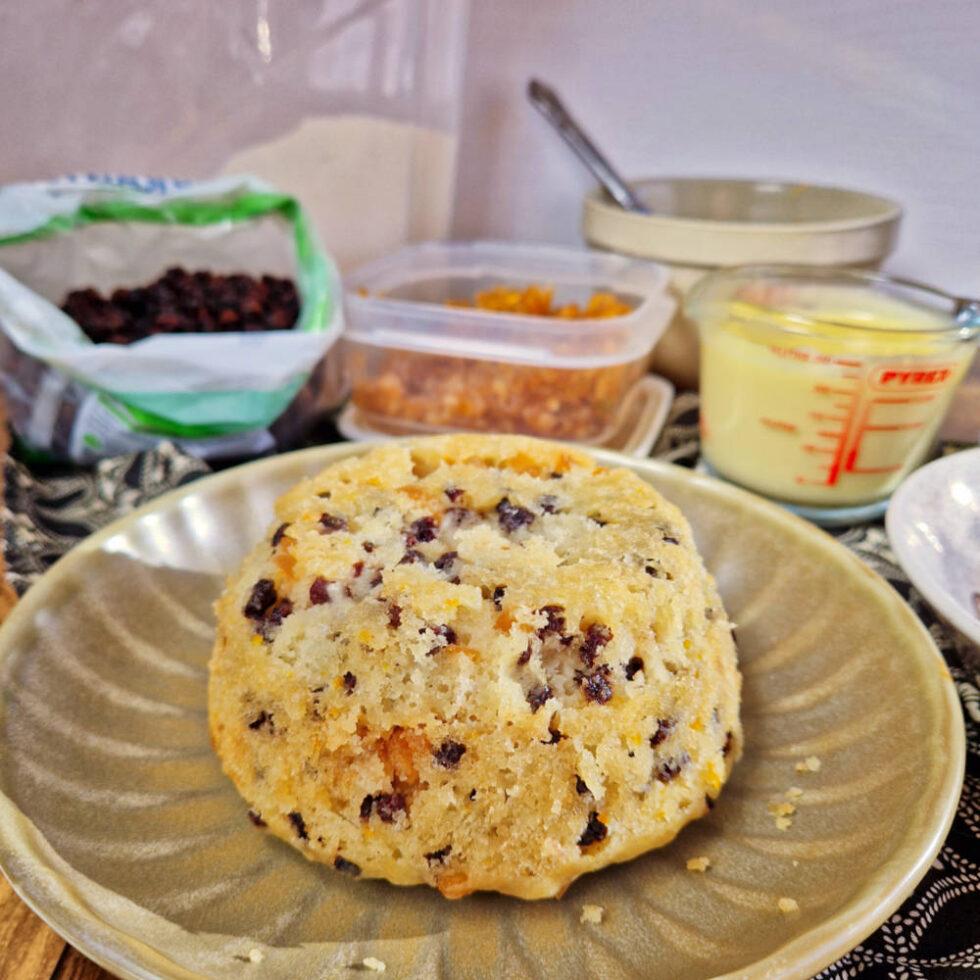 Where does Spotted Dick originate?
I love to refer to my trusty Mrs Beeton Book of Household Management. You have to have an eye and an ear for these old English Classics because the names can change slightly over the years. Her version of Spotted Dick in 1859 is called Boiled Raisin Pudding. The ingredients are the same but in this case the pudding is rolled or gathered in a cloth and boiled – rather like a Clootie Dumpling.
I have found reference to the pudding dating back to the same period within another Housewife Manual. Let's just dust over the whole patriarchy thing here, I'm a historian so I'm used to this now.
The pud is first mentioned in a book from the 1850s by the famous Chef Alexis Soyer called The Modern Housewife, or, Ménagère. He mentions Spotted Dick in passing when listing a typical week's meals during tougher times. This was Tuesday's dinner:

'Tuesday. – Broiled Beef and Bones, Vegetables, and Spotted Dick Pudding'

Spotted Dick – British Food History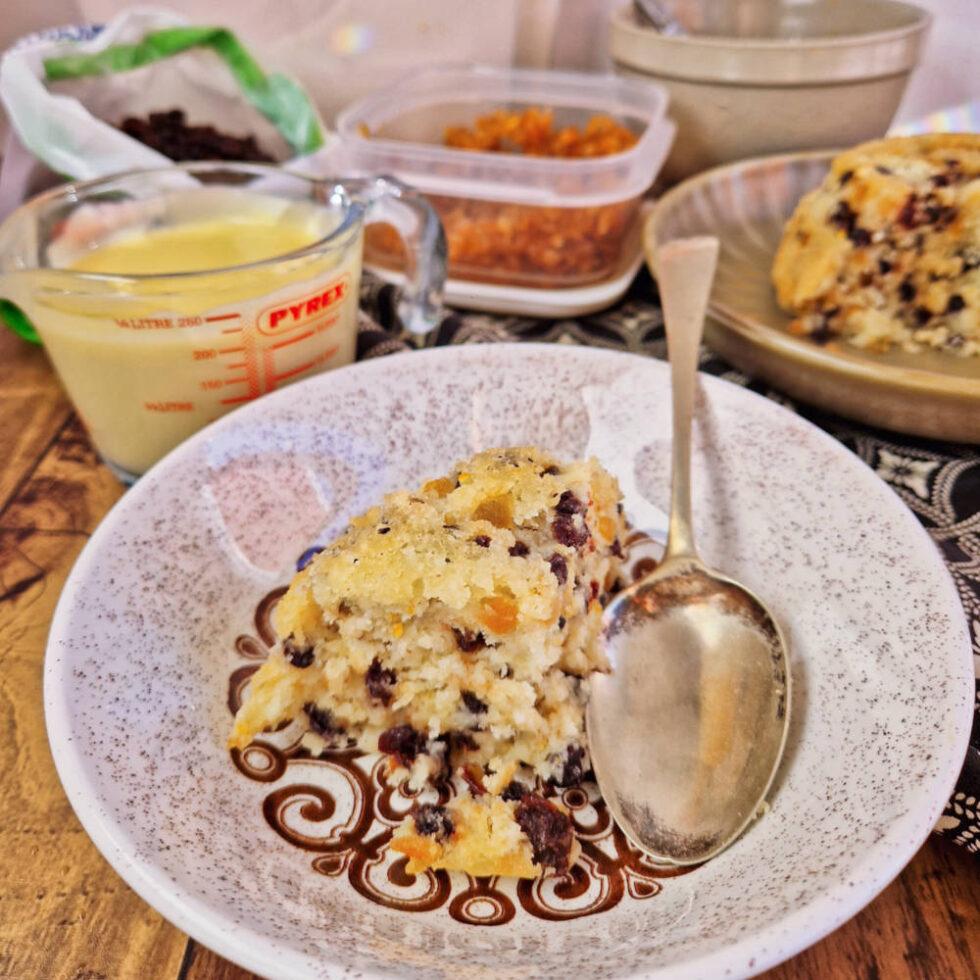 What ingredients are in a traditional Spotted Dick Pudding?
The general consensus for the ingredients that go into making a Spotted Dick, is as follows;
flour
raisins
suet
milk
salt
sugar (this varies from recipe to recipe)
orange or lemon rind (this too varies)
The image below is a photo of the recipe in my book by Mrs Beeton. I kept the note about sugar in the photo as it tickled me to read the opinions regarding sugar leading up to and in the 1850's.
Notice it only asks for flour, this means plain flour. Besides, self raising flour was not available premade at the time, so you would have to add your own baking powder.
These days, Spotted Dicks tend to use self raising flour. This is unless you are particularly keen on a denser, more stodgy pudding that's less like cake sponge.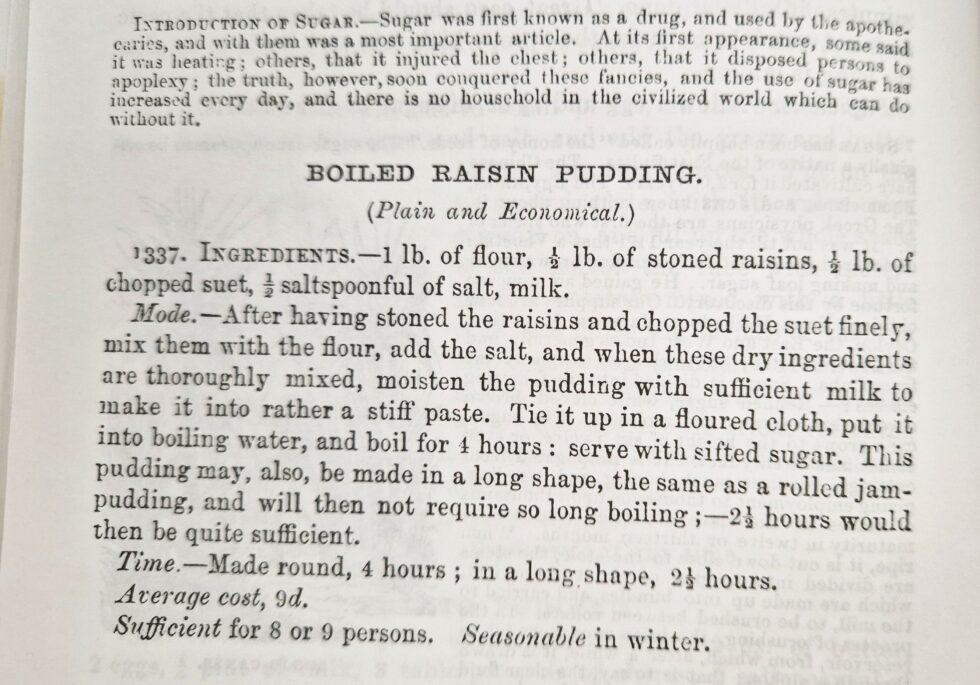 How did Spotted Dick get its name?
Oh my goodness me, this has sent me over the hills and far away and then back again!
Let's break the title down to make things easier shall we? The word 'Spotted' is an easy one to answer. It is of course referring to the sparing dried fruit in the pudding that gives it a spotted effect.
Why only use dried fruit sparingly? Well that is down to the fact this pudding started its life hundreds of years ago and probably used dried plums or prunes. When you refer to the recipe in Mrs Beeton's Book of Household Management, it says 'stoned raisins'. We now know that the raisins were likely to be plums. Households used this ingredient a lot for sweet and savoury dishes so they would want to use their pantry ingredients sparingly. In fact being frugal is the main theme here.
You wouldn't use too much sugar as it was still very expensive so the pudding was always served with custard and relied on the dried fruit to add the sweetness. Plus they knew even back then that salt actually makes sweet things taste sweeter so this is also why they knew to add salt.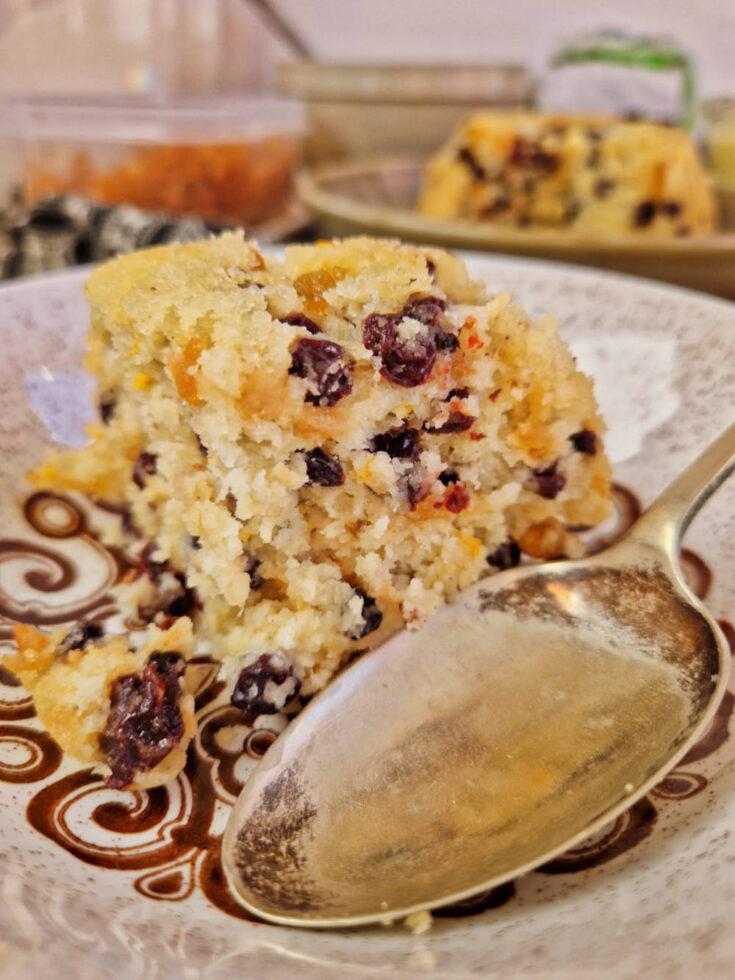 But how did this pudding get named after Dick, and who was Dick?
This is where I've been on a merry song and dance. One theory is that the word 'pudding' was puddog or pudick in old English. This would give us the 'dick' part of the name but I find very little information to back this apparently old English word up.
Another source says that a Spotted Dog Pudding exists in Scotland, giving credibility to the word for pudding being puddog. But I've searched for Spotted Dog Pudding and the pudding appears to be more like a rice pudding with dried fruit in it – a bit like my Dairy Free Festive Rice Pudding.
And just to add more confusion, I've found evidence to say that puddick is an old Scottish word (also used with paddick and puddock) and this often refers to a toad or frog, not directly, but something like or named after a toad or frog for example;
puddock-cheeks, -face, etc., having puffy cheeks (a face, etc.) like a frog

Dictionaries of the Scots Language
So does this throw the theory behind the 'Dick' part of the name out of the water? Answers on a postcard.
NOTE: I am a firm believer ever day is a school day so if you know the answer to any of these question please feel free to comment below.
Memories of Spotted Dick…
I remember my Nan used to make Spotted Dick in a roll, she'd roll out the dough then scatter with dried fruit and then roll it up and steam it. The fruit all merged in the baking process and we'd have it with loads of custard.

Brett – my husband!
My Nan and Mum rolled it in a cotton cloth that had been floured, it was then boiled. The top when it was unrolled was the best, then sprinkled with caster sugar and a bit of butter, I can taste it now!

June – Facebook Group Member
Can I make this pudding dairy free?
Spotted Dick is very easy to make gluten and dairy free. All you need to do is swap the milk for your normal milk alternative. I used unsweetened soya milk on this occasion.
Can I make this vegan too?
You will have noticed that this and most other Traditional Spotted Dick recipes do not include eggs. So that's one ingredient we don't need to worry about adapting. To make sure this is a vegan recipe though, you will need to use vegan suet.
You can now buy gluten free and vegan/vegetarian suet from some UK supermarkets. Avoid Atora, this still has WHEAT in it.
Alternatively you can make your own suet using my Homemade Gluten Free Suet Recipe. it keeps for ages in the freezer and I use it straight from frozen to help it keep its shape when adding to my recipes such as Gluten Free Jam Roly Poly and Gluten Free Dumplings using Homemade Suet.
Pudding bowl versus rolled Spotted Dick
I've mentioned a couple if times now, that a Spotted Dick can be made in a sausage-roll version, a ball in a cloth version and a pudding version. The latter being where you use a pudding basin.
There are pro's and con's to all methods. Some are messier than others and require hand washing cloths afterwards, others are better for making in advance and keeping for later (pudding bowls).
At the end of the day, I think your preference will boil down to your memories or pre-conceived idea of what a Spotted Dick should look like. If, like me, you've always known this pudding to be steamed in a pudding basin, then you'll go for this method, if like my husband you remember having it the the shape of a sausage, you'll undoubtably want to go for that method.
~ THIS RECIPE USES THE STEAMED PUDDING BOWL METHOD ~
~ BUT A ROLLED VERSION IS IN THE NOTES SECTION ~
How to make sure your steamed sponge won't stick to the bowl
Is there anything more gutting than turning out a steamed pudding only to leave half of it in the pudding basin? There are two simple ways to make sure this doesn't happen. First option is to liberally spray or grease the bowl with oil. The second option is to use this little handy hack. Simply take a cupcake case, flatten in out on the kitchen worksurface and then pop it into the bottom of your greased pudding basin.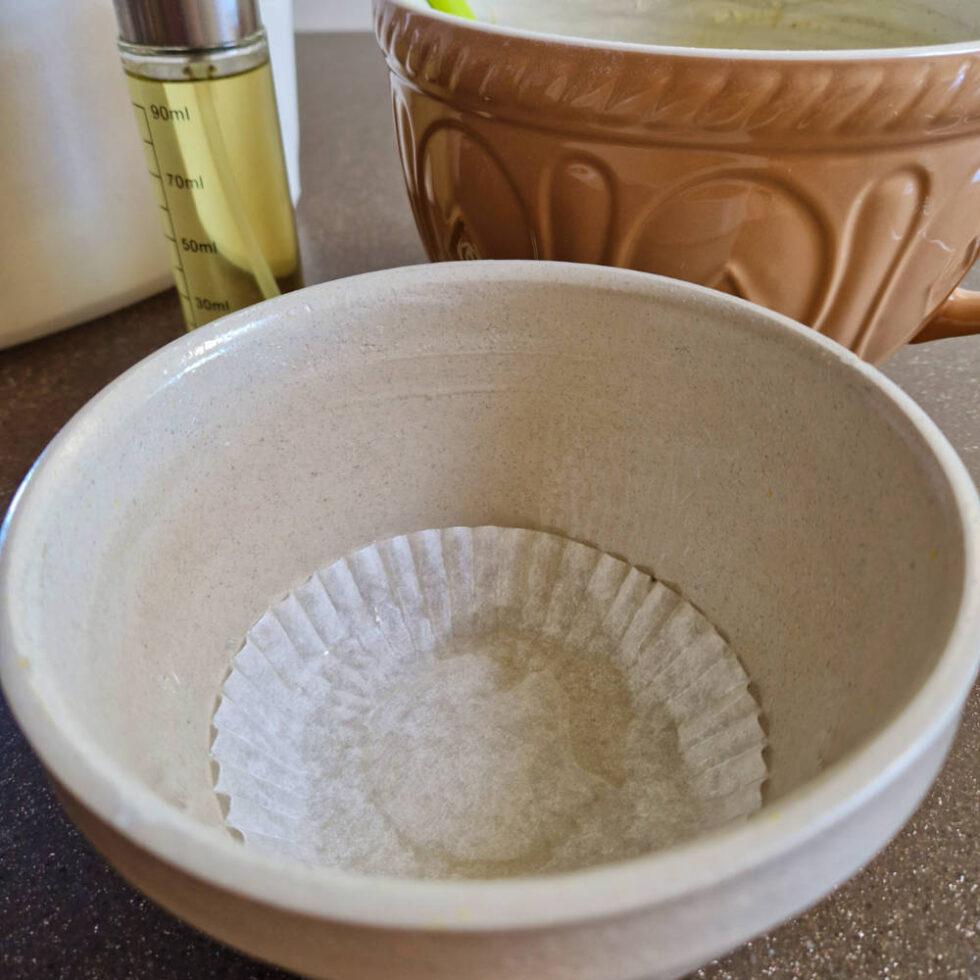 How to cover the pudding basin for steaming?
This is the same method I use for my Delicious Gluten Free Christmas Pudding. You need a length of foil/aluminium and an equal size length of baking paper. Then fold an expansion joint into both layers together (or individually) as shown in the images.
This will allow for expansion if your steamed pudding grows above the rim of the pudding basin. In my recipe for Spotted Dick this is unlikely, but it's worth doing just in case.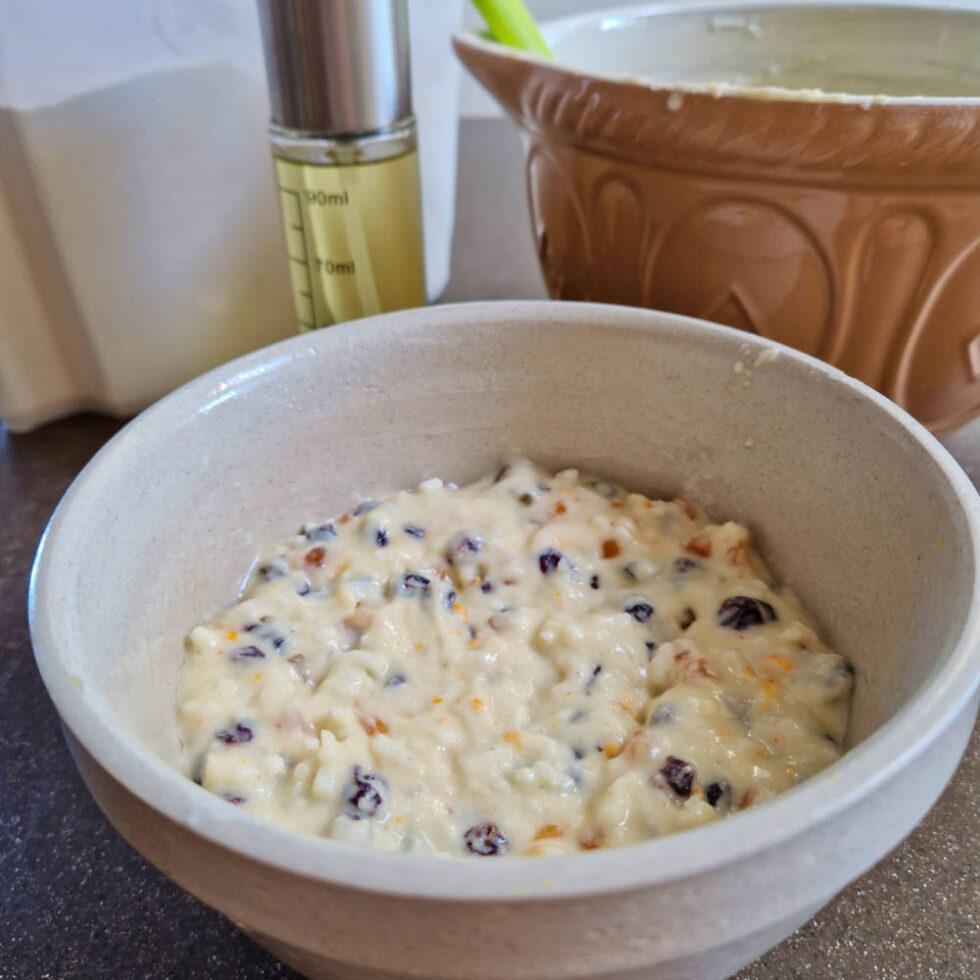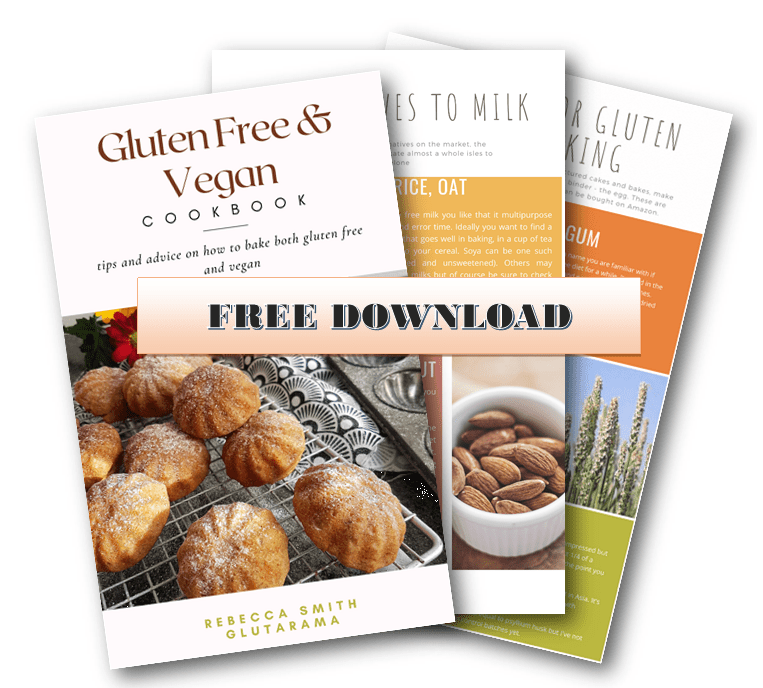 Never miss out again…
Sign up to my weekly Friday newsletter and not only get a FREE e-Book (currently my Gluten Free & Vegan Cookbook) but also get VIP subscriber discounts on free from goodies. Join me and learn to make anything gluten free.
Other gluten free puddings you might like to try
Date Free Sticky Toffee Pudding
A twist on the traditional Sticky Date & Toffee Pudding, this pudding is date-free but still packed with caramel flavours and super moist with the addition of grated apple. Delicious with custard, cream or more toffee sauce! This is gluten free, dairy free, egg free but an egg and dairy filled option is available too.
Check out this recipe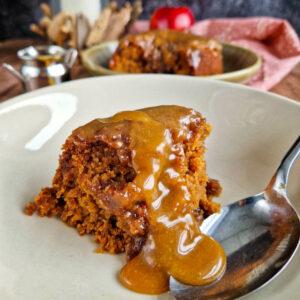 Traditional Dairy Free Rice Pudding
A delicious quick and easy Traditional Rice Pudding recipe. This Dairy Free Rice Pudding is made using traditional ingredients; pudding rice, milk, sugar and nutmeg but with free from ingredients. It's all gluten free and made dairy free and vegan too so more people can enjoy this comfort food pudding.
Check out this recipe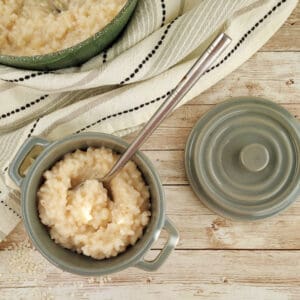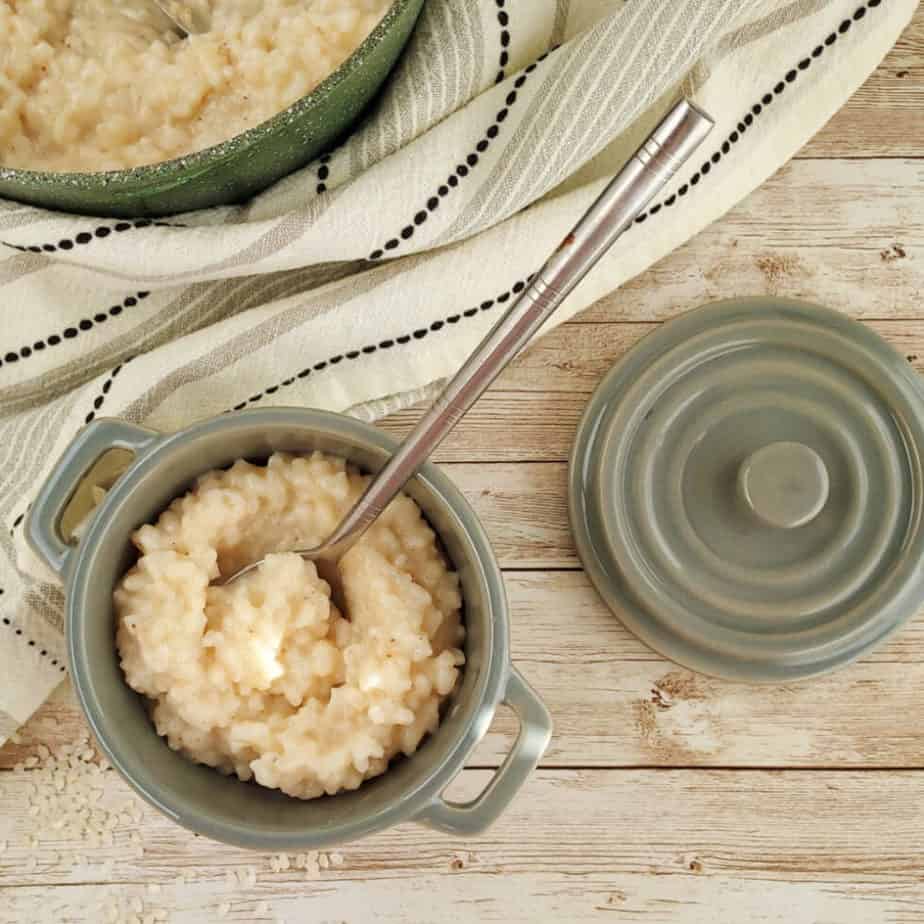 Gluten Free Bread and Butter Pudding
A delicious and simple Bread and Butter Pudding made gluten free with dairy free and vegan options too. A truly traditional comfort food for all the family to enjoy.
Check out this recipe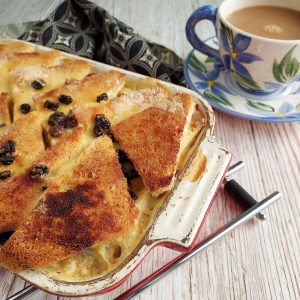 Gluten Free Self Saucing Lemon Pudding
A delicious alternative to the chocolate version, this self saucing lemon pudding has a delicious citrus bite with zest running throughout the light sponge and a lemony sweet sauce hidden beneath. This is not only gluten free but also easy to make vegan too, so free from eggs and no dairy.
Check out this recipe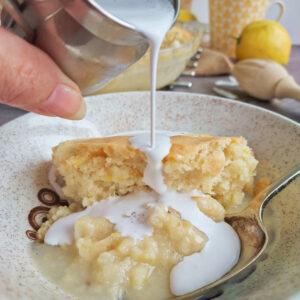 Gluten Free Spotted Dick Recipe
If you make it and like the recipe I would be eternally grateful if you popped back and commented leaving a star rating as this will tell search engines that this recipe is worth checking out and others will get to find it in searches.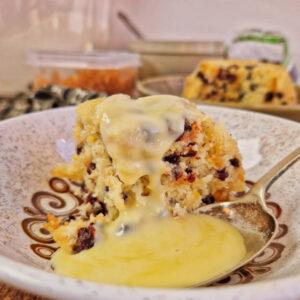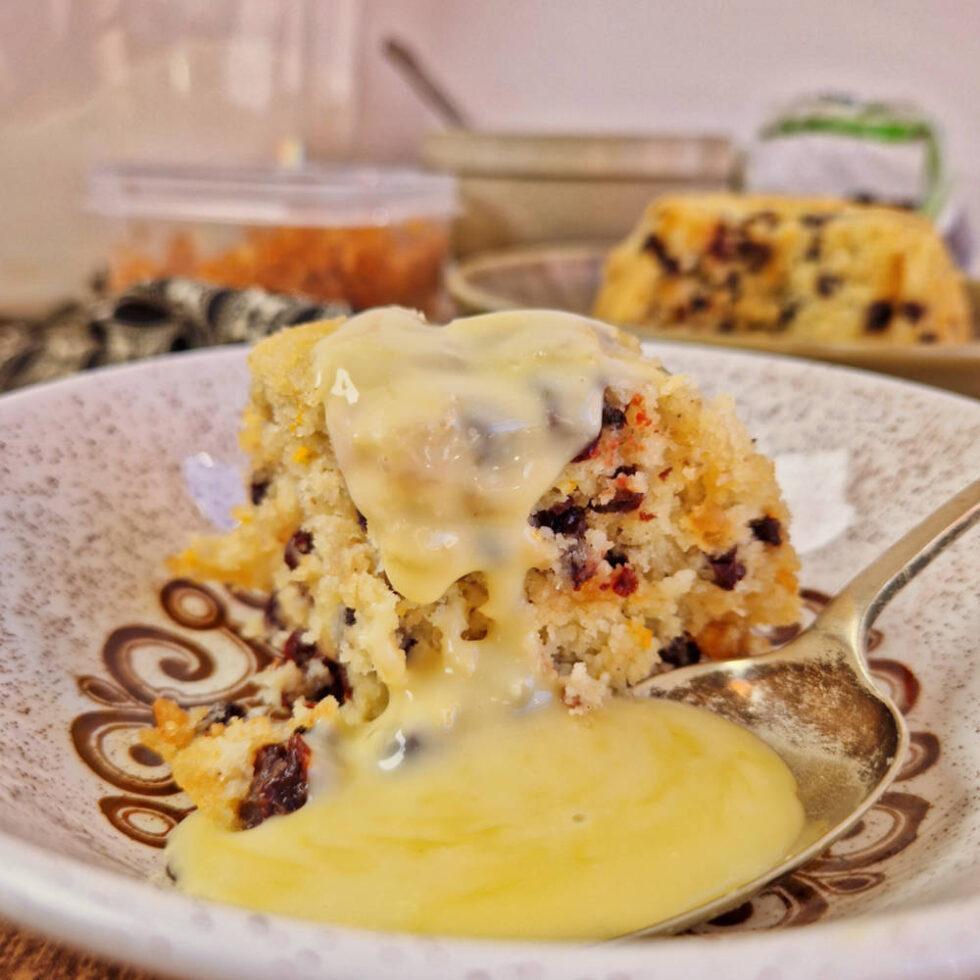 Gluten Free Spotted Dick
The infamous Spotted Dick Pudding but adapted ever so slightly to be gluten free with a dairy free and vegan option too. This old British Classic Pudding is a household name in the UK and many have fond memories of their grandparents homemade puddings. Slightly sweet, steamed pudding always best served with lashing of hot custard.
Ingredients
115

g

gluten free self raising flour

50

g

caster sugar

50

g

gluten free vegetable suet

or make your own

75

g

raisins

or currants

25

g

candied mixed peel

100

ml

dairy free milk

or use normal milk if you can

½

tsp

psyllium husk powder

this is optional

¼

tsp

salt

1

tbsp

oil (I use vegetable or sunflower)

to grease pudding basin
Instructions
The first thing to do is grease your pudding basin. I also add a disk of greaseproof paper to the bottom or press a cupcake case flat and pop that into the basin to aid with the removal of the pudding.

In a large mixing bowl, add the gluten free self raising flour, the suet, dried fruits, sugar and salt and give it a quick mix to combine. You also add the psyllium husk at his point to if using.

Next start to pour in the milk or milk alternative. Do this in stages and keep mixing. You're looking for a sticky but stiff batter.

Scoop the sticky batter into the prepared pudding basin and smooth out any lumps and bumps.

Now you need to cover with greaseproof paper and foil. To do this I create an expansion joint in the layers (It's very unlikely this pudding will rise above the top of the basin, this is just a precaution).

Finally, secure the paper and foil either by tucking under the basin or do what I do sometimes and add a decent sized elastic band.

Place in the top of your steamer. I use a three-tier hob steamer and remove one of the tiers.

NOTE: make sure you add enough boiled water to the bottom pan, you don't want this to boil dry.

Steam for 1.5 hours checking on the water levels after 1 hour and topping up if necessary.

Once the 1.5 hours is up, very carefully remove the paper and foil and insert a wooden skewer to make sure it comes out clean and it read.

Remove from steamer and set aside for 5mins before freeing the pudding from the sides of the basin with a rounded knife. Finally invert onto a plate to serve.
Notes
WANT TO MAKE THE ROLLED UP VERSION?
Follow all the steps above but instead lay out a layer of foil and on top of that add an equal size layer of greaseproof paper. Then dust with flour.
Scoop dollops of the batter onto the paper and foil and tease it into a sausage/roly poly shape.
Wrap the mixture up in the paper and foil and squeeze the ends to secure tightly.
Place this in the streamer as above (but only for 1hr) OR as you would do with my Jam Roly Poly and steam in the oven with a roasting tin filled with water also for 1hr only.
Nutrition
Nutrition Facts
Gluten Free Spotted Dick
Amount per Serving
% Daily Value*
* Percent Daily Values are based on a 2000 calorie diet.
Have you tried this recipe?
Let me know how it was & I will be super grateful. Take a picture & tag me @glutarama on your social media posts – I love seeing your photos more than you will ever know x
I love to see your own photos of my bakes, dinners and treats head to your favourite social media account and don't forget to tag me in @glutarama
Subscribe to my email list so that you get NEW recipes straight in your mailbox every Friday PLUS a FREEBIE and access to some amazing gluten free DISCOUNTS
---
Join my friendly Facebook Group
life's a drama, gluten free doesn't have to be….
*disclaimer: I use affiliate codes on my website, the vast majority are to Amazon. If you click on any of the links or images in the post and make a purchase my family will benefit from a small % of that purchase at no extra cost to you.

For full transparency, in 2020 I made my first £25, and in 2022 I reached my next £25 (Amazon don't transfer the money until you reach £25). I'm now up to £17.80 for 2023 so edging closer to the magical £25 mark!!

To date I have made £69.28 since I first started the scheme in 2017. It won't pay the bills, that's for sure but it does help to pay for ingredients or little treats to cheer me up!