This page contain affiliate links. Please refer to my Disclosures Page for more details.
This Eve's Pudding recipe was another way to use up some apples my family had harvested from our local community orchard. We're so lucky to have such a thing in our area and it's beautifully kept. We only ever harvest what we want or need. However, my family are getting fed up with apple crumble (rude!) so I changed things up a bit and made a recipe I remember from my childhood.
It took a couple of attempts to get the sponge element just right and how I remember it. But I did it, and as they say 'the proof is in the pudding' quite literally! Incidentally if you are a crumble fan you may want to try my Toffee Apple Crumble; gluten free and dairy free or how about this Gluten Free Gooseberry Crumble.
Where did Eve's Pudding come from? (part 1)
Researching the origins of Eve's Pudding sent me off in two separate directions, both equally as fascinating. One direction I hadn't excepted was Mother Eve's Pudding. Documented in several housewife cookbooks in the 1820-50's published by New York Press. Then a later version in 1864 in Australia. The recipe is in poem form and not quite like my Eve's Pudding but I wanted to share it with you anyway.
If you would have a good pudding, observe what you're taught :

Take two pennyworth of eggs, when twelve for a groat

And of the same fruit, that Eve once had chosen,

Well pared and well chopped, at least half a dozen;

Six ounces of bread – let your maid eat the crust,

The crumbs must be grated as small as the dust;

Six ounces of currants from the stones you must sort,

Lest they break out your teeth, and spoil all your sport;

Six ounces of sugar won't make it too sweet,

Some salt and some nutmeg will make it complete;

Three hours let it boil, without hurry or flutter,

And then serve it up, without sugar or butter.

Edward Abbott's English and Australian Cookery book (for the many and the upper ten thousand), the first cookbook published by an Australian, in 1864
Where did Eve's Pudding come from? (part 2)
Okay, so that part didn't tell you what Eve's Pudding is, rather more what Eve's Pudding isn't! Fascinating nonetheless. So this version of Eve's Pudding is simply a Victoria style sponge on top of apples baked in a pudding bowl or dish.
The belief is that apple was the forbidden fruit taken by Eve in the Garden of Eden. This simplistic recipe is a nod to that indiscretion. Personally I love the fact that Eve is on record as the first human to have taken part in 'scrumping' I love the idea of a little scrump and even when we go to the local orchard and pick, well within our rights, I still giggle and call it scrumping.
Trouble is I've still not told you where the more contemporary Eve's Pudding comes from. Truth is I can't find out how it came to be this simpler version. That's what's so fascinating. plenty to dig up on Mother Eve's Pudding and if you want another rabbit hole to go down you could research the Duke of Cumberland's Pudding which is pretty much identical to Mother Eves Pudding but 100 years earlier.
Incidentally, these recipes refer to currants and having to take the stones out. Currants are we call plums now, hence having to remove the stones.
I have a theory, that the Eve's Pudding we know and love in the 20th and 21st Centuries is just a simpler version with less fat. It may also have had a few ingredients shaved off in the 1940's during the second world war when rationing was brought into effect in the UK.
Can I make Eve's Pudding vegan?
This recipe is vegan as I have developed it with no eggs or dairy. It is of course also gluten free. You're more likely to want to know if you can use eggs, milk and butter. The answer to this is yes. However, you need to tweak the quantities. It's quite simple, just add one beaten egg and only add 120ml of milk because the egg will make up for the extra 30ml (roughly the equivalent to an egg).
If you are new to baking gluten free and vegan you're going to find this post really useful Ingredients and Simple Recipes for a Gluten Free Veganuary, the post is aimed at Veganuary but the same tips and advice apply all year round.
How do you prepare apples for Eve's Pudding?
Two simple methods can be used to prepare apple for this Eve's Pudding. I use both methods and the one I chose at the time depends on the time I have to spend on baking.
Method 1: peel, core and chop your apple into bite sided cubes. Add apple to the oven proof dish you plan to use and add a tablespoon of water. Pop into a microwave and cover with a plate. Heat for 30-60 seconds depending on your microwave. This will soften your apple just enough.
Method 2: follow the steps above to prepare the apple pieces then add them to a medium saucepan. Add a tablespoon of water and cover the pan with the lid. Gently heat for 6-8mins for a slightly softened fruit. Longer and you run the risk of getting stewed fruit that you'd use for a an Apple Charlotte, Crumble or Apple Turnover.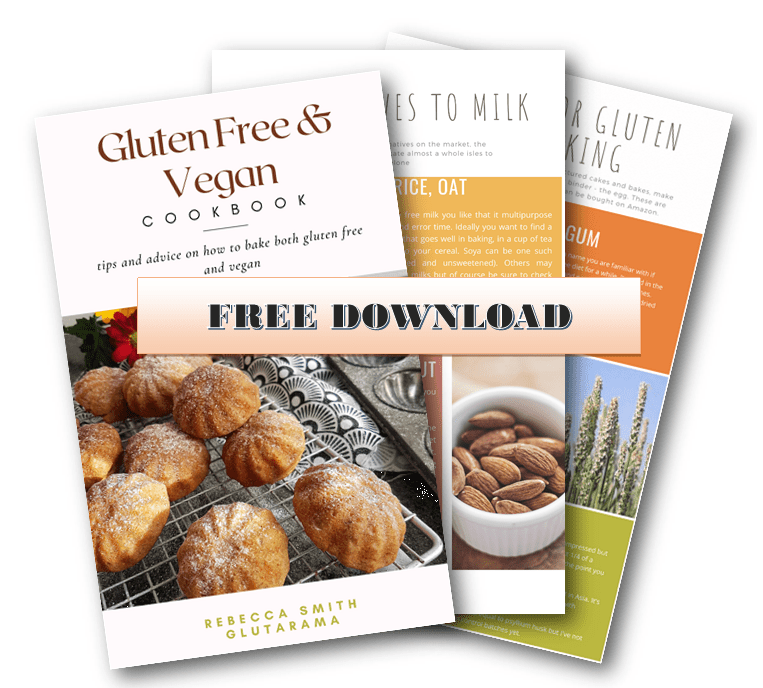 Never miss out again…
Sign up to my weekly Friday newsletter and not only get a FREE e-Book (currently my Gluten Free & Vegan Cookbook) but also get VIP subscriber discounts on free from goodies delivered to your door. Join me in my journey and learn to make anything gluten free.
Can you reheat this Eve's Pudding?
You can serve this Eve's Pudding straight away deliciously hot with custard or cream. Alternatively it's lovely served cold too. I normally make enough for 6 portions so two more than people in this house so there's always leftovers.
What's the best way to store your pudding?
This pudding is happy to be chilled in the fridge and reheated in the microwave for 20-30 seconds the next day. In fact, this will keep just fine in the fridge for 3 days as long as you keep it covered.
If you love this pudding, check these recipes for inspiration
Gluten Free Eve's Pudding Recipe
If you make it and like the recipe I would be eternally grateful if you popped back and commented leaving a star rating as this will tell search engines that this recipe is worth checking out and others will get to find it in searches.
Gluten Free Eve's Pudding
Another delicious traditional bake made gluten free, dairy free and egg free so more people can go back to enjoying those puddings made of memories. Simple Victoria sponge on a bed of apples, not too sweet and delicious served hot with custard.
Ingredients
For the apple base
400

g

apple(s) peeled and cored

can be baking or eating apples

2

tbsp

caster sugar

more if apples are not sweet
For the sponge topping
100

g

caster sugar

100

g

butter

I use Flora Plant Butter

150

ml

milk

I use soya milk

150

g

gluten free self raising flour

1

tsp

vanilla extract

1

tbsp

ground flaxseed

1

tsp

psyllium husk powder (optional)

optional but does add structure to vegan bakes
Instructions
To make the apple base
Take the peeled, cored chopped apples and either steam them in the microwave with a tablespoon of water or gently heat on the hob with a tablespoon of water. You want your apple chunks to be just softened.

Add the 2 tablespoons of caster (or more to taste) and set aside to cool slightly while you get on with the sponge batter.
To make the sponge batter
In a large bowl cream together the caster sugar and 'butter' until lighter in colour.

Measure the flour and add to it the flaxseed and psyllium husk.

Beat the dry ingredients into the butter and sugar.

Add the milk and beat again into a soft dropping sponge batter
To build the Eves Pudding
It's best to do this gradually, otherwise you'll end up pushing all the fruit to the side. Using two dessert spoons scoop and scrape spoonfuls of cake batter over the softened fruit as if you're adding dumplings to a casserole!

Once you've spooned all the batter into the pudding dish use one of the spoons to smooth the batter to cover the fruit.

Sprinkle the top of the sponge batter with a little caster sugar and pop into the preheated oven set at 200°C | 180°C fan | 400°F | Gas 6 for 20mins. The pudding is ready when the sponge is just turning golden and the sponge has a bounce to the touch.
Nutrition
Nutrition Facts
Gluten Free Eve's Pudding
Amount per Serving
% Daily Value*
* Percent Daily Values are based on a 2000 calorie diet.
Have you tried this recipe?
Let me know how it was & I will be super grateful. Take a picture & tag me @glutarama on your social media posts – I love seeing your photos more than you will ever know x
I love to see your own photos of my bakes, dinners and treats head to your favourite social media account and don't forget to tag me in @glutarama
Subscribe to my email list so that you get NEW recipes straight in your mailbox every Friday PLUS a FREEBIE and access to some amazing gluten free DISCOUNTS
*disclaimer: I use affiliate codes on my website, the vast majority are to Amazon. If you click on any of the links or images in the post and make a purchase my family will benefit from a small % of that purchase at no extra cost to you, in fact, for full transparency, in 2020 I made my first £25, and recently in 2022 I reached my next £25 (Amazon don't transfer the money until you reach £25). As you can see, it won't make me a millionaire but it will treat me to a few coffees, Lord knows I need the caffeine!